IndyCar Detroit GP postscript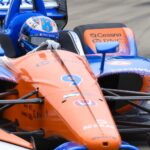 Scott Dixon
Tell me if you've seen this movie before.
Scott Dixon spends 20-25 laps following another car in close proximity. That other car burns up fuel and/or tires at a rate faster than Dixon and is forced to come to pit lane before Dixon, who then crushes a series of laps before going to pit lane. The Chip Ganassi Racing team performs exquisite pit work getting Dixon out ahead of said opponent.
Dixon, with an advantage over the field on both fuel and tires, is able to control the race proceedings from there. Dixon goes to victory lane.
That, of course, happened in Saturday's Dual 1 of the Chevrolet Detroit Grand Prix Presented by Lear Corporation. Dixon hounded pole sitter and early leader Marco Andretti before jumping Andretti after the first round of stops. He went on from there to score another clinical and classic Dixon win.
Throw in a solid 4th-place finish Sunday, and don't look now, but Dixon sits a mere 5 points behind Will Power in the championship with a host of Dixon-friendly tracks coming up this summer.
Power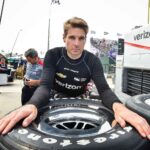 Will Power was the top Chevy driver in Detroit
Speaking of Power, he certainly wasn't doing too many cartwheels over finishes of 7th and 2nd at Detroit one week after winning the Indianapolis 500. However, when you consider that he was the top Chevrolet finisher each day and his teammates Josef Newgarden (9th & 15th) and Simon Pagenaud (17th & 10th) seemed thoroughly out to lunch, Power has to be happy with the weekend from a big-picture perspective.
Speaking of Honda having the edge….
Get this: in the four street races this season (St. Pete, Long Beach, Detroit 1, Detroit 2), Honda has won every pole and race, and secured 22 of the 24 top-6 finishing positions. Only Power, with seconds at Long Beach and Detroit has managed to break up the Honda street race party.
If you want a reason as to why Honda has been so dominant on the street courses, you're going to have to talk to the engineering types. But I know this: the Chevrolet teams have had their asses handed to them by Honda in the four street course races in 2018.
Speaking of struggling Chevy drivers…
I'm going to list a few number for you: 13, 10, 24, 9, 8, 6, 17, 10. Those are Simon Pagenaud's 2018 finishes. The 2016 series champion was nowhere to be found at Detroit this weekend, finishing 17th & 10th, respectively.
Race car drivers, like other athletes do encounter slumps. And whether it's the new car, bad luck, or whatever else, Pagenaud seems to be in the midst of one at the moment.
Not struggling…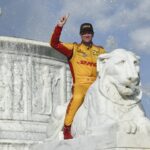 Hunter-Reay was unstoppable on Sunday and forced his teammate Rossi into an error
Ryan Hunter-Reay was electric all weekend, and even more so Sunday. Seemingly, the 2012 champion has the ability at times to find an extra gear so to speak. Clearly, RHR and Andretti Autosport found something Sunday that allowed him to close on teammate and leader Alexander Rossi.
Rossi's emergence in the last year, has of course, has threatened Hunter-Reay's once clear number 1 status at Andretti Autosport. However, RHR's pressure had an effect on Rossi, who locked his brakes entering turn 3 on lap 64 and ran off course into the runoff area. Hunter-Reay went on to take his first win in nearly three years. Rossi finished 12th and was left scratching his head.
And we may never know exactly what happened to Rossi. Clearly, his team saw something to indicate that Rossi did not have the form of Hunter-Reay in those closing laps, and radioed to him to think "big picture" as Hunter-Reay quickly closed the gap. Granted, this wasn't exactly "Fernando is faster than you," but the team did seem to be conveying the message to Rossi that fending off Hunter-Reay was not the wisest course of action at the moment.
When asked following the race what happened in turn 3, Rossi seemed as befuddled as anyone. "I don't really have an answer for you, you'll need to talk to these guys," said Rossi, referencing his team.
My first response when hearing Rossi's quote was that he seemed to be not so subtlety throwing his team under the bus, by essentially saying "ask them; they screwed up, not me." There were others who felt that way as well on social media. And considering that it wasn't clear at the time (and still isn't) as to what happened in the late stages of the race, the fact his teammate won the race after he received a somewhat odd message late in the race, I thought there might be – as we say in the media business – some there there.
However, when I watched the replay of the interview, I didn't get that sense at all. For one, Rossi had a microphone shoved in his face 30 seconds after an incredibly disappointing result, and probably did not have the time to form his thoughts much less be briefed on all the salient information. Second, the direct, succinct nature of his response is 100% consistent with well, being Alexander Rossi. When Rossi says something to the effect, "I don't know what happened, ask the team" he probably doesn't know, and probably thinks the team can shed some light on the matter.
Yes, Rossi probably could have been a little less direct, as to avoid people like me stirring up any signs of strain within the team. But at the end of the day, I think you take this one at face value: Rossi genuinely didn't know what happened. There's really no reason to think otherwise.
Detroit Future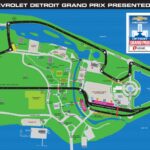 Detroit Circuit
The five-year contract signed in 2014 between Detroit Grand Prix and Michigan's Department of Natural resources for an IndyCar race on Belle Isle expired following Sunday's race. Detroit Grand Prix Race Chair Bud Denker noted that his group would be making the DNR an offer in the coming weeks, for the race to continue. There has however been resistance from within the City concerning the setup and take down time in preparing Belle Isle for the race weekend. That time frame is currently 68 days, down from 95 days in 2015.
Now, I'm not going to try to speculate on what is fundamentally a local matter. Denker did seem confident something could be worked out, and you have to imagine Roger Penske and Chevrolet have a little bit of pull in Detroit. Detroit's Mayor also attended the race and seemed to be Gung-Ho about it returning.
For what it's worth, I hope the Detroit event stays. One, the series needs regular events and date equity, something Detroit has had since 2013. Second, having been to the event, there is local support that you don't see at other events, as people in Detroit are incredibly welcoming to visitors.
Also, I've long believed that IndyCar fans view the Detroit race with a certain level of haughty disdain that is unwarranted. For example, you'll hear people say "Detroit is a letdown after Indy," as if there are 20 venues that would match IMS. Or they'll say "just go back to Milwaukee," as if Milwaukee is somehow the Garden of Eden, hasn't already failed on multiple dates, and there are 50,000 people waiting to buy a ticket to a race at Milwaukee the week after Indy.
I'll agree that Belle Isle is not IMS, Elkhart Lake or Long Beach. But Belle Isle has Penske, Chevrolet, an energetic, active promotion group, and a facility that has been significantly upgraded in recent years with more upgrades expected. The racing in recent years hasn't been bad and the double-header weekend makes it something of a unique event on the schedule.
In short, the Detroit event has a lot more going for it than people are willing to acknowledge. I, for one, hope it stays.
ABC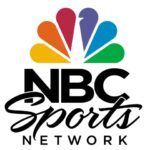 If IndyCar expects higher TV ratings with NBC Sports network they will be waiting a very long time
I'd be remiss if I didn't mention the final race for ABC following 54 years of covering Indy car racing and the Indianapolis 500. Certainly, there were some good times along the way, and longtime Indy car racing fans can certainly recall with fondness Bobby Unser arguing with Sam Posey, or Jim McKay calling the Indianapolis 500 with Jackie Stewart. It should be noted that in recent years, Allen Bestwick was in my opinion very good on the play-by-play.
However, it seemed that as Indy car racing began to diminish as a viable sport, ABC/ESPN's interest waned. Over the last decade, the relationship has felt more captor/hostage than genuine partnership. Worse, the low-energy broadcasts, poor production, lack of informed analysis, complete disinterest in anything to do with IndyCar aside from that which was contractually obligated, and general "we don't give a f***" vibe created the sense the captor didn't even want the hostage. This indifference understandably created resentment amongst IndyCar's small but fiercely loyal fan base that with social media fomented into outright hostility.
Simply put, this relationship, which probably should have ended a decade ago, had to be put out of its misery.
Now, don't get me wrong. I'm not naïve enough to think a move to NBC will be some magic bullet. For one, all forms of motor sports have shown declines in recent years, and that's not changing with a new network partner. Second, NBC Sports Network's reach is still woefully low. While ESPN is going through a restructuring they still control the largest platform in sports media. From a sheer viewership standpoint one could argue the offer from ABC/ESPN would have been better.
At the same time, the move to NBC gives IndyCar at the very least the hope of a broadcast partner that will act like they give a s***. And that's a lot more than anyone has been able to say in recent years.
Brian Carroccio is a senior columnist for AutoRacing1.com. He can be contacted at BrianC@AutoRacing1.com.