Hunter-Reay charges to win in Detroit GP Race 2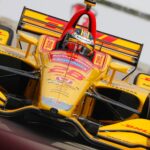 Ryan Hunter-Reay flies to victory in Detroit
Ryan Hunter-Reay on fresher tires pressured Andretti teammate Alexander Rossi into a lockup and charged into the lead to win Race 2 of the Detroit GP weekend, his 17th career IndyCar win.
Setting record lap after record lap, Hunter-Reay was unstoppable after finishing 2nd yesterday. His three stop strategy to Rossi's two was the right strategy.
Indy 500 Will Power came home 2nd ahead of Ed Jones, Scott Dixon and Graham Rahal.
Rossi dropped to 12th after his tire blew and he had to make an extra stop.
*****
So how to explain this one? Twenty years from now, no one will believe that this all happened. But it did…
Yesterday, Firestone was all happy that they were bringing out a new rain tire. No teams had any to test prior to the race, or at least, as far as we know, no team tested it. But when the rain appeared prior to qualification this morning, insuring that we'd have a we track, it meant that we'd be bolting on a tire that no team seemed to have tested before — at Detroit, which is a notorious circuit for bumps and slick pavement even in the dry. But qualify they did — and last year's twin winner Graham Rahal ended up starting 9th, and yesterday's Pole sitter Marco Andretti starting 12th. They finished 5th and 9th respectively, both mired in slow traffic for much of the race.
[adinserter name="GOOGLE AD"]The sun came out, albeit with some mist an hour before the race, and the track was mostly dry for the start of the race. This weekend is Chevy's event, their time to shine, and they could use some good news, even if it was a bit of sunshine. You see, yesterday, Honda stomped the Chevys in both qualifications as well as yesterday's race. Some Chevy people commented to us that the problem was power delivery, that the Honda motors were just a lot easier to do throttle control. Others said that Chevy just couldn't figure out the combo. But whatever the reason, Honda was ruining Chevy's party.
Then, things got worse. Mark Reuss, the grand pooh-bah of high performance cars and racing at GM, got into the pace car shortly after talking to AR1 about providing the audio of their 2019 IndyCar engine (they are already running and testing a copy). And then he looped it. Looped it and nosed it into the wall, hard. No one was hurt — it easily could've been much worse — but the entire world now has a video of Mark crashing the car, and then getting out of the driver's seat to look at the damage. In fairness, there is a crest at that turn, and the Corvette VR1 does have more torque (if not outright horsepower) than the race cars, and Mark did come around the corner to see the 2-seater squarely in front of him. Still, if you're GM trying to impress the world, having a top executive crash your best sports car isn't the way to go. It took 34 minutes to clean up the mess, during which a couple of the drivers wondered if they had time for a trip to the local porta-john. Strange day indeed.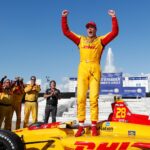 Hunter-Reay was not to be denied
The thing finally restart around 4:18 pm, only to have the day's only caution period on lap one. Spencer Pigot got tagged by rookie Santino Ferrucci, punting him int the turn 5 wall. Pigot's crew replaced a toe link, and he resumed the race 5 laps down, but they called it a day 6 laps after that. Pigot finished last (23rd), while Santino soldered on and finished 20th. Santino also spun the car on an out lap, taking out a nose cone. Santino is a Haas F1 development driver, but he told AR1 that he really likes the IndyCar scene.
The race restarted on lap 3. After that, several themes emerged: First, that the Chevy guys were still running at a handicap, albeit with the exception of Will Power. Power ran third most of the day, and when Rossi had problems at the end of the race (more on that later) he finished second, by far the best showing of the Chevy guys.
Then there was the story of the fastest car on the track, Sebastien Bourdais. Sebastian had suffered a flat on the first lap, but rebounded to work his way up to top-3 using pit strategy and inspired driving. That all came to an end on lap 38 when something broke in the car (rear toe link?) and he spun his way through turns 1 and 2. He had to limp the rest of the way around the track, and by the time repairs were made he was 4 laps down. From that point on the team used the event as a testing session, and this 21st place finish in no way reflects just how strong he was prior to the problem.
Up front, however, when pit stops weren't jumbling the order, Alexander Rossi and Ryan Hunter-Reay were in a show of their own. Different pit strategies were employed, but the two led all but 6 of the laps on the day, with Robert Wickens leading those 6. Wickens later commented to AR1, "Our problem was getting the tires to last. We could be fast for one lap but we couldn't make the tires fast for 24." He then noted that the race rewarded those who could go longer on tires, and they constantly fell back. Wickens finished 6th, and team mate Jame Hinchcliffe finished 16th. Given the events of the past 3 weekends, Hinchcliffe can't be feeling too good about his IndyCar life….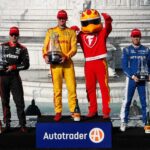 Power, Hunter-Reay and Jones
The race did settle down for some longish follow the leader sessions, but around lap 53 Rossi set sail and put some hurting on the rest of the field. Team mate Ryan Hunter-Reay was a distant second, and neither really had any competition for their spot. And it looked like the race would just kinda run out of laps that way, at least until the racing gods struck on lap 64. On lap 64, Rossi either 1) had a tire problem and went off and then it went flat, or 2) he went off, flat-spotted the tires and then it went flat. Either way, the net effect was that Rossi had to limp it back home for new tires, finally getting them after he fell to 12th. A crushed Rossi, never a man of many words for the press, was even less willing to talk about it later.
This meant that Hunter-Reay, who at points was 1 1/2 second faster than any other cars on track, had clear sailing for the victory. Hunter-Reay, whose first IndyCar win can an astounding 15 years ago, cruised it home. He then took a swim in the Belle Island fountain, which (by his reconing) one of the few sober people to do so lately. The betting in the media center is that he started a new tradition.
******
Chevy people might've been embarrassed to tears at their part this week, but in a couple of weeks, they get Texas. And they commonly spoil the Honda show at Mid-Ohio.
Sunday's race had only a single full-course caution, tying the record for fewest at an Indy car race on Belle Isle. Spencer Pigot spun and stalled in Turn 5 on the opening lap after contact from Santino Ferrucci.
With the second-place finish, Power exited the Detroit weekend with the championship lead after eight of 17 races. The Australian leads Dixon by five points, Rossi by 11, Hunter-Reay by 31 and reigning series champion Josef Newgarden by 39.
The Verizon IndyCar Series heads to Texas Motor Speedway for the DXC Technology 600 on Saturday, June 9. The race airs live at 8 p.m. ET on NBCSN and the Advance Auto Parts INDYCAR Radio Network.
Quotes
JOSEF NEWGARDEN (No. 1 Hitachi Team Penske Chevrolet): "It was a rough day. We did what we could and we fought hard, but just didn't come up with much from a results standpoint. It's a tough pill to swallow, but sometimes you have days like this. It was fun having Hitachi here this weekend. They are super supportive of our race team, so I'm disappointed we couldn't do a little better for them and especially for Team Chevy too. We will go to the next one."
MATHEUS LEIST (No. 4 ABC Supply AJ Foyt Racing Chevrolet): "We probably had the pace to be in the top 10. We got a great start, but it just was not our day today. I'm learning a little bit more every time (on saving fuel), but it's time to start running at the front, not the back. Hopefully, we'll have a good race next weekend."
JAMES HINCHCLIFFE (No. 5 Arrow Electronics SPM Honda): "A really disappointing day for us. The Arrow Electronics car changed a lot from yesterday, which we weren't expecting… Ultimately, our day was dealt a blow when we pitted after a car spun on track thinking it was going to be a yellow, and the yellow just didn't come out; it just really compromised our strategy. We lost a ton of track position, lost a lot of time behind guys on the two-stop strategy. It was one of those days where if it could go wrong, it did. Unfortunate way to end the weekend because the cars genuinely had pace. We'll put our heads down and be stronger in Texas."
ROBERT WICKENS (No. 6 Lucas Oil SPM Honda): "Mixed emotions today. When you start on the front row, you hope to be fighting for a podium. Unfortunately, we just couldn't find the balance to increase the tire longevity to compete. We committed to the three-stop strategy pretty early on and we took the lead for a little bit in the second stint, and I honestly thought things were looking pretty good. We had to pit a bit early, which is how we lost out to (Ryan) Hunter-Reay and then we just kept losing track position not coming out in clean air. Coming home in the Lucas Oil car P6 – we can't really complain… We qualified third on Saturday, second today, so you hope to at least finish in the top five both days. I think we are a little disappointed, but a good points weekend."

SCOTT DIXON (No. 9 PNC Bank Chip Ganassi Racing Honda): "That was a job well done there by the whole PNC Bank team. I'm just not sure what happened to the red (Firestone alternate) tires there as they just really fell off and went away on us. We didn't really change anything on the car from yesterday other than a few little things to stabilize the rear end. It was a good day overall for us and we got some good points."

ED JONES (No. 10 NTT DATA Chip Ganassi Racing Honda): "It was a fantastic day for the NTT DATA team. The guys really did a good job with the car this weekend. We started off a bit slow, but the important thing is that we improved every session and earned our way here today. Today's podium was another step in the right direction for the No. 10 NTT DATA team and I'm looking forward to getting back after it at Texas in a few short days."
WILL POWER (No. 12 Verizon Team Penske Chevrolet): "I feel like this was about as good as we could get, given how fast (Ryan) Hunter-Reay was. There was just no way anyone was going to beat him. We just seemed to struggle a little bit on full tanks and cold tires, but very happy with the result. You know, I feel like with what we had, that's the most that we could have got out of that race, so very happy."

TONY KANAAN (No. 14 ABC Supply AJ Foyt Racing Chevrolet): "Great day for us. I had to redeem myself for this morning. The good part about it, what is awesome is when your boss (A.J. Foyt) is behind you regardless what happens. I was really down after qualifying today because I made a mistake. It looked like he was trying to find the reason that I crashed so that it wasn't my fault. I said, 'A.J. it was my fault.' So that gives me a lot of confidence and a lot of motivation just to go and do it. And the guys did a great job in the pits. We had a fast car. I had a lot of fun. I'm exhausted, but it's our best result of the season so far at one of the most difficult tracks and with one of our worst qualifiers. So pretty happy."
GRAHAM RAHAL (No. 15 United Rentals Honda): "I'm definitely proud of the performance and the effort that everyone on the United Rentals team put in. The guys did an amazing job last night. We had to switch to a backup and they were here until 12:30 in the morning. Luckily it was a bit of a late start today, but the guys got very little rest, but again, they put a car on the track that had no mechanical issues, no problems whatsoever. It was a decent points day. We should have put it all together yesterday, but that's on me. I'm obviously still a little upset with myself from yesterday, but overall it was a good rebound today."

SEBASTIEN BOURDAIS (No. 18 Team SealMaster Honda): "It's a shame. We struggled all weekend and then finally hit on something for the race. The SealMaster Honda No. 18 car was really good, and for the first time this weekend, I was finally able to race with people. It looked like we were going to have a top-five finish, then I barely touched the wall in Turn 7 and bent the left rear toe link. It collapsed in Turn 1, sent me into a massive spin and that was that. I feel bad for the guys. They worked hard all weekend and did a good job in the pits. We just have to move on and see what we can do in Texas."

SANTINO FERRUCCI (No. 19 Paysafe Honda): "I can't thank the guys on the No. 19 Paysafe crew at Dale Coyne Racing enough. From the engineering team to the mechanics, they gave me an absolute stellar race car. I'm just upset, being a rookie, that I made a rookie mistake coming out of the pits and spinning the car. Despite that, we showed incredible pace throughout the race. These guys really deserve a good finish. I'm very happy that I was able to come out and participate this weekend in Detroit and I hope to be back."
JORDAN KING (No. 20 Allegiant International Chevrolet): "It was a long, long race. The only thing keeping me motivated was my lap time delta. I was just trying to beat my lap time delta every lap. Our speed was all right – we maybe could have had a top 10, but the first stint did not allow for that. We struggled a bit with the reds (Firestone alternate tires) and probably stayed out a bit long. By the time the pit sequence was through, we were a big chunk of time behind people. After that, on the blacks (Firestone primary tires), we were all right. Pace seemed pretty good, but I had no one behind and no one in front – it was just a long race."
SPENCER PIGOT (No. 21 Ed Carpenter Racing Fuzzy's Vodka Chevrolet): "It wasn't just a spin, I got hit from behind by (Santino Ferrucci). First, we banged wheels, then he just kind of punted me in Turn 5. It is very disappointing to end the race this way. The Fuzzy's Vodka was strong yesterday and we were hoping to move forward in today's race. It's unfortunate when drivers come into the series and do silly things like that because they don't respect that all of us are out here racing every weekend for the championship."

SIMON PAGENAUD (No. 22 DXC Technology Team Penske Chevrolet): "Today was defiantly better than yesterday. We made big progress on the car. Still not enough though. We rallied as a team. It was a much more decent showing. We need to continue to progress and evolve. Street courses are definitely our weakest area at the moment. We are going to be on the superspeedway next week and we have been strong on those. We are going to try and get a hat and cowboy boots, especially with DXC being the title sponsor of the event. Overall, tough weekend and a lot of adversity, but the team did a great job."
CHARLIE KIMBALL (No. 23 Tresiba Chevrolet): "I'm really proud of the resiliency of this Carlin team. We didn't get the job done all that well this morning in qualifying, but we had a nice clean race, good solid pit stops, and a really good strategy. It felt like I raced pretty cleanly and we had good pace in clean air, which helped us get good mileage when we needed to. I'm just so happy for the No. 23 car guys for getting a top-eight finish today. With Max (Chilton) coming home in the top 11 today, hopefully, we can get both of us into the top 10 in Texas next weekend."
ZACH VEACH (No. 26 Relay Group 1001 Honda): "I felt like it was a much better race for the Relay team today even though the results didn't show it. We got caught up in the beginning with our Reds (Firestone alternate tires) falling off, so we had to switch from a two-stop to a three-stop strategy – which was something we were hoping we wouldn't have to do. I feel like that cost us and placed us back in the 10th to 15th range. Everybody did an incredible job from my Relay crew to my engineer, Garrett. I'm just thankful we were able to walk away with two average finishes. That's what this rookie year is all about – learning from each race and I can honestly say we've learned a lot so far."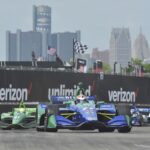 Rossi controlled most of the race, but claims something happened to the car with 10 laps to go and Hunter-Reay charged past
ALEXANDER ROSSI (No. 27 Ruoff Home Mortgage Honda): "It was a pretty disappointing day considering we led the most laps and started on pole. For sure we didn't have the pace for Ryan (Hunter-Reay) – he was just on another level. So hats off to him and the DHL team, they certainly deserved to win. But the Ruoff Home Mortgage car definitely had a second-place finish in it. Unfortunately, with less than 10 laps to go, our luck changed. We're not really sure what happened, we're going to investigate to see if something went wrong because it was a very abnormal issue to have when we hadn't experienced anything remotely similar all weekend."

RYAN HUNTER-REAY (No. 28 DHL Honda): "You know, after I took that second set of blacks, the Firestone primary tires, I started to get in sync with the car and the balance started coming to me. I was really worried in the beginning because we were really loose, and then as I got into a rhythm, the car was doing everything I needed it to – everything. When we started that last stint, (Alexander) Rossi was more than a straightaway ahead of us. I couldn't even see him. I just put my head down and this thing was flying. It was such a great car. I'm so happy for this No. 28 DHL Honda team. I wish my wife and the boys were here with me because they're the best, and this has been a bit of a long time coming. That was going to be a heck of a fight at the end, but good thing we pressured him (Rossi) into it and we're here in victory lane. It's awesome – this car deserves to be where it is right now. That was a heck of a car, heck of a strategy, great in the pit lane and I drove my rear end off."

TAKUMA SATO (No. 30 Fifth Third Bank Honda): "It was a tough day. I think everything was against us; the strategy, timing and when we caught the traffic. At one stage, we were competitive, but it was not so long. Once we caught the tail of the group, it was so difficult to overtake. I tried really hard. It's a shame there were no yellows, so today was really tough to have that aggressive strategy work."
MAX CHILTON (No. 59 Gallagher Chevrolet): "It was a solid day, but a long day. It was basically a green race apart from the start. We had more pace today than we had yesterday and the team had really great stops every time we came in. I think I did the best mileage that I've done in my entire career by them telling me the fuel number and me sticking to it. Unfortunately, Charlie (Kimball) got me in the last stint and then I was in the marbles and was passed by a few others. We then had their pace and got one back, but it dropped us just out of the top 10. This has been a positive afternoon for the team as a whole, though, and we'll concentrate, moving forwards, on getting both cars in the top 10."

GABBY CHAVES (No. 88 Harding Group Chevrolet): "Definitely a trying weekend for us in Detroit, especially Race 2 today. I thought we had the right strategy, but one of the cars spun coming out of pit lane and I picked up some debris. This caused us to think the tire was going flat, so we came to the pits, which cost us a lot of time. After that we just wanted to make it cleanly to the finish because we didn't really have anything to gain at that point. Now we look to Texas next weekend. We finished fifth last year, so I'm hoping we can manage a finish like that again."
MARCO ANDRETTI (No. 98 AutoNation / Curb Honda): "The AutoNation car was great this weekend. Unfortunately, today we got caught out in a three-stop strategy and kept getting caught in traffic. The car had the pace, I had the pace, we just couldn't take advantage of it. We passed a lot of cars today and it was a lot of fun out there, it just wasn't the result we wanted."
Results
| | | | | | | | | | | | |
| --- | --- | --- | --- | --- | --- | --- | --- | --- | --- | --- | --- |
| Pos | No | Name | Laps | Diff | Gap | Pits | Led | ST | Engine | Points | Team |
| 1 | 28 | Ryan Hunter-Reay | 70 | 0.0000s | 0.0000s | 3 | 18 | 10 | Honda | 116 | Andretti Autosport |
| 2 | 12 | Will Power | 70 | 11.3549 | 11.3549 | 2 | 0 | 3 | Chevy | 135 | Team Penske |
| 3 | 10 | Ed Jones | 70 | 13.2291 | 1.8742 | 2 | 0 | 4 | Honda | 99 | Chip Ganassi Racing Teams |
| 4 | 9 | Scott Dixon | 70 | 13.7652 | 0.5361 | 2 | 0 | 5 | Honda | 130 | Chip Ganassi Racing Teams |
| 5 | 15 | Graham Rahal | 70 | 16.6280 | 2.8628 | 2 | 0 | 9 | Honda | 9 | Rahal Letterman Lanigan Racing |
| 6 | 6 | Robert Wickens | 70 | 34.9398 | 18.3118 | 3 | 6 | 2 | Honda | 4 | Schmidt Peterson Motorsports |
| 7 | 14 | Tony Kanaan | 70 | 41.6328 | 6.6930 | 3 | 0 | 22 | Chevy | 8 | AJ Foyt Enterprises |
| 8 | 23 | Charlie Kimball | 70 | 47.3553 | 5.7225 | 4 | 0 | 21 | Chevy | 15 | Carlin |
| 9 | 98 | Marco Andretti | 70 | 56.6293 | 9.2740 | 3 | 0 | 12 | Honda | 24 | Andretti Herta Autosport with C-A |
| 10 | 22 | Simon Pagenaud | 70 | 59.5891 | 2.9598 | 3 | 0 | 8 | Chevy | 14 | Team Penske |
| 11 | 59 | Max Chilton | 70 | 64.6868 | 5.0977 | 3 | 0 | 17 | Chevy | 21 | Carlin |
| 12 | 27 | Alexander Rossi | 70 | 66.6419 | 1.9551 | 3 | 46 | 1 | Honda | 129 | Andretti Autosport |
| 13 | 26 | Zach Veach | 70 | 67.6438 | 1.0019 | 3 | 0 | 7 | Honda | 85 | Andretti Autosport |
| 14 | 4 | Matheus Leist | 70 | 71.6742 | 4.0304 | 2 | 0 | 18 | Chevy | 2 | AJ Foyt Enterprises |
| 15 | 1 | Josef Newgarden | 70 | 74.2820 | 2.6078 | 3 | 0 | 19 | Chevy | 1 | Team Penske |
| 16 | 5 | James Hinchcliffe | 70 | 77.3729 | 3.0909 | 3 | 0 | 6 | Honda | 3 | Schmidt Peterson Motorsports |
| 17 | 30 | Takuma Sato | 69 | 1 LAPS | 2.3118 | 3 | 0 | 20 | Honda | 19 | Rahal Letterman Lanigan |
| 18 | 20 | Jordan King | 69 | 1 LAPS | 22.1190 | 3 | 0 | 11 | Chevy | 46 | Ed Carpenter Racing |
| 19 | 88 | Gabby Chaves | 69 | 1 LAPS | 31.2658 | 3 | 0 | 14 | Chevy | 79 | Harding Racing |
| 20 | 19 | Santino Ferrucci | 69 | 1 LAPS | 18.7141 | 4 | 0 | 13 | Honda | 12 | Dale Coyne Racing |
| 21 | 18 | Sebastien Bourdais | 67 | 3 LAPS | 1 LAPS | 5 | 0 | 16 | Honda | 10 | Dale Coyne Racing with V-S |
| 22 | 32 | Rene Binder | 66 | 4 LAPS | 63.8455 | 3 | 0 | 23 | Chevy | 20 | Juncos Racing |
| 23 | 21 | Spencer Pigot | 21 | 4 LAPS | 1 LAPS | 3 | 0 | 15 | Chevy | 80 | Ed Carpenter Racing |
Race Statistics:
Winner's average speed: 105.176 mph
Time of Race: 1:33:50.5784
Margin of victory: 11.3549 seconds
Cautions: 1 for 3 laps
Lead changes: 6 among 3 drivers
Lap Leaders:
Rossi, Alexander 1 – 22
Wickens, Robert 23 – 28
Hunter-Reay, Ryan 29 – 33
Rossi, Alexander 34 – 46
Hunter-Reay, Ryan 47 – 52
Rossi, Alexander 53 – 63
Hunter-Reay, Ryan 64 – 70
Verizon IndyCar Series point standings:
Power 309, Dixon 304, Rossi 298, Hunter-Reay 278, Newgarden 270, Wickens 232, Rahal 221, Andretti 197, Bourdais 194, Pagenaud 188.