Dixon holds off Hunter-Reay to win in Detroit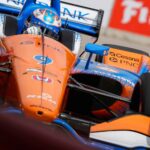 Scott Dixon wins in Detroit
Scott Dixon drove a perfect race and held off Ryan Hunter-Reay after the final restart to win the first race of the Detroit GP doubleheader Saturday.
With the win Dixon now ties Michael Andretti for third on the all-time win list with 42 wins. That leaves only fellow legends A.J. Foyt (67 wins) and Mario Andretti (52) ahead.
"I feel very lucky and very privileged to be in this sport," said Dixon, who spent the first year-plus of his Indy car career with PacWest Racing before joining Chip Ganassi Racing four races into the 2002 season. He's been with CGR since.
"For me, I love racing. I feel very lucky to do it, and while I'm here, I want to do the best that I can. Winning is why we're in this business, and that's why we're going to come back tomorrow and try and get No. 43."
"Scott Dixon is one of the best Indy car drivers of all time, so it was only just a matter of time before he was going to get there," Michael Andretti said. "Well deserved. He's always running up front and when you do that, you're going to win a lot of races.
"He picked the wrong day to do it, for sure," Andretti added with a laugh. "You finish second, third and fourth and you're still not really, really happy, which is probably being a little greedy right now."
Dixon wound up leading 39 of the 70 laps on the 14-turn, 2.35-mile temporary street course on Belle Isle. It was his second win on the track (first was in 2012) and first triumph of the 2018 season.
Hunter-Reay's Andretti Autosport teammate Alexander Rossi came home third ahead of polesitter Marco Andretti to give the Andretti team 2-3-4.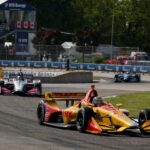 Andretti cars run 2-3-4
With his third Rossi takes the points lead over Dixon.
Takumo Sato and Ed Jones were 5th and 6th to give Honda power a 1-2-3-4-5-6 sweep at the front in a race sponsored by Chevy.
Indy 500 winner Will Power was 7th, the top finishing Chevy car.
[adinserter name="GOOGLE AD"]Two big accidents saw Graham Rahal hit the barriers hard when he missed his apex and hit the inside curb hard sanding him into the outside wall.
The 2nd accident was caused by Charlie Kimball (again) when he punted rookie Santino Ferrucci hard under braking sending the young F1 hopeful hard into the barriers.
Rookie Ferrucci was having an impressive run and was on his way to a strong finish in his Verizon IndyCar Series debut when he got hit from behind through no fault of his own and sent spinning into the tire wall and out of the race on Lap 56.
After qualifying right next to his teammate Sebastien Bourdais in 18th earlier in the day, Ferrucci made steady progress during his first stint moving as high as 12th after passing his teammate on Lap 13.
Electing for a two-stop strategy in the 70-lap event, Ferrucci would find himself in 22nd place, once again ahead of Bourdais, following his pit stop on Lap 17. As his second stint went on, the rookie turned remarkable lap times despite the amount of fuel saving that he was doing.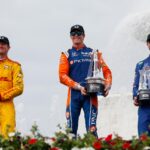 Podium from left, Hunter-Reay, Dixon and Rossi
After his second stop, the driver of the #19 Paysafe car found himself in 13th place as the field went back to green flag racing on Lap 54.
However, that would mark the end of any progress made by the young American as Charlie Kimball would run into the back of him two laps later sending him spinning and straight into the tire wall.
"The #19 Paysafe, Dale Coyne Racing car was absolutely amazing," expressed Ferrucci. "We had a fantastic balance coming out of qualifying. All the engineers did a fantastic job sorting the car out for me during the race. Once I figured out how to fuel save better, we picked up massive time and we were doing a really good job. We were in great shape to get a potential top 10 finish for my first outing in the Verizon IndyCar Series, so it's disappointing to get run over like that, but that's racing and we'll come back stronger tomorrow."
The 2nd race of the Doubleheader is Sunday – 3:30 PM ET on ABC. Qualifying is Sunday morning
Driver Quotes
JOSEF NEWGARDEN (No. 1 Hitachi Team Penske Chevrolet): "That was a lot of work for a ninth-place finish. I'm worn out. This place really takes it out of you. This is a place where you have to be up on the wheel all the time. If you aren't, it can bite you. We saw that today with (Graham) Rahal. But I need to thank everyone at Team Penske and Team Chevy. We really want to do well here in our backyard, but we just didn't have enough here today. I think the max were we going to be was fifth or sixth. We know we are going to have to try some things. We are going to do some experiments overnight and try to come up with something different tomorrow."
MATHEUS LEIST (No. 4 ABC Supply AJ Foyt Racing Chevrolet): "It was a tough race starting 21st. I think we were OK until the yellow came out for Graham (Rahal), it messed up our strategy. I think we made some improvements in the car, but the race didn't go our way at the end. I think we could be a little bit faster than that, so we will improve the car and try to have a great race tomorrow."

JAMES HINCHCLIFFE (No. 5 Arrow Electronics SPM Honda): "That one was on me… pretty disappointing result. We got hosed in qualifying by a slow car – just a wrong place, wrong time sort of thing – so we started behind where we should have. We had kind of committed to an alternate strategy, the three-stopper. Unfortunately, on that first stop, I just had a pit lane violation – 100 percent on me. Very frustrating, because after that the Arrow Electronics car was really good. We were taking a lot of time out of the guys on the two-stop strategy. Then, that yellow sort of closed it up, but the race had gone yellow-free for so long. I used a lot of push-to-pass trying to get around guys and get that open track we needed. I was kind of a sitting duck on those restarts, didn't have much to play with. Really disappointed in myself with the pit lane violation. The SPM guys deserve better, they were great on pit lane as always. The car is quick, and we get a chance to try and qualify where we belong tomorrow and hopefully race up front."
ROBERT WICKENS (No. 6 Lucas Oil SPM Honda): "Honestly, it was a tough day… I felt that we had a great car. For sure there are some areas we need to work on, but we fell off massively on the reds (Firestone alternate tires) out of nowhere. We had to commit to the three-stop strategy pretty early on, and then we lost track position and it was kind of a battle from there. We were able to climb back up to eighth, but I think we could have gotten the Lucas Oil car up in the top five. The good thing is we have another shot at just that tomorrow."
SCOTT DIXON (No. 9 PNC Bank Chip Ganassi Racing Honda): "It's always nice (to win). I think right now, with the competition in the Verizon IndyCar Series, it's just through the roof. If you look back a few years, you can sort of run off five or six victories in a season, and it seems those days are pretty much gone. I'm super proud of everybody at Chip Ganassi Racing, and obviously PNC Bank's first victory. Finishing third in Indy is nice, but really people only care about who wins at that place, so it's always tough leaving Indianapolis unless you've won. But it's always nice to rebound strong in Detroit. Honda has done a superb job, Top six for them here in the Motor City is a pretty big deal and congratulations to them. We're going to come back and do it all again tomorrow. Would have been nice to celebrate a bit tonight."
WILL POWER (No. 12 Verizon Team Penske Chevrolet): "Obviously, we have good top-end speed, which is great for Indy and some of these tracks with longer straights. I drove pretty hard for seventh place. Our car is pretty good; the handling is not bad, so there's not much I could pick out to gain us some speed. If we could qualify a little better, like in the top four, it would make a big difference. You could do something there with strategy."
TONY KANAAN (No. 14 ABC Supply AJ Foyt Racing Chevrolet): "We passed a lot of cars today. We gambled with the strategy and we knew it could work or not and that last yellow killed us, but it is what it is. We have to qualify better, which we are working on, because track position is so important. When you start playing with strategy like that, I told the boys we were either going to finish inside the top 10 or we're gonna finish where we started. But I'm happy, the pit stops were good, so we just have to keep working on the items we need to make better."
GRAHAM RAHAL (No. 15 United Rentals Honda): "I'm OK. It was about the worst hit you could take around here. I think the car did its job. Obviously, we were going to finish third, at worst, and it looks like a lot of our competitors are struggling today. I'm disappointed in myself. We've got to go back and look at what happened. I just lost it before I even really turned in. I don't really know what happened. It was shaping up pretty good for the United Rentals team so it's disappointing. We were the only ones that were bold enough to do it (start with Firestone primary tires), but it put us in a good spot in the race and then we could manage the pace from there. On the red (Firestone alternate tire), it was certainly ugly for me. It was a handful to hang on there, but it was my out lap on the last set there when I lost it and I'm not really sure what happened. It was feeling OK. We just decided to try something different, get off strategy there and it worked. In my head, I had it all played out where I felt like if I could start on blacks, I could hold off others the first few laps so that I could make my way through the guys and it worked out."

SEBASTIEN BOURDAIS (No. 18 Team SealMaster Honda): "It had to be one of the hardest races I have ever done. We haven't found the sweet spot on the setup. We are searching, we are trying things, but this afternoon we went backwards. I lost the tires very quickly on the first stint with the alternate (Firestone red tires), then I made a mistake and lost two spots. We put on the black (Firestone primary) tires and I had no pace. The car got loose right away. The car was just super difficult to drive. We put the front wing down a little bit, that kind of got the car back in the groove at the end, but it was too little too late. The positive is the car is in one piece and we have another go at it tomorrow."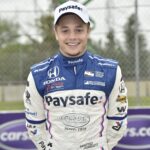 Santino Ferrucci ran a good race for a rookie until Charlie I-Crash-Everyone Kimball drilled him from behind and sent him hard into the tire barrier
SANTINO FERRUCCI (No. 19 Paysafe Honda): "The No. 19 Paysafe, Cly-Del Dale Coyne Racing car was absolutely amazing. We had a fantastic balance coming out of qualifying. All the engineers did a fantastic job sorting the car out for me during the race. Once I figured out how to fuel save better, we picked up massive time and we were doing a really good job. We were in great shape to get a potential top 10 finish for my first outing in the Verizon IndyCar Series, so it's disappointing to get run over like that, but that's racing and we'll come back stronger tomorrow."

JORDAN KING (No. 20 Allegiant International Chevrolet): "The second half of our race was quite good, we were quite strong the second half pace-wise. I am a bit confused as to why I couldn't get much of pace out of it at the start of the race. We were just kind of holding on to everybody, but not able to do anything. After that, we got into quite a good rhythm and made some good progress. Starting at the back just made it difficult. We overtook a few people, but I think our pace was a little better than where we ended up. It's tough out there, the field is quite close which makes strategy calls difficult, as well. It was good to get a first full race with no issues in. That's quite nice, but it's annoying in that we're further down the field than we want to be."
SPENCER PIGOT (No. 21 Ed Carpenter Racing Fuzzy's Vodka Chevrolet): "Overall, it was a pretty solid race for us. We made improvements throughout the weekend and we were able to move up during the race. Unfortunately, we had a stall on our first pit stop which cost us a little bit of time, but I don't think it had a huge effect on the finishing position. It was nice to get our first top 10 finish of the season. I feel like it should have come a lot earlier, but hopefully, this can be the start of a good string of results for us. Thanks to all of the Fuzzy's Vodka guys in the pit lane for another day of hard work."
CHARLIE KIMBALL (No. 23 Tresiba Chevrolet): "I'm really proud of the effort by the Carlin boys today. The No. 23 Tresiba Chevrolet was good, we had great pit stops and we made great fuel mileage. I got caught out on contact with a rookie. Honestly, that one was on me, because I expected him to be a little more consistent than he was. With a rookie, I should've given him more benefit of a doubt. I feel badly for the team on that front, but the good thing about the Dual in Detroit is that we get to come back and try again tomorrow. We'll try and qualify a little higher up, so we don't have to fight quite as hard in the back to get back up front."

ZACH VEACH (No. 26 Relay Group 1001 Honda): "I thought we had a really good qualifying car. I think we should have qualified inside the top six, but I just didn't do the job I needed to during qualifying. I think our car is good, there's just a couple things I need to improve on tomorrow. Overall, for learning, I think today was very good for us. Obviously 12th isn't where we want to be finishing races, but for our first race here, I don't think it's terrible. Congratulations to my teammates, they've done a hell of a good job all weekend, so far. They're paving the way for me and I'm just learning as much as I can. Detroit is very rough and 70 laps around this place seems like an eternity. Tomorrow is going to be a lot of work as well."

ALEXANDER ROSSI (No. 27 Ruoff Home Mortgage Honda): "It's great for Andretti Autosport to be 2-3-4, it's great for the team. I think the No. 27 Ruoff Home Mortgage car had the capability to win, but for whatever reason, after pit stops, we just kept coming out behind a slower car and weren't able to maximize clean air and fresh tire pace. With that being said, when the last restart happened, I knew we didn't have the pace for the top two, so sometimes you've just got to be content with third. It's great to be back on the podium, it's great for the team after a very long month of May."
RYAN HUNTER-REAY (No. 28 DHL Honda): "I was doing qualifying laps there the whole time. Man, it was physical, just trying to qualify every single lap. Then at the end, with the restarts, kind of threw it off the rhythm there. I had trouble getting the tires clean, and kind of let (Scott) Dixon slip away there. I thought, the first couple laps after the green came out on the restart, I had something for him, but I just couldn't keep the mid-corner speed on the far end of the track to keep up with him, to get close enough for the pass. Good job by the No. 28 DHL boys today in the pit lane again. They did an awesome job in Indy and again today, just phenomenal. Just came up a bit short today."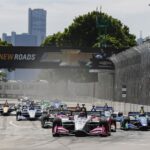 Andretti leads at the start
TAKUMA SATO (No. 30 Fifth Third Bank Honda): "It wasn't the best day for us, but at least it was a solid result. After last year's result for the team, obviously we had high expectations, but we struggled a little bit and had a technical issue on the first day and I think we came back really strong. The track is now nicely rubbered down. We can expect to have quite a competitive qualifying tomorrow and hopefully we have a good car."

RENE BINDER (No. 32 Binderholz tiptop Timber Chevrolet): "The race went OK, however, early in the race, I went in the runoff area and took a minute to get back on track. I tried to push and get a better feeling of the car. Our lap times were really competitive this afternoon compared to qualifying earlier today. I was able to find a good rhythm, so we need to keep this momentum going into the next race tomorrow."

MAX CHILTON (No. 59 Gallagher Chevrolet): "It's unfortunate that we ended up where we did in today's race, especially after we qualified so well this morning with a top-10 qualifying effort. We lost some positions on the start and then we went on an alternate fuel strategy that just didn't work out the way we were hoping in the end for the No. 59 Gallagher Chevrolet. While we aren't where we need to be yet, we're seeing more and more progress being made every race. We're excited to get back out there tomorrow, and we'll hope to have a similar qualifying effort but a different race result."
GABBY CHAVES (No. 88 Harding Group Chevrolet): "We just finished the first part of the Detroit doubleheader weekend. We learned a lot out there during the race today. I know that the guys are going to work hard to take what we learned out there to make the necessary changes before tomorrow's race. I know we'll have some improvements so we can make sure the No. 88 is closer to the front."
MARCO ANDRETTI (No. 98 AutoNation / Curb Honda): "You hate to go backwards. We definitely wanted another trophy. I haven't had a podium in while and that's been getting to me, let alone the win. We'll do some homework tonight on how we can improve on the race today and do better tomorrow. We want to get the pole tomorrow."
Art St. Cyr (president, Honda Performance Development) on today's Honda victory in Detroit: "What a great day for HPD today. To rebound from disappointing Indianapolis 500 last week to sweep the top six in IndyCar, go 1-2 in the GTD class in the IMSA race, plus second and third in the prototype class, should be reason for all HPD associates to be proud. Fortunately, with this format, we get to come back and try to do it all again tomorrow! Congratulations to everyone connected with our racing programs."
Race 1 Results
| | | | | | | | | | |
| --- | --- | --- | --- | --- | --- | --- | --- | --- | --- |
| Pos | No | Name | Laps | Diff | Gap | Led | ST | Engine | Team |
| 1 | 9 | Scott Dixon | 70 | 0.0000s | 0.0000s | 39 | 2 | Honda | Chip Ganassi Racing Teams |
| 2 | 28 | Ryan Hunter-Reay | 70 | 1.8249 | 1.8249 | 7 | 5 | Honda | Andretti Autosport |
| 3 | 27 | Alexander Rossi | 70 | 4.1771 | 2.3522 | 0 | 4 | Honda | Andretti Autosport |
| 4 | 98 | Marco Andretti | 70 | 11.5191 | 7.3420 | 22 | 1 | Honda | Andretti Herta with CA |
| 5 | 30 | Takuma Sato | 70 | 11.8757 | 0.3566 | 0 | 7 | Honda | Rahal Letterman Lanigan |
| 6 | 10 | Ed Jones | 70 | 13.7649 | 1.8892 | 0 | 11 | Honda | Chip Ganassi Racing Teams |
| 7 | 12 | Will Power | 70 | 15.0733 | 1.3084 | 0 | 6 | Chevy | Team Penske |
| 8 | 6 | Robert Wickens | 70 | 21.4715 | 6.3982 | 0 | 3 | Honda | Schmidt Peterson Motorsports |
| 9 | 1 | Josef Newgarden | 70 | 21.5622 | 0.0907 | 0 | 14 | Chevy | Team Penske |
| 10 | 21 | Spencer Pigot | 70 | 21.9523 | 0.3901 | 0 | 12 | Chevy | Ed Carpenter Racing |
| 11 | 5 | James Hinchcliffe | 70 | 22.3158 | 0.3635 | 0 | 9 | Honda | Schmidt Peterson Motorsports |
| 12 | 26 | Zach Veach | 70 | 23.0621 | 0.7463 | 0 | 16 | Honda | Andretti Autosport |
| 13 | 18 | Sebastien Bourdais | 70 | 23.3441 | 0.2820 | 0 | 17 | Honda | Dale Coyne Racing w/VS |
| 14 | 14 | Tony Kanaan | 70 | 26.1877 | 2.8436 | 0 | 15 | Chevy | AJ Foyt Enterprises |
| 15 | 4 | Matheus Leist | 70 | 26.5471 | 0.3594 | 0 | 21 | Chevy | AJ Foyt Enterprises |
| 16 | 20 | Jordan King | 70 | 27.0156 | 0.4685 | 0 | 20 | Chevy | Ed Carpenter Racing |
| 17 | 22 | Simon Pagenaud | 70 | 29.8038 | 2.7882 | 0 | 13 | Chevy | Team Penske |
| 18 | 88 | Gabby Chaves | 70 | 33.7246 | 3.9208 | 0 | 19 | Chevy | Harding Racing |
| 19 | 23 | Charlie Kimball | 70 | 34.0911 | 0.3665 | 0 | 22 | Chevy | Carlin |
| 20 | 59 | Max Chilton | 70 | 34.8584 | 0.7673 | 0 | 10 | Chevy | Carlin |
| 21 | 32 | Rene Binder | 67 | 3 LAPS | 3 LAPS | 0 | 23 | Chevy | Juncos Racing |
| 22 | 19 | Santino Ferrucci | 55 | 10.0695 | 0.1586 | 0 | 18 | Honda | Dale Coyne Racing |
Race Statistics:
Winner's average speed: 99.285 mph
Time of Race: 1:39:24.6189
Margin of victory: 1.8249 seconds
Cautions: 2 for 10 laps
Lead changes: 6 among 4 drivers
Lap Leaders:
Andretti, Marco 1 – 22
Dixon, Scott 23
Rahal, Graham 24 – 25
Hunter-Reay, Ryan 26 – 31
Dixon, Scott 32 – 44
Hunter-Reay, Ryan 45
Dixon, Scott 46 – 70
Verizon IndyCar Series point standings:
Rossi 276, Dixon 272, Power 269, Newgarden 255, Hunter-Reay 227, Wickens 202, Rahal 191, Bourdais 185, Andretti 175, Pagenaud 168.