Whelen Engineering Cadillac Wins Detroit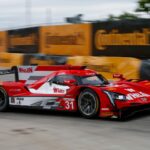 Winning #31 Cadillac
One of the key storylines coming into the Chevrolet Sports Car Classic was the fact that General Motors has won every IMSA-sanctioned race at Detroit's Belle Isle Park dating all the way back to the first American Le Mans Series event in 2007.
And while that streak may have been in doubt at times throughout Saturday's 100-minute race at the 2.3-mile street circuit, in the end, the No. 31 Whelen Engineering Cadillac DPi-V.R co-driven by Brazilian Felipe Nasr and Eric Curran kept it alive.
Benefitting from masterful race strategy by the Action Express Racing team, Nasr took the lead with 35 minutes remaining when Ricky Taylor made his final pit stop of the race in the No. 7 Acura Team Penske Acura ARX-05 DPi. He then managed to hold off a late run by the hard-charging Taylor to win by 1.016 seconds.
It was Nasr's first career victory in the IMSA WeatherTech SportsCar Championship and was Curran's eighth win in IMSA competition (six in the WeatherTech Championship, two in GRAND-AM).
"It took a few races to come, but I'll take it," Nasr said. "The way we made it this weekend, Eric, the whole Action Express team did an amazing job, especially after our free practice. I had a little mistake that put us on the back foot, the guys put the car back together, Eric put on an amazing qualifying and a mega start.
[adinserter name="GOOGLE AD"]"The race itself was about getting the right calls. We took the Continental Tires to the end. They hung on amazing and I was able to drive the car pretty fast until the end. It came and I couldn't ask for a better day, to be honest. I'm super happy."
For Curran, it was a second win in Detroit, having also won back in 2015, and it moved the No. 31 duo into a tie with their No. 5 Mustang Sampling Cadillac DPi-V-R teammates, Joao Barbosa and Filipe Albuquerque, for the WeatherTech Championship Prototype points lead with five of 10 races now in the books.
"If you're in a Cadillac, this is a good place to win," said Curran, who pointed out in victory lane that it also was Whelen Engineering owner Sonny Whelen's birthday. "I mean, all the guys and all the support from Cadillac and all the guys from GM, they're all here. This is the place to be and the place to win in our Whelen Cadillac. I'm so excited. This is my second win in the last number of years."
Taylor and Castroneves backed up their victory last time out in the Acura Sports Car Challenge at Mid-Ohio with a runner-up result in Detroit. After leading a 1-2 sweep at Mid-Ohio last month, the No. 7 teammates led a 2-3 sweep for Acura Team Penske in Detroit.
Dane Cameron – who shared the Detroit victory with Curran in 2015 – came home third in the No. 6 Acura DPi alongside co-driver Juan Pablo Montoya. Scott Sharp and Ryan Dalziel came home fourth in the No. 2 Tequila Patrón ESM Nissan DPi.
Five-time Detroit race winner Jordan Taylor and co-driver Renger van der Zande – who has two career wins on Belle Isle – finished fifth in the No. 10 Konica Minolta Cadillac DPi-V.R.
A re-air of the Chevrolet Sports Car Classic will be televised on FS1 on Sunday, June 3 on FS1 at 8:30 a.m. ET.
Next up for the IMSA WeatherTech SportsCar Championship is the Sahlen's Six Hours of The Glen at Watkins Glen International. The race also marks the third round of the four-race Tequila Patrón North American Endurance Cup and will be televised live on FS1 beginning at 9:30 a.m. ET on Sunday, July 1.