Marco Andretti wins Detroit GP 1 pole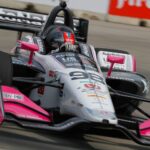 Marco Andretti
Marco Andretti but up a sensational lap time to win the pole position for Saturday afternoon's opening IndyCar race in Detroit as he beat everyone by almost half a second.
Driving the No. 98 AutoNation/Curb Honda for Andretti Herta Autosport with Curb-Agajanian, the third-generation Indy car driver sizzled around the Raceway at Belle Isle Park temporary street course in 1 minute, 14.8514 seconds (113.024 mph) on his last lap to collect the fifth pole position of his 13-year career and first since Pocono Raceway in July 2013.
"I'm definitely embarrassed to say that this is my first (road/street pole), but I've been outside pole so many times on road and street courses," Andretti said. "Extremely pleased to execute today. I think yesterday I knew we had the speed … so I knew we had it in the car. All I had to do was execute, and I was able to do that instead of just talking, 'Oh we would have been first.' Now we are."
Road course qualifying at Detroit is different than other road courses. It's just two groups and you line up on one side or the other in order of your time in your group.
Under the format, the drivers in Andretti's qualifying group will occupy the odd-numbered grid positions for the 70-lap race, based on their qualifying times. The drivers from Dixon's group will fill in the even-numbered starting positions.
[adinserter name="GOOGLE AD"]Andretti will look to erase an even longer drought this afternoon. He hasn't won a race since 2011 at Iowa Speedway, a stretch of 115 races.
"It's not easy to be first in anything," he said. "It's been a challenge. The win column is what's really been bugging me, for sure. Starting first is awesome, but I definitely want to win the race. We have a great shot at doing that today. As soon as I knew we won pole, the switch in my brain flipped to win."
Andretti's stellar lap came on the final lap of the second 12-minute session after Scott Dixon set quick time in the opening group of qualifiers. The four-time IndyCar champion ran 1m15.418s in his PNC Honda as Honda claimed eight of the top 10 starting spots.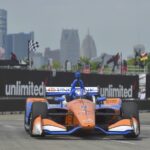 Dixon was fastest in Group 1
Robert Wickens lines up third in his Lucas Oil Honda after turning a 1m15.3267s and seemingly having his second pole before Andretti's monster lap. "We're quick on blacks but still struggling to get enough out of reds," he said.
Alexander Rossi is slotted fourth in the NAPA Honda, while teammate Ryan Hunter-Reay starts fifth in the DHL Honda and 2018 Indy 500 winner Will Power is sixth and the highest Chevrolet in the 23-car field.
Takuma Sato, Graham Rahal, James Hinchcliffe and Max Chilton round out the top 10.
The Chevrolet Detroit Grand Prix is the only doubleheader weekend on the Verizon IndyCar Series schedule. Live coverage of today's race, the seventh of 17 this season, airs on ABC (3:30 p.m. ET) and the Advance Auto Parts INDYCAR Radio Network (3 p.m.). Race 2 airs at the same times Sunday.
Race 1 Lineup
| | | | | | | |
| --- | --- | --- | --- | --- | --- | --- |
| Pos | Car | Driver Name | Engine | Time | Speed | Session |
| 1 | 98 | Andretti, Marco | Honda | 01:14.8514 | 113.024 | Qualifications / Group 2 |
| 2 | 9 | Dixon, Scott | Honda | 01:15.4186 | 112.174 | Qualifications / Group 1 |
| 3 | 6 | Wickens, Robert (R) | Honda | 01:15.3267 | 112.311 | Qualifications / Group 2 |
| 4 | 27 | Rossi, Alexander | Honda | 01:15.4946 | 112.061 | Qualifications / Group 1 |
| 5 | 28 | Hunter-Reay, Ryan | Honda | 01:15.3351 | 112.298 | Qualifications / Group 2 |
| 6 | 12 | Power, Will | Chevy | 01:15.7210 | 111.726 | Qualifications / Group 1 |
| 7 | 30 | Sato, Takuma | Honda | 01:15.3920 | 112.213 | Qualifications / Group 2 |
| 8 | 15 | Rahal, Graham | Honda | 01:15.8273 | 111.569 | Qualifications / Group 1 |
| 9 | 5 | Hinchcliffe, James | Honda | 01:15.5402 | 111.993 | Qualifications / Group 2 |
| 10 | 59 | Chilton, Max | Chevy | 01:16.0396 | 111.258 | Qualifications / Group 1 |
| 11 | 10 | Jones, Ed | Honda | 01:15.8876 | 111.481 | Qualifications / Group 2 |
| 12 | 21 | Pigot, Spencer | Chevy | 01:16.1430 | 111.107 | Qualifications / Group 1 |
| 13 | 22 | Pagenaud, Simon | Chevy | 01:16.0099 | 111.301 | Qualifications / Group 2 |
| 14 | 1 | Newgarden, Josef | Chevy | 01:16.1923 | 111.035 | Qualifications / Group 1 |
| 15 | 14 | Kanaan, Tony | Chevy | 01:16.0740 | 111.208 | Qualifications / Group 2 |
| 16 | 26 | Veach, Zach (R) | Honda | 01:16.3157 | 110.855 | Qualifications / Group 1 |
| 17 | 18 | Bourdais, Sebastien | Honda | 01:16.2205 | 110.994 | Qualifications / Group 2 |
| 18 | 19 | Ferrucci, Santino (R) | Honda | 01:16.7531 | 110.224 | Qualifications / Group 1 |
| 19 | 88 | Chaves, Gabby | Chevy | 01:16.2311 | 110.978 | Qualifications / Group 2 |
| 20 | 20 | King, Jordan (R) | Chevy | 01:16.9075 | 110.002 | Qualifications / Group 1 |
| 21 | 4 | Leist, Matheus (R) | Chevy | 01:16.4182 | 110.707 | Qualifications / Group 2 |
| 22 | 23 | Kimball, Charlie | Chevy | 01:17.2067 | 109.576 | Qualifications / Group 1 |
| 23 | 32 | Binder, Rene (R) | Chevy | 01:18.6108 | 107.619 | Qualifications / Group 2 |
(R) Rookie