Detroit GP Friday Press Conference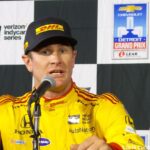 Fast man Ryan Hunter-Reay
Drivers
1st – Ryan Hunter-Reay (#28 Honda)
2nd – Scott Dixon (#9 Honda)
6th – Graham Rahal (#15 Honda)
Press Conference
THE MODERATOR: Joined now by the fastest driver of the day, Ryan Hunter-Reay, driving the No. 28 DHL Honda for Andretti Autosport. Ryan has two podium finishes here on the Streets of Belle Isle and a best finish of second, but Ryan, off to a really good start this weekend. With the new car, how are things adjusting and changing to the track?
RYAN HUNTER-REAY: Oh, it's certainly busy out there, I can tell you that. I don't think anybody would be 100 percent satisfied with the balance that they have, but that's the choice. It's a lot of fun around here. You really have to wheel the car to get it done, but you know, hats off to the Andretti Autosport team. We came here with a much better car this year. I was really happy with the balance even to start out with. The car was basically doing the fundamentals that I needed it to do, the front was working well, and from there we just kept chipping away at it. We'll see. Good first practice today, but a lot riding on tomorrow with qualifying and race 1.
[adinserter name="GOOGLE AD"]THE MODERATOR: With the track being as bumpy as it is, and I know this is fairly subjective, but would you say that this is one of the more physically demanding tracks that the series goes to throughout the 2018 season?
RYAN HUNTER-REAY: The track actually, they've done a great job with it. Penske has put on a great show here, and they've really brought this track a long way from where it was even four years ago, massive amounts. The braking zones are all really nice, and the passing opportunities are there. It's about everything you can ask for in a street course.
I think it's more just the characteristics of the concrete surface. You're constantly — any bump that you do have, the car never really wants to take a set because it's just not a very abrasive surface, so the tires don't really get into it, and I think that's why you're just constantly fighting it. A lot of countersteer; in one corner you're just sawing at the wheel a lot. But that's the beauty of street courses. We'll try and find a little bit more grip for tomorrow and try and start out up front.
THE MODERATOR: We've seen a lot of different diversity and parity in street course qualifying so far this season. What are you expecting from tomorrow's qualifying session?
RYAN HUNTER-REAY: Anything goes in IndyCar. That's the beautiful thing about this series is anybody in the top 15 can put it up front. You just don't know what you have. Just going to have to keep working on it, keep your head down, and try and get what you need as a driver from the race car, work with the team on that, and that's about all you can do. Yeah, I couldn't even begin to predict who would be up front. Obviously Graham has had a good run here. This guy tends to be a major pain around here, as well. Anybody can end up putting that lap together. It's going to come down to hundredths of a second for sure.
THE MODERATOR: Joined now by Scott Dixon, driving the No. 9 PNC Bank Honda for Chip Ganassi Racing. Has a win here in 2012, which was the series' first race back since 2008 at the time. Scott, how did practice go for you today, and how are you liking your car, your setup that you have heading into tomorrow's qualifying?
SCOTT DIXON: Yeah, actually pretty happy. I think practice 2 was really good. We struggled there with the reds. I think it was like run 3 by the time we actually got a lap on the blacks in. And the speed was really good. And then we went to the reds and kind of did my out lap, and it was up a ton until Turn 13, where I never hit the fence, I think we lost like four tenths just in the one corner. So the car has got a ton of speed. We were able to match it the next lap with another mistake in Turn 5. We'll see. It's about getting the right gap here in qualifying. It's such short sessions and such a small window with the reds, it's going to be really tough to get it right. Hopefully we can have a smooth qualifying, but the PNC Bank car feels pretty decent, but there's a lot of good cars out there, as Ryan mentioned, so they're going to be extremely fast, too.
Q. Scott, you do triathlons; is this weekend almost like competing in a triathlon because you've got track disqualifications, race, qualifications, race?
SCOTT DIXON: It's pretty tough. It's tough for the drivers physically and mentally. It's also extremely tough on the crew. They've just come on basically a month at the speedway, and you don't even get much time before that, obviously with the races previous to starting at Indy, and then have to come in, have to prep the cars. You just hope you have a clean weekend. If you crash on one of the races, at least the first one, it takes a big toll on them. But yeah, I actually like the double headers. Maybe a week off after Indy would be kind of nice for everybody, but nobody ever seems to want to do that, so we'll see.
Q. And also, hopefully you don't need to use them, but Firestone has got its new rain tire. Have either of you checked it out, looked at the tread pattern and how that might work on a wet course?
SCOTT DIXON: Yeah, it's the new asymmetric one, which from what they've talked about, we went to Firestone early in the year, they were pretty happy the with the direction they were going. It's definitely different. Hopefully it's more suitable to some of these street courses where we can get a lot of standing water. It looks like it'll do a better job with that. But until we get it try it, we'll have to wait and see.
RYAN HUNTER-REAY: I haven't seen it.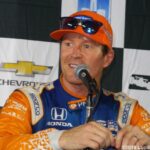 Scott Dixon
Q. I'm just curious with just some of the track conditions, it looks like every year they come back and they try to get some of those cracks and stuff, but there's some grass growing places. How rough was it today with a couple cars going through, and a squirrel on the track. Is this an interesting course when it comes to the conditions?
RYAN HUNTER-REAY: Yeah, any time you come here, even if you're happy with your car, you feel like you're sliding around. I think it's just because of the concrete surface and sudden drop-off making this track so much smoother over the past four years and making it raceable where you have passing opportunities in the brake zones. You couldn't ask for much more from a street circuit. But no, I didn't notice any grass on the track or anything like that. Maybe a little bit of pit-out, but the track looks great to me. Got to make the most of it. The good thing is it's the same for everybody, right? A lot of guys have been having trouble braking, especially once the tires start getting older. No doubt that will be a factor tomorrow in the race. Lots of squirrels around here, that's for sure. I've seen that.
Q. You touched on it at the beginning: All four Andretti cars in the top 10 today. What kind of strides as a team, what have you been doing to get stronger on the street courses?
RYAN HUNTER-REAY: I don't know. I mean, I think we're just looking at it from what some of the things that have worked for us at the other races that don't always apply here at Detroit, and then some things that have worked in the past for us at Detroit. We're trying to mix it all up and make something happen with it. I think the communication is there, but what we had last year didn't work for us, so we had to come back with something different. Even though this is a completely different car, we had to come at it from a new approach, so I think that's most of it.
Q. I know that surface is a big part of it with the concrete making up most of the track, but how much of the correcting we're seeing and how much different is it maybe this car to drive the car as far as the aero kit and lack of downforce this year?
SCOTT DIXON: You're saying because of the aero kit, how different it is?
THE MODERATOR: How much of the corrections of the car that you're having to make are due to the surface versus the actual aero kit itself?
SCOTT DIXON: I think the first session seemed a lot further off, and then as we get more track reps, the actual speeds get quite close to what we've seen in previous years, which is pretty good considering we're a lot less downforce, 25 percent, 30 percent less.
But I don't know. I find this place always tricky no matter what. Any generation of car that I've been in, and even if you go back to the previous Dallara, it's always difficult around here. It's very bumpy, it's very physical, it's very hard to get right, but I think that's what makes it so much fun, too. This car, I think, the parity is definitely a lot better, I think, for a circus like this over what we had last year, from Honda to the competition, so I think that's maybe slightly better.
RYAN HUNTER-REAY: Yeah.
SCOTT DIXON: But yeah, it's not a big difference.
RYAN HUNTER-REAY: Yeah, I agree. I think that this place, especially this first session is always pretty green, pretty far off, and you're fighting the car. I think overall here it's just very tough to be accurate with the car lap after lap if the tires fall off because you're sliding around so much placing the car accurately over a race is one of the most difficult things about Detroit.
Q. Scott, last year you had a fairly heroic effort finishing on the podium with a banged-up ankle from your crash at last year's 500. How much pain were you in, and how important is it to be 100 percent at a difficult track like this?
SCOTT DIXON: It definitely wasn't super comfortable. I don't know, whatever the drugs were they gave me that I could only take for three days were pretty impressive, but I was actually quite miserable after this race going and doing Texas and then we had another crash with Sato there, and then Le Mans was not fun at all. But yeah, here I think for us, coming second in that first race was a big deal, and I think we could have finished second in the second race had we not had the problem in the pits. But yeah, I feel a lot better this year, that's for sure.
Graham Rahal
Press Conference
THE MODERATOR: We will get started with our Verizon IndyCar Series post-practice press conference. Joined now by Graham Rahal, driver of the No. 15 United Rentals Honda for Rahal Letterman Lanigan Racing. Also the defending winner here in the Chevrolet Duel in Detroit here at Belle Isle, swept both races in the only double-header event of the Verizon IndyCar Series schedule.
Graham, it wasn't that long ago. What do you remember from that experience and just coming away from the weekend going that you did literally the strongest you possibly could?
GRAHAM RAHAL: Yeah, it was a great weekend for us. I think everything just kind of fell into place. I'd say really it was that simple. We went out, and the car was really good off the truck, and it seemed — we actually didn't lead much early in the practice, but the times were where they were, and then we went out on our last run in practice 1 last year, and bam, went to the top, and I remember thinking, man, that was pretty easy. That kind of came to me pretty easy.
So it was really just a good performance all around from the team. You know, it's easy sometimes to go fast, but it's harder to carry that through the entire weekend like we did last year. You know, but hopefully we can make that happen again this time around.
THE MODERATOR: It does seem that you're off to a good start, third fastest in practice from this morning, but it is a different car. It's reacting differently around this racetrack. What have you noticed in terms of having to make adjustments?
GRAHAM RAHAL: Well, very similar for us to last year. Right away, as you guys could see, we went top of the time sheets no problem. Actually on my very first out lap, I knew because I was watching the times, I kind of knew where other people had been and stuff, and I went out and I felt like my out lap was kind of slowed by traffic and stuff, and yet the lap time that came up was a second quicker than most had done on their out lap, and I was like, wow, that's a good start. We just kind of — we didn't maximize it this morning. You know, I definitely think that we have the quickest car out here again. I mean, our quickest lap was our last lap, and I was mired in traffic. I had laps that were four or five tenths quicker than even that lap was at times.
We've just got to put it together. There's no doubt that the car is good, and you know, hopefully we can come out this afternoon on top, just give everybody that little momentum in the team, that excitement overnight, to go into tomorrow and just carry it on from there.
Q. How do you get past the sort of, quote-unquote, May hangover, because not only was May crazy but then you had three races back-to-back to back before that. It seems like you're having to push through a lot.
GRAHAM RAHAL: Yeah. I mean, it's busy, and then you add Kathy into the equation, and then I have no life. (Laughter.)
With all that said, actually this weekend for me is energizing because I know May is done, and I literally — come Tuesday after the banquet, I'm a new man. I love May, I love what the 500 is, what it stands for, but it wears me out. And this year I had no time to do anything in life, and I just — it's hard to live that way and not get frustrated or run down or whatever. This weekend is kind of a new — a breath of fresh air for me. So I'm excited to be here.
You know, for me, the future, the schedule doesn't look any better. Obviously we go to Texas, then I've got media days, and then I get to go to drag races, so it's not like I exactly get any time off any time soon, but I do feel a lot better, and if we could win that weekend, it would be that much better.
Q. For those of us who have followed your career, you've always had speed here, only before last year somebody put you into the wall or there was a mistake coming into the turns. Was last year a case of it all finally coming together?
GRAHAM RAHAL: Yeah, you know what it was, in 2014 we were on the podium here. 2015 we were on the podium here. 2016 I can't remember. But either way, we had — yeah, one year we had a brake line come off on a pace lap when we started on the front row or second row. So yes, it's been good to me.
Last year we just put the pieces of the puzzle together. This year, I just hope we can do the same. I know that we should be pretty quick. I know that our consistency in the race should be pretty good. I just want to see it all come together start to finish because we've been the most consistent finisher throughout this entire year. I just want to be able to keep that going and to really put ourselves in a much stronger position in the championship when we leave here on Sunday night than even where we are today.
Q. And also in your other racing pursuits, is this one weekend where you're actually allowed to root for a Team Penske car?
GRAHAM RAHAL: Yeah. No, it's good to see the Acura boys here. It's fun. I think they'll do a great job here. This is a big weekend, obviously, for Honda as a whole. To do well, I know it meant a lot last year. I know I got a lot of phone calls from the executive team and everything, so for the Acuras to be here, hopefully they can do it, as well. The NSX won here last year, got their first win, so hopefully they can make magic happen.
Q. This is a track that's always been a high downforce track. With the different aero kit this year, how different is the lack of downforce this year compared to last year?
GRAHAM RAHAL: Well, I kind of expected it to be bigger. Like Turn 1 and 2 was still pretty darn fast in this car, and really the pace didn't feel much different. You know, there are areas for sure it's got less grip, Turn 9 and 10 and around the fountain area and stuff, it's less grip. But it still seems pretty good.
The lap times I think are going to be close in the end, but I do think, as Rossi as I talked about earlier today, you've just got to work a little bit harder for it. There's no doubt. The margin for error has shrunk down even that much further. It'll be tough out there. But it seems to be pretty strong.
I mean, when I went into Turn 1 the first couple laps, I expected the pace to be like a lot slower, and it really — it was pretty close.
Q. I saw a lot of correcting in that session. Maybe I've not been paying attention all year. Is it just green track, is it the loss of downforce, is it the car?
GRAHAM RAHAL: Well, this track requires more of that anyway because of the bumps and because of the surface. The concrete is pretty slippery here to get going, so you're definitely sliding around a lot more. Mix in the car a little bit for sure, but yeah, overall I would say that the surface requires a lot more reaction.
Q. You said you've been more consistent as a team this year; what do you attribute that to?
GRAHAM RAHAL: Oh, man. I mean, our guys are firing on all cylinders. The reliability of the car has been good. The pit stops have been good. I feel like I've done a good job in the races, not making mistakes and just trying to maximize what we have. But I have to make our life easier. We've got to qualify, obviously, a lot better, and I know that this has been a topic for years, so I don't really want to talk about it too much, but if we could qualify up front, I think everybody else out here would be hating life, because on Sundays, rarely is there a car that's better than us. But when you have to come from mid or back pack all the time, you make your life really, really hard. And so hopefully this weekend we can start up front, and like I said, have a similar run through it as we did last year.
Q. What would you attribute that to? What's the change from a Saturday night to race day that makes the car so much better?
GRAHAM RAHAL: Well, some of it comes from me. Some of it comes from the way I think, the way I set up a race car. I often don't set up the fastest race car, but often if I tell you guys I've got a good race car, you know I've got a good race car. And that's just the way that I've always been.
I think the engineering staff at our team really trusts me when I tell them that the race car is strong or, hey, I need this for the race or I need that. It works out. The trouble is I need to — sometimes I need to try to reprogram my brain to not be so worried about 70 laps tomorrow and maybe what it takes to go quick for one lap in the morning.
Having said that, at some tracks — last year our race car was our qualifying car. They were the same. So some tracks it's fine. But like Indy GP, it's not going to be the same, at least for us, because we have a good race car, but you can't drive that car at 11 tenths and go quick. For some reason, the harder you push, the uglier is gets. So we've got to find a way when it comes to like a qualifying car to find something oftentimes that needs to be more stable, that you can just push even that much harder and find a little more pace.
Q. With the removal of knockout qualifying tomorrow and it just being traditional qualifying, do you feel like that plays into your hand, gives you a little bit better chance of qualifying better?
GRAHAM RAHAL: Yeah, I mean, look, I — yes, I mean, I think it helps. I think it's — for me it's a little bit better. You've just got to be the first — you've got to be the guy to put the fastest lap in, and if you put the fastest lap in in your group, you're bound to start on the front row, and you go from there. But I like it.
I'm still a big fan of the old style of just 30 minutes of qualifying. You had to find your gap, you had to do it right. If we're all very strict about the blocking rules, it's not a problem, and I would — I like kind of the Champ Car way where we qualify on Friday and Saturday, and Friday, if you were fastest on Friday, at least you'd guarantee yourself a front-row spot for the next day. I enjoy that.
But obviously I don't make the rules.