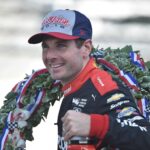 Will Power put an exclamation mark on his career with an Indy 500 victory
I mentioned this is Sunday's race report, and it's worth briefly repeating.
Will Power's win in Sunday's 102d Running of the Indianapolis 500 Presented by PennGrade Motor Oil was all about legacy. As you surely know, the 37-year-old Toowoomba, Australia native, has enjoyed a remarkable IndyCar career with 34 wins, 51 poles, and a series championship in 2014.
He's won races at a greater percentage clip than three Unsers, two Andrettis, Scott Dixon, Dario Franchitti, Rick Mears and numerous others. He's also been remarkably consistent, winning at least three races in 7 of the last 8 seasons, and never finishing worse than 5th in the end-of-year standings.
In short, had Power announced his retirement from racing, Sunday morning at 10 a.m. (that would have been quite the story), he would have walked away with a very prominent place in the sport's history.
But now, Power has all those wins, poles, championship, consistency, historic win rate AND a legacy-validating win in the sport's most prestigious race. Think about it: Scott Dixon has long been considered the greatest IndyCar driver of this generation, and for good reason. Dixon has 41 career wins, an Indy 500 victory and 4 series titles.
However, I think an argument could be made that Power has actually been the better driver. First, Power has won 17.6% of his starts, while Dixon has only won 14% of his. Since Power arrived full-time at Team Penske in 2010 he's won 29 races to 19 for Dixon. Also, Power's pole position tally is nearly double that of Dixon (51-28) in 100 fewer starts.
[adinserter name="GOOGLE AD"]Granted, Dixon's 4 titles and ability to close the deal do stick out as a clear edge for the Kiwi. But my point is the notion of discussing Power in this manner, probably wasn't much on anyone's radar Sunday morning. Now it is. And more than anything, that is what Will Power won Sunday.
Ed
Power's win, of course, meant some degree of heartache for others; no one more so Ed Carpenter.
I'll be honest: I thought the change to a new car would hurt Carpenter's chances at having a good month. But he won pole last weekend, then had everyone but Power covered Sunday. In short, although Carpenter didn't win the race, give the man his due; he turned in a performance that would have been worthy of a victory in many years.
Rossi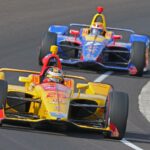 Rossi stalks Hunter-Reay
Also impressive, albeit for different reasons, was one Alexander Rossi. Similar to Phoenix earlier this year, when the 2016 winner of The Greatest Spectacle in Racing seemed to be constantly passing in places it was thought impossible to pass, Rossi was THE SHOW Sunday at Indy.
Currently, Power and Josef Newgarden have more wins on the season, and Robert Wickens has been the biggest surprise. But right now no one is more entertaining to watch than Rossi.
Danica
I wasn't a part of the IndyCar media back when Danica Patrick competed full-time in the series from 2005-2011, so I can't really speak to what it was like covering her.
However, I was there Sunday when it was announced shortly after her lap-67 crash that she would be coming to the media center for questions. Let me tell you: I have never seen such a ferocious swarm of media to the front of the room as I saw when it was announced Danica was on her way.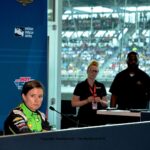 Danica answers questions from the media one final time
And look, to a certain extent I get it. While I've argued for years now that all the juice was squeezed long ago from the proverbial Danica lemon, the fact she is an attractive 5'1 woman from Roscoe, Illinois who made herself fabulously wealthy in a male-dominated endeavor makes her a historic and ground-breaking figure in not just racing, but sports' history. Further, the modern reality of the media business with any Gibroni able to start their own publication, we're all battling for clicks and readership; and the fact probably is that Patrick is exponentially more click-worthy than the rest of the field combined.
That said, nothing Patrick did Sunday, nor anything she was possibly going to say, was the least bit newsworthy. Remember, this impromptu presser was WHILE THE RACE WAS GOING ON and for the race's 30TH PLACE FINISHER who has won a grand total of ONE PROFESSIONAL AUTOMOBILE RACE between 368 Xfinity, Monster Cup and IndyCar starts. Someone please tell me: what was the story everyone just had to have Sunday?
As for IndyCar, I get where they're coming from – sort of. Their first concern is not a subscription racing publication, and they're throwing a bone to the non-racing media who maybe cover only the Indianapolis 500. However, if they call an impromptu press conference for a driver that's run one IndyCar race since 2011, and never for their regular drivers, what does this say about their marketing strategy. After all, Danica Patrick at this moment is of ZERO value to the Verizon IndyCar Series. Shouldn't the sport's signature event be a platform for the series promoting drivers like Power, Newgarden, Rossi, Dixon, etc., rather than catering to big-name one-offers like Patrick breezing through town for a quickie?
I would hope the series is asking themselves that question.
The Racing
Many pointed out that the race itself was not as entertaining as years' past and certainly this year did not feature the slingshot type back-and-forth passing we've since the advent of the DW12. And yes, IndyCar probably needs to tweak this package a bit.
How exactly they tweak the package is something I will allow the engineering types to decide. But let's keep the big picture in mind here: this new racing package has been a shot in the arm for IndyCar's credibility and overall quality. The 500 package needs tweaking, not a drastic rethink.
Pre-race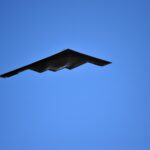 The B-2 Stealth Bomber looks cool, but just like silent Formula E Racing, it is completely uninspiring
I tend to not be someone who really gets too worked up over pre-race ceremonies. For example, although I understand it has importance to some, I've never really taken any particular interest in who sings "Back Home Again in Indiana," or what celebrity they choose to have wave the green flag in any given year.
To be clear, I'm not criticizing those who do, I'm just pointing out that those details tends not to be an overwhelming concern of mine.
That said, shouldn't the flyover for the greatest race in the world be something other than some silent glider plane? Like, let's get some fighter jets firing by at Mach 2 making the loudest, rudest, most obnoxious ear-splitting sounds possible. Literally, a group of us in the media center we're waiting for the sound and fury, and we're saying to each other, "is that it?".
Crowd
Let me tell you: it was HOT at the Speedway Friday, Saturday, and even more so Sunday. Typically, I walk the grid before the race, but the thought didn't even occur to me Sunday, as I spent pre-race in the comfort of the climate-controlled media center.
Given the weather and given the fact people have SO MANY options these days, I can't help have to give credit to the Speedway for the event they put on, but also the people who braved the very hot temperatures. The crowd looked great the whole day, and that's a testament to both the Speedway and the passionate people who support it.
TV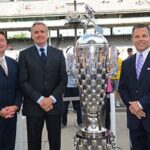 The ABC crew signed off on 54 years of Indy 500 coverage.
The amazing crowd in attendance was sadly not backed by a similarly positive television audience. The race attracted 4.91 million viewers and a final rating of 3.08, down 9.7% from 2017, and down over 50% from 1995 – the last Indy 500 before the IRL was formed that nearly destroyed the sport. It's been down ever since.
A few years ago, I might have taken this opportunity to offer a myriad of solutions I thought might improve the situation. But I have to be honest, I don't really have anything of substance to offer at least in the short-term.
Of course, many will point the finger at ABC, and no doubt, their coverage has been low-energy and in general terrible, for years. But does anyone really think the move to NBC will be some magic bullet? Consider me a skeptic.
For one, the early afternoon Memorial Day Weekend Sunday slot is terrible, as many people are at barbeques, graduations, and such. Only the July 4th holiday is considered a worse TV slot that Memorial Day. Compare this with NASCAR, which has the Daytona 500 in February and it's easy to see how Daytona can double the Indy 500 audience.
One thing that would certainly help the television audience would be (and the traditionalists are going filet me) to move the 500 to Saturday night. This would require lights at the Speedway, and possibly create more chaos in Speedway following the race (the cost/benefit analysis of this would not be something I'd be qualified to speak on). However, I think it's a fair to reality to acknowledge at this point that an early Sunday afternoon Memorial Day green flag is going to make drawing a decent TV number something of an uphill battle. But if there is going to be a better TV audience, let's acknowledge this: something has to change.
Brian Carroccio is a senior columnist for AutoRacing1. He can be contacted at BrianC@AutoRacing1.com