Indy 500 Post-Race Press Conference
Participants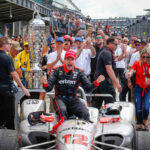 Race winner Will Power
Will Power – Winner
Roger Penske – Winning Team Owner
Tim Cindric – Winning Driver Strategist
Jon Bouslog – Winning Team Manager
Ed Carpenter – 2nd Place
Scott Dixon – 3rd Place
Robert Wickens – Rookie of race
Danica Patrick – End of Career race
Press Conference
THE MODERATOR: First sweep of Indianapolis in the month of May, you're the points leader. None of that matters right now, you're an Indianapolis 500 winner.
WILL POWER: Exactly. Overwhelming. Amazing. It's funny, you forget where you are, you're so immersed in the race. You don't even realize. On the white flag lap I started screaming because I just knew I was going to win it. Unbelievable. Never been so excited.
THE MODERATOR: They handed you the milk bottle. I'm not sure you realized that's what it was.
WILL POWER: No, I knew you drink milk here. Believe me. I've seen a few of my competitors do it. Yeah, no, I just hesitated a bit because I'm not supposed to eat dairy, but I didn't care. I just drank it.
THE MODERATOR: Questions, please.
Q. You drenched the 500 festival queen.
WILL POWER: I felt bad. When I turned around, the glasses, she was covered in milk. I didn't realize she was behind me.
Q. What did you say to her?
WILL POWER: I'm so sorry. What could I do? I didn't see you behind me.
She was all good.
[adinserter name="GOOGLE AD"]Q. Can you talk about how you managed your last restart, not knowing the fuel situation. Also talk about restarts with clean air versus dirty air today.
WILL POWER: Yeah, that last restart I was very determined. I knew that I had to get, like, a run on these guys, at least get one of them in the first turn, which I didn't. I got Oriol I think a lap later or something. I didn't want Carpenter to have a shot at me. He was very quick. If he had gotten by, I think it would have been game over potentially.
Very aggressive on the restarts. In clean air, I was very aggressive on the restarts. I started in a different spot every time to get a jump on Ed. I knew if we were fighting into one, it just creates a problem. Very good restarts when you look at it. Never got challenged.
Q. Were you worried about a caution coming out with three or four or five laps to go?
WILL POWER: No, it was all pretty spread out. I knew after yellows, the potential for a yellow to come out was only after the first lap, first two laps. Once everyone kind of got in the rhythm, I didn't even think about it, to be honest. I just went for it. I had people to pass.
Q. A couple years ago we were talking at Long Beach, because you come to these press conferences, thinking about something else besides what we're doing. Were you ever thinking about this moment? How much does this moment run through your head?
WILL POWER: It runs through my head the last year more than ever because I've won so many races and poles, led more laps than anyone. I just hadn't done it here. I've be thinking, Am I going to finish my career without a 500 win?
This month was one of the best months I've had, very relaxed, in tune with my engineer, just working really well. It just came together. You got to have a lot of determination.
I watched the Super Bowl last year. It was the Patriots, what was the other team, but they had a lot more want. They wanted it more than the other team. That's why they won.
I think you have to have that. You have to have that in you. That's just the human spirit. You got to have that determination. That's what I had. You work hard at something, it comes to you. It eventually comes to you.
Q. That would be the Philadelphia Eagles.
WILL POWER: Right. They played their backs off.
Q. When you finished second to JPM here in 2015, how often did you reflect upon that might be the closest you ever got to an Indy victory?
WILL POWER: Yeah, I thought about that a lot, what I should have done, should have changed this and that. It's just not your day. It kind of worked out that like. That day I did everything, could do. Today I did it again, and it all worked out well.
It was through speed, pit stops, in and out laps, good restarts. It was a fight to win it. It was not an easy win. That makes it much more satisfying.
Q. Was this kind of the last remaining monkey on your back you had to get done?
WILL POWER: Absolutely, it was the last box to tick, to be considered as a very successful driver. I'm not done. I'm not done. Like, I still have plenty of time left to win more 500s and championships and races.
Q. (Question about two Australians winning.)
WILL POWER: Did Ricardo win?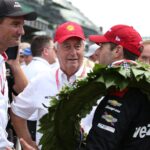 Cindric and Penske celebrate with Power
Q. Yes.
WILL POWER: To be the first Australian to win the Indy 500, that's very special. Maybe they might recognize me down there now. I don't think many people know who I am down there, because we don't have a race there any more. Yeah, it's very cool.
Q. Does a Brisbane-born Kiwi count as an Australian?
WILL POWER: No, I don't think so. Took him under their wing, New Zealand.
Q. At what point in your career did you come to terms with ovals, actually maybe learn to embrace ovals?
WILL POWER: Definitely, like, just in the last I would say three years, been quite good. More than that. More than that. They all kind of come together. You don't realize how the years just tick off.
When I won the race in Fontana, what year was that, '13? I think since then. But it just comes with experience. I would race ovals every week now because I'm just so experienced at it, I really enjoy it, have become quite good at it.
I feel like every time I go to an oval, I have a chance to win. That definitely wasn't the feeling at the beginning of my career. I would always think, Oh, it's going to suck. I never thought I could win. Now I know every oval I go to, like a road course, I have a great shot at winning. Yeah, that's the attitude you have to have.
Q. On Thursday you were talking about checking that last box, what it would feel like. What did it feel like to finally win this race? Were there emotions you got that you didn't expect?
WILL POWER: I just screamed like I've never screamed before. It was just amazing. The last two laps, the last lap, seeing the white flag, the checkered, I mean, you can't explain it. Like I've really come down off the high now, because I've exhausted myself being so excited.
Man, it's what I needed so badly, what I wanted so badly, and it came true. Anyone here knows how that would feel. You want something so much, it comes through to you through hard work and determination.
Q. It was all Liz could do to stand up.
WILL POWER: Yeah, I wonder what Liz was like. I haven't seen the footage. I'm sure she (indiscernible) some bottles there at the end.
Q. How much through the week of practice did Helio's feedback add to the team group? How much did you work with his setup? Was it valuable?
WILL POWER: Yeah, we all kind of went different directions. It was just a new car, so many different options you could run. We all ended up on quite different setups. Yeah, there's so many ways to get the balance.
It was actually a very difficult year. I don't know what Helio ended up with, but he had a pretty bad day on Carb Day. I think he just totally changed the car. I'm not sure how it was.
Yeah, I mean, it was just having lots of information that's so valuable, four very experienced drivers, good drivers, that drive this team. Yeah, it just helps a lot when you have that much information with a new car. You can get confused, too, because there's just so much of it.
Q. Did you feel any concern throughout the race seeing veteran guys spin out on their own, how your car felt in dirty air, clean air, overall handling?
WILL POWER: Yeah, hard in dirty air, hard to get close. My car was very close, a little bit loose, in clean air. Yeah, I really did not take note of who was crashing and whatnot. I don't like to look at the crashes. Yeah, so, my car was good all in all.
Q. The last few years we've seen the race being more of a slingshot, drafting. This year was completely different. Did you attack the race differently, different race strategy?
WILL POWER: This was a race you wanted to lead. At last they had a formula, if you had a good car, the leader could benefit and pull away. I liked it. It definitely made it harder to drive. Put the driver back into it more, where before you could hang back, third, no one wanted to lead.
Yeah, it was a race like it was in 2010 and '11, '8, '9, '10, '11, that kind of race. It was about your speed. The tires would degrade. You're never wide open. It put the drivers back into it more, in my opinion.
Q. You mentioned your attitude changed in the last couple of weeks. In what way? What needed to change?
WILL POWER: There's so much negative stuff out there you can see on social media. You just got to minimize the amount of negative people you hang around, negative stuff you read, and be in general positive.
But winning a race definitely makes you and the whole team be more positive. We had that in 2015 when I won, then I finished second here. I've slowly changed to be a more positive person. It's hard when you're very negative (laughter). Belt out all those bad habits of thinking.
Q. Whenever you go back to the shop, you're looking down on the shop, pictures of every Indy 500 winner from Victory Lane. All those years you've gone in there, now you're going to be up there.
WILL POWER: Yeah, when you go into Penske, you see all the baby Borgs there in the foyer. In the IndyCar shop, you see all the pictures of those that have won. I've looked at that often and wanted to be up there. Yeah, it's going to be pretty cool to walk in that shop and see yourself up there in Victory Lane from the Indy 500. Pretty cool.
Q. On Lake Norman there's a lot of accomplished racecar drivers that have won a lot of NASCAR championships, but none have won an Indy 500. You're the first.
WILL POWER: Yeah, maybe I can just get a boat that's bigger than theirs, say I won the 500.
There are a lot of great racecar drivers from there, a lot of great racecar drivers that live in North Carolina. Pretty cool racing town. I feel like Indianapolis, I love Indianapolis, I love living here. Maybe when I retire, I'll move back.
Q. When you saw Wilson pulling away, did you think you could catch him or were you worried?
WILL POWER: Yeah, I was trying very hard to get Harvey. I had a couple big runs, pushed out wide. I was giving it everything, thought I was going to get them. Then Harvey is going to pit, I have a great shot at Wilson because he has no one in front of him to help him in the draft. Then they both pit. It's like, the gates opened, it was amazing. Just full rich go, go, hold on.
Q. Can you compare emotions today to 2015? Did you have any idea you would be screaming as much when you won this race?
WILL POWER: I must have screamed a lot? I didn't realize. Everyone is talking about screaming (laughter).
Yeah, no, I was so disappointed in '15. Man, so close. Yeah, this is a very different feeling. I mean, I don't know what to say. It's, yeah, amazing. I'll have to see the footage. Obviously I screamed a lot. I just lost my head.
THE MODERATOR: Thanks, Will.
WILL POWER: Thank you.
Roger Penske
Tim Cindric
Jon Bouslog
Press Conference
THE MODERATOR: We are joined by Roger Penske, along with Tim Cindric, Jon Bouslog.
Congratulations, gentlemen. A familiar place at the podium, another victory, 17 now for Team Penske.
Talk about that as a team accomplishment, then we'll talk about Will.
ROGER PENSKE: All I can say is when I came here 1951, I guess something bit me. I can never get rid of it for so many years.
We started competing here, as you know, in '69. The success we've had has really been all about the team members, the people we've had, the great drivers, sponsors, and obviously Indianapolis Motor Speedway.
As I said many times in the last couple days, to be able to race on Memorial Day in the biggest sporting event in the world, have America the way it is, that's what I'm going to take away from this race. To see what we have, to see what Will has been able, 10 years with his engineer Dave Faustino. He's won many road races, all sorts of poles. He won this race today because he was the best, there's no question about the speed at the end, his out laps, the pit crew I take my hat off to, Jon, and Tim Cindric, because we had four great cars. That's what you have to have here. You have to have four bullets, three bullets, whatever it takes.
I'm just so thrilled. 17 wins. Now I have to worry about 18. I'm not going to look back, I'll look forward. We have to be back next year.
THE MODERATOR: Tim, talk about the couple moments in Will's career, he stands in for Helio, then he breaks his back, but you stayed with him. Now 34 wins I believe it is, ties Al Unser Jr. on the chart and is moving up. Great career he's having.
TIM CINDRIC: Yeah, when you look at it, there was a lot of discussion, took him a long time to win a championship. Had so many wins. When you see he's third in overall poles in IndyCar right now. The one thing he always talked about was, I have to win the Indy 500, I have to win the Indy 500 to get where you need to be.
Having seen what he's gone through with our team, what we've all gone through collectively, like Roger said, Dave Faustino has been at his side from day one. He's been the one that's listened to all the ups and downs. He's been on-call 24/7. The rest of us kind of check in and check out with Will. Faustino, he's there more than his wife, and she's a close second. Between the two of those people, they're really his support group at the end of the day.
The crew, like Roger said, they were prepared. Will was agonizing during dinner as far as what his setup was, what his gears were going to be. His mind never leaves this sport. He's fully committed. He has made a lot of sacrifices. To see the culmination. I think you saw how excited he was today. You don't see that out of Will too often. Great day for us and the team.
THE MODERATOR: Jon, talk about the strategy that was playing out, what may or may not have been in front of you with a few laps to go.
JON BOUSLOG: Well, we really didn't want to see the caution come out. I think the key to it was, like Roger said, he was good all day. When he got clear, he could run fast laps, which was big for us.
The thing was is he was so focused on the win, doing well, that it was his day. He was going to make sure it was.
The guys, great stops today. The whole team performed well. So many things go into it.
THE MODERATOR: Questions.
Q. Mr. Penske, talk about how this win essentially completes the journey for Will now that he's won a championship and the Indy 500, but the journey is far from over.
ROGER PENSKE: Look, this closes the book for what he wanted to accomplish in IndyCar: win a championship, now is tied for winning the most races as an Indy driver for the team, and the Indy 500 is something that he wanted to do from the very beginning. He's had some ups and downs. Championships slipped away from him, two or three almost in a row. You'll talk to him. He's in a different world right now, which is important.
TIM CINDRIC: He's always in a different world (laughter).
Q. Mr. Penske, will you go back on Will's radio at Detroit next week?
ROGER PENSKE: I don't know. I think I got fired. Won two in a row now. I'll have to have a discussion on that next week. We'll see.
Q. Quick memory check. I believe 12 different drivers had contributed to your 17 wins here. Their personalities range every aspect of the spectrum in terms of being different guys. Can you think of a common thread that might have united all of them to win for you here?
ROGER PENSKE: I think teamwork, working together. If you saw what these guys have done from Mark Donohue, Gary Bettenhausen in '72. They work together. Only one guy is going to win. But if the team wins, you win, and that's what happened today.
Q. Roger, I saw you pump your fist when the two leaders came down pit road. How concerned were you they might be able to make it?
ROGER PENSKE: Well, the concern is that they were out there, had there been another yellow at the end with two or three to go, it would have been all over, the 64 or 25 would have won the race.
We knew they were close. My concern was, and Tim's, that they would run out at high speed or something, we'd get into an accident.
Look, he was coming. There was no way. We had the fuel, which we needed. They didn't. A great gamble, by the way. A lap or two difference, someone else would have been the winner.
Q. Roger and Tim, what did you see 10 or 11 years ago in Will Power that told you he could be that kind of racer?
TIM CINDRIC: If you remember back to the situation that Helio had there, Will honestly wasn't on our radar screen. I talked to him a little bit before, but we didn't really have a spot.
It was obvious Helio wasn't going to be there for the first race in St. Pete. Roger and I, we made a short list of kind of who might be the right one for that situation. But with Helio, we weren't sure how that was all going to turn out. I don't know anybody was.
When we met with him, the one thing that stood out for us, at that point we couldn't commit to a full season, we couldn't commit to more than one race, we couldn't make a lot of commitments because we were loyal to Helio's situation. We didn't really want to add another car.
He looked at us both and said, I'll run one lap, no laps, any laps. I just want to be on the team.
He was a team player from the very beginning. He did a great job. Should have won St. Pete. I remember being on his pit box. He was running the Marlboro car at the time. We ran the session, he was P1. Helio had just been cleared. I said, Do you want the good news or the bad news?
What's that?
Well, you're P1 and you're getting out of this car after this session, we have another car for you. At that point Roger told him, that night, Hey, no matter what happens, you have a ride at the Indy 500. Verizon stood behind him. They were really a big part of his career, going to another level when he signed with us, and he took it from there with his talent.
Q. Roger, how has Will been able to turn a weakness, which was oval racing, into a strength?
ROGER PENSKE: I think most road racers have been able to transition into oval racers. Probably you've seen Wickens, some of these guys even this year. He just is a talented guy. He didn't like ovals to start with, I can tell you. He struggled initially.
Once he got going, what was the race, I think Texas, one of them, where he absolutely was dominant. I think that's when he broke through, was going to be a great oval driver.
You could see it out here today. Look at his line, 223 miles an hour the last couple laps. He drove everything he could. In fact, he said at the road race, he had never driven harder in a road race in his life when he was on those black tires. He had the (indiscernible) in his this month for sure.
Q. The strategy, were you aware that the rival engine could do it?
JON BOUSLOG: We knew they were close. I got to say I was a little surprised they pulled in like they did. We didn't want to see that yellow come out because it gave him a chance. But we knew with the pace of the car that regardless if they could make it or not, Will had pace to pass them. We still had a chance. We were still in it even though some of us were thinking might be over, especially if another yellow came out because of the length of the yellows.
Once it got down deeper into the race, five to go or something, a yellow came out, it could have ended under yellow. We were happy that they went green. That's been kind of the thing with Kyle Novak, tries to get back racing as quick as he can, which is good. That was good for us. Gave us a chance. He capitalized on it.
Q. Roger, Castroneves didn't end the way he wanted. As soon as he finished, he made a claim he would like to be back. Do you expect to have him back again?
ROGER PENSKE: It's hard to say no to him, isn't it?
I have to talk to the president here. He'll figure that one out for me (laughter).
TIM CINDRIC: He's going to be back. He will be here next year in one of our cars. I'll say it, so… That guy was sitting here this morning before I walked in, sitting in his fire suit next to his engineer ready to go, about 6:30 this morning. He's been in his yellow suit, I don't think I've seen him out of his yellow suit since we got here this month. He's ready to go all the time.
Q. This is the first time in your owners career that your driver is Australian. 17 wins you have, 10 U.S. drivers, seven foreign drivers. How do you see in the last couple of wins, you have always a foreign driver? Do you think the dominance of the U.S. driver is irrelevant? Why are the foreigners dominating?
ROGER PENSKE: I don't look at their passports when we hire them. That's the first thing. Number two, an American driver won the championship last year.
Look, we're trying to get the best people we can. Obviously Will is kind of special from Australia. We're racing down there, having success. We have a big business down there. You could say this might be Will's home track away from home.
THE MODERATOR: Thank you very much, guys. We'll see you next week.
Ed Carpenter
Scott Dixon
Robert Wickens
Press Conference
THE MODERATOR: Scott Dixon joins us, third-place finisher.
Scott, it looked like you were going to make the fuel run that would win the race, but came up short. Was that the plan early in that run?
SCOTT DIXON: Yeah, as soon as we pitted, right before the end of that caution, we tried to obviously take on as much fuel as possible, be the first in that scenario. We knew there was probably three or four others that were trying. Oriol looked like he was, a couple of others.
But, yeah, we really struggled on restarts today. The first and second gear just seemed to be way out of sync to the pace of what everybody was restarting. First to be on a limiter, second I was like a sitting duck, wouldn't accelerate, gear was way too long.
Yeah, I don't know, we lost a lot of positions in that scenario. But the Penske car felt pretty good. It was consistent. It was good in traffic. It was very difficult to pull off passes today. Yeah, so for me, to be honest, huge credit to the team. They did a superb job of trying to pull off that strategy. Obviously we have got very lucky with that caution with T.K., which was enough to give us a bit of a window to get to the end.
Yeah, definitely a crazy day out there.
THE MODERATOR: Questions.
Q. At any time did you feel you were in a disadvantage based on engine package, mileage versus power, et cetera?
SCOTT DIXON: I don't know. It maybe plays a bit of a role. It definitely looked like the others were pretty heavy. Rossi and Oriol did a very good job of making that high line work. Hunter-Reay was very aggressive at the start.
It kind of seemed to play out that way, but I'm not going to blame it on that, that's for sure. I think we were put in a pretty good position there at the end. We tried to kind of figure out whether to keep going and hope for a yellow or try hand save a bit of fuel. That's why I let Will pass. Obviously on the restarts we had a few guys that couldn't make it at all. It was definitely interesting.
Yeah, you know, I think Honda have done a superb job. We just missed a little bit today.
Q. Obviously aside from restarts, passing was at a premium. Rossi said downforce should be looked at for next year. Do you have any thoughts on that?
SCOTT DIXON: Yeah, I don't know how to do it. The downforce level is maybe not necessarily the issue. If the guy in front fumbles a little, but is still behind the carrot, sucks up that you can't pass him, it's almost like the cars need a little more drag to make that happen or maybe a little bit of downforce so you can stay closer, utilize it. Seemed like you had to come from quite a long ways back.
Yeah, I didn't see the front group. Saw it occasionally on the restarts. I figured the first two or three could probably pass each other. Even when I got into a scenario with a clear track, slow competitors in front of us, it was very tough to get a run.
There was no real wind so no real corner that was distinctly harder than the others. Normally two or four has a big shift and you can get some cars that are bad, get them off those corners. That just didn't play true today.
Q. (No microphone.)
SCOTT DIXON: It won't take much. It will just be a little tweak to help that out. Yeah, I think even from the tire you could do something there, too.
Q. Was it concerning at all for you seeing so many veteran drivers spinning out on the run? Were you concerned personally it could happen to you at some point?
SCOTT DIXON: Yeah, you know, anything is possible. I've done it in turn four before in the race. My car, actually the rear felt pretty solid. I saw Bourdais, his looked pretty interesting in the short chute there. I didn't see the replay. I saw it on the big screen when we were under caution. That's look like what happened. I didn't see what happened with T.K.
Yeah, the car is pretty tricky. It seems like you get a lot of understeer. At the end if you get some clear air maybe from the car, if you get high on the car in front of you, it can snap around pretty quickly. I didn't have an issue with the rear of the car today.
Q. The conditions, the heat, did it affect you as a driver? We got cloud cover for a significant portion of the race. Did that help or hurt the car?
SCOTT DIXON: It actually helped the car. I felt like stint four or five, the grip actually, the whole track I think gripped up quite a bit. It seems like most of the time the temperature hurts the tire a little bit more.
As the cloud cover came over, that definitely helped everybody's car. Didn't help just ours, but it helped everyone. It's the same for everyone.
The conditions, I didn't feel like it was too hot. I was expecting it to be, especially under caution, during the parade laps, it's hot out here, it's going to be a long day. As you got going, airflow over 200 is pretty good. It cooled everybody off. I didn't think it was much of an issue at all.
THE MODERATOR: Scott, thank you. Good luck next week.
SCOTT DIXON: Thank you. Appreciate it.
THE MODERATOR: Joined by the top finishing rookie, Robert Wickens, Schmidt Peterson Motorsports.
Was Indianapolis everything you expected?
ROBERT WICKENS: Yeah, and then some. In some ways I was hoping for more. In other ways it surpassed everything I ever could have imagined. It was one hell of a race. It was an emotional rollercoaster.
Early on I thought we were looking pretty good. We started 18th, picked off a couple on the start. On that yellow we made up a spot in the pits. Got another person on the restart. We were hovering around outside the top 10, like 12th, 13th. First 50 laps, great progress, keep chipping away at it, it's going to be a great day. Car was feeling great, pit stops were awesome.
Unfortunately on one of the earlier yellows we came into the pits thinking everybody was going to do the same. Turned out we were one of the only ones that did it. Put us on an alternate strategy. We lost track position. Today track position seemed like it was everything.
It was really hard to follow another car, because the track temp was so high, tire degradation was high, the dirty air, it was nearly impossible to keep your front alive for a whole stint.
It was a long afternoon. Honestly we were looking pretty good again because of our alternate strategy. Those two yellows in the middle, I guess was our nail in the coffin, where we were basically stuck at the back, we couldn't make inroads anywhere.
That last yellow with 10 to go, we had nothing to lose. We put on new tires and restarted 19th and charged up to ninth. Honestly, it was an amazing 10 laps. If it wasn't for those 10 laps, I'd probably be pretty bummed with my first Indy 500. Passing 10 cars in the last 10 laps was something pretty special.
Yeah, to be the top rookie, it's pretty cool. I didn't enter the race to try to be the best rookie, I was trying to be in the top 10 all day long. We got there in the end, but unfortunately we only cracked the top 10 for the last couple laps.
Anyway, doesn't matter. Seemed like an exciting race up front. I was never a part of it. Yeah, I felt like I passed a lot of cars today. It was good fun.
THE MODERATOR: Did you find it difficult to keep track of the various strategies in play, the ups and downs of whether we're on the right one or wrong one?
ROBERT WICKENS: For sure. I don't know who was on the best strategy, when people were pitting. We were actually getting great fuel mileage the whole day. We kept on going a couple laps longer than everyone else. I think because of the tire degradation the undercut was actually pretty aggressive. I felt like we had great pit stops. The team did a great job there. We never lost spots, but we definitely weren't making progress through the pits.
It wasn't down to the guys. I thought it was more to tire degradation. We were kind of playing the statistics of the race. Historically you don't want to be the first one to pit. If you get a yellow, you can be a lap down, whatever the case is. We were always trying to go as long as possible.
The Honda engine was giving us great fuel economy. We were able to push it longer than anyone else most of the time. We were lining up there to be pretty sweet with making the fuel mileage, one more stop. Me and Oriol Servia there, we were 1-2, maybe we could do something. Unfortunately the last yellows made it possible for a lot of people.
No, I thought it was a great job by the guys. They were thinking on their feet. Yeah, I mean, it was a crazy race. I think it went by a lot faster than I was expecting.
THE MODERATOR: Questions, please.
Q. I saw Hinch was at your pit stand most of the race. What kind of help was he? Was it great having a teammate the whole week supporting you in the race?
ROBERT WICKENS: For sure. To be honest, within our structure of our team at Schmidt Peterson Motorsports, there's only one person speaking to the driver. I actually don't know if James was giving input during the race.
Having him there, I mean, he's probably the most supportive teammate you could ever ask for. Even before the race, I was picking his brain, asking how it is on the outside right off the start. He was kind of telling me the dos and don'ts, some last minute words of wisdom.
It helped me a lot. Gave me that little bit of extra confidence to sail it around the outside on turn one on the start.
Q. Do you feel like your team has momentum back now?
ROBERT WICKENS: I feel like we never lost momentum. That's the big thing. We're such a strong team. I think we understand what happened on the 5 car. I think lesson learned. Things are implemented now that will never happen again.
It's a competitive championship here in the Verizon IndyCar Series. I think we learnt firsthand with James that if you're not perfect, you can be at risk of being knocked out. That's what happened to him.
With us, with the 6 car, we had a little fumble on Monday when we hit the wall. We made our lives a little bit difficult on Carb Day, into the race today not knowing exactly where our car was going to be. I thought we had a top five car all day. We were just stuck in the midfield for most of it, we just couldn't make inroads forward.
THE MODERATOR: We'll excuse Robert. Thank you.
We have our second-place finisher, Ed Carpenter. This didn't feel like how we were going to meet today. Everything seemed to be lining up just to be perfect.
ED CARPENTER: Yeah, you know, I'll feel pretty good about this in a couple days, I think. The team really did a great job all month long, all day long really. Pit stops were really good. It was almost like being out front early probably hurt us a little bit just because guys started saving fuel a little earlier. We got behind on the fuel save. Whatever segment Will got by us, went a couple laps further, my out lap we had traffic. One of those exchanges.
Track position was everything we thought it was going to be coming into the day. You heard the drivers talk all week. Just couldn't quite get it back from him. We were saving fuel through the middle part of the race when everyone was essentially trying to cut out a stop. That was a little odd.
You never know how these races are going to unfold. I thought for the most part the team executed well. I thought there's only a couple little things that I can reflect on in the short-term right now that maybe could have made a difference.
All in all, I thought Will won the race and we ended up second, and we'll be happy with that. Come back stronger next year.
THE MODERATOR: Third pole of your career, 65 laps led, most of the day. It was easily your best month top to bottom.
ED CARPENTER: Yeah. I mean, that's what makes me, I think when I look back on this month, that's probably where I'll feel really good about it. We were strong just about every day, with all our cars, held that level of consistency and performance through the month.
Hopefully this will be a springboard for the team to jump into the back half of the season, have Spencer finally break through with some results. Jordan just needs to catch a break. He's been in a good spot, too. Hopefully this is going to be a springboard for the team to help the team make some strong finishes, win some races.
THE MODERATOR: Questions, please.
Q. Did you feel like you had the car for Will, to compete there at the end? Seemed like you did.
ED CARPENTER: I thought we were both pretty good. I think consistently we were probably the best two cars, it seemed like. I think if the roles were reversed, he would have probably not been able to get by me either outside of a restart.
It was just really tough to pass another strong competitor today without having lap traffic in the pit or something else that was a mistake. Track position was hugely important.
He maybe seemed to get a little better than us. I would probably say we were a little stronger early in the day. My car seemed to pick up a little more understeer as the day went on. We couldn't seem to make enough adjustments to overcome that.
He came out on top.
Q. Do you have a sense of what this means to Will, especially given his reputation as a rogue guy, to win here on the ultimate oval?
ED CARPENTER: Yeah, I remember listening to him complain on the scanner, and I didn't really like him much in 2008 because he hated this place. Somewhere along the lines, Will and I became friends somehow. You can ask him now, like his favorite part of the schedule are the ovals. It's bizarre, but we kind of bonded since I'm an oval guy now. He likes to think of himself as an oval guy. He definitely has one up on me now.
I'm really happy for him. I know how hard he worked to figure out how to be better on ovals, because he just flat out didn't like them at first. He turned a weakness into a strength. He'll make a great champion.
Q. You know how many things have to go right to have a chance at the end. Did it ever cross your mind that this is your best shot? Do you feel like it was?
ED CARPENTER: Yeah, I mean, it certainly was at this stage. '14 maybe was equal. We just weren't running in the finish, so it doesn't even matter. Certainly down the stretch, this was our best finish. I was hoping we could make something happen on that last green flag pit exchange, maybe cycle through in front of him. I was praying on that white flag lap that he was going to do a JR and I could coast home. Just didn't happen. It was his day and not mine.
Q. You mentioned it was difficult to pass stronger cars. You could get by the weaker cars, correct?
ED CARPENTER: Yeah, you could work your way through some lap traffic. It was really hard to pass anybody if they had clean air in front of them. If you got stacked up in a group of cars where they were all in traffic, I felt like my car was good enough I could kind of pick my way through some of them.
Ultimately if the race would have stayed green all day, it probably would have been better for guys like me and Will to get even more separation from the other guys. The way the race went, cautions. When you start getting cautions down the stretch, desperation comes out from everyone, you get in the cycle of more cautions. We've seen quite a few races go that direction down the stretch.
At the end of the day we had a chance to go fight one of the best teams and drivers for the 500. It's something I'm proud of. Like I said, the opening of this, I'll probably feel better about it in a couple days. It's a little (indiscernible) right now.
Q. Compare the racing today compared to previous years.
ED CARPENTER: It was a totally different type of race. I'll have to watch it from the outside to see from that perspective. I like the way it drives. It's definitely challenging to the driver. I like it when it's hard. That's why I was hoping it was going to be hot today because it makes things even more difficult.
The old car, if you had a really good car, you couldn't really get rewarded by getting away or getting separation. I think if you have a good enough car, you're rewarded by being able to get away a little bit.
I do think we need to maybe make little improvements just because it's so hard in dirty air to do much, to even have a better finish at the end.
All in all, for this new kit, it's performed so well all year. Like every iteration of cars, the longer we have them, the better they'll get. So, yeah, it's a good day.
THE MODERATOR: Ed, thank you. Congratulations.
ED CARPENTER: Thank you all.
Danica Patrick
Press Conference
THE MODERATOR: Thank you for coming in, Danica. We appreciate it.
DANICA PATRICK: I didn't really want to.
THE MODERATOR: Obviously not the result you wanted to do, still much to be proud of this month, and with a tremendous career. Tell us a little bit about what happened today, but more than that, what this month meant to you and your impressions of the last year.
DANICA PATRICK: The last year?
THE MODERATOR: This year running the double.
DANICA PATRICK: All right. Let me just talk.
Definitely not a great ending, but I kind of said before I came here that I feel like if it's a complete disaster, 'complete' like as in not in the ballpark at all, look silly, then people might remember that. If I win, people will remember that. But probably anything in between might just be a little part of a big story. So I kind of feel like that's how it is, you know.
I'm appreciative for all the fans, for Go Daddy, for Ed Carpenter Racing for giving me a good car. Today was a tough day. A little bit of it was okay, a lot of it was tough to drive.
Take my mic away, I'll leave. I don't even want to be here because I'm pretty sad. I guess I'll stop there.
I will say, though, for sure I'm very grateful for everybody and for being able to finish it up like I wanted to. It still was a lot of great moments this month, a lot of great moments this year.
THE MODERATOR: Questions.
Q. You seemed relaxed before the race. Did you have a lot of nerves or emotions in the hours leading up?
DANICA PATRICK: Yeah, for sure, I was. I was definitely nervous. But I found myself most of the time on the grid feeling confused. What part of prerace we were in? I was like, I don't remember this. Where are the taps? When is the anthem? I had all my people around me, so I was in good spirits.
THE MODERATOR: Thank you for joining us. We appreciate it.
DANICA PATRICK: Thank you, guys. Appreciate everything. I'll miss you, most of the time. Maybe you'll miss me just a little. Thanks, guys.