James Davison Gambles in Qualifying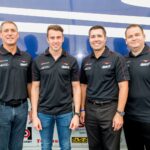 Davison's Indy 500 Sponsors
The driver on the bubble at the end of Day one qualifying Saturday is James Davison. Driving for Foyt with Bryd/Hollinger/Belardi, Davison is no stranger to Indianapolis. This will be the 4th Indy 500 for the 31 year old Australian driver to compete in. Not a full season Indy driver, Davison had quite an eventful 24 hours leading up to the end of qualifying.
After having the biggest crash of his career on Friday and his crew at the track all night to repair the car for Saturday's qualifying and sitting on the bubble for the last 30 minutes of qualifying, Davison addressed the media.
'The accident I experienced was actually very painful. Initially I got out of the car and I could feel I bumped my leg. Once I got in the safety truck, it was excruciating pain for 10 minutes. Overnight I found out where else I hurt myself in various other places, my foot, my ribs, my thigh. I'm a soldier. I kind of tough it out. I was excited to get back in the car."
"Of course, while all this was happening, my crew was working hard all night to get the car turned around. We owe this to them immensely. These crew guys, their job is already tough enough. When something happens like that, yeah, it's even tougher for them."
[adinserter name="GOOGLE AD"]"The only way to repay them was to make it in the field today one way or the other. The way it played out was, yeah, we needed to just wait and see what happened. Just in the nick of time it all just worked out. Pippa made it ahead of Hinch. I really wanted to go again because I'm confident we would have gone quicker. Again, we just couldn't withdraw the time."
"It was an incredible 24 hours, something that I think all of us on the team didn't expect that we were going to place. It's a life experience, making it into the Indy 500, actually earning it. The three times I've done this race, there were 33 cars and 24 teams. I didn't qualify in 2015 and '17 due to the circumstances that were around (he replaced the injured Sebastien Bourdais) but I started this race. This time we had to earn it in there."
Davison told AR1 that he started working on a ride for this Indy 500 back at the Phoenix test in February. Davison decided that running with AJ Foyt Racing was his pick of teams to partner with. The deal was finalized in April and the confident driver is pleased with his choice.
One of Davison's sponsors for this race is the Byrd family. Well known in Indy for the Jonathan Byrd Cafeteria restaurants, Jonathan Byrd started sponsoring cars at the Indianapolis Speedrome on the east side of Indy in 1982.
AR1 spoke with Virginia (Ginny) Bryd, the widow of Jonathan, who passed away in August of 2009, about their start in IndyCar racing. "We got into midget racing and Rich Vogler was our driver. He told Jonathan that his dream was to go to Indy. That was all my husband needed to hear. Byrd made a last minute deal with Pat Patrick for a last minute entry and Vogler made the race in 1985."
"We have sponsored a lot of teams since then. Once this gets in your blood, there is no getting over it."
'My son David met James a couple of years ago and has followed his career. After Davison's performance last year in the Indy 500, David became very interested. David told me "I really think we need to talk with James". And Davison answered that he would very much like to drive for us. We were with AJ Foyt Racing in 1997 so David thought that would be a good fit. He sat down with Larry Foyt early in the season and worked out the deal for Indy."
David Byrd is the youngest son of Jonathan and Ginny. He runs the day to day operations of the Greenwood based family business.