Castroneves, Taylor Lead Acura Sweep at Mid-Ohio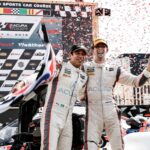 Castroneves and Taylor celebrate
Acura Team Penske completed a nearly perfect weekend for the manufacturer as major sports car racing returned to the Mid-Ohio Sports Car Course, with Helio Castroneves and Ricky Taylor heading a 1-2 result at Sunday's Acura Sports Car Challenge at Mid-Ohio.
In a weekend-long command performance, the pair of Acura Team Penske prototypes ran 1-2 in every practice session, qualified first and second, and led the way from start to finish. Castroneves and Taylor were at the point throughout, while teammates Juan Pablo Montoya and Dane Cameron fought off an early-race challenge from the pair of Mazda prototypes to maintain second.
In the final 30 minutes, Castroneves and Taylor pulled away from the field, finishing a comfortable 8.4 seconds ahead of their teammates to go into the record books as the first winners with the new Acura ARX-05 prototype. In addition, Taylor became the 50th different driver to win a race for Team Penske.
Running second, Montoya and Cameron pulled another 26 seconds clear of the prototype field in a dominating result for Acura, completing the 1-2 sweep in front of an enthusiastic crowd that included Honda and Acura associates from the company's several facilities in central Ohio.
Porsche withstands BMW heat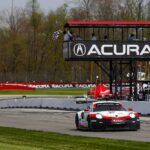 #912 Porsche takes the checkered flag to win GTLM
Taking the GTLM class victory was the No. 912 Porsche 911 RSR driven by New Zealand's Earl Bamber and Laurens Vanthoor of Belgium.
Finishing second was the No. 25 BMW Team RLL M8 GTE driven by young Englishman Alexander Sims and young American Connor De Phillippi. A brilliant pit strategy and stirring late drive by De Phillippi saw him cut the Porsche lead from 8.817 seconds on Lap 95 to just 1.1426 seconds on Lap 110 before running out of time.
"It was horrible! I knew he was coming and he was on fresher tires. I was trying the best I could, but it was getting harder and harder. But the last six or seven laps, I knew it was OK. I saw when we were alone that we could maintain the gap. It was stressful," said Vanthoor.
Rounding out the podium were the defending series champions, Spain's Antonio Garcia and Jan Magnussen of Denmark, driving the No 3. Corvette Racing C7.R.
Richard Westbrook clocked the fastest lap of the GTLM category Sunday (1:19.451) in a hard charge to the front of the pack in the No. 67 Ford GT. After a strong starting stint by co-driver Ryan Briscoe, Westbrook strung together a series of laps that put the No. 67 solidly in podium contention. He was fighting for position with 24 minutes to go when he was forced off the racing line into the rough. Westbrook and Briscoe finished fifth.
"I feel like the team, with their strategy, really put me in a strong position," Westbrook said. "The guys on the stand really deserved the podium today, but it wasn't to be. I got pushed wide in turn 12 coming onto the front straight and I just had so much pick-up coming off of my tires. Going into turn one, I had nothing. I went all the way through the marbles, but it's not an excuse. I threw away a podium there, really when the team put me in a strong position. I feel for them and I feel for my teammate, but we'll come back strong. We were fighting good out there. It gives us more confidence going forward and we still got some good points."
Dirk Muller and Joey Hand finished fourth in the No. 66 Ford GT.
"That was as hard-fought as qualifying yesterday," said Muller, who qualified sixth. "I said yesterday we gave it our all and we gave it all today. Joey and the whole crew did a really fantastic job. I thought the car was better in the heat of today so I was able to actually save fuel behind the other cars. We had a good pace in the beginning. We gained a few positions but that was about it. That was max what we could have achieved today. Well done to everyone at Ford Chip Ganassi Racing. We'll look forward."
Select Quotes
[adinserter name="GOOGLE AD"]Steve Eriksen (Vice President and COO, Honda Performance Development) on today's inaugural victory for the Acura ARX-05 and 1-2 finish at the Acura Sports Car Challenge of Mid-Ohio: "Mid-Ohio is our second 'home', with all of our nearby facilities and thousands of associates. So it is especially gratifying to take our first win in the Acura ARX-05 here. Our NSX GT3 program did not disappoint either, as the Meyer Shank Racing #86 waged an exciting battle all the way to the checkers, coupled with a strong run for the #93 car. Congratulations to all of our associates at HPD, Acura Team Penske and Meyer Shank Racing on an almost perfect weekend."
Ricky Taylor (driver, #7 Acura Team Penske ARX-05) race winner, 50th driver to win a major race for Team Penske: "I'm driving with one of the best organizations in the world, and one of the best manufacturers in the world. We visited Acura's factory for the NSX on Thursday and really got to see all that goes into these beautiful cars, and it really gives you a good sense of pride. On top of that, to win for the first time back for Mr. [Roger] Penske is outstanding and to start the month of May off for Helio [Castroneves] with a win is awesome. There was so much pressure to get the car from him in the lead. He did an awesome job, so I had to fight to make his efforts worth it."
Results
| | | | | | | | |
| --- | --- | --- | --- | --- | --- | --- | --- |
| Pos | Pic | No.. | Class | Drivers* | Vehicle | Laps | Gap |
| 1 | 1 | 7 | P | H. Castroneves / R. Taylor | Acura DPi | 125 | – |
| 2 | 2 | 6 | P | D. Cameron / J. Montoya | Acura DPi | 125 | 8.464 |
| 3 | 3 | 77 | P | O. Jarvis / T. Nunez | Mazda DPi | 125 | 26.774 |
| 4 | 4 | 5 | P | F. Albuquerque / J. Barbosa | Cadillac DPi | 125 | 56.826 |
| 5 | 5 | 10 | P | R. Van Der Zande / J. Taylor | Cadillac DPi | 125 | 57.825 |
| 6 | 6 | 52 | P | S. Saavedra / G. Yacaman | Ligier LMP2 | 125 | 1:13.876 |
| 7 | 7 | 99 | P | S. Simpson / M. Goikhberg | ORECA LMP2 | 125 | 1:15.636 |
| 8 | 8 | 31 | P | F. Nasr / E. Curran | Cadillac DPi | 124 | 1 Lap |
| 9 | 9 | 22 | P | J. van Overbeek / P. Derani | Nissan DPi | 124 | 1 Lap |
| 10 | 10 | 2 | P | S. Sharp / R. Dalziel | Nissan DPi | 123 | 2 Laps |
| 11 | 11 | 38 | P | J. French / K. Masson | ORECA LMP2 | 123 | 2 Laps |
| 12 | 12 | 85 | P | S. Trummer / R. Alon | ORECA LMP2 | 123 | 2 Lap |
| 13 | 13 | 54 | P | J. Bennett / C. Braun | ORECA LMP2 | 123 | 2 Laps |
| 14 | 1 | 912 | GTLM | E. Bamber / L. Vanthoor | Porsche 911 RSR | 118 | 7 Laps |
| 15 | 2 | 25 | GTLM | A. Sims / C. De Phillippi | BMW M8 GTE | 118 | 7 Laps |
| 16 | 3 | 3 | GTLM | J. Magnussen / A. Garcia | Chevrolet Corvette C7.R | 118 | 7 Laps |
| 17 | 4 | 66 | GTLM | J. Hand / D. Mueller | Ford GT | 118 | 7 Laps |
| 18 | 5 | 67 | GTLM | R. Briscoe / R. Westbrook | Ford GT | 118 | 7 Laps |
| 19 | 6 | 911 | GTLM | P. Pilet / N. Tandy | Porsche 911 RSR | 118 | 7 Laps |
| 20 | 7 | 24 | GTLM | J. Krohn / J. Edwards | BMW M8 GTE | 118 | 7 Laps |
| 21 | 8 | 4 | GTLM | O. Gavin / T. Milner | Chevrolet Corvette C7.R | 118 | 7 Laps |
| 22 | 1 | 14 | GTD | D. Baumann / K. Marcelli | Lexus RC F GT3 | 116 | 9 Laps |
| 23 | 2 | 86 | GTD | K. Legge / A. Parente | Acura NSX GT3 | 116 | 9 Laps |
| 24 | 3 | 48 | GTD | B. Sellers / M. Snow | Lamborghini Huracan GT3 | 116 | 9 Laps |
| 25 | 4 | 15 | GTD | J. Hawksworth D. Heinemeier Hansson | Lexus RC F GT3 | 116 | 9 Lap |
| 26 | 5 | 93 | GTD | J. Marks / L. Aschenbach | Acura NSX GT3 | 116 | 9 Laps |
| 27 | 6 | 96 | GTD | D. Machavern / B. Auberlen | BMW M6 GT3 | 115 | 10 Laps |
| 28 | 7 | 58 | GTD | P. Long / C. Nielsen | Porsche 911 GT3 R | 115 | 10 Laps |
| 29 | 8 | 63 | GTD | C. MacNeil / A. Balzan | Ferrari 488 GT3 | 115 | 10 Laps |
| 30 | 9 | 33 | GTD | B. Keating / J. Bleekemolen | Mercedes-AMG GT3 | 115 | 10 Laps |
| 31 | 10 | 44 | GTD | J. Potter / A. Lally | Audi R8 LMS GT3 | 115 | 10 Laps |
| 32 | 11 | 16 | GTD | M. Schein / W. Henzler | Porsche 911 GT3 R | 113 | 12 Laps |
| 33 | 12 | 75 | GTD | K. Habul / M. Engel | Mercedes-AMG GT3 | 99 | 14 Laps |
| 34 | 14 | 55 | P | J. Bomarito / S. Pigot | Mazda DPi | 73 | – |