Hamilton wins in Azerbaijan after Bottas blows tire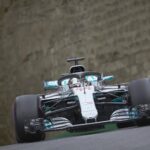 Hamilton was headed for third place and won for the 63rd time with a bit of luck
Sometimes it's better to be lucky than good and that was the case for Lewis Hamilton who won the exciting Azerbaijan GP after his Mercedes teammate Valtteri Bottas blew a tire with two laps to go and Sebastian Vettel blew it by locking up going for the lead after the final restart.
Kimi Raikkonen came home 2nd behind Hamilton as he had nothing for the Mercedes driver at the end.
Sergio Perez kept Sebastian Vettel at bay for third after Vettel flat-spotted his tires going for the lead.
Vettel trailed home fourth, ahead of Renault's Carlos Sainz, with rookie Charles Leclerc and incredible sixth for Sauber – his first F1 points.
The McLarens of Fernando Alonso and Stoffel Vandoorne were seventh and ninth, split by Williams' Lance Stroll, with Toro Rosso's Brendon Hartley getting his maiden point as he completed the top ten.
Hamilton now leads the championship 70 points to Vettel's 66.
Vettel made an excellent start from pole position to retain his lead over Hamilton, with the second Mercedes of Valtteri Bottas staying put in third.
[adinserter name="GOOGLE AD"]The race soon settled down with Vettel pushing ahead at the front, enjoying a lead of around four seconds over Hamilton approaching the first round of pit stops. However, this more than doubled on Lap 22 when the Mercedes driver ran wide at Turn 1 and complained his tires were done, prompting the team to draft him into the pits for a switch to the Soft compound.
Ferrari kept Vettel out as he continued to find time on the Supersoft tire, all while Hamilton dropped further back and towards the clutches on the oncoming Red Bulls. Verstappen soon became more occupied keeping his teammate behind, pulling some staunch defensive moves to stay ahead and cling on to fourth place despite appearing to be running slower.
At the sharp-end of the field, Vettel came in for a set of fresh Soft tires before emerging back on-track in clear air, eight seconds ahead of Hamilton with Bottas now leading the way.
With Hamilton's hopes of victory over, Mercedes looked to put Bottas onto an alternate strategy in case of a late Safety Car with a set of Ultrasoft tires. The Finn showed few signs of slowing down on his Supersofts, though, eking the gap to Vettel open.
Ricciardo came in for Ultrasofts at the end of Lap 37. Verstappen followed suit one lap later, reclaiming fourth place after a slow outlap from Ricciardo.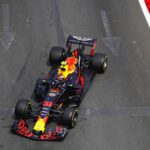 Bonehead Crashstappen held up a faster Daniel Ricciardo all race and at the end of the day took both of them out by moving twice under braking to block Ricciardo (only one block move allowed)
After being given the call to push and recover the position, Ricciardo got a tow heading down the main straight and began to close. Verstappen shut off the inside with a late move, leading Ricciardo to plow into the rear of his car. Both cars came to rest in the run-off area, with a weekend that started with promise ending in embarrassing fashion for Red Bull. Bonehead made two moves right, left, and was holding up the faster Ricciardo all race long
The resulting Safety Car played into Mercedes' hands, having opted to keep Bottas out for as long as possible. The Finn came in for a fresh set of Ultrasofts, and crucially kept his lead when Vettel followed suit, with Ferrari fearing he would not be able to hold back the Mercedes driver on his Softs that had been on the car since Lap 30.
But then wanker Romain Grosjean crashed out while weaving behind the Safety Car in sixth place. His car was eventually cleared to allow the race to resume with just four racing laps remaining.
Bottas made a perfect restart to pull clear of Vettel, with Hamilton and Raikkonen lurking behind the drivers' championship leader. In a vain attempt to try and reclaim the lead, Vettel made a dive-bomb attempt down the inside of Bottas, locking up and running wide before slipping back to fourth place in the process – his tires flat-spotted and his race blown.
When he loses the title to Hamilton at the end of the year he can look back to his mistake as the deciding factor.
Just as Bottas looked to be closing in on victory, disaster struck for the Finn as his rear-right tire blew at the end of the main straight, causing him to slow. Unable to get his car home, he had to resign himself to a late DNF, handing the lead to Hamilton.
Hamilton was able to keep around two seconds clear of Kimi Raikkonen all the way to the flag, snatching an unlikely victory for Mercedes to put himself into the lead of the drivers' championship by four points.
Quotes
Mercedes AMG Petronas Motorsport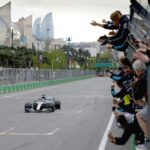 Hamilton takes the checkered flag
Lewis Hamilton (1st): "I have very mixed emotions today. Valtteri deserved to win, he did an exceptional job and had a faultless drive. This is such a crazy and exciting race and I never gave up. I was constantly pushing but it was a real struggle. I feel incredibly grateful to come out with the win. You have to take the ups with the downs and I can't complain that I won; I will take it and hopefully learn from today. But Valtteri was very, very unfortunate, a one-two would have been a great result for the team. I would not have got by him in the remaining laps if he hadn't had his tire blow. It looks like Ferrari still has the better car, they outperformed us most of the weekend. We were able to just hold on to them during the race. We definitely have some work to do, but we are in the mix and it's going to be very close. We have to keep our heads down and keep working."
Valtteri Bottas (14th): "I'm absolutely heartbroken. It hurts a lot. But this is racing; some days are good, some days are bad – and some days are very bad. A small piece of debris destroyed my entire weekend. We had a good race until the puncture. The car felt really good and we were fast. I thought I had everything under control on the Safety Car restart, but then suddenly my tire exploded. I didn't see the debris and I couldn't feel it until the tire blew. It was really close the last couple of races, so it's good that our team won today, but I'm obviously still very disappointed. I'll try again in two weeks."
James Allison, Technical Director: "After three races where we had opportunities to win that we did not take, it's great to have victory come our way this afternoon in Baku. I am as pleased for Lewis as I am sad for Valtteri after the race. Both drivers delivered fine performances but it was a cruel blow to have the prospect of a one-two finish dangled in front of us and then whisked away at the last when Valtteri drove over some debris following the Safety Car period. That's two races running where he has deserved a much better outcome and I am confident it will come for him in the future. For Lewis, this was perhaps not the kind of swashbuckling victory he relishes but it nonetheless represents a measure of compensation for some of his misfortune in earlier races this season. On the operational side, the entire team performed well to recover from a difficult Friday and secure solid grid positions which were the foundations for today's races. We delivered quick pit stops and excellent strategy decisions, all of which keep us in the game as we work to improve the car, in what is shaping up to be a dramatic and very memorable season."
Toto Wolff: "That was just a brutal race and probably exactly the kind of Grand Prix that fans want to see, with twists and turns at every point. In the garage, it was a real rollercoaster of emotions for the whole team and I am really pleased to see us get our first win of the season with Lewis but equally incredibly disappointed for Valtteri who drove a perfect race. We went from looking like scoring a solid double podium, to suddenly having the possibility of a one-two before it was snatched away from us with Valtteri's puncture, to still winning the race. For Lewis, I guess that his luck has come full circle after the misfortune earlier in the season, and it's probably fair to look at today as him getting back the win he lost in Melbourne. The race began pretty quietly, with clean starts for our guys and then everything unfolding steadily. Lewis got caught out with a gust of wind under braking, flat spotting his first set of tires. This forced him to stop on lap 22 and take the Soft compound to the finish. Meanwhile, Valtteri stayed out and was just getting faster and faster; we stayed on track because he was building the gap to Vettel, and perhaps had a chance for the win with a late charge on UltraSoft, when the Safety Car came out for the Red Bull accident. We pitted both cars and, after Sebastian's mistake on the restart, we were set for the one-two finish when Valtteri hit a piece of debris that was on the track. Clearly that perfect result wasn't meant to be today in such an unpredictable race. So it's a bittersweet feeling: fantastic to get the win on the board and to be leading the drivers' championship, but also disappointed because the quickest guy DNF'd with a puncture – and because we know there is still work ahead of us to improve the pace of the car in what will be a close three-way fight for the rest of the season."
Scuderia Ferrari
Kimi Raikkonen (2nd): "It was not the easiest or most enjoyable race. After the accident with Esteban on the first lap, I had to come in to change the nose and switch to Soft tires. I don't know if my car was damaged, but overall the feeling was ok. The tires were not consistent, a bit on-and-off; I was struggling to keep them warm enough and had some difficult moments. Some laps they felt good and some others it was more tricky. After that, things went back to normal. I tried to stay out of trouble, pushing when it felt right to do so and do my own race. I was expecting something to happen sooner or later. It's never too late; you need to be ready, because you never know what can happen until the race is finished. We are pretty confident for the future, because we have the speed, and this is the main thing. We just need to minimize all the mistakes and the issues to be up there all the time. Today obviously feels better than yesterday, it worked out pretty ok. I will happily take this second place, considering the tricky race we had."
Sebastian Vettel (4th): "We are not entirely happy, because we could have won. In fact, I am very upset about losing the position at the restart, because I didn't want that to happen, but there are also so many positive aspects to take from this race. When the safety car pulled away, I saw a gap and I went for it, but obviously it didn't work. So, now it's easy for everyone to say that it was too big a risk, but I was driving at 330 kph on the straight, there was no reference on the left and I didn't really have many options. Lewis was on the right, while Valtteri was ahead, but I couldn't really go to the right. I also wanted to go for the inside, but once I locked up, it was tough luck. After that, with the flat spot, it was a shame that I had to give the position to Sergio. Apart from that, I think it was a very good race; we had a good pace and were in control. Anyway, this is how it goes sometimes. I had a chance to win and I tried. It just didn't work. It was a quick decision, so there was a chance it wouldn't be right. Now I think we need to look ahead because we had a strong car today. We'll see what the other races will bring, but we need to stay hungry and keep working."
Maurizio Arrivabene, Team Principal: "As we had already seen yesterday, today our car proved to be very competitive and capable of doing well on any kind of circuit. We were controlling the race with Sebastian, but the double intervention of the Safety Car cancelled the gap we had built up. As for Kimi, after the accident on Lap 1, he charged back to second place. All weekend long, the team reacted strongly and calmly and now we're looking ahead to the next race in Spain."
Aston Martin Red Bull Racing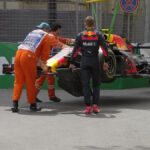 Max Verstappen, a menace on any track
Max Verstappen (DNF, Accident): "Today was just really disappointing for the Team and we lost many points unnecessarily. I don't think we need to speak about fault because at the end of the day we are racing for a team and representing a lot of people, so when this happens it is not good for both of us. The tow was very strong and our speed was very similar, so we were then always very close to each other. Before the accident it was hard racing but fair I think and we gave each other space, we had a little brush with the wheels but I think in racing that can happen, but what happened afterwards is not good. We will learn from this and have to make sure it doesn't happen again. I don't think not letting us race anymore is the way forward but of course we will talk this over as a team and learn from it. We are always very fair to each other and have spoken immediately about this. For now, I'm just sorry and want to apologize to the people we represent here and at the factory as well."
Daniel Ricciardo (DNF, Accident): "For sure it was a chaotic race and I guess we caused most of that. I have watched a few replays and the only thing we can both say is sorry to the Team. This is the last thing we wanted. We want to be able to race and I'm thankful that the Team let us race. We tried to keep it clean and give each other room but we were racing hard and in the end it cost us. I'm not going to talk about the incident but this was the worst case scenario and everyone is pretty heartbroken. I will personally apologize to the Team and once again I'm just sorry we are all in this situation when everyone has worked so hard to give us such a good car."
Christian Horner, Sporting Director: "It was a really frustrating race for the Team today. After some hard racing between the two drivers throughout the Grand Prix, unfortunately, contact was made after the pitstop resulting in the retirement of both cars. Obviously, for the Team it is hugely disappointing. We allow our drivers to race wheel-to-wheel, which they have done to great effect during the last two years. Unfortunately, today has happened and there is no blame apportioned to either side. It is hugely frustrating for the Team and the drivers have apologized. The most important thing is to learn from today and ensure that we avoid a repeat situation."
Sahara Force India F1 Team
Sergio Perez (3rd): "I'm extremely happy. Our race was a rollercoaster. We started with an incident on the first lap when I was hit from behind by a Williams [Sirotkin]. That pushed me into Kimi [Raikkonen] and broke my front wing so I had to pit. I was at the back and then I was given a five seconds penalty. I was able to make my way through the field and when the Safety Car came out we managed to keep our position. The team did a great pit stop and I was able to serve my penalty and still come out in front of Grosjean. I was looking after my tires because we only had SuperSofts left and warming them up was very difficult. I was struggling and every corner was a lottery, but then I saw the cars in front of me were struggling too. I passed Seb [Vettel] but then he recovered and put pressure on me. I had to give it everything in the last two laps: my pace was unbelievable and I think they were the best two laps of my life. This podium means a lot to me, I am very pleased and proud for myself, my family, my team and Mexico."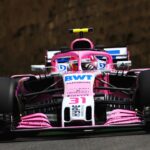 Esteban Ocon
Esteban Ocon (DNF, Accident): "It's disappointing not to finish the race on a day in which we had such good pace. I had a flying start and I managed to pass Kimi [Raikkonen]. I was ahead of him all the way to turn two and when we went into the corner. I was behind Ricciardo but Kimi made a lunge and put me in the barriers. I feel it was my corner and I was on the racing line, but he locked up and hit me. I feel the mistake was on his side: we'll see what the Stewards say but that won't change the outcome for me. It's a shame because Sergio showed we had the pace to do really well here today. I am still very pleased for the team's result and I hope we can carry our performance forward to Barcelona and beyond."
Otmar Szafnauer, Chief Operating Officer: "Huge congratulations to Sergio and the entire team on a fantastic podium finish in Baku. We have been quick all weekend and it's very satisfying to convert our potential into solid points. Sergio drove a remarkable race, recovering from damage on lap one to snatch the podium finish from Sebastian [Vettel] with just three laps to go. He did everything we asked of him and the strategy was spot on, even allowing us to recover from a five seconds penalty. This result is down to a tremendous team effort and feels all the more enjoyable after a difficult start to the season and some unlucky races. Of course, it was disappointing to lose Esteban on lap one when he was taken out by Raikkonen because he would surely have scored points as well. The result gives us a nice boost as we return to Europe and shows just how much progress we have made over the last month to bring performance to the car."
Williams Martini Racing
Lance Stroll (8th): "It was a crazy race. So much happened. I am pretty happy with the race, there were perhaps one or two more positions if we did everything perfectly, but no one had a perfect race today. In that battle with Fernando at the end I think I should have held him there, but he surprised me into turn three. I didn't really see him coming back on the inside and he just managed to sneak through, but that was probably the only little bit we missed today. The wind was strong, I could feel the car getting pushed around a bit so it was definitely noticeable. All in all, I am happy with P8 and it was a good race for the team. We can't assume this pace will carry on to Barcelona, we have to understand our issues and keep working but that is just what we are doing."
Sergey Sirotkin (DNF, Damage): "It was such a mess in the first few corners. I was between two cars heading into turn three and I was just slowly and progressively squeezed between the two cars, as I was in the middle. At a point I saw I was not going to avoid a crash so I just lifted, hoping they would squeeze me but not hit me that much, but then already there was nothing I could do. We touched, my car jumped and when I landed, I broke my front suspension and my wing. I am just really sorry for this, as it is such a long race, but I understand that we all want to gain positions at the start, which is important. It is a shame in a race in such conditions. Parking the car in turn three is not the best feeling. This was the best weekend so far for us and I am sure we could have squeezed some points out of it."
Paddy Lowe, Chief Technical Officer: "Firstly, it was very disappointing to lose Sergey at the start after a coming together with Alonso and Hulkenberg put an early finish to his race. As usual, we had a highly eventful afternoon with lots of incidents right to the very end, so it was great to get eighth position with Lance. I'm happy in one way but disappointed in another, because I think there were many more points possible for us today. Even so, it was a great drive by Lance, all weekend in fact. He kept the car in one piece which is actually one of the key things at this circuit. It is great to get our first points on the board this season and we need to keep this momentum going."
Renault Sport Formula One Team
Carlos Sainz (5th): "It's a very strong result for the team. I'm very happy and it was a really fun race, as always in Baku. It was crazy out there as the grip was difficult today. The first stint was very strong and I was able to overtake both Red Bulls on track. Then, the soft tire was trickier for us and in the end we had to battle for that fifth place. It is positive for the team to go into Europe in a strong place in the Championship. I need to keep working hard with my engineers to keep building the car to my liking and to keep the points coming. Next stop is Spain and I really look forward to it."
Nico Hulkenberg (DNF, Damage): "It's wild and just crazy here as it's so tight. We started well but I just lost the rear end at the end of turn four and that was my race done really. I had some rear locking going into that corner and the wind was difficult and it didn't take much to throw me off. It's unfortunate but that's how it is sometimes. Let's look forward to Spain."
Cyril Abiteboul, Managing Director: "We were not sure what to expect for this race, but fifth for Carlos is a great result, our best since returning to the sport two years ago. We have to admit it came in exceptional circumstances, but it is very positive. Carlos drove a very mature race, managing his tires well, and fighting with multiple cars throughout the race. It is very encouraging to look at how the grid has changed since last year; the gap to Red Bull and from the Renault engine to the rest of the field is obvious evidence of all the progress we have made and continue to make every weekend. Nico had some misfortune, but it was his only mistake last year and if it has to be his only mistake again this year, he will be more than forgiven. Overall a very good weekend; as a team we scored another handful of points and more than McLaren, so the deficit is now very close as we head towards Europe."
Red Bull Toro Rosso Honda
Brendon Hartley (10th): "That was an interesting race! From my point of view, I kept it clean but we didn't really have the pace today to challenge in the midfield. In the areas we needed to overtake we just couldn't get close enough. There was a lot of drama around me, but I managed to keep my nose clean and take home my first World Championship point in F1, which is great! It was important for me to get to the end of the race today – especially after yesterday! I think at times during the race the pace was OK, but on the Ultrasoft tire at the end I didn't feel like I could challenge the cars in front. I would have loved to attack a bit more but let's be happy with a point on the board…I'll take this momentum into the next race!"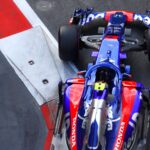 Pierre Gasly
Pierre Gasly (12th): "I had a really good start to the race, from 17th I managed to get into the top 10 after the first lap, but after that it was really tough to hold my position! I couldn't do much to keep the cars behind on the straights and I was overtaken by quite a few. It was so difficult! After the final restart, I had an incident with Magnussen where he put me in the wall, breaking half of my floor, my mirror, and bending my steering. It was quite a frustrating race because with all of the retirements and without the collision I could have been in the points."
Franz Tost, Team Principal: "Generally speaking, it was a difficult weekend for us. We struggled yesterday in Qualifying and therefore we had to start from 17th and 19th position on the grid. I was quite upset yesterday when we didn't achieve Q2 – which was realistic because Pierre showed quite good performance and he was on a fast lap when the incident with Brendon happened. However, looking into it afterwards I must say that we have to be quite happy that nothing major occurred between them. Regarding today's race, I want to congratulate Brendon for his first point in F1! We knew Baku would have been a difficult race for us, but our performance this weekend was not on the level we expected. We will work hard to improve and be in a better position in the next races."
Toyoharu Tanabe, Honda F1 Technical Director: "After a difficult first two days, both drivers did well to stay out of trouble in the early chaos and managed to move up the order, with Pierre running inside the top ten in the early part and again towards the end until the coming together with Magnussen. In the end, we benefited from the mistakes of others for Brendon to take his first F1 point. The whole package lacked top speed today, more so than on the first two days and we must now look at the cause for that. However, it is clear that part of the reason for this is that we are still slightly down on power compared to our rivals. We knew this and are working hard on development to improve, while not compromising the reliability of the PU components."
Haas F1 Team
Kevin Magnussen (13th): "Obviously, things aren't going our way at the moment. We still have a car that is performing well, so I'm looking forward to the rest of the season. We've got a competitive car that we can score points with, and on a regular basis if we have smooth weekends. I'm sure we'll be alright. It's just been a tough start to the season, especially when you see the potential in the car, it's even more frustrating. We'll come back from this. It was just a tough weekend overall."
Romain Grosjean (DNF, Accident): "This hurts a lot and I want to apologize to the team. We were in the middle of an amazing race, starting last and running P6. Seeing (Sergio) Perez on the podium, knowing I was fighting with him, is very painful for all of us. It was going very well. The conditions were tricky, there was a lot of wind, the car was going left and right, pushing then not pushing. I was warming up my tires and bumped into a switch that I'd moved by two positions. When I touched the brakes, the brake balance was locked rearward – it just locked the rear wheels and I spun."
Guenther Steiner, Team Principal: "A very disappointing finish to the weekend. There's nothing more to say."
McLaren F1 Team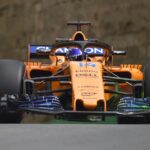 Alonso salvaged 7th
Fernando Alonso (7th): "Today's race was very complicated – right from the very first lap. The first lap in the midfield is the same old story; people preferring to crash into other cars rather than lifting off. But it's also up to us to qualify further towards the front, where it's usually a little bit cleaner. On that opening lap, my car was heavily damaged – I had two punctures, with one flat tire damaging the floor. I also had a damaged front and rear wing. I really thought that would be the end of my race, but after the team fitted a new front wing and fresh tires, I went back out, fought all race long, and actually found the car to be quite competitive. We were able to overtake a Sauber and a Renault thanks to the Safety Car, which enabled us to recover a couple of positions. It was one of the best races in years for us, I reckon."
Stoffel Vandoorne (9th): "What a mad afternoon! This race is usually a bit crazy, and we saw that again today. By mid-race, I think I was last, and that there was zero chance of making something work. But then the Safety Car came out: I made a good call at the end to put some hot rubber on when everyone else seemed to be struggling with tire warm-up. Being at the back at that point wasn't necessarily a bad thing – at the restart, I felt really confident, managed to overtake a few cars, and got myself back in the points. We still lack straight-line speed, which meant it was a struggle to attack or defend in the race, so there's still some work to do there. Nevertheless, I'm pleased that we got some more points this weekend."
Eric Boullier, Racing Director: "To bring both cars home in the points today was a pleasant surprise after a relatively tricky weekend in Baku. It's really worth crediting the teamwork of our strategists, engineers and mechanics, who ensured we were well positioned to benefit from what's always a tough and demanding race. But I also want to highlight the efforts of our drivers today: after a hefty knock on the first lap, which was so heavy it punctured two right-hand tires and broke part of the floor, Fernando drove with relentless focus and intensity, fighting until the last to bring his car home seventh. Stoffel didn't feel particularly comfortable on the Option tire, and cannily realized that he, along with those drivers immediately around him, was struggling with warm-up issues while behind the late-race Safety Car. It was a good team decision to box for a fresher, hotter set of Options, a gamble that enabled him to quickly pass a cluster of cars ahead and earn another points finish. It's races like these where you earn your mettle, and, while we still have work to do to close the gap to the front, it's rewarding that we head home with more well-earned world championship points."
Alfa Romeo Sauber F1 Team
Charles Leclerc (6th): "It was an amazing race today – I am very happy with my result. It was definitely eventful, with many incidents on track making it especially challenging and fun to drive. I felt comfortable in the car, and did my best to gradually advance to the front of the midfield through the race. It is an incredible feeling to score points for the first time in Formula 1. As a team, we can see our potential, and know what our strengths are. I am very pleased, and look forward to continuing on this positive path."
Marcus Ericsson (11th): "It was a difficult race for me. I was involved in an incident at the beginning of the race, and picked up some damage to the car. I was struggling to keep everything together after that, and I gave everything to catch up with my direct competitors. In the end, it was good to manage to finish in P11. As a team, we have scored points for the second time this season, which is very motivating, and our potential is becoming more clear with every weekend. We must keep up the good work now. I look forward to the next race weekend in Barcelona."
Frederic Vasseur, Team Principal: "We are very pleased with the job that we have done this whole weekend starting from Friday and then a good qualifying session. Charles scored his first points in Formula 1 today, finishing in P6. He had a strong pace and did a consistent job. It was a huge step for him to make and he can be proud of what he has achieved. Marcus put up a good fight. He was involved in an incident at the beginning of the race, which set him back and made it tough for him, however, he managed to recover and catch up with the midfield. He finally finished in P11 and was very close to scoring points. It is a great achievement for the team, not only for the points but also for the pace shown especially in the first stint. Now we have to stay focused in order to continue this good work."
Results
| | | | | | |
| --- | --- | --- | --- | --- | --- |
| POS | NO | DRIVER | CAR | LAPS | TIME/RETIRED |
| 1 | 44 | Lewis Hamilton | Mercedes | 51 | 1:43:44.291 |
| 2 | 7 | Kimi Raikkonen | Ferrari | 51 | +2.460s |
| 3 | 11 | Sergio Perez | Force India Mercedes | 51 | +4.024s |
| 4 | 5 | Sebastian Vettel | Ferrari | 51 | +5.329s |
| 5 | 55 | Carlos Sainz | Renault | 51 | +7.515s |
| 6 | 16 | Charles Leclerc | Sauber Ferrari | 51 | +9.158s |
| 7 | 14 | Fernando Alonso | McLaren Renault | 51 | +10.931s |
| 8 | 18 | Lance Stroll | Williams Mercedes | 51 | +12.546s |
| 9 | 2 | Stoffel Vandoorne | McLaren Renault | 51 | +14.152s |
| 10 | 28 | Brendon Hartley | Scuderia Toro Rosso Honda | 51 | +18.030s |
| 11 | 9 | Marcus Ericsson | Sauber Ferrari | 51 | +18.512s |
| 12 | 10 | Pierre Gasly | Scuderia Toro Rosso Honda | 51 | +24.720s |
| 13 | 20 | Kevin Magnussen | Haas Ferrari | 51 | +30.663s |
| 14 | 77 | Valtteri Bottas | Mercedes | 48 | DNF |
| NC | 8 | Romain Grosjean | Haas Ferrari | 42 | DNF |
| NC | 33 | Max Verstappen | Red Bull Racing Tag Heuer | 39 | DNF |
| NC | 3 | Daniel Ricciardo | Red Bull Racing Tag Heuer | 39 | DNF |
| NC | 27 | Nico Hulkenberg | Renault | 10 | DNF |
| NC | 31 | Esteban Ocon | Force India Mercedes | 0 | DNF |
| NC | 35 | Sergey Sirotkin | Williams Mercedes | 0 | DNF |