Harvick wins Talladega pole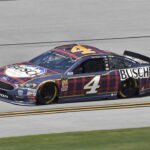 Harvick wins pole
Kevin Harvick hadn't won a pole at a restrictor-plate track since 2005.
Kurt Busch had never topped qualifying for a Monster Energy NASCAR Cup Series race at a superspeedway
But those two Stewart-Haas Racing Ford drivers were the class of the field during time trials on Saturday at Talladega Superspeedway, where Harvick outdueled Busch to secure his first Busch Pole Award of the season.
In the decisive second round, Harvick covered the 2.66-mile distance in 49.247 seconds (194.448 mph) to earn his second Talladega pole and the 22nd of his career. Busch was close behind with a 49.340-second lap (194.082 mph) in the money round.
The two Fords will start on the front row in Sunday's GEICO 500 (2 p.m. ET on FOX, MRN and SiriusXM NASCAR Radio), ahead of Toyota drivers Martin Truex Jr. (193.525 mph) and Denny Hamlin (192.936 mph), who qualified third and fourth, respectively.
"We had no clue as to how fast the car would actually run," said Harvick, who scored his lone victory at Talladega in 2010. "We knew we had a fast car, but we didn't do any qualifying runs (in practice) or anything like that."
In fact, Harvick's run in the first round was halted when teammate Aric Almirola's Ford spun out of control with a tire down, and Harvick ran through the debris from the No. 10 Ford.
[adinserter name="GOOGLE AD"]"The first indicator was the first time on the race track, and that was even a little bit of a question, because of the fact that we had to change the tires and cool the engine down," Harvick said. "We didn't know what the pickup in the car was going to be – or not be.
"It's always a little bit of a surprise."
Harvick's pole-winning run in the No. 4 Ford denied Busch a milestone he coveted.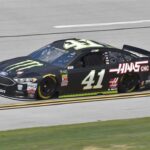 Kurt Busch
"I've never been on the pole for a plate race and wanted to check it off," Busch said. "It was a bucket-list item. I really wanted the pole today.
"But two Stewart-Haas Fords on the front row – we'd have loved to have gotten the pole, but we're outside pole, and I'm proud of our Monster Energy Ford."
Chase Elliott qualified fifth in the fastest Chevrolet (192.754 mph), followed by Erik Jones and defending race winner Ricky Stenhouse Jr.. Series leader Kyle Busch, who is seeking a fourth straight victory, failed to advance to the second round and will start 19th.
Five-time Talladega winner Brad Keselowski will start 10th, to the outside of Team Penske teammate Joey Logano.
Lineup
| | | | | | |
| --- | --- | --- | --- | --- | --- |
| Pos | Car | Driver | Team | Time | Speed |
| 1 | 4 | Kevin Harvick | Busch Beer Flannel Ford | 49.247 | 194.448 |
| 2 | 41 | Kurt Busch | Monster Energy/Haas Automation Ford | 49.340 | 194.082 |
| 3 | 78 | Martin Truex Jr. | Bass Pro Shops/5-hour ENERGY Toyota | 49.482 | 193.525 |
| 4 | 11 | Denny Hamlin | FedEx Express Toyota | 49.633 | 192.936 |
| 5 | 9 | Chase Elliott | NAPA Auto Parts Chevrolet | 49.680 | 192.754 |
| 6 | 20 | Erik Jones | XYO Network Toyota | 49.686 | 192.730 |
| 7 | 17 | Ricky Stenhouse Jr. | Fifth Third Bank Ford | 49.900 | 191.904 |
| 8 | 14 | Clint Bowyer | Haas Automation Demo Day Ford | 49.947 | 191.723 |
| 9 | 22 | Joey Logano | Shell Pennzoil/Autotrader Ford | 49.968 | 191.643 |
| 10 | 2 | Brad Keselowski | Snap On Ford | 50.046 | 191.344 |
| 11 | 88 | Alex Bowman | Nationwide Chevrolet | 50.071 | 191.248 |
| 12 | 38 | David Ragan | Bad Boy Mowers Ford | 50.113 | 191.088 |
| 13 | 21 | Paul Menard | Motorcraft/Quick Lane Tire & Auto Center Ford | 50.009 | 191.486 |
| 14 | 19 | Daniel Suarez | ARRIS Toyota | 50.011 | 191.478 |
| 15 | 43 | Darrell Wallace Jr. # | Petty's Garage/Medallion Bank Chevrolet | 50.054 | 191.313 |
| 16 | 48 | Jimmie Johnson | Lowe's for Pros Chevrolet | 50.068 | 191.260 |
| 17 | 24 | William Byron # | Liberty University Chevrolet | 50.087 | 191.187 |
| 18 | 31 | Ryan Newman | Caterpillar Chevrolet | 50.107 | 191.111 |
| 19 | 18 | Kyle Busch | M&M's Flavor Vote Toyota | 50.109 | 191.103 |
| 20 | 34 | Michael McDowell | Love's Travel Stops/Roller Bites Ford | 50.138 | 190.993 |
| 21 | 6 | Trevor Bayne | AdvoCare Ford | 50.140 | 190.985 |
| 22 | 42 | Kyle Larson | Credit One Bank Chevrolet | 50.151 | 190.943 |
| 23 | 12 | Ryan Blaney | Menards/Richmond Ford | 50.269 | 190.495 |
| 24 | 3 | Austin Dillon | Dow Scooper Cat Chevrolet | 50.363 | 190.140 |
| 25 | 37 | Chris Buescher | Degree Chevrolet | 50.454 | 189.797 |
| 26 | 95 | Kasey Kahne | Procore Safety Qualified Chevrolet | 50.462 | 189.767 |
| 27 | 1 | Jamie McMurray | DC Solar Chevrolet | 50.474 | 189.721 |
| 28 | 47 | AJ Allmendinger | Kroger ClickList Chevrolet | 50.476 | 189.714 |
| 29 | 13 | Ty Dillon | GEICO Chevrolet | 50.762 | 188.645 |
| 30 | 62 | Brendan Gaughan | BeardOilDist/SthPntHtl&Csno Chev | 50.766 | 188.630 |
| 31 | 96 | DJ Kennington | Gaunt Brothers Racing Toyota | 51.145 | 187.232 |
| 32 | 92 | Timothy Peters(i) | Advance Auto Parts/BTS Tire & Wheel Ford | 51.190 | 187.068 |
| 33 | 32 | Matt DiBenedetto | Can-Am/Wholey Ford | 51.319 | 186.598 |
| 34 | 00 | Joey Gase(i) | Sparks Inc. Chevrolet | 51.484 | 186.000 |
| 35 | 15 | Ross Chastain(i) | Chevrolet | 51.564 | 185.711 |
| 36 | 72 | Cole Whitt | 1950 Clothing Company Chevrolet | 51.710 | 185.187 |
| 37 | 23 | Gray Gaulding | Earthwater Toyota | 52.102 | 183.793 |
| 38 | 55 | Reed Sorenson | Chevrolet | 52.372 | 182.846 |
| 39 | 51 | Timmy Hill(i) | Keen's Building/Race to Erase Opioids Ford | 52.647 | 181.891 |
| 40 | 10 | Aric Almirola | Smithfield Ford | 54.604 | 175.372 |