Smith Wins General Tire 200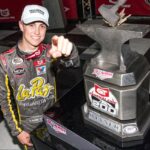 Zane Smith, driver of the No. 41 LaPaz Margarita Mix Toyota, posed in Gatorade Victory Lane with the General Tire 200 Hammer and Anvil Trophy after winning in what was a photo finish on Friday. The finish was declared the closest finish in ARCA Racing Series history.
TALLADEGA, AL – The unpredictability of stock car racing at Talladega Superspeedway was on full display Friday night, with a sudden flurry of late-race incidents leading to two "overtimes" and an eventual photo-finish General Tire 200 victory by Zane Smith.
A last-lap incident brought out the caution flag and caused the first one-lap OT, which was foiled by another crash on the backstretch.
On the second OT lap, Smith's No. 41 LaPaz Margarita Mix Toyota and the No. 77 Big Tine Ford of Joe Graf Jr. spent most of the time door-to-door, racing on the edge. Smith crossed the stripe barely ahead of Graf, getting his second victory of the season.
How close was it? ARCA officials said the electronics showed a dead-heat, which meant a return to the old school method of reviewing the photo of the finish to determine the winner. ARCA called it the closest finish in series history.
"We're four races in and we've got two wins … this year is going to be unreal," said Smith, from Huntington Beach, California.
The ARCA Racing Series had big news to start the day, with the announcement that it had been acquired by NASCAR.
"It's fantastic that we're going to be working together going off into the future," said NASCAR Vice Chairman/Executive Vice President Jim France. "Both organizations have a great history, with great championships. We've shared a lot of teams and drivers over the years. That will continue in a major way."
The ARCA Racing Series will continue to operate under its current structure through the 2019 season.
On Saturday, the NASCAR Xfinity Series' Sparks Energy 300 will take a 2 p.m. green flag. Qualifying for the 113-lap/300-mile race is at 10 a.m.
[adinserter name="GOOGLE AD"]Friday featured two practice sessions for the Sparks Energy 300. Cole Custer (No. 00 Haas Automation Ford) led the first session with a fast lap of 194.125 mph; the second session was led by Shane Lee (No. 3 Childress Vineyards Chevrolet), at 187.938.
Also Friday, the Monster Energy NASCAR Cup Series had a pair of practices for the weekend's main event – Sunday's 49th GEICO 500. Those sessions were led by Ty Dillon and two-time Talladega winner Jamie McMurray. Dillon led the first session in the No. 13 GEICO Chevrolet with a fast lap of 202.959 mph on the 2.66-mile tri-oval. McMurray, driving the No. 1 DC Solar Chevrolet, led the second session, at 203.975.
Fr8Auctions Qualifying for the GEICO 500 is set for Saturday at 12:05 p.m.
Results
| | | | | | | | |
| --- | --- | --- | --- | --- | --- | --- | --- |
| Fin | Str | No | Driver | Hometown | Car | Laps | Status |
| 1 | 8 | 41 | Zane Smith | Huntington Beach, California | Toyota | 87 | Running |
| 2 | 17 | 77 | Joseph Graf Jr. | Mahwah, New Jersey | Ford | 87 | Running |
| 3 | 1 | 15 | Michael Self | Salt Lake City, Utah | Toyota | 87 | Running |
| 4 | 3 | 28 | Sheldon Creed | Alpine, California | Toyota | 87 | Running |
| 5 | 12 | 6 | Josh Williams | Port Charlotte, Florida | Chevrolet | 87 | Running |
| 6 | 5 | 78 | Max Tullman | Chester Springs, Pennsylvania | Chevrolet | 87 | Running |
| 7 | 11 | 55 | Brandon Lynn | Penn Yan, New York | Toyota | 87 | Running |
| 8 | 7 | 5 | Bobby Gerhart | Lebanon, Pennsylvania | Chevrolet | 87 | Running |
| 9 | 26 | 27 | Travis Braden | Wheeling, West Virginia | Ford | 87 | Running |
| 10 | 13 | 02 | Andy Seuss | Hampstead, New Hampshire | Chevrolet | 87 | Running |
| 11 | 16 | 57 | Bryan Dauzat | Alexandria, Louisiana | Chevrolet | 87 | Running |
| 12 | 14 | 32 | Gus Dean | Bluffton, South Carolina | Chevrolet | 87 | Running |
| 13 | 10 | 98 | Blaine Perkins | Bakersfield, California | Chevrolet | 87 | Running |
| 14 | 30 | 06 | Con Nicolopoulos | Columbus, Michigan | Chevrolet | 87 | Running |
| 15 | 22 | 34 | Jesse Iwuji | Carrollton, Texas | Chevrolet | 87 | Running |
| 16 | 20 | 63 | Dave Mader III | Homewood, Alabama | Chevrolet | 87 | Running |
| 17 | 18 | 18 | Riley Herbst | Las Vegas, Nevada | Toyota | 87 | Running |
| 18 | 25 | 38 | Robert Powers | Meridian, Idaho | Chevrolet | 87 | Running |
| 19 | 28 | 10 | D.L. Wilson | Waco, Texas | Chevrolet | 87 | Running |
| 20 | 23 | 52 | Brandon Grosso | Belle Mead, New Jersey | Ford | 84 | Running |
| 21 | 24 | 9 | Thomas Praytor | Mobile, Alabama | Chevrolet | 82 | Running |
| 22 | 15 | 20 | Leilani Munter | Rochester, Minnesota | Toyota | 81 | Running |
| 23 | 46 | – | Sean Corr | – | – | 79 | Not Running |
| 24 | 9 | 7 | Codie Rohrbaugh | Petersburg, West Virginia | Chevrolet | 76 | Not Running |
| 25 | 2 | 8 | Chase Purdy | Meridian, Mississippi | Toyota | 75 | Not Running |
| 26 | 6 | 54 | Bo LeMastus | Louisville, Kentucky | Toyota | 75 | Not Running |
| 27 | 19 | 23 | Bret Holmes | Munford, Alabama | Chevrolet | 45 | Not Running |
| 28 | 4 | 25 | Natalie Decker | Eagle River, Wisconsin | Toyota | 18 | Not Running |
| 29 | 27 | 11 | Ed Pompa | Ballston Spa, New York | Toyota | 14 | Not Running |
| 30 | 29 | 69 | Kevin Hinckle | Shawnee, Kansas | Ford | 2 | Not Running |
| 31 | 31 | 48 | Brad Smith | Shelby Township, Michigan | Ford | 0 | Not Running |