IndyCar Long Beach Postscript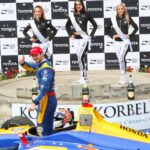 Rossi winning at Long Beach
Yes, he was only third fast in practice 1. But after that grave misstep, here's how Alexander Rossi's weekend went in Long Beach:
Practice 2: 1st
Practice 3: 1st
Qualifying Round 1: 1st
Qualifying Round 2: 2nd
Firestone Fast Six: 1st
Morning Warm-up: 1st
Race: 1st. Led 71 of 85 laps
There really isn't much to add here. Alexander Rossi was thoroughly dominant at Long Beach this weekend. And to me, the larger story with Rossi, is not so much what he did this weekend, nor his sublime drives at Phoenix a week ago or Watkins Glen late last season. Rather, it is looking ahead to what might be.
Rossi Deserves to be in Formula 1
[adinserter name="GOOGLE AD"]Over the last decade, the notion of a driver parlaying IndyCar success into top Formula One rides a la Michael Andretti, Jacques Villeneuve, Juan Pablo Montoya and others has largely been a non-issue. Not since Sebastien Bourdais followed up a 4-consecutive championships stretch with Newman/Haas in Champ Car into a ride with midfield Toro Rosso has any Indy car driver's success catapulted them into Formula One.
Furthermore, measures such as stricter testing regulations have meant less opportunity for IndyCar drivers to test with Formula One teams a la Scott Dixon with Williams, or Paul Tracy with Benetton. Heck, Marco Andretti even tested with Honda at Jerez in 2006. In fact, I'd venture to say that aside from a speculative Josef Newgarden-to-Haas type story, I cannot recall anything meaningful linking an IndyCar driver to F1 in the last decade. No, the most any IndyCar driver has gotten from F1 in recent years would Simona de Silvestro taking a few cracks at the Sauber simulator.
And in light of the above, it would probably be reasonable to think that no matter how well young Rossi continues to perform, F1 is probably a closed door for him too. That said, if you look into it a little deeper, Rossi could break the current mold.
For one, Rossi is still only 26. I find this hard to believe given that his attempts to break into Formula One span close to a decade at this point. He tested a tested a Sauber F1 car in, get this: 2009.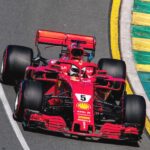 If Ferrari and Liberty were smart, they would be knocking on Alexander Rossi's door about now
But compare Rossi to say someone like Will Power, who I think everyone would agree is quite capable. Power essentially broke out as an IndyCar star around the age of 29 or 30. In the incredibly age-sensitive world of F1, Power's emergence occurred too late for him to make an F1 move. And although the clock is ticking fast, for now, that is not an issue with Rossi.
Furthermore, Rossi has unlike many other IndyCar drivers, experience in F1 cars running five Grand Prix and participating in Friday practice sessions at 4 others. No, he does not have thousands of miles under his belt as say Montoya did before joining Williams. But Rossi also would be far from a Michael Andretti situation, where he would be getting into the car raw. Plus, from his successful stints in GP2 and GP3 he has been on most of the current F1 tracks.
Also, new ownership in Formula One begs questions as to how exactly business will be conducted. Could it be that Liberty Media will want an American driver to make an impact on the American market? While I would offer that simply having an American driver in a mid-pack team will make little to no impact in an already overly saturated American sports market, a winning American driver on a top F1 team (think Rossi running replacing Kimi Raikkonen at Ferrari) would DEFINITELY have an impact stateside.
Last, and how exactly F1 teams will factor this into their calculus is something of an unknown, the current IndyCar places a greater premium on driving ability. Many have noted (Power amongst them) that the new IndyCar drives like the old Champ Car. Formula One teams then saw enough in Bourdais to call him to Toro Rosso. Will this new car, combined with fewer avenues for F1 teams to develop young drivers, result in F1 teams looking stateside again?
Hard to say.
What I do know is that Rossi's unique combination of current form, youth, previous experience in F1 cars, commercial appeal and a new Indy car placing a greater premium means that the factors are in place to challenge the conventional wisdom of the previous decade.
Bourdais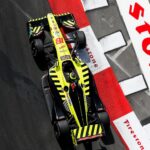 Bourdais' pass at Long Beach was one to be remembered
"That was the coolest pass ever," said engineer Craig Hampson on the radio to his driver Sebastien Bourdais after the Frenchman's lap 46 pass of Scott Dixon into turn 1. I'll assume you've seen video, and Hampson may have been correct.
Daring as it may have been, INDYCAR Race Control had an objection. They ruled that Bourdais had crossed the blue pit exit line, which he did, in making his move. Bourdais was forced to surrender the position back to Dixon, whom he promptly passed again.
As you might imagine, Bourdais was not happy with the call. Central to his defense was the notion that Dixon moved over on the No. 18 SealMaster Honda if not forcing Bourdais over the line then certainly encouraging Bourdais to react.
Considering I've never approached turn 1 at Long Beach(or anywhere else for matter) going 185 miles per hour, I'm not going to offer my thoughts on what Bourdais should or should not have done. However, it's clear to me that Bourdais simply didn't go to an illegal part of the track because he wanted to; rather moved in reaction to a competitor (even though Dixon left some room).
It's also clear to me that rules exist for a reason, and in this case the reason is for the safety of drivers exiting pit lane at significantly lower speeds than drivers coming down the front stretch. Furthermore, if you're going to have rules, you also need to have the backbone to enforce them, something I have been very critical of INDYCAR not doing in the past. In this case (again noting that Bourdais did nothing particularly egregious), the line established as the no-go zone was crossed.
Because rules must have the force of consequence; because this particular rule was made for safety, and because there was room (albeit not a lot) for Bourdais to not run afoul of the rule, I believe INDYCAR had no choice but to penalize Bourdais. And give the series credit for not making the punishment too penal. Allowing for Dixon to have the spot back was a consequence that did not ruin Bourdais' race.
It was definitely a tough spot for the series. You also hate to see a move, which showed such chutzpah from a driver, get penalized,a nd perhaps one could argue that such a rule needs to allow for drivers reasonably reacting to a competitor's move, which I'd argue Bourdais did. Therefore, get Bourdais being upset.
But given the rule that was in place, I can't sit here and say the series got it wrong. And in issuing a penalty that was not overly penal, I'd venture to say they got one right.
The Event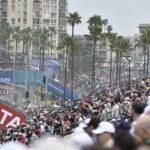 Long Beach was packed, but NBCSN failed IndyCar on the TV rating front again
I didn't go to Long Beach this year. However, having been to the event, there is no question its status as the second most prestigious event on the IndyCar calendar. As usual, it looked spectacular on television, and I'll mention that a neighbor who stopped by my house during the race made note of this, asking where the race was.
Sadly, judging by the TV numbers my neighbor and I weren't joined by too many others in taking in the picturesque scenery. And while I know the IndyCar Thought Police will not like what follows, I have to wonder whether IndyCar is having buyer's remorse over the recent NBC Sports Network TV deals.
Keep in mind, F1 ratings are up 25% so far this season after moving to ESPN from NBC. Furthermore, ESPN offered to have 10 races on network as opposed to the 8 IndyCar got from NBCSN. Yes, the relationship with ABC is not good, and their coverage is AWFUL.
However, bad coverage can be fixed. The ability of a network to deliver viewers is well, something the series has little control over. But it is a consideration something the series owes its partners such as Long Beach in delivering a deal. And it is without question that ABC/ESPN – even in their declining state – trumps NBC in this category.
Brian Carroccio is a senior columnist for AutoRacing1. He can be contacted at BrianC@AutoRacing1.com.