This be IndyCar's last year in Phoenix (4th Update)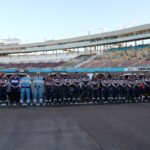 When you can shoot a cannon into the grandstands and not hit anyone, it's a sign it's time to move on. The market cannot support two Cup races plus an IndyCar race – they were idiots for even trying
UPDATE This rumor is upgraded to 'fact' today. An official IndyCar statement says: "IndyCar has enjoyed its time racing at ISM Raceway, but attendance in the past three years has been disappointing despite considerable investment from both sides.
"Track president Bryan Sperber and his team have been terrific partners and are developing a beautiful facility, and IndyCar will reconnect with them when conditions are right for both parties.
"Meanwhile, IndyCar is moving forward with building a terrific schedule for the 2019 season."
With regards to recent discussions about the 2019 Verizon INDYCAR Series schedule, today ISM Raceway Track President Bryan R. Sperber stated, "We have enjoyed having INDYCAR at our venue for the full three years of our agreement. The series officials and teams have been tremendous partners.
"INDYCAR will not be on our schedule in 2019, we're currently taking a pause to review schedule options for the future. INDYCAR is currently discussing with International Speedway Corporation (ISC) other potential venues and opportunities. We'd like INDYCAR to be on our calendar in the coming years, and we will work with INDYCAR to find a date that will help deliver a successful event."
05/23/18 On the eve of its most important race, the immediate future of IndyCar's event in one of its most important markets is in serious doubt.
A return to ISM Raceway in 2019 is "undecided," Mark Miles, CEO of the company that owns Sunday's Indy 500, the Indianapolis Motor Speedway and the Verizon IndyCar Series, told azcentral sports.
After a decade's absence, IndyCar came back to then-Phoenix International Raceway in 2016 with a three-year commitment, but the racing "show" has been largely processional and spectator attendance disappointing. The only one to exceed an estimated crowd of 10,000 was 2016.
Team owners and sponsors were vocal in their support of being in the Valley and its large and demographically diverse population.
Miles and ISM Raceway President Bryan Sperber both said substantive talks could begin as early as next week.
"Bryan and his team and our team have worked really well together," Miles said. "Neither of us is satisfied with what has happened so far. We have to have more conversations to see if we are going to continue. We haven't reached a conclusion."
The raceway's $178 million fan and competitor amenities transformation is scheduled to be completed in time for November's NASCAR weekend. Miles called the allure of the modern facility "one of those dynamics we could be optimistic about."
Said Sperber: "We've had great partners in Mark and everyone at IndyCar. We'll sit down and put pencil to paper to see if there is an opportunity to continue." Michael Knight AZcentral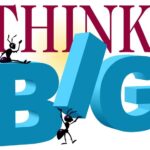 Can IndyCar and NASCAR work together to help each other?
04/09/18 The racing was better in Phoenix on Saturday night as there was more passing than in previous years thanks to the new IndyCar aero changes. The crowd was up ever so slightly, but the vast area of empty aluminum seats paints the wrong optics – IndyCar looks like a loser and no one (sponsors) want to be associated with a loser. Until the IndyCar fanbase can support putting more butts in the seats at these NASCAR tracks like Phoenix, Texas and Pocono, what is the solution?
Option 1: Avoid these tracks for now to avoid tarnishing IndyCar's image. Not an option anyone wants, but can the sport afford the negativity associated with all those empty seats?
Option 2: Nowadays NASCAR is hurting for fans too. The market cannot support both NASCAR and IndyCar running races so close to one another. Run the IndyCar race noon the day of the NASCAR Cup race and put some NASCAR drivers in the IndyCar race and put some IndyCar drivers in the Cup race. The Cup race would start at 3 PM. Give these drivers extra practice time on Thursday. This might create a sellout situation and both series will benefit from the optics. Different tire compounds between the two series will cause some issues but teams can adjust and the accelerator pedal works both ways.
Option 3: Take the lead from COTA and the USGP and bring in a big name concert, like Taylor Swift. The concert would start just as the checkered flag falls and the podium celebration will be up on stage between the first couple of songs with Taylor Swift introducing her fans to the top-3 drivers. Who pays for Swift? The ticket buyers for the concert who get free access to the race. Imagine the optics.
Option 4: Do nothing, continue races as-is, and hope for the best.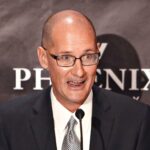 Bryan Sperber is a big fan of IndyCar but NASCAR's IMS owns the track and they are not in business to lose money. If the attendance is abysmal the race renewal will be in jeopardy
04/07/18 ISM Raceway president Bryan Sperber is an unabashed IndyCar fan. That detail is incredibly important as the Verizon IndyCar Series completes its three-year contract with the Phoenix oval, and from his perspective, his passion for open-wheel racing might not be the only thing that leads to a new agreement.
"I've been involved in motor racing my whole life, have a deep love for the sport, and a deep appreciation for history," he told RACER. "And really, this track was built for IndyCar. We want to make it a success in the modern era, and we owe it to the fans to give it a shot and I'm really happy with some of the progress we've made with help from IndyCar.
"One of the track presidents at another venue that holds IndyCar races told me while we were considering bringing IndyCar back that there's a different balance here than for other racing series," he added. "It's more of a corporate audience and more hospitality-driven. Our biggest suite, Curve, holds 300 people, and that's completely sold out.
"We actually had to expand into the suite next to it to handle another 100 guests because of the demand. There's a lot of demand here, but it's a different, more corporate demand than NASCAR. Of course we'd like to expand the event with more ticket sales, and that's a large priority, but we're seeing other things that have us feeling good with IndyCar."
"IndyCar has been a great partner for us, they're committed to being at ISM Raceway and we're committed to making this a success," he said. "We'll get through this weekend, then sit down and discuss and evaluate what's next, but my intention is for IndyCar to be here for a long, long time."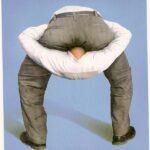 The decision makers who think IndyCar can draw a crowd just 4 weeks after a NASCAR Cup race at the same track
04/06/18 The "word out of the Phoenix area" is that the event "isn't generating a whole lot of buzz, and that's a bad omen considering last year's race didn't draw a big crowd and the race was largely uneventful."
The race will air on NBCSN, and will have a small number of viewers.
The race is only a few weeks after the NASCAR Cup race. How do you sell tickets to two big races in such a short timeframe? You don't.
If you can shoot a cannon in the grandstands and not hit anyone again this year, IndyCar could be forced to ditch Phoenix, where drivers can't pass anyway
04/06/18 Saturday's race is the last under a three-year contract between IndyCar and the raceway, and a renewal isn't certain. Corporate hospitality sales remain strong, but a meaningful improvement over last year's disappointing grandstand sales could mean the difference whether or not the series will return after completion of the $178 million facility transformation.
"I always tell our people, 'We're in the fun business,'" raceway President Bryan Sperber said.
"I think it starts with that. Are the fans here enjoying themselves? After the event you look at the financial picture and make some decisions based on that."
Said IndyCar CEO Mark Miles: "There's no clock running. We love the market. We love Bryan and his team.
"We're mindful of the additional investment being made here.
"There's no deadline or over/under on attendance to determine the future." AZcentral