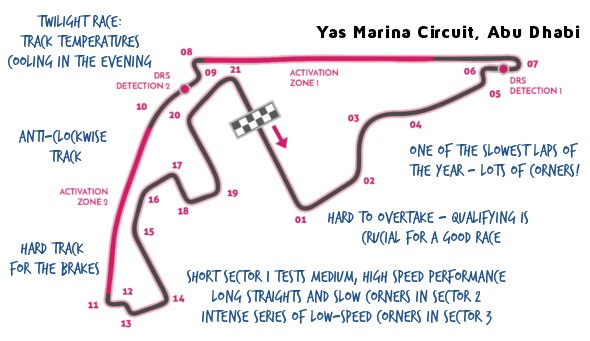 Yas Marina Circuit
The Yas Marina Circuit is a showplace, and it should be considering it is widely believed to be the most expensive Formula One track ever built, with some estimates topping $1 billion.
It is a purpose-built facility on a man-made island and it is one of the many new Formula One venues designed by Hermann Tilke.
It is less than a decade old and it features a counter-clockwise layout that boasts a top speed of 335 kph (208 mph) and an average speed of 195 kph (121 mph). It has nine right turns and 12 left turns on a waterfront course that rivals Monaco and Singapore.
Its extravagance and uniqueness is best highlighted by these attributes: the pit lane exit passes underneath the circuit via a tunnel and the garages are air-conditioned. Yas Marina has a powerful lighting system, and it lays claim to holding Formula One's first twilight race.
The Abu Dhabi Grand Prix is a unique race, starting at sunset and finishing in the dark, which takes place on the Yas Marina Circuit.
This track, surrounded by the desert sands, is quite spectacular in an exceptional setting with a stunning hotel that overlooks the flat circuit.
Especially during Friday practice and the race, the temperatures will go in the opposite direction to those usually experienced. The first sector features a mix of mid to high-speed corners, the second one is about straight-line speed, braking and traction and the third sector looks like a street circuit and calls for grip and downforce.
Haas Team Preview
Abu Dhabi sunset
Twenty-nine points in 2016. Forty-seven points in 2017. Ninety points in 2018, and there's still one race to go. That is Haas F1 Team's trajectory since becoming the first American team in 30 years to join the FIA Formula One World Championship.
As the curtain gets set to drop on 2018 with the season-ending Abu Dhabi Grand Prix Nov. 25 at Yas Marina Circuit, Haas F1 Team will close out the best year in its still young history regardless of the outcome of the 55-lap race at the 5.554-kilometer (3.451-mile), 21-turn track in the capital of the United Arab Emirates.
The third-year team trails fourth-place Renault by 24 points but holds a 28-point advantage over sixth-place McLaren. After back-to-back eighth-place finishes in the 2016-2017 constructors' standings, 2018 has proven to be Haas F1 Team's coming-out party, with the scrappy squad regularly challenging, and then beating, established Formula One teams with decades of experience and a phalanx of specialized personnel.
In 12 of the 20 races run thus far in 2018, Haas F1 Team has scored points. At no time did the organization go more than two races without a points-paying result, and on four occasions drivers Romain Grosjean and Kevin Magnussen scored a double-points finish, which includes the series' most recent race, the Brazilian Grand Prix at Aut¢dromo José Carlos Pace in São Paulo where Grosjean and Magnussen finished eighth and ninth, respectively.
The duo's best result in 2018 came in the ninth race of the season at the Red Bull Ring with a haul of 22 points as Grosjean finished fourth with Magnussen right behind in fifth in the Austrian Grand Prix. Grosjean's fourth-place drive remains the best result for Haas F1 Team in its three-year tenure, and with Magnussen coming home in fifth, it marked the best collective result for the American outfit, and it came in its milestone 50th grand prix.
Haas F1 Team now has 61 grands prix under its belt, with the Abu Dhabi Grand Prix next on the docket.
The Yas Marina Circuit is a showplace, and it should be considering it is widely believed to be the most expensive Formula One track ever built, with some estimates topping $1 billion. It is a purpose-built facility on a man-made island and it is one of the many new Formula One venues designed by Hermann Tilke. It is less than a decade old and it features a counter-clockwise layout that boasts a top speed of 335 kph (208 mph) and an average speed of 195 kph (121 mph). It has nine right turns and 12 left turns on a waterfront course that rivals Monaco and Singapore. Its extravagance and uniqueness is best highlighted by these attributes: the pit lane exit passes underneath the circuit via a tunnel and the garages are air-conditioned. Yas Marina has a powerful lighting system, and it lays claim to holding Formula One's first twilight race.
Grosjean owns two point-paying finishes in Abu Dhabi – fourth in 2013 and ninth in 2015 – when he was with Lotus F1 Team. Magnussen's best result is 11th, earned during his rookie year with McLaren. Both eye the season finale as an opportunity for Haas F1Team to break the 100-point barrier in the constructors' standings as only 10 points separate them from this goal.
Points by Magnussen would not only aid Haas F1 Team's quest to hit triple digits, it would also deliver his best Formula One season in terms of points earned and point standing. Magnussen's ninth-place effort in Brazil brought his season-long point tally to 55, equaling his career-high of 55 points earned in 2014 when he finished 11th in the standings. Currently ninth in points with a five-point gap on 10th-place Fernando Alonso of McLaren, only three points separate Magnussen from eighth-place Sergio Perez of Force India. Needless to say, what's good for Magnussen will be good for Haas F1 Team.
But no matter what happens in Abu Dhabi, the 2018 season will go down as Haas F1 Team's best, at least until everyone turns their full attention to 2019 when preseason testing begins Feb. 18 at Circuit de Barcelona – Catalunya in advance of the season-opening Australian Grand Prix March 17. But until then, Haas F1 Team will enjoy the moment. High-five to that.
Racing Point Force India
Sergio Perez
Sergio: "Abu Dhabi will be the closing chapter of a very unusual year for both me and the team. It was probably the most complicated season of my career, having to deal with so many things happening inside and outside the cockpit. The final race of the year is the opportunity to look back at the work we have done in the last twelve months and I am proud and grateful to everyone working back at the factory, in the garage, and in the hospitality. This team never stops fighting; we never stop working and now we are looking at a very promising future. I am really happy to be part of this family and I am already looking forward to 2019.
"I enjoy the Abu Dhabi race. You drive into the sunset and when all the lights come on it looks really cool. It's a track that is very hard on the brakes, with a lot of emphasis on traction out of some slow corners. You need a very stable car at the rear to make the most of those braking areas. There are some unusual corner combinations that are interesting in the car and there are overtaking chances at the end of both long straights, so you often find yourself either attacking or defending, especially towards the end of the race.
"It's a track where we have been competitive for the last few years and I would love to end the season with a strong result. I am still aiming for seventh place in the drivers' championship. I know it is going to be hard, but on Sunday anything can happen and I want to be ready if the chance is there. The team is also aiming for sixth place in the constructors' so we need to deliver a perfect weekend.
"After the race and next week's test it's finally going to be time for some holidays. I am looking forward to enjoying my family, time with my wife and my baby, and seeing my friends before work starts for next season."
Esteban: "It's always a bittersweet feeling when you get to the end of the season, but the main motivation is to finish on a high, especially when there is so much at stake in the championship. The last couple of races have been very disappointing, but there's still one last chance to score a good result before the end of the year.
"Abu Dhabi is always good fun. We travel there when it's getting cold in Europe so it feels a bit like you're going on a holiday. It's a wonderful paddock too – one of the best – and I always feel very relaxed there.
"I have a lot of good memories from Abu Dhabi: it's the place where I first drove during a Formula One weekend and I was crowned GP3 champion there. The start of that race in 2015 was incredible – I knew I had to take the title right there on lap one and I did it."
Alfa Romeo Sauber
Final F1 race for Ericsson
It is time for the spectacular season finale – the Abu Dhabi Grand Prix. Having made good progress throughout the year, the Alfa Romeo Sauber F1 Team is currently ranked in 8th position in the Constructors' Championship, and is confident of its potential, targeting to conclude the season in style by adding further points to its tally.
One of the most glamorous events of the year, the Abu Dhabi Grand Prix, will see teams competing on a track that is not only highly technical, but also takes place at twilight, when temperature trends are reversed in comparison with other race weekends, posing an extra challenge to drivers and teams.
FP1 will be completed by Antonio Giovinazzi, who will be taking over the cockpit from Charles Leclerc for the session.
Marcus Ericsson (car number 9):
"We are off to the last Grand Prix of the year – the last race for me in this stint in Formula One. It will be a special weekend, and I aim to finish it on a high. We have had some good results recently, and our form is strong. The car is competitive, and we will push to bring home some more points. I look forward to this season finale very much."
Charles Leclerc (car number 16):
"I am looking forward to going to Abu Dhabi. I know the circuit and enjoy driving there. It is the last race of the season, and the ambience is always great. I also like the city very much – it is one of my favorite destinations on the calendar. The track is quite technical, and hopefully we will be as competitive as we have been in the past few races."
Mercedes F1
Mercedes brass
The celebrations in Brixworth and Brackley last week were a very humbling experience. Claiming the fifth consecutive double championship – an experience that only very few people in the sport have had before – felt amazing and we all cherished that moment. At the same time, everyone is extremely keen to continue to raise the bar together and be even stronger in 2019.
For now, we have one race to go in 2018 and we want to put on a great show for the fans who supported us through the season, be it at the track, in front of their TV or on social media. The championship pressure is off, so we can look at this as one race where we can really go for broke. Our Silver Arrow has won 10 races so far this season and we all want to add one more to that score – especially Valtteri, who has lost out on wins this season through bad luck and team orders. We know, too, that it will be a tough battle because both Red Bull and Ferrari will have the same target of taking good momentum into the winter.
We have taken four wins in a row at Yas Marina, although it's a track with a lot of slow and medium speed corners. We've made some good steps forward when it comes to our car's performance on similar tracks, so we're confident that we can perform strongly in Abu Dhabi as well, and end this incredible 2018 season on a high.
Toro Rosso Honda

Turn 1 exit
Pierre Gasly (Car 10):
"It will be a special weekend, my last one racing with Toro Rosso, so Sunday will be emotional as we tackle our last race together. But I think that once you have been part of this team, you are always a member of the Toro Rosso family. I've really appreciated our time together and I hope we can end on a high note in Abu Dhabi. I plan to give it my very best shot, especially as it's on a track that I really like.
"I've always gone well here, with two poles and a win in GP2 and it was at this track that I clinched the GP2 championship title. So I like the track and it's always a special feeling when you are racing in the dark. Also, the fact that it's the last race of the year means there's a great mood in the paddock, everyone's a bit excited and buzzing. It's a really great atmosphere and once it's over you realize the season has ended. As for the track itself, it provides some challenges, especially in the final sector, which is very technical with many changes of direction where you need to get into a good rhythm. So the circuit has two distinct characters, with the first two sectors featuring long straights and high speed long turns. But it's that final technical part I like best and it's where a driver can make a difference. I hope the weekend will be good for us, it would be a great way to say bye bye to everyone."
Brendon Hartley (Car 28):
"It's the last race of the season and I'm approaching it in a positive frame of mind. I have had a strong end to the season, performing well in the last few races, even when the car wasn't quick enough to score big points. I'm happy with my relative performance and my improvement throughout the season. So I'm looking forward to having a good weekend and finishing the year on a high. Abu Dhabi is an interesting track, with a street circuit feel to it, especially in the final part, where the track goes under the hotel. It's very flat with not a lot of camber or undulation and overtaking can be tricky. Tire management is critical here, even in Qualifying when it's very hard to keep the rears under control in the final sector. We struggled with that in Brazil and we need to work on understanding why. However, with the latest spec Honda PU, we can be confident that a good Qualifying is possible."
Williams Mercedes
Yas Marina
We're headed to the United Arab Emirates for the final round of the 2018 Formula One World Championship in Abu Dhabi. The Yas Marina Circuit provides a spectacular backdrop for the season finale and the race is a firm favorite amongst both fans and photographers alike. Dominated by a 1,233 Metre straight, the track is one of the longest on the Formula One calendar and houses such intrigues as the architecturally striking Yas Viceroy hotel which straddles the circuit. Reserve and Development Driver, Robert Kubica will make his final FP1 outing of the season in Abu Dhabi. The drivers race into the night and will see the checkered flag after the sun has set in Abu Dhabi, bringing the curtain down on the weekend and the 2018 season.
For Abu Dhabi, Pirelli has made available the supersoft, ultrasoft and hypersoft tires.
Paddy Lowe, Chief Technical Officer: We head to Abu Dhabi this weekend for the final race of what has been a challenging year for the team. Abu Dhabi itself is a fantastic location for Formula One with a great party atmosphere in and around the paddock to end a long season. The Yas Marina Circuit is also impressive and with both qualifying and the race happening at twilight it has an extra special feel. The circuit rewards all-round car performance and has a number of signature features including a pitlane that emerges from under the track. It is a fitting place for the championship's curtain closer and we look forward to putting on a good show for one final time this year.
Lance Stroll: I think it is a good race to end the season, as we drive into the night, which is cool. It is quite spectacular what they have done with the place, and it is certainly unique. The circuit itself wouldn't be my favorite as it is very stop and go and doesn't have a great flow to it, but, despite that, the show is good for the fans. From a driver's point of view, driving at day or night doesn't make any difference as for us it is just pedal to the metal.
Sergey Sirotkin: I have very good memories of Abu Dhabi, as it was my debut test with Williams last year. The track is challenging and requires good tire management throughout the lap with a very demanding sector three. The lap has a combination of mid and low-speed corners, with not so many high-speed corners, which is a shame for me. Sector three is difficult and is trickier than it looks. Overall, I am really looking forward to returning to Abu Dhabi, it is a great race for the season to end with.
Ferrari
The final round of this very long season will come to an end on Sunday night, in the picturesque setting of Yas Marina. However, 2018 Formula 1 track action won't quite be over by then, because on Tuesday and Wednesday of next week, the Abu Dhabi circuit will host the final test session of the year, given over to evaluation and development of next year's Pirelli tyres. Scuderia Ferrari will be represented by what is in fact its 2019 line-up of Sebastian Vettel and Charles Leclerc.
The Grand Prix in the Emirates will also be Kimi Raikkonen's swansong wearing red, after eight seasons with the Prancing Horse team. The first stint, during which he won the world championship, went from 2007 to 2009, while the second started in 2014. As of today, Kimi is fifth in the list of most GP participations and with at least a further two years of racing ahead of him, the signs are that he could end up at number one!
The Scuderia's trip to this race began when the advance party left on Saturday and those involved in the test session won't return until Thursday 29th. Apart from the possibility of a couple of drops of rain over the next two days, the Abu Dhabi forecast has no surprises in store for when cars are on track, with temperatures in the 30s for practice and the race. As always here, the night time running adds that something extra to the weekend.