Joey Logano Wins 2018 NASCAR Cup Series Title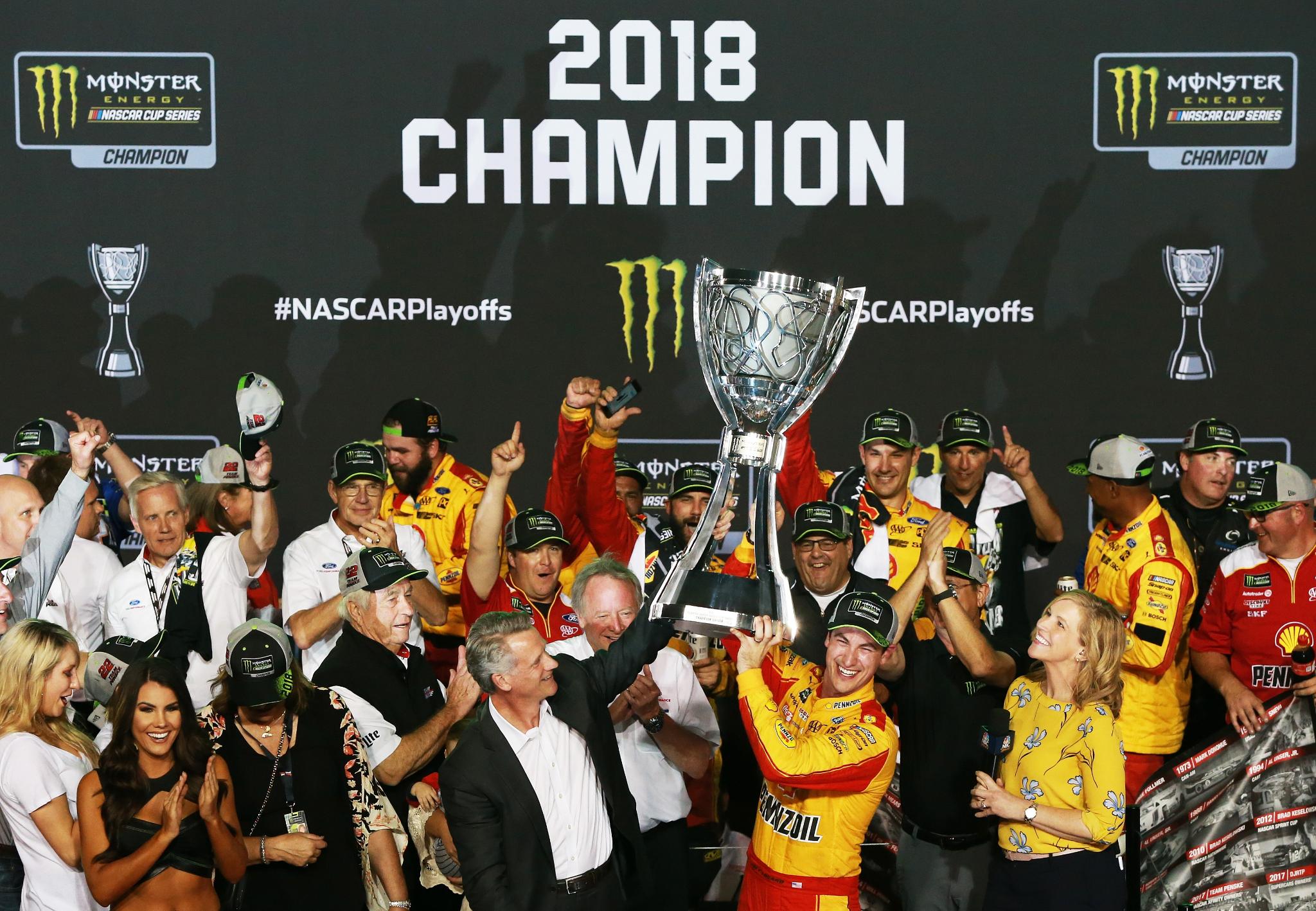 Joey Logano hoists the 2018 Cup Series trophy at Homestead-Miami Speedway on Sunday
Sean Gardner/Getty Images
Joey Logano came into this weekend's NASCAR Cup Series finale as the underdog to the "Big Three" in the championship hunt, but at the end of the night on Sunday he walked onto the stage as the 2018 Monster Energy NASCAR Cup Series Champion after taking the checkered flag in the Ford EcoBoost 400 at Homestead-Miami Speedway.
Logano passed Martin Truex, Jr. with 12 laps to go and easily pulled away to lead the rest of the way to clinch his first-career Cup Series title over Truex. Kevin Harvick finished third, followed by Kyle Busch as the four title finalists finished in the top five positions.
Logano's title marks the second for team owner Roger Penske, and also secured the manufacturers championship for Ford.
The title winning run marks a culmination of Logano's remarkable career, which started back in his native Connecticut and wound its way through Bandolero's and Legends cars at Atlanta Motor Speedway, to the ARCA Series, Camping World Trucks, Xfinity and now the Cup Series.
And now, the kid they called "Sliced Bread" – as in "the best thing since" – is the Cup Series Champion.
[adinserter name="GOOGLE AD"] "We did it! We won the championship! I can't believe it. I don't know what to say," said Logano in Victory Lane. "This team, (owner) Roger Penske, (crew chief) Todd Gordon, the pit crew. Oh, my God! They gave me the car I needed at the end to do my job. Put me in position to do my job. I couldn't be more proud of them. We won the championship! Oh, my God!"
Logano's race winning move came after a restart following a caution flag with 19 laps to go. The Championship 4 lined up for the restart in the front four positions – Kyle Busch and Truex in row one, followed by Logano and Harvick.
At the start, Truex exploded to the front by four car lengths, leaving Busch in the dust. Within a lap, Logano raced his way past Busch and quickly started making up ground on Truex.
On lap 255, Logano powered past Truex on the high side of turn two and had the lead as they headed down the backstretch, pulling ahead to lead the remaining laps and beat Truex by 1.7 seconds at the finish line.
"(My pit crew) are the best. They did it today. Every one of them. Every individual on that team is the best in their position and they really showed it today," said Logano. "At points we were really good and points we were down for the count. I knew we had a short-run car. I said it before the race started that if it was anything longer than 25 laps we were going to be in trouble. That showed all day. It came down to the short run and we are champions. NASCAR champions!"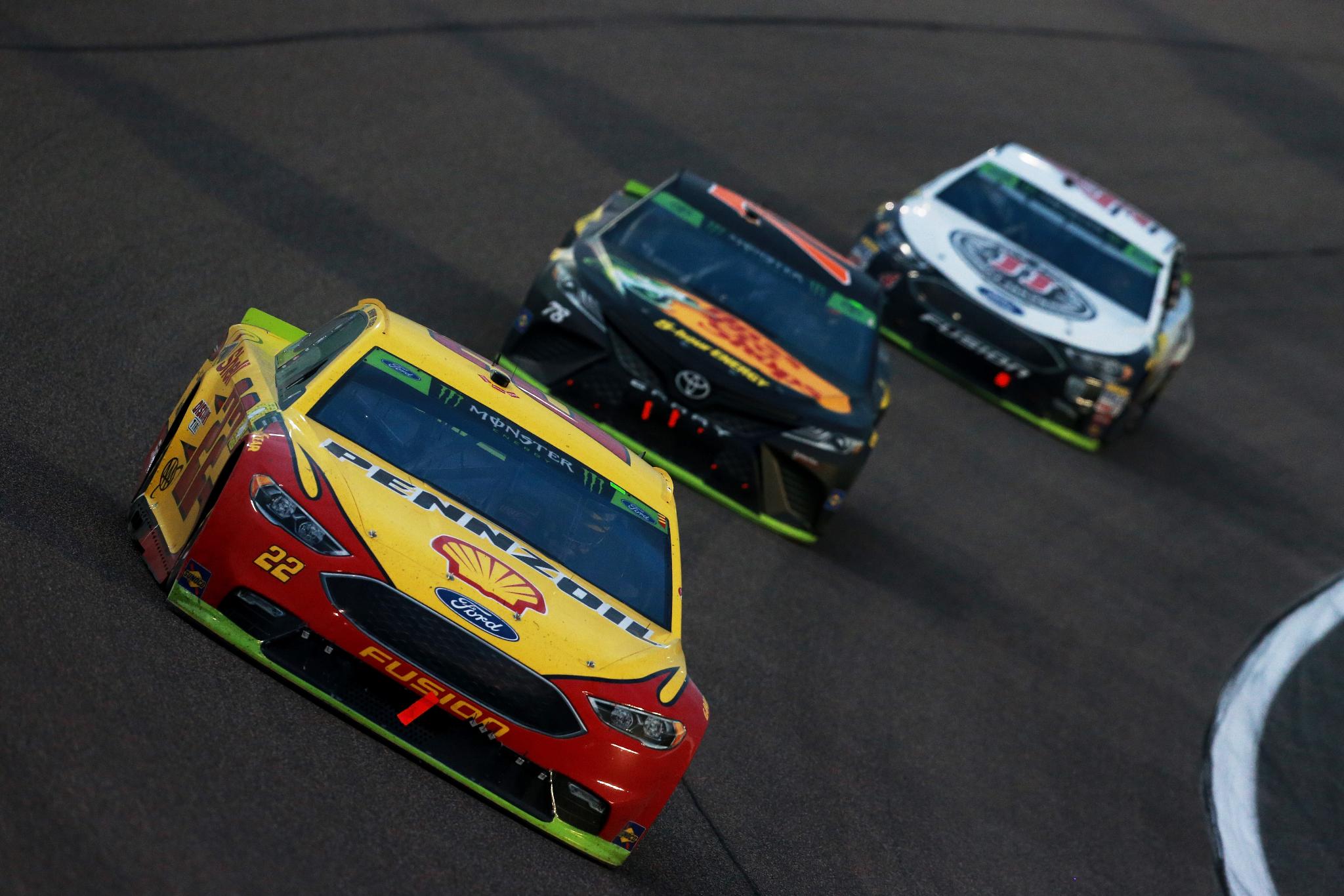 Joey Logano (front) leads Martin Truex, Jr. and Kevin Harvick
Sean Gardner/Getty Images
For Truex – the defending series champion – the runner-up finish was a tough pill to swallow, made even harder by the fact that this was the final race for the Furniture Row Racing team, after team owner Barney Visser announced he was shutting down the team at the end of the 2018 season.
"I just needed time. That's all I needed," said Truex, Jr. "They (Logano) were faster than us for 15 or 20 laps all day long. I don't know what else we could've done. Honestly, we worked our guts out all weekend and just to get here, I told you earlier we shut a lot of people up and made them eat crow and that felt good. To come here and almost upset the field and almost win it back to back was really awesome. I just wish that last caution hadn't come out. Other than that, I don't know what we could've done.
"I'm going to miss these guys (at FRR). Wish we could've won it. We had it. We just couldn't go over 15 laps. I knew that last restart was going to be tough. We were able to get the lead, I just couldn't do anything. I was just slow for 15 laps. We turned and I'd try to go as fast as those guys and I'd be dead sideways and I just I couldn't do it. I don't know what else I could've done. He passed me so fast I didn't even get a chance to do anything. We needed more laps. We just needed more time."
[adinserter name="GOOGLE AD"] After falling behind due to several pit road miscues, Kyle Busch looked like he might have come up with a come-from-behind strategy after he and crew chief Adam Stevens elected to stay out as the rest of the Championship 4 came in for the final out stops under the green flag with 35 laps to go.
As the pit stops cycled around, Busch's strategy looked less assured as he continued to lose ground to the other three championship contenders. Needing a caution flag, he got exactly what he wanted after Brad Keselowski and Busch's Joe Gibbs Racing teammate Daniel Suarez tangled to bring out the yellow flag on lap 248.
Busch's crew pulled off a flawless final stop and got Busch off pit road with the lead, and it looked like their gamble might actually pay off, but on the restart, Busch quickly fell behind Truex and eventually fell at the way to fourth when the checkered flag waved.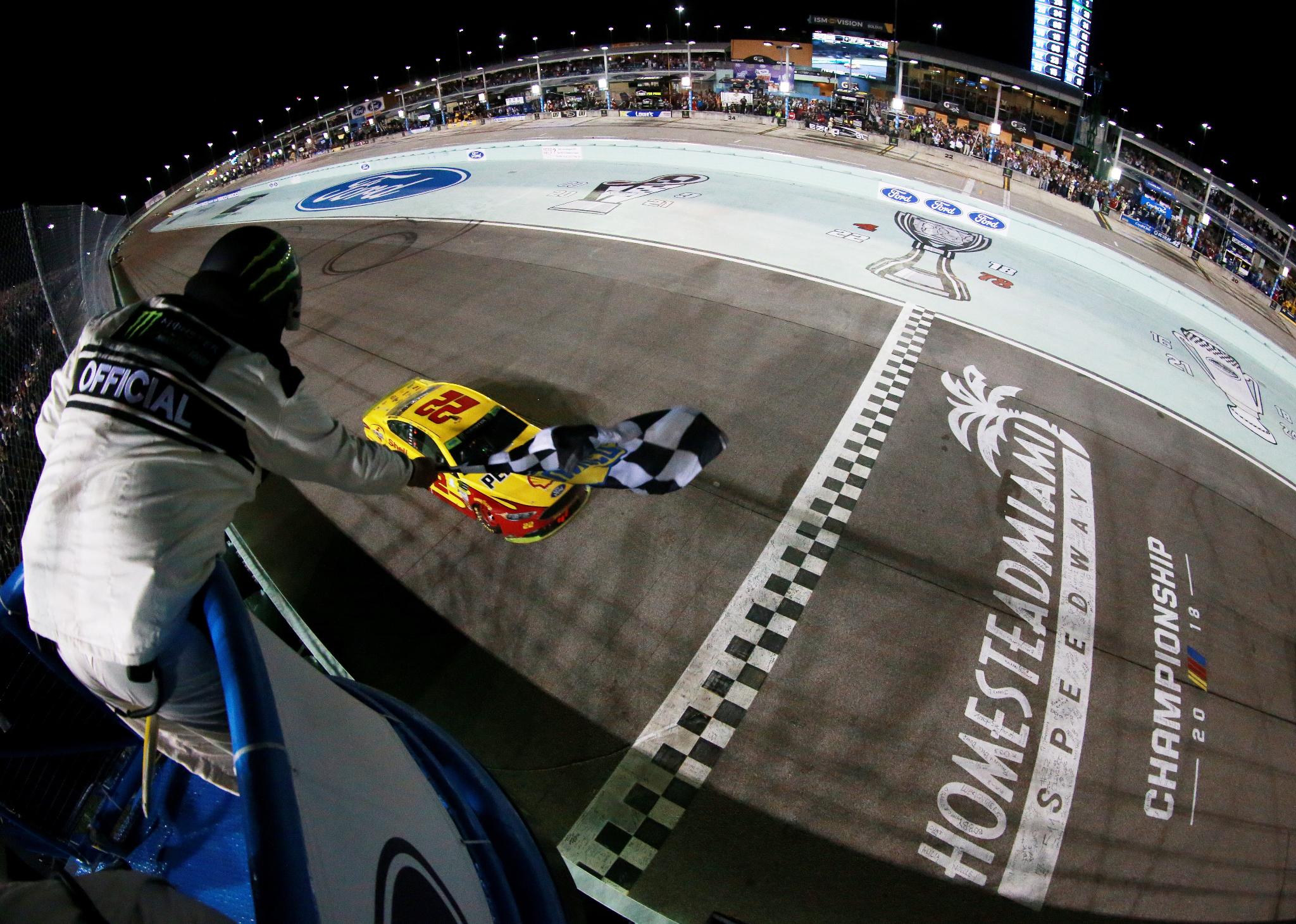 Joey Logano takes the checkered flag at Homestead-Miami Speedway
Sean Gardner/Getty Images
"We were a sitting duck with all those guys anyways," Busch said of the final restart. "Our car was just not even close. I don't know what happened to it, I thought we were way better than that and way closer than that. I'm not sure what happened and where we missed it.
"We fought hard, Adam (Stevens, crew chief) did a great call on strategy there and I didn't think it was going to work and it fell in our lap, pit stall fell in our lap, everything we needed to be able to go out there and do the job and I didn't get the best of restarts, but it didn't matter because they were gone – turn one, checked out."
Kevin Harvick came home third in the race and the championship standings, but ended the season with tied for the most wins with Kyle Busch, tallying a career-best eight victories.
"We had a daytime race car. As soon as it got dark we never could get our car tightened up there at the end, and then they made a great call to put us in position to win the race, and then the caution came out when the 2 car (Brad Keselowski) spun the 19 (Daniel Suarez) out and came off pit road fourth, and just our strong point was not the restarts tonight, and wound up on the wrong side of it," said Harvick. "It's been a great year and we just got beat tonight."
RACE RESULTS
| | | | | | |
| --- | --- | --- | --- | --- | --- |
| POS | CAR | DRIVER | MANUF | BEHIND | LAPS |
| 1 | 22 | Joey Logano (P) | Ford | — | 267 |
| 2 | 78 | Martin Truex Jr. (P) | Toyota | 1.725 | 267 |
| 3 | 4 | Kevin Harvick (P) | Ford | 3.735 | 267 |
| 4 | 18 | Kyle Busch (P) | Toyota | 5.566 | 267 |
| 5 | 2 | Brad Keselowski | Ford | 6.174 | 267 |
| 6 | 6 | Matt Kenseth | Ford | 7.150 | 267 |
| 7 | 9 | Chase Elliott | Chevy | 8.140 | 267 |
| 8 | 14 | Clint Bowyer | Ford | 8.155 | 267 |
| 9 | 10 | Aric Almirola | Ford | 9.227 | 267 |
| 10 | 41 | Kurt Busch | Ford | 9.744 | 267 |
| 11 | 3 | Austin Dillon | Chevy | 11.313 | 267 |
| 12 | 11 | Denny Hamlin | Toyota | 11.983 | 267 |
| 13 | 42 | Kyle Larson | Chevy | 12.223 | 267 |
| 14 | 48 | Jimmie Johnson | Chevy | 12.803 | 267 |
| 15 | 31 | Ryan Newman | Chevy | 13.283 | 267 |
| 16 | 17 | Ricky Stenhouse Jr. | Ford | 14.241 | 267 |
| 17 | 12 | Ryan Blaney | Ford | 16.264 | 267 |
| 18 | 1 | Jamie McMurray | Chevy | 18.744 | 267 |
| 19 | 47 | AJ Allmendinger | Chevy | -1 Lap | 266 |
| 20 | 38 | David Ragan | Ford | -1 | 266 |
| 21 | 43 | Bubba Wallace # | Chevy | -1 | 266 |
| 22 | 13 | Ty Dillon | Chevy | -1 | 266 |
| 23 | 37 | Chris Buescher | Chevy | -1 | 266 |
| 24 | 24 | William Byron # | Chevy | -1 | 266 |
| 25 | 21 | Paul Menard | Ford | -2 Laps | 265 |
| 26 | 32 | Matt DiBenedetto | Ford | -3 | 264 |
| 27 | 20 | Erik Jones | Toyota | -3 | 264 |
| 28 | 34 | Michael McDowell | Ford | -4 | 263 |
| 29 | 88 | Alex Bowman | Chevy | -4 | 263 |
| 30 | 19 | Daniel Suarez | Toyota | -5 | 262 |
| 31 | 00 | Landon Cassill(i) | Chevy | -5 | 262 |
| 32 | 23 | JJ Yeley(i) | Ford | -6 | 261 |
| 33 | 15 | Ross Chastain(i) | Chevy | -8 | 259 |
| 34 | 72 | Corey LaJoie | Chevy | -8 | 259 |
| 35 | 51 | BJ McLeod(i) | Ford | -11 | 256 |
| 36 | 99 | * Kyle Weatherman | Chevy | -11 | 256 |
| 37 | 66 | * Timmy Hill(i) | Toyota | -13 | 254 |
| 38 | 97 | * Tanner Berryhill | Toyota | -13 | 254 |
| 39 | 95 | Regan Smith | Chevy | -27 | 240 |
# DENOTES ROOKIE
(I) NOT ELIGIBLE FOR POINTS
(*) REQUIRED TO QUALIFY ON TIME