Tyler Reddick Wins First-Career Xfinity Series Title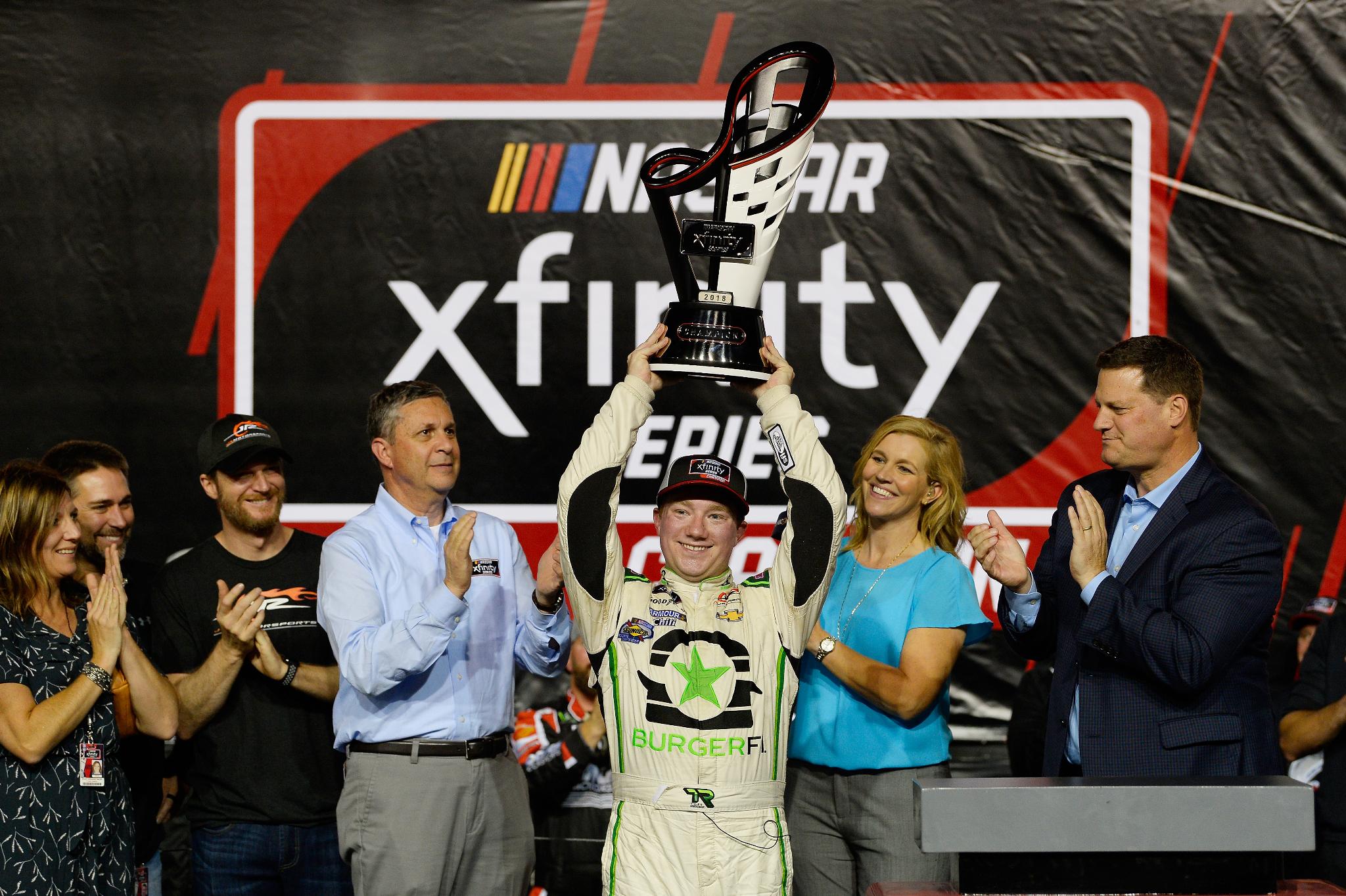 Tyler Reddick celebrates at Homestead
Robert Laberge/Getty Images
22-year-old Tyler Reddick ended the 2018 NASCAR Xfinity Series season the same way he started it – in Victory Lane.
Back in February, he was celebrating his second-career series victory after taking the checkered flag in the season-opening race at Daytona. Saturday night, he was doing burnouts as the 2018 series champion after winning the season-ending Ford EcoBoost 300 to secure his first-career NASCAR title.
Reddick was out in front for the final 37 laps of Saturday's 200-lap race, and beat out Cole Custer by nearly seven seconds to collect his third-career Xfinity victory and the third series title for JR Motorsports and team owner Dale Earnhardt, Jr.
John Hunter Nemechek was third, followed by championship contender Daniel Hemric and Austin Cindric.
[adinserter name="GOOGLE AD"] Christopher Bell finished last among the Championship after cutting a tire down late in the race and finishing 11th.
Reddick was considered a long shot to win the title after advancing through the first two rounds solely on points – seeded fifth in the Round of 12, sixth in the Round of 8 and fourth coming into Ford Championship weekend at Homestead.
But Reddick saved his best show for last – running a high-line race strategy that ultimately won him the race and the championship.
"I just knew we had to execute," Reddick said. "I thought we had a chance if we just made it to Homestead. I like this track—it rewards my aggression. Tonight, we hit the wall a lot, but the car kept in one piece, enough for me to get to the end."
In fact, Reddick hit the wall so often he rubbed the decals off the right-rear quarter panel, but it was worth, because once Reddick got his car dialed in he was able to driver his No. 9 Chevrolet Camaro anywhere he wanted.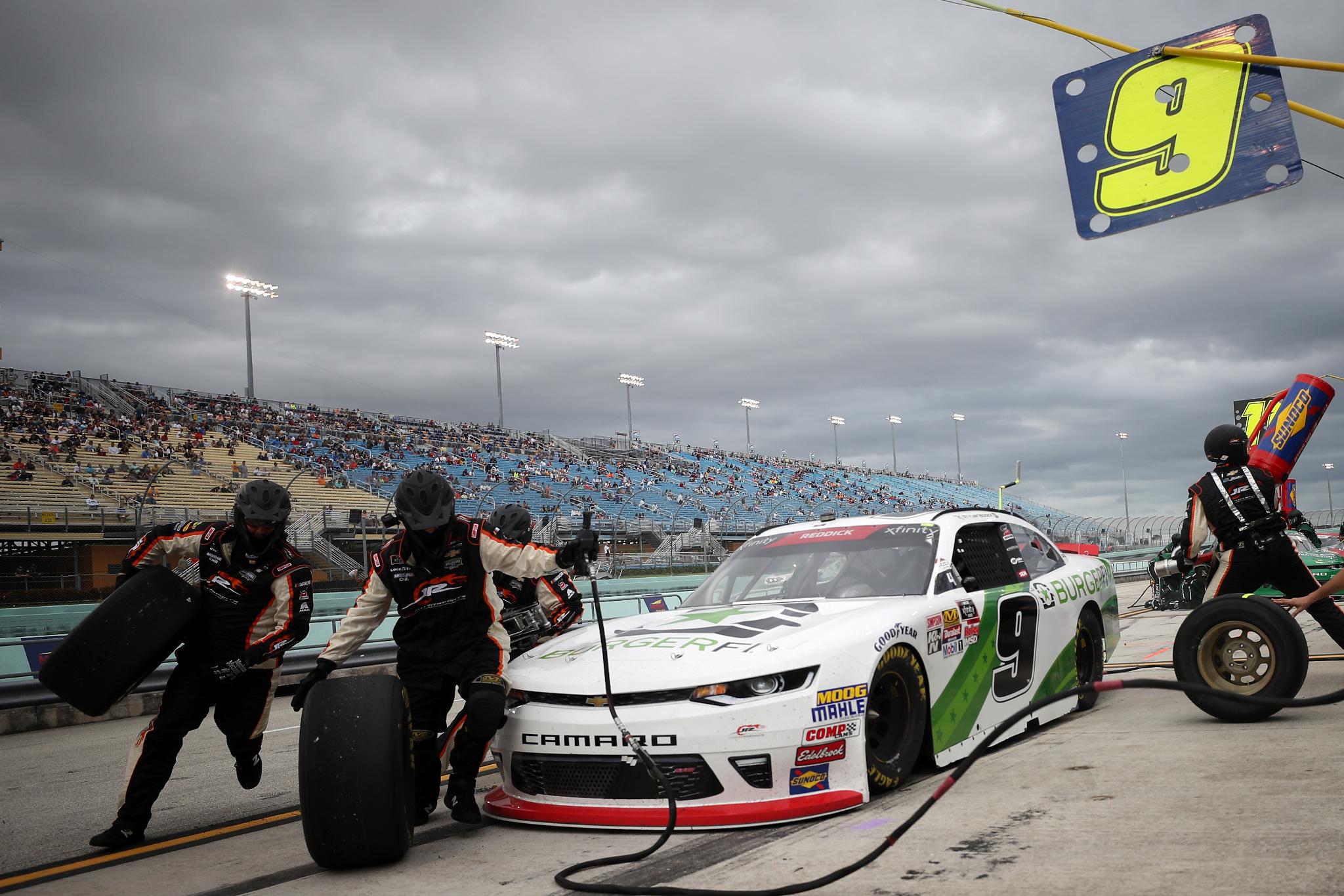 Tyler Reddick pits during Saturday's Ford EcoBoost 300
Chris Graythen/Getty Images
Reddick's strategy to run the top almost ended his title hopes after he smacked the wall a little too hard with 43 laps to go, allowing Bell to pass him for the lead.
"My aggression was often rewarded with me slapping the truck in the fence and not winning races, but as time went by and I got smarter, it seemed like I figured out how to hit the fence and not lose as much time," said Reddick. "These Xfinity cars, especially with this body this year, you can hit the fence quite a bit and for the most part keep it rolling. I knew that going in, and we did what we had to do. I hit the wall a lot. I thought I gave it away a number of times, especially when the 20 got by me, but I guess I didn't hit it hard enough.
"As the race was going on, my risk versus reward, if you will, would swing more to the risk side, and I would just try and get closer and closer, and it seemed to just reward me with a better handling car and we'd go faster."
While Bell's car was a rocket running the bottom, Reddick was faster running the top and tracked down the No. 20 Toyota to make the final pass for the lead – where else? – on the high side of turn three with 37 laps to go.
After losing the top spot, Bell gave the high side a go, but ended up cutting down a right rear tire with 10 laps to go.
[adinserter name="GOOGLE AD"] "Ultimately just wasn't fast enough tonight," said Bell. "I didn't have the rear grip to run the top. Every time I went up there, I would almost spin out. I don't know. It's disappointing, and it was really frustrating, especially the first half of the race, watching those guys drive away from me running the top, and I felt like I could get better if I moved up there, but even whenever I was up there I wasn't any good, so it didn't matter. Yeah, I was good on the bottom for moments and we had glimpses of hope, but we just weren't fast enough."
With Bell out, Custer took up the chase, but he wasn't able to run the top either, and could only watch as Reddick pulled away.
But early in the race, it looked like Custer was the driver to beat.
After winning the opening two stages, Custer was back out in front for the third and final stage, fighting a stout John hunter Nemechek for the lead as the laps wound down toward the final round of pit stops.
Reddick, Bell and Hemric all pitted within a lap of each other, but Custer and his crew elected to stay on the track – running second behind Nemechek – before finally pitting on lap 145.
The decision put Custer back in fourth place once the pit stops cycled around, with Reddick and Bell out in front, and ultimately cost his a shot at the title.
"We got so far behind (after the green-flag pit stops), and once I caught him, our tires got equaled out, and then he started running the top, and I just couldn't keep up with him," said Custer. "Just what happened there at the end, I felt like we had to kind of make up that time, which we obviously had newer tires, so it was somewhat easy to make up the time, but you kind of get to a point on tires where everything starts to equal out, and I felt like that kind of happened.
"Tyler (Reddick) just ran the top better than I could. I couldn't get up there and do it like he could. He kind of practiced that all weekend, and I just wasn't good enough at it, I guess."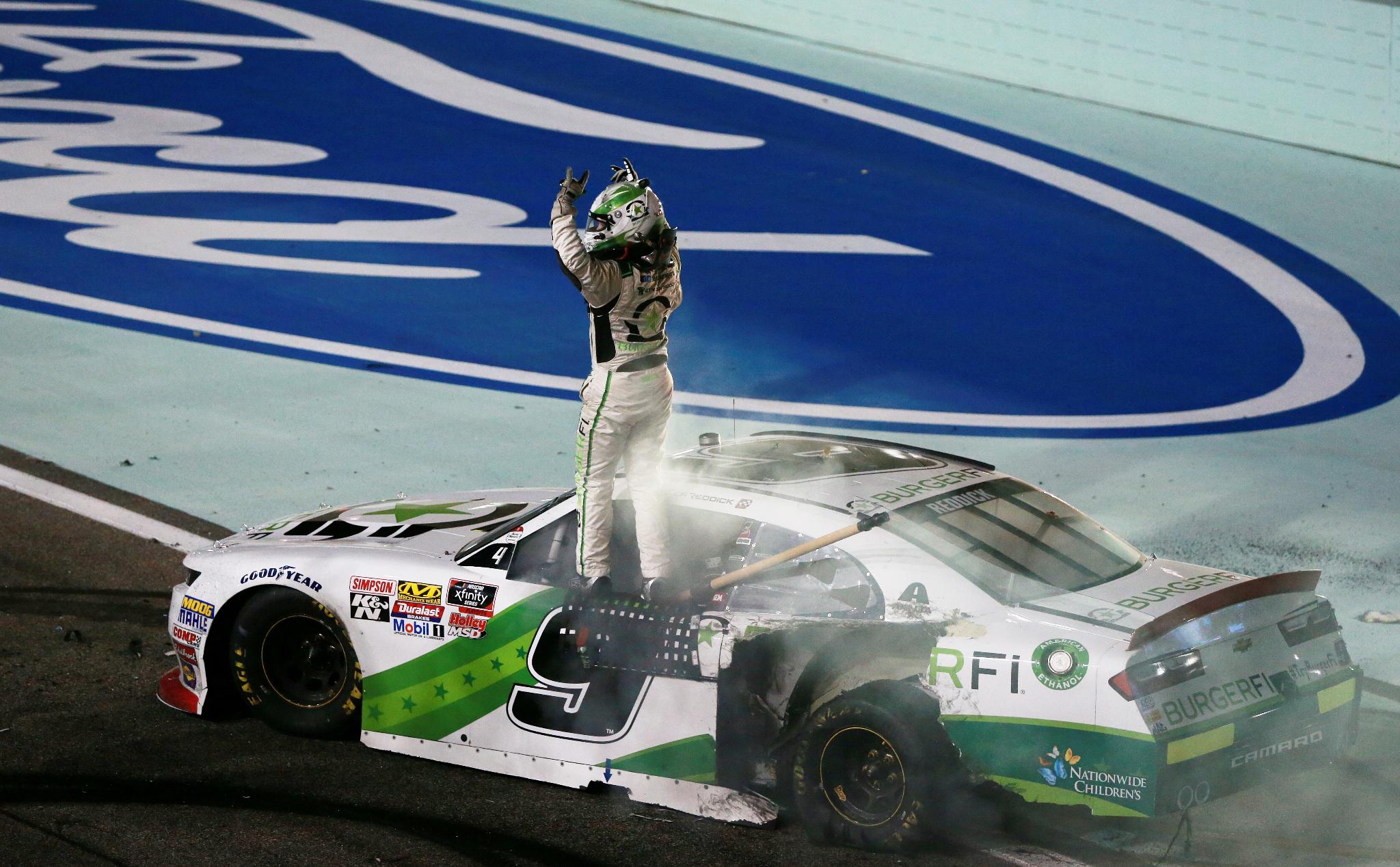 Tyler Reddick wins at Homestead
Sean Gardner/Getty Images
Reddick's title comes in just his second Xfinity Series season and his first running for JR Motorsports. The California native will depart JRM next season for a ride with Richard Childress Racing – replacing the Cup Series-bound Hemric in RCR's No. 21 Xfinity team.
"It is bittersweet for sure, but if there's one way to finish it, it's on top, and by being the champion, and so we're happy that we're able to do that tonight," said Reddick's team owner, Dale Earnhardt, Jr. "I want nothing but the best for them going forward. We'll have fun racing against him next year. I'm sure we'll be racing him a lot, especially with this under his belt, the confidence and evolution of him as a driver. He's just going to get better. I bet he'll be back here at Homestead again."
RACE RESULTS
| | | | | | | | |
| --- | --- | --- | --- | --- | --- | --- | --- |
| Finish | Start | # | Driver | Sponsor/Make | Laps | Led | Status |
| 1 | 4 | 9 | Tyler Reddick (P) | BurgerFi Chevrolet | 200 | 44 | Running |
| 2 | 1 | 0 | Cole Custer (P) | Haas Automation Ford | 200 | 95 | Running |
| 3 | 3 | 42 | J.H. Nemechek | Fire Alarm Services Inc. Chevrolet | 200 | 52 | Running |
| 4 | 10 | 21 | Daniel Hemric (P) | South Point Hotel & Casino Chevrolet | 200 | 0 | Running |
| 5 | 5 | 22 | Austin Cindric # | MoneyLion Ford | 200 | 0 | Running |
| 6 | 12 | 18 | Ryan Preece | Rheem-Watts Toyota | 200 | 0 | Running |
| 7 | 6 | 7 | Justin Allgaier | BRANDT Professional Agriculture Chevrolet | 200 | 0 | Running |
| 8 | 8 | 19 | Brandon Jones | Juniper Toyota | 199 | 0 | Running |
| 9 | 14 | 5 | Michael Annett | Pilot Flying J Chevrolet | 199 | 0 | Running |
| 10 | 9 | 2 | Matt Tifft | Tunity Chevrolet | 199 | 0 | Running |
| 11 | 2 | 20 | Christopher Bell # (P) | GameStop Transformers Toyota | 199 | 9 | Running |
| 12 | 11 | 16 | Ryan Reed | Drive Down A1C Lilly Diabetes Ford | 199 | 0 | Running |
| 13 | 13 | 60 | Chase Briscoe | Nutri Chomps Ford | 199 | 0 | Running |
| 14 | 7 | 1 | Elliott Sadler | OneMain Financial Chevrolet | 199 | 0 | Running |
| 15 | 15 | 11 | Ryan Truex | LeafFilter Gutter Protection Chevrolet | 199 | 0 | Running |
| 16 | 23 | 4 | Ross Chastain | Florida Watermelon Association Chevrolet | 199 | 0 | Running |
| 17 | 17 | 23 | Spencer Gallagher | Allegiant Chevrolet | 198 | 0 | Running |
| 18 | 18 | 61 | Kaz Grala # | NETTTS/Hot Scream Ford | 198 | 0 | Running |
| 19 | 16 | 51 | Jeremy Clements | RepairableVehicles.com Chevrolet | 198 | 0 | Running |
| 20 | 21 | 3 | Shane Lee | CMR Construction & Roofing Chevrolet | 198 | 0 | Running |
| 21 | 20 | 36 | Alex Labbe # | Alpha Prime Chevrolet | 197 | 0 | Running |
| 22 | 19 | 38 | Ryan Sieg | RSS Racing Chevrolet | 197 | 0 | Running |
| 23 | 26 | 35 | Joey Gase | Sparks Chevrolet | 196 | 0 | Running |
| 24 | 27 | 86 | Brandon Brown | Salute America's Heroes Chevrolet | 196 | 0 | Running |
| 25 | 22 | 26 | Max Tullman | Eskata/Zoomi Ford | 195 | 0 | Running |
| 26 | 30 | 8 | Tommy Joe Martins | Chevrolet | 195 | 0 | Running |
| 27 | 29 | 0 | Garrett Smithley | KSDT and Company Chevrolet | 194 | 0 | Running |
| 28 | 34 | 52 | David Starr | Shoun Trucking Chevrolet | 194 | 0 | Running |
| 29 | 35 | 15 | Quin Houff | teamjdmotorsports.com Chevrolet | 191 | 0 | Running |
| 30 | 36 | 76 | Spencer Boyd # | Grunt Style Chevrolet | 189 | 0 | Running |
| 31 | 25 | 66 | Chad Finchum # | Smithbilt Homes Toyota | 187 | 0 | Handling |
| 32 | 32 | 1 | BJ McLeod | teamjdmotorsports.com Chevrolet | 185 | 0 | Running |
| 33 | 38 | 40 | Carl Long | Thanks Dodge/CrashClaimsR.us Dodge | 180 | 0 | Running |
| 34 | 33 | 90 | Caesar Bacarella | Alpha Prime/MAXIM Chevrolet | 161 | 0 | Overheating |
| 35 | 31 | 13 | Timmy Hill | OCR Gaz Bar Toyota | 54 | 0 | Brakes |
| 36 | 28 | 93 | JJ Yeley | RSS Racing Chevrolet | 46 | 0 | Rear Gear |
| 37 | 39 | 39 | Angela Ruch | Give A Child A Voice Chevrolet | 36 | 0 | Parked |
| 38 | 24 | 89 | Landon Cassill | Visone RV Chevrolet | 16 | 0 | Suspension |
| 39 | 40 | 37 | Jeff Green | RSS Racing Chevrolet | 14 | 0 | Brakes |