Christopher Bell Races Into Xfinity Championship 4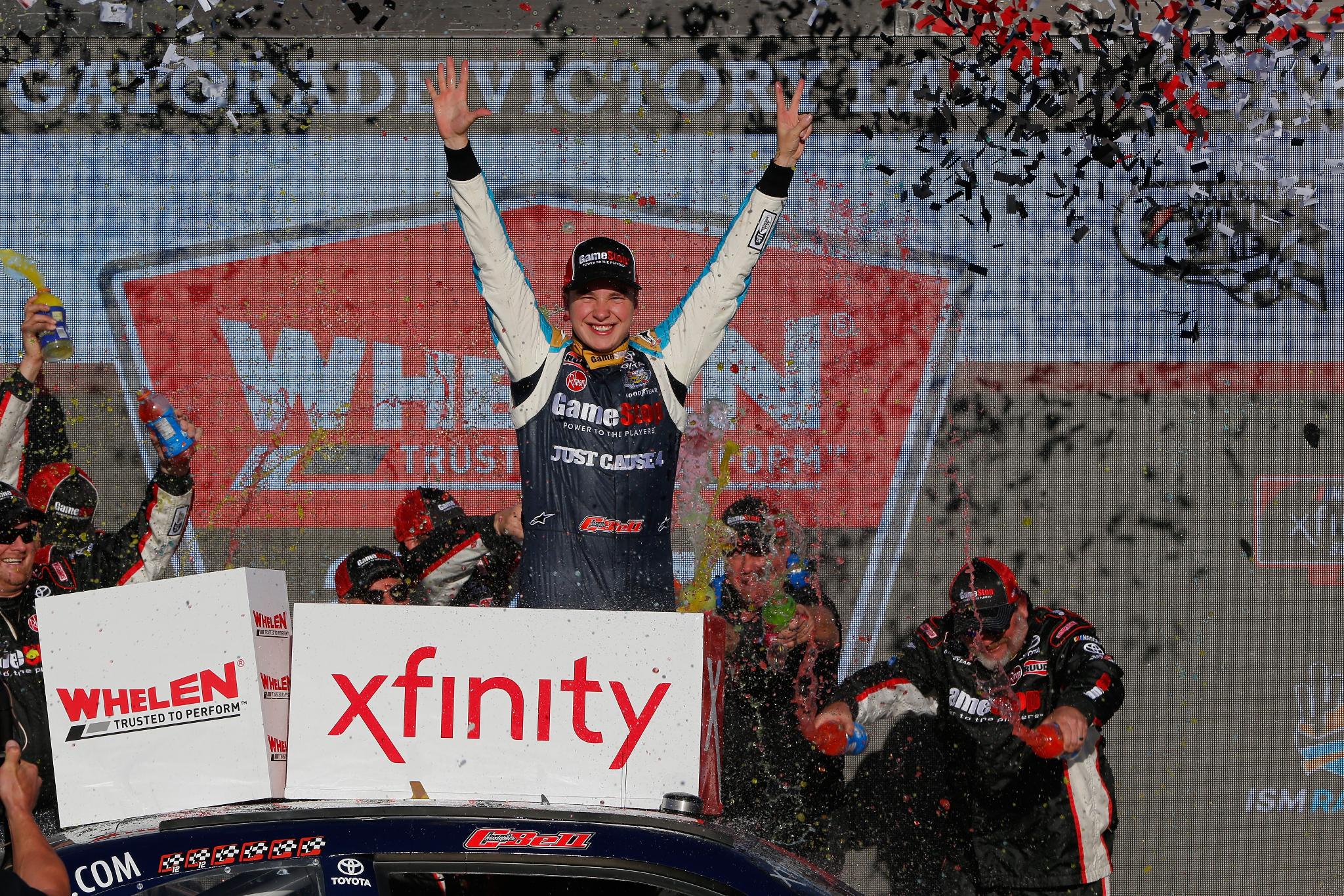 Christopher Bell will race for a title after winning at Phoenix
Jonathan Ferrey/Getty Images
In a Playoff round that has been feast or famine for Christopher Bell, the driver of the No. 20 Joe Gibbs Racing Toyota Camry gorged to his heart's content on Saturday at ISM Raceway.
Starting from 38th, Bell roared through the field to win the Whelen Trusted To Perform 200 NASCAR Xfinity Series race and advance to the Nov. 17 season championship finale at Homestead-Miami Speedway.
Faced with a must-win situation entering the Round of 8 elimination race, Bell did exactly that. By the end of Stage 1, he had cracked the top 10. At the end of Stage 2, he was fourth. And on Lap 108 of 200, he took the lead under green for the first time, forcing his way past pole winner John Hunter Nemechek for the top spot.
The Sunoco Rookie of the Year contender never trailed after that, winning for the seventh time this season, the first time at Phoenix and the eighth time in his career. In a Playoff format in which victory provides redemption for a multitude of ills, Bell rallied from first-lap crashes at both Kansas and Texas to earn his spot in the final four.
[adinserter name="GOOGLE AD"] "I'll be honest, after Kansas and Texas, I just kind of accepted that we weren't going to be able to get there," Bell said. "I just came over here with a 'Let's have fun attitude.' To start in the back, we didn't really make our way up front that fast. I kind of got stalled out once I got into the top 15.
"I knew this thing was really fast, because (on Friday) in practice, it was really good… I'm just thankful for my team. They brought probably the best car we've had all year here this weekend. It's a pleasure to drive 'em, and a race car driver is only as good as his race car. This thing was unbelievably fast."
Bell joined Texas winner Cole Custer in the Championship 4 Round, along with Saturday's runner-up Daniel Hemric and sixth-place finisher Tyler Reddick, both of whom advanced on points.
Matt Tifft ran third but fell short in the Playoffs, as did regular-season champion Justin Allgaier, who won the first and second stages but sustained heavy damage to the right front of the No. 7 JR Motorsports Chevrolet when Nemechek slid sideways across the track on Lap 145 and clobbered Allgaier's car.
Allgaier later lost his brakes before finishing 24th.
"It's extremely disappointing," said Allgaier, who lost seven spots on pit road after sliding into his stall under caution on Lap 139. "But we did everything we could in the first two stages. We had a really fast Brandt Camaro. We had a lot of trouble today, seeing our pit stall. It was really difficult to see where we were at and navigate that. I lost us some spots on pit road.
"Ultimately, that put ourselves in a bad position. Got some damage, and we lost the brakes there at the end. At that point it was just about survival, finishing the race and getting as many points as we could gain."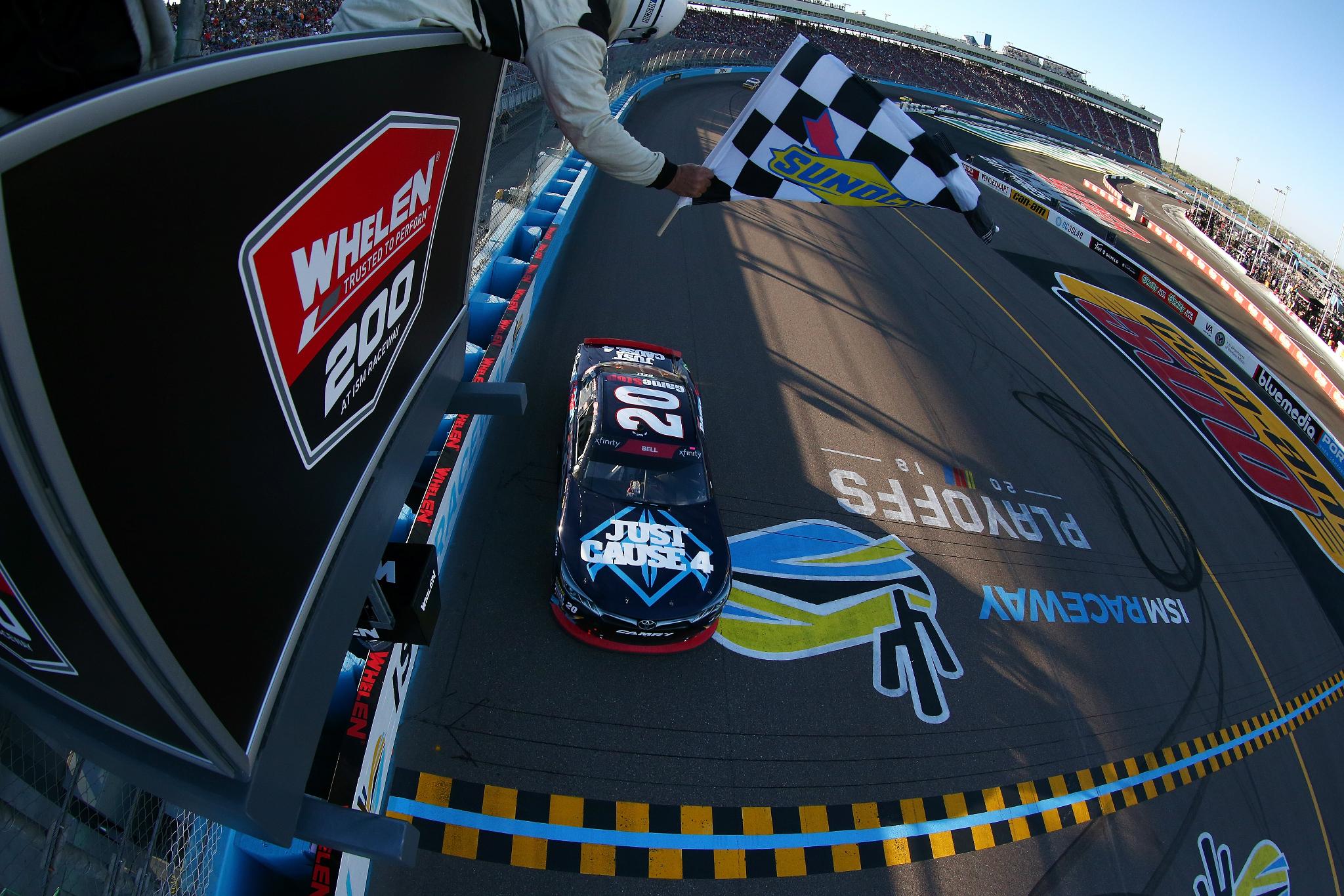 Christopher Bell takes the checkered flag at ISM Raceway
Sarah Crabill/Getty Images
Likewise, veteran Elliott Sadler left Phoenix disappointed after early contact with the No. 40 Toyota of Chad Finchum cost him track position he could never regain. Sadler finished 11th and failed to advance to Homestead in his final year as a full-time NASCAR driver.
"I made too many mistakes today to give my guys an opportunity," Sadler said. "It's all on me. My guys work too hard and deserve to be a part of this Championship 4 at Homestead, but I just didn't pull my part through.
"It's going to be an emotional week. I have one race left, and my wife and kids are coming to Homestead, and we'll make the most of it, but it's definitely going to be hard to look my guys in the eye, knowing we're not part of the championship."
Austin Cindric, whose only path to the Championship 4 was to win at ISM, finished fourth. Ryan Preece and Brandon Jones were fifth and seventh, respectively, with Custer finishing eighth. Nemechek and Spencer Gallagher completed the top 10.
CHRISTOPHER BELL, No. 20 GameStop Toyota Camry, Joe Gibbs Racing
Finishing Position: 1st
Is this the biggest win of your NASCAR career?
"Absolutely. The pressure was on and I'm just so thankful for all my mentors. They've done such a good job taking care of me. It started with my mom and my dad as a kid and from there I moved up to Ohio and lived with a guy named Rick Ferkel and Pete Willoughby and all those guys became such great mentors to me and they prepared me for moments like this where the pressure is on and everything's on the line. Just thankful that I pulled through for my team. These guys are the ones that build these GameStop Toyota Camrys that are going to win races whether I'm in the car or not. It's my job to make sure that they get the results that they deserve and I'm just really glad that we get to race for a championship next week."
Did you feel you could drive through the field to win this race today?
"I don't know, I knew we were really, really fast and we showed that yesterday in practice. This place is very tricky and I started 38th and I really got stalled out once I got to the top-15 and I quit going forward. I got to like 10th at the end of stage one and I was stuck, I couldn't do anything. I came in for a pit stop, gained a couple spots and then just slowly worked our way forward. Once we got out front there, it was pretty good and just thankful that yellow flag didn't come out. The entire last five laps or 10 laps, I was just watching the fence looking for those green lights because I did not want to see another restart."
How were you able to get out front on those final restarts?
"I felt like I kept doing something really similar just trying to get a good launch and then trying to shortcut the race track as much as I could in the dogleg, but I feel like my biggest advantage was that I wasn't loose in at all today. Getting into turn one I could just out-drive them into the corner and I wasn't going to get loose and slide up. That was the key to just be able to charge turn one really hard and get clear."
How is your momentum heading to Homestead?
"Man, I've got a one-in-four shot right? We all do. There's no doubt that 00 (Cole Custer) is going to be really fast. They were outstanding last year so I think he's got to be the favorite going into it. I'm excited to see how fast of a race car we bring."
Did you see an advantage to choosing the inside versus the outside lane on restarts?
"Honestly, I just left that up to my spotter and crew chief. It's a lot easier for me if I just say, 'Hey, what do I do?' They told me to pick the bottom, so I did. I think the advantage of being on the bottom though is that you can shortcut the race track as much as you needed to and then whenever you got into turn one, if the situation would have arose I could have just drove in there and slid up into them and been on the offense instead of the defense. Just being on the bottom and thankfully I didn't have to do that and there weren't any late-race yellows. The big advantage I had was that my car wasn't loose at all so I could attack turn one as hard as I needed to in order to get myself clear. That was ultimately what got me in clean air."
How hard was it not to get suckered in when you were racing the 22 (Austin Cindric)?
"I don't know if you were listening to my radio or not, but I was full suckered in, but luckily I have Jason (Ratcliff, crew chief) and Tony Hirschman (spotter) yelling at me and I told him that right before I got in the car and that's what I've been telling him for at least the last couple days. I need someone yelling at me and I feel like I do a really good job managing the first half of the race, but especially once you get to the end of stage two, this week you still have over half the race left. For me, at the end of stage two, I start getting amped up. The 22 (Cindric) was racing me like he does every single week and I got frustrated and I was over it, but those guys didn't let me lose my head. We have the best pit crew on pit road and got us out in front of him so I didn't have to deal with him anyway."
What was the traffic like coming from the back of the field?
"The biggest thing for me is just my biggest problem whenever I started NASCAR racing was beating myself and I'm still guilty of that. Whenever you start in the back, especially from lap one, you have to realize that you're going to get a lot of opportunities to pass cars without passing them on the race track. Whenever I got to, I think I got to 10th in the first stage and I'll be honest I stalled out around 15th or 14th and quit going forward. At that point, I got a little nervous, but I knew that it was only lap 45 and my pit crew gave me a couple more spots and then basically the same thing happened again and I got to fourth at the end of stage two and my pit crew got me two more spots and next thing you know, I'm out front. For me going through traffic, you just have to take advantage of your strengths and today our pit crew was a huge strength. Hopefully that will continue next week."
Do you feel having your back against the wall and winning helps you for next week?
"I'll be honest, after Kansas and Texas I just kind of accepted the fact that we might be eliminated. From that point, once I accepted that, I sat back and looked at the season that we had. We won six races and whenever I won the fourth race, I was really happy and pretty much called the season and we were just over halfway and it was a successful year. Then we were able to win some more races. The biggest thing for me was that I accepted that we might not be going to Homestead and knew that we would have really fast race cars for the last two races and just tried to execute and not beat myself. I just get to drive really fast race cars and that's why I'm able to win races and it was more so the team coming through than me this weekend. Our backs were against the wall and they come here with arguably one of our fastest race cars we've brought to the race track all year. That's why we got the results we did today."
Have you accepted that you could finish fourth in the points next week or a different feeling of pressure from this week?
"Yeah, that's just the nature of the beast. I guess my best answer to that – I guess the 22 (Austin Cindric) was in a must-win, but other than that I gave six other guys a huge advantage to knock me out and they didn't so now nobody has an advantage going into next week."
Can you take this momentum to Homestead next week?
"I don't know if you can take any momentum there. The 00 (Cole Custer), they're licking their chops because they won by 15 or so seconds last year so I'm sure they're feeling good. We saw with the Cup deal, Jimmie Johnson won his championship because a couple guys beat themselves and took each other out and he was just at the right spot at the right time and he was definitely not the best out of the four. What we're going to have to do next week if we are the best car, try not to beat yourself and if we're not the best car, just wait for the opportunity for that last pit stop and you never know when the last restart is going to come. I've been in the final four now three years out of my three full time years in the NASCAR deal and thankfully Steve DeSouza (JGR) and Tyler Gibbs (TRD) gave me the opportunity to run for the owner's championship last year in the Xfinity Series so I've kind of lived it a little bit being in the Xfinity car being in that owner's final four. I know a little bit about what's going on and I know that Jason (Ratcliff, crew chief) is going to bring a really fast race car. I'm excited and momentum-wise, I know I'm going to have a good piece."
Does Homestead being a flat track help with your racing background?
"No, not really. I seem to excel more on the banked tracks I would say. Definitely Homestead is really slick and I really like slick race tracks so I think that plays more into my background. It's a place where you can move around and the top has a lot of speed at times so that might be good. Ultimately, the 00 (Custer) beat everybody in the middle last year so we're going to have to make sure that we're good everywhere."
Can you use the same routine to prepare for Homestead this year as you did with the Truck Series race last year?
"I hope so. Homestead is a toss-up, I could get a flat tire on lap one and be done or I could get a flat tire on lap 199 and be done. The only thing we can do is go out there and control what we can control and make sure that I don't beat myself and that I don't psych myself out and try to get my head right getting into it. I was really proud of myself going into this weekend. I treated it like any other race and made the most out of the weekend and Jason brought a really fast race car. I think we just go into next week with the same mentality that we did this week."
Did you prepare yourself mentally for Homestead last year?
"I say it time and time again, we're all race car drivers and we race hard and we want to win if it's go-karts or for an Xfinity Series championship or a Cup Series championship. There's nothing really that I can do on my part expect not get psyched out .You just have to go in there and do your best and I do that every time I get behind the wheel of any race car."
How did today's situation compare to other pressure-packed situations you've been in?
"I don't know, I guess there was definitely more on the line so that means a little bit more pressure. I feel like my mentors have just done such a good job of raising me throughout my young racing career and preparing me for moments like this. I put so much pressure on myself for really any racing that we go do. Whenever I line up for the Chili Bowl heat race, I'm literally throwing up and that's the most nervous, most pressure I feel of any race just because of what that race means to me. Today was nothing compared to that Chili Bowl heat race. I think just being in pressure situations throughout my career – the Chili Bowl, the Knoxville Nationals, the King's Royal – all those big events. The more you do it, the better you get. The more pressure situations you're in, the better you can prepare yourself for the next one. Hopefully this one prepares me pretty well for next week."
Can you explain more about how you accepted that you might not transfer from today's race?
"For me, I have a problem of beating myself so if I sit here and say, 'Hey, I have to win, my season's on the line,' then I'm more likely to beat myself. We've won six races before today and it was a great year. Whenever I go into a season, my two goals are to win races and compete for the championship and we won races and we competed for the championship all the way up until things that were outside of our control happened. It was still a successful season in my standards. I'm happy that I'm still alive."
When you look back at this race, how will you remember it?
"Just how fast that race car was. How really the whole weekend – I don't know if I've ever had a NASCAR weekend where we unload and we're just that fast. Looking at the lap times, it was just, I went out there and went top of the board in the first practice, but yet each lap was faster than the competition. That's what's going to stick out to me the most is how good of a race car that these guys brought."
JASON RATCLIFF, crew chief, No. 20 GameStop Toyota Camry, Joe Gibbs Racing
How were you able to overcome the adversity heading into today's race?
"I think over the last 31 weeks really, we put together a good program here. These guys have really worked hard all season and everyone at Joe Gibbs Racing has worked hard. Christopher (Bell) – every week man, the kid comes out and just does it better. We knew coming in that this would be a good track for us and a good opportunity for us. We had a flawless day and you don't get many of those, but we had one today."
Does it come natural for you to have to yell at your driver?
"I have worked with Kyle Busch so – I love him, just so you know that. It doesn't. I let Tony (Hirschman, spotter) do that and he does a good job of managing it. He is talking in my left ear and Christopher is talking in my right ear. I can't see the whole race track – Tony can see what's going on, but I'm definitely in Tony's left ear saying, 'Hey man, we have to stop this before it gets out of control.' We had a moment like that today, but everyone did a good job of handling it and Christopher did a good job of managing it, thankfully. Like he said, the pit crew got us out in front of them and it wasn't a big deal in the end."
Did you panic when Christopher had to start in the back today?
"I do, especially in this situation knowing what was at stake today and knowing that we had to win to move on. It's been a great season for us. If it had been a mediocre season then we would be probably coming here with a different approach. We had an awesome season and a lot of people have worked extremely hard and we need to get to Homestead. For me, to put him in that situation and put that pressure on him, it's tough. We've been in that situation a few times this year, obviously not in these circumstances where we had to win, but he does a great job of managing that and methodically working his way to the front just like we saw today. I wasn't concerned about him, just for me I hate putting him in that spot and asking him to work any harder than he already has to."
What was your race strategy having to start from the back?
"The strategy was pretty straightforward, I felt like in the first stage if we could make up the majority of that track position, I knew our pit crew was good for a couple spots on pit road. Then from there, the toughest part is adjusting the car because it's going to handle differently when you're driving from 40th to 10th than it is once you get into the top-five. I felt like our adjustments were right on today. Maybe the magnitude of the adjustment wasn't where it needed to be, but directionally we did good and he did a good job. Again, our pit crew was second-to-none and they rocked today. Thankfully due to his qualifying effort last week, we had that first pit box."
What was the issue in pre-qualifying inspection this morning?
"Best I can tell is that when we were doing restart practice yesterday, we made a couple passes through the dogleg so between practices I did notice – we get pictures during practice – I noticed in the second practice that the splitter was up. We did get some damage on the right-front after those restart attempts, which is fine. If you don't have it in practice then you're going to have it in the race. In the scan, the nose was just high and it showed red. We worked on it as much as we could. There's not a lot of braces and support up there that you can push on and we just couldn't get it. We kept working at it and it's a tough thing to measure. Two things, it's tough to measure and you're on the clock. Obviously, your goal is to get it fixed and get out there so we could qualify. Once we didn't make it to qualify, then you have enough time to go back and do what you need to do."
Did starting at the rear change your approach to race strategy?
"It definitely changed our approach. Our hope was to come in here and sit on the pole and start from the front, that would have been a lot easier I think. You deal with that. Every week you have to be prepared. You don't know what you're going to fight week in and week out and you do your best to prepare for it. In this situation, we come here next year we're going to fight the same race track and we'll just be prepared for it and we'll know that in between practices that we look at this and we do what we need to do before qualifying inspection so we don't get ourselves in this situation again. This track is unique, we typically don't fight that. It's just because of the shape of the race track."
RACE RESULTS
Finish

Start

#

Driver

Sponsor/Make

Laps

Led

Points

Status

1

38

20

Christopher Bell # (P)

GameStop Just Cause 4 Toyota

200

94

48

Running

2

8

21

Daniel Hemric (P)

South Point Hotel & Casino Chevrolet

200

1

49

Running

3

10

2

Matt Tifft (P)

Go Green Chevrolet

200

0

41

Running

4

3

22

Austin Cindric # (P)

Discount Tire Ford

200

3

50

Running

5

5

18

Ryan Preece

Rheem/Smurfit Kappa Toyota

200

0

38

Running

6

14

9

Tyler Reddick # (P)

BurgerFi Chevrolet

200

0

37

Running

7

7

19

Brandon Jones

Toyota Service Centers/Mobil 1 Toyota

200

0

34

Running

8

2

0

Cole Custer (P)

Haas Automation Ford

200

0

40

Running

9

1

42

John Hunter Nemechek

Fire Alarm Services Inc. Chevrolet

200

33

44

Running

10

11

23

Spencer Gallagher

ISM Connect Chevrolet

200

0

27

Running

11

6

1

Elliott Sadler (P)

Hunt Brothers Pizza Chevrolet

200

0

26

Running

12

12

16

Ryan Reed

Drive Down A1C Lilly Diabetes Ford

200

0

26

Running

13

15

11

Ryan Truex

LeafFilter Gutter Protection Chevrolet

200

0

24

Running

14

9

3

Shane Lee

CIPT/Race to Give Chevrolet

200

0

23

Running

15

23

4

Ross Chastain

Flex Seal Chevrolet

200

0

22

Running

16

13

5

Michael Annett

Pilot Flying J Chevrolet

200

0

21

Running

17

18

51

Jeremy Clements

RepairableVehicles.com Chevrolet

200

0

20

Running

18

39

60

Ty Majeski

Ford Ford

199

0

19

Running

19

16

39

Ryan Sieg

Lombard Brothers Chevrolet

199

0

18

Running

20

17

36

Alex Labbe #

Can-Am/Wholey/Cyclops Gear Chevrolet

199

0

17

Running

21

19

38

JJ Yeley

Iron Mountain Data Centers Chevrolet

199

0

16

Running

22

21

35

Joey Gase

Donate Life Arizona/Sparks Chevrolet

199

0

15

Running

23

28

1

BJ McLeod

Flex Glue Chevrolet

199

0

14

Running

24

4

7

Justin Allgaier (P)

BRANDT Professional Agriculture Chevrolet

199

69

33

Running

25

26

90

Donald Theetge

Mercedes-Benz St. Nicolas/Circuit Acura Chevrolet

197

0

12

Running

26

27

0

Garrett Smithley

Flex Tape Chevrolet

197

0

11

Running

27

24

52

David Starr

Whataburger Chevrolet

197

0

10

Running

28

32

76

Spencer Boyd #

Grunt Style Chevrolet

197

0

9

Running

29

29

15

Quin Houff

teamjdmotorsports.com Chevrolet

196

0

8

Running

30

34

55

Bayley Currey(i)

Rollin Smoke Barbeque Toyota

193

0

0

Running

31

31

13

Tyler Hill

OCR Gaz Bar Dodge

185

0

6

Running

32

36

74

Mike Harmon

Veterans 4 Child Rescue Chevrolet

181

0

5

Running

33

33

66

Akinori Ogata

Toyota

179

0

4

Running

34

40

45

Josh Bilicki #

Prevagen Toyota

158

0

3

Running

35

20

8

Tommy Joe Martins

Chevrolet

151

0

2

Engine

36

37

78

Vinnie Miller #

CorvetteParts.net Chevrolet

144

0

1

Ignition

37

22

40

Chad Finchum #

Smithbilt Homes Toyota

143

0

1

Rear Gear

38

30

99

Stephen Leicht

Chevrolet

27

0

1

Suspension

39

35

89

Morgan Shepherd

Visone RV Chevrolet

22

0

1

Brakes

40

25

93

Jeff Green

RSS Racing Chevrolet

18

0

1

Brakes
[adinserter name="GOOGLE AD"]