Moffitt Earns Championship Berth With Phoenix Win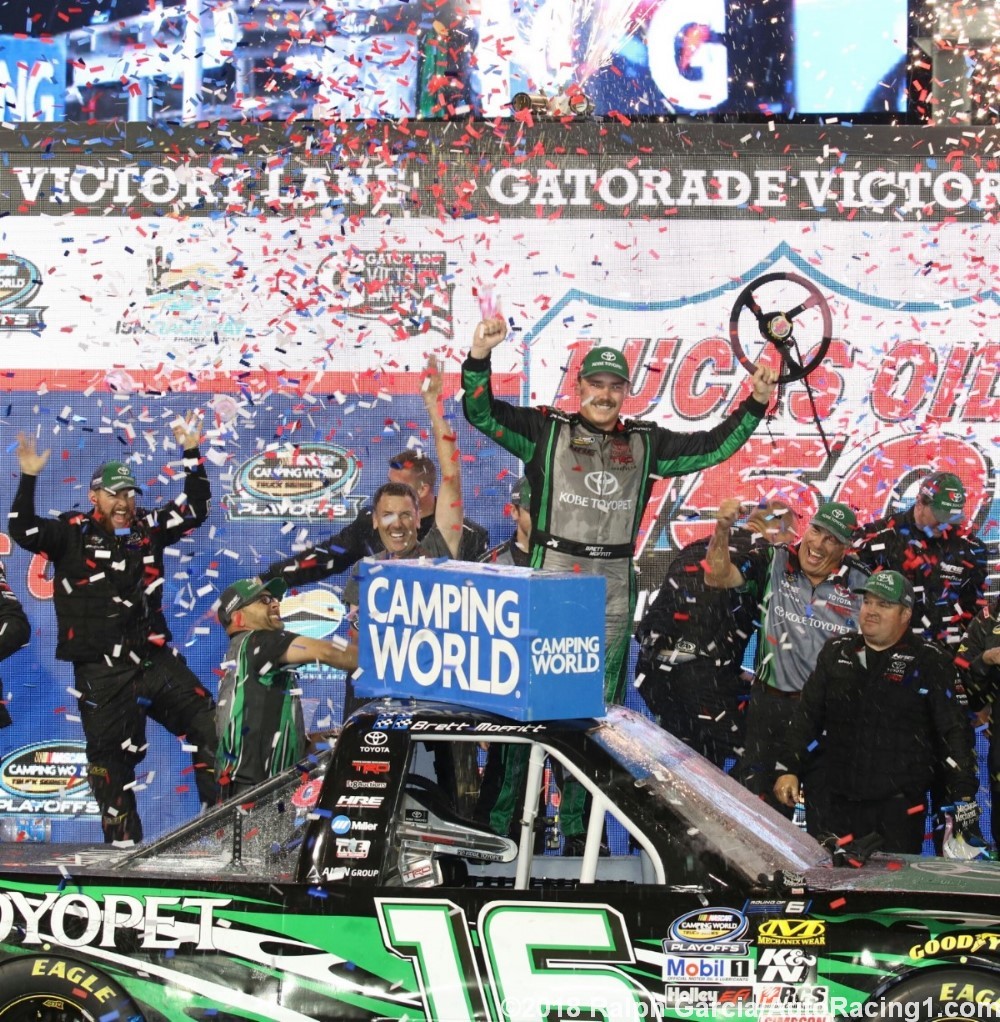 Brett Moffitt celebrates at Phoenix
Charging from third to first with a strong inside move after a restart with three laps left, Brett Moffitt clinched his spot in the NASCAR Camping World Truck Series Championship 4 with a dramatic victory in Friday night's Lucas Oil 150 at ISM Raceway.
While Noah Gragson and Grant Enfinger battled for the lead and swapped side-to-side shots on Lap 148 of 150, Moffitt powered his No. 16 Hattori Racing Enterprises Toyota down to the frontstretch apron and cleared Gragson and Enfinger off the second corner.
Moffitt pulled away to win his fifth race of the season by .456 seconds over Gragson, who qualified for the Championship 4 on points, as Enfinger faded to fourth and out of the Playoff picture. He took the checkered flag in his first start at ISM Raceway and claimed the sixth victory of his career.
[adinserter name="GOOGLE AD"]Gragson was leading with seven laps left when Riley Herbst's spin brought out the fourth and final caution of the evening. The subsequent restart gave Moffitt the opportunity he needed to win the race. Adding to the urgency, Enfinger could have qualified for the Championship by winning, leaving Moffitt and Gragson to fight a close battle for the final spot on points.
"I wasn't sure if I wanted a caution to come out or not, but in hindsight I did," Moffitt said. "Where we were sitting we were locked into Homestead mathematically. When that caution came out, I was kind of nervous. I didn't know what was going to happen. Then when the 18 (Gragson) took the top (lane for the restart), I really didn't know what the hell was going to happen.
"I was just hoping the 98 (Enfinger) got rolling to where he didn't stack up the inside, and fortunately he got a good restart, and I dove down to the apron. Our truck was really good running the actual apron through (turns) 1 and 2 all night long. I made a lot of passes there. I stuck it down there and went for it and was able to clear off (Turn) 2 and drive away."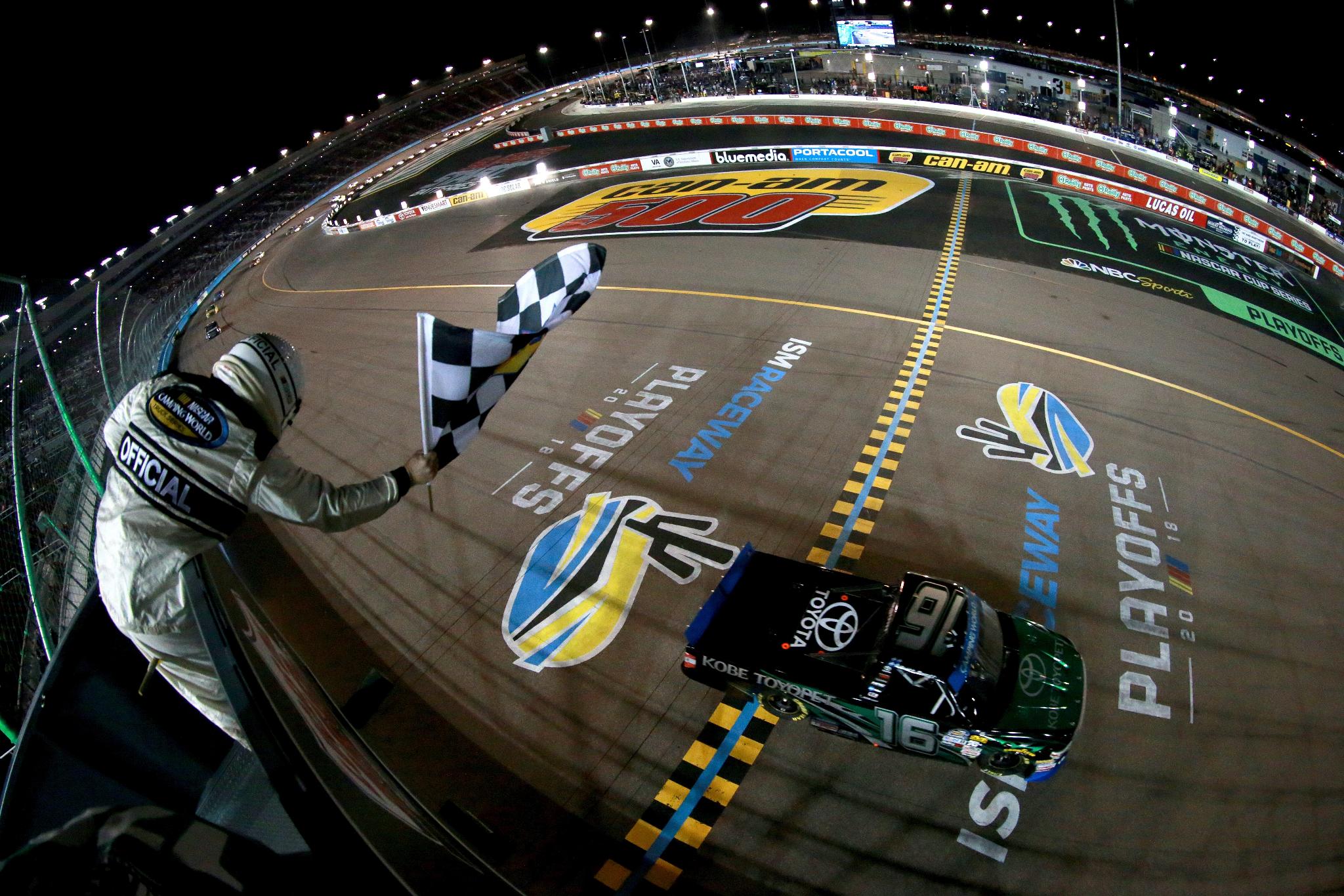 Brett Moffitt punched his ticket into the Championship 4 next weekend at Homestead
Sean Gardner/Getty Images
After running the spec Ilmor NT-1 engine at Texas last Friday, Moffitt returned to the Mark Cronquist-built Toyota engine at Phoenix, despite a NASCAR gear rule change designed to even out the performance of the two types of power plants.
"It's Joe Gibbs 299th engine win with Mark Cronquist," Moffitt said. "They put our backs against the wall (with the rule change), but the s.o.b. won again."
Toyota drivers Moffitt and Gragson joined GMS Racing teammates Johnny Sauter and Justin Haley in the Championship 4. Sauter had qualified with a win at Martinsville, and Haley earned his spot with a victory at Texas.
Two-time series champion Matt Crafton was eliminated from the Playoffs after an 11th-place finish. Crafton lost his chance for victory when his crew had trouble with the right front tire on the No. 88 Ford's final pit stop.
Harrison Burton matched his career-best finish with a third-place run.
BRETT MOFFITT, No. 16 KOBE Toyopet Toyota Tundra, Hattori Racing
Finishing Position: 1st
How did you put yourself in position to make that move for the win?
"We just had a badass KOBE Toyopet Tundra. I kind of screwed us by getting a speeding penalty there, but more importantly it's Veteran's Day weekend and I have to give a shout out to all those who have served and are currently serving. Also, very special to us, we have a steering wheel here and it's got Torie Costa Foundation on it, which is Scott Zipadelli's (crew chief) daughter who passed away from pancreatic cancer. It was her birthday yesterday so I'm glad she was in the car with me and I know this is going to mean a lot to our race team."
Have you thought about how close you could be to winning a championship?
"We're focused on Homestead already and we just knew that we had to have a smooth night. When the 98 (Grant Enfinger) got up there obviously we started worrying and that's when we knew we needed to win. Can't say enough for this group and Toyota, TRD, Joe Gibbs 299th engine win with Mark Cronquist. They've put our backs against the wall, but this son-of-a-bitch did it again. I can't say enough about them and all of our partners and just this whole HRE team."
How were you able to make that final pass for the race win?
"We had a really good KOBE Toyopet Tundra all night long. I kind of screwed us there with the pit road speeding penalty, which I wasn't even trying to push it so I was a little bit caught off-guard, but I knew once we got the track position back, I didn't know whether I wanted a caution at the end or not because we were in and then the caution kind of mixed that up, but luckily we were able to take advantage of it, got a badass restart and get to the front."
How much confidence do you have heading to Homestead?
"Tons of confidence. This HRE team has been strong pretty much everywhere we go I feel like we have a shot to win the race if we execute. Tonight we executed like we need to and we need to do that next week. Homestead is a fun track for me, I like it. I've also never been there in a truck, never been here in a truck and never been there in a truck – only been in Cup cars so hopefully that's a good sign."
After the ups and downs of your career, how does it feel to be going to Homestead to contend for a championship?
"This is definitely a second revival of my career really. I was racing Cup, but it wasn't really in winning equipment and now I came back to the Truck Series and Shige Hattori has built a great race team here and obviously a winning race team. It's a great opportunity for me to showcase my talent and it's just fun working with these guys. We have eight or nine guys full time employees that travel every weekend and they put everything into it and have been working until midnight these last few weeks to get these trucks ready to go win a championship and now we have a shot."
RACE RESULTS
| | | | | | | | | |
| --- | --- | --- | --- | --- | --- | --- | --- | --- |
| Finish | Start | # | Driver | Sponsor/Make | Laps | Led | Points | Status |
| 1 | 5 | 16 | Brett Moffitt (P) | KOBE Toyopet Toyota | 150 | 19 | 54 | Running |
| 2 | 1 | 18 | Noah Gragson (P) | Safelite AutoGlass Toyota | 150 | 43 | 47 | Running |
| 3 | 3 | 51 | Harrison Burton | DEX Imaging Toyota | 150 | 46 | 51 | Running |
| 4 | 12 | 98 | Grant Enfinger (P) | Protect The Harvest/Curb Records Ford | 150 | 10 | 38 | Running |
| 5 | 4 | 52 | Stewart Friesen | We Build America Chevrolet | 150 | 0 | 48 | Running |
| 6 | 15 | 17 | Tyler Ankrum | May's Hawaii/Crosley Brands Toyota | 150 | 0 | 31 | Running |
| 7 | 14 | 21 | Johnny Sauter (P) | ISM Connect Chevrolet | 150 | 0 | 33 | Running |
| 8 | 8 | 19 | Derek Kraus | NAPA Auto Parts Toyota | 150 | 0 | 30 | Running |
| 9 | 11 | 46 | Christian Eckes | Mobil 1 Toyota | 150 | 0 | 29 | Running |
| 10 | 16 | 2 | Sheldon Creed | AM Ortega/United Rentals Chevrolet | 150 | 0 | 27 | Running |
| 11 | 9 | 88 | Matt Crafton (P) | Ideal Door/Menards Ford | 150 | 1 | 39 | Running |
| 12 | 6 | 41 | Ben Rhodes | The Carolina Nut Co. Ford | 150 | 0 | 33 | Running |
| 13 | 19 | 99 | Chase Purdy | Bama Buggies Chevrolet | 150 | 0 | 24 | Running |
| 14 | 13 | 25 | Tyler Dippel | ALESSO Chevrolet | 150 | 0 | 23 | Running |
| 15 | 18 | 54 | Riley Herbst | Advance Auto Parts Toyota | 150 | 0 | 22 | Running |
| 16 | 29 | 83 | Dawson Cram | RGS Products/THP Chevrolet | 150 | 0 | 21 | Running |
| 17 | 10 | 4 | Todd Gilliland # | Pedigree Toyota | 150 | 0 | 20 | Running |
| 18 | 21 | 20 | Tanner Thorson | Go Share Chevrolet | 150 | 0 | 19 | Running |
| 19 | 22 | 22 | Austin Wayne Self | GO TEXAN Chevrolet | 150 | 0 | 18 | Running |
| 20 | 24 | 15 | Stefan Parsons | VIPRacingExperience.com Chevrolet | 148 | 0 | 17 | Running |
| 21 | 30 | 49 | D J Kennington | SobrietyNation Chevrolet | 148 | 0 | 16 | Running |
| 22 | 17 | 13 | Myatt Snider # | Tenda Ford | 147 | 0 | 15 | Running |
| 23 | 25 | 3 | Jordan Anderson | Commercial Property Services Chevrolet | 147 | 0 | 14 | Running |
| 24 | 27 | 45 | Justin Fontaine # | ProMATIC Automation Chevrolet | 147 | 0 | 13 | Running |
| 25 | 26 | 38 | Landon Huffman | Arizona Department of Public Safety Chevrolet | 146 | 0 | 12 | Running |
| 26 | 28 | 33 | Jason White | Reaume Brothers Racing Inc. Chevrolet | 143 | 0 | 11 | Running |
| 27 | 32 | 63 | Jesse Iwuji | Zulu Audio/JNJE Transportation Chevrolet | 138 | 0 | 10 | Running |
| 28 | 2 | 24 | Justin Haley (P) | Fraternal Order Of Eagles Chevrolet | 131 | 0 | 21 | Oil Leak |
| 29 | 7 | 8 | John Hunter Nemechek(i) | Hostetler Ranch/Stonefield Home Chevrolet | 128 | 31 | 0 | Suspension |
| 30 | 20 | 2 | Austin Hill | Young's Building Systems/Randco Chevrolet | 57 | 0 | 7 | Engine |
| 31 | 31 | 10 | Jennifer Jo Cobb | Driven2Honor Chevrolet | 30 | 0 | 6 | Header |
| 32 | 23 | 87 | Joe Nemechek | DAB/Fleetwing Chevrolet | 11 | 0 | 5 | Electrical |