Kevin Harvick cheats to win in Texas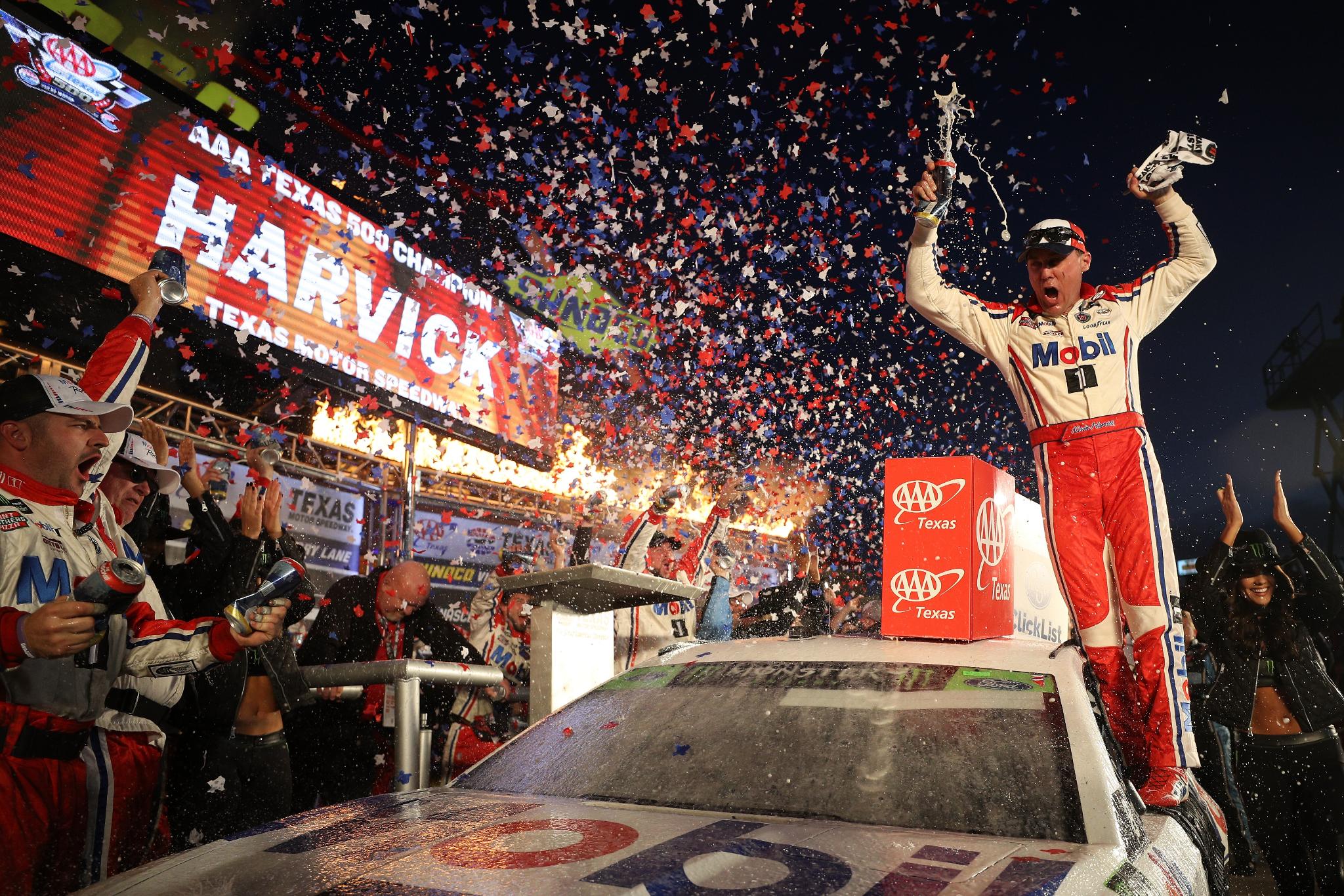 Kevin Harvick wins at Texas
Chris Graythen/Getty Images
Update: The team cheated and won – see report. This time, there was no late-race glitch to interrupt Kevin Harvick's domination of a Monster Energy NASCAR Cup Series race.
Streaking away from pole winner Ryan Blaney during an overtime restart on Lap 336, Harvick won Sunday's AAA Texas 500 at Texas Motor Speedway with the utmost of authority, sweeping the stages and leading a race-high 177 laps on the way to his series-best eighth victory of the season and a guaranteed spot in the Nov. 18 Championship 4 race at Homestead-Miami Speedway.
The victory was Harvick's first since Michigan in August, and it broke a streak of bad luck during which the driver of the No. 4 Stewart-Haas Racing Ford led laps but failed to find Victory Lane, thanks to mechanical issues or pit road mistakes.
"We've been working day after day to make speed," said Harvick, who won for the second time at Texas and the 45th time in his career, 17th most all-time. "This place has been really good to me. We finally knocked that barrier down (with a win in last year's Playoff race at TMS).
[adinserter name="GOOGLE AD"]"The expectations are to win. Like I told you guys before the race, we don't race for points. We race for wins. We don't count our fingers and our toes trying to figure out how to make it in (to the Championship 4 race). Today we earned our way in, and we're going to race again next week (at Phoenix) and try to win another race and then see what we can do at Homestead."
Harvick joins Martinsville winner Joey Logano, last Sunday's Martinsville winner in the title race. Logano ran third at Texas after leading 54 laps, second only to Harvick.
The only stress for Harvick was lane choice for the overtime. On the previous restart on Lap 311 of a scheduled 334, following caution for Matt DiBenedetto's hard crash into the inside wall on the backstretch, Harvick picked the inside lane, and Blaney cleared him off Turn 2.
It took Harvick seven laps of chasing to regain the lead, but in the two-lap overtime, he didn't have the luxury of time to mount a pursuit. So Harvick picked the top lane for the first time and roared around Blaney in Turn 1.
Then Harvick was off into the Texas sunset.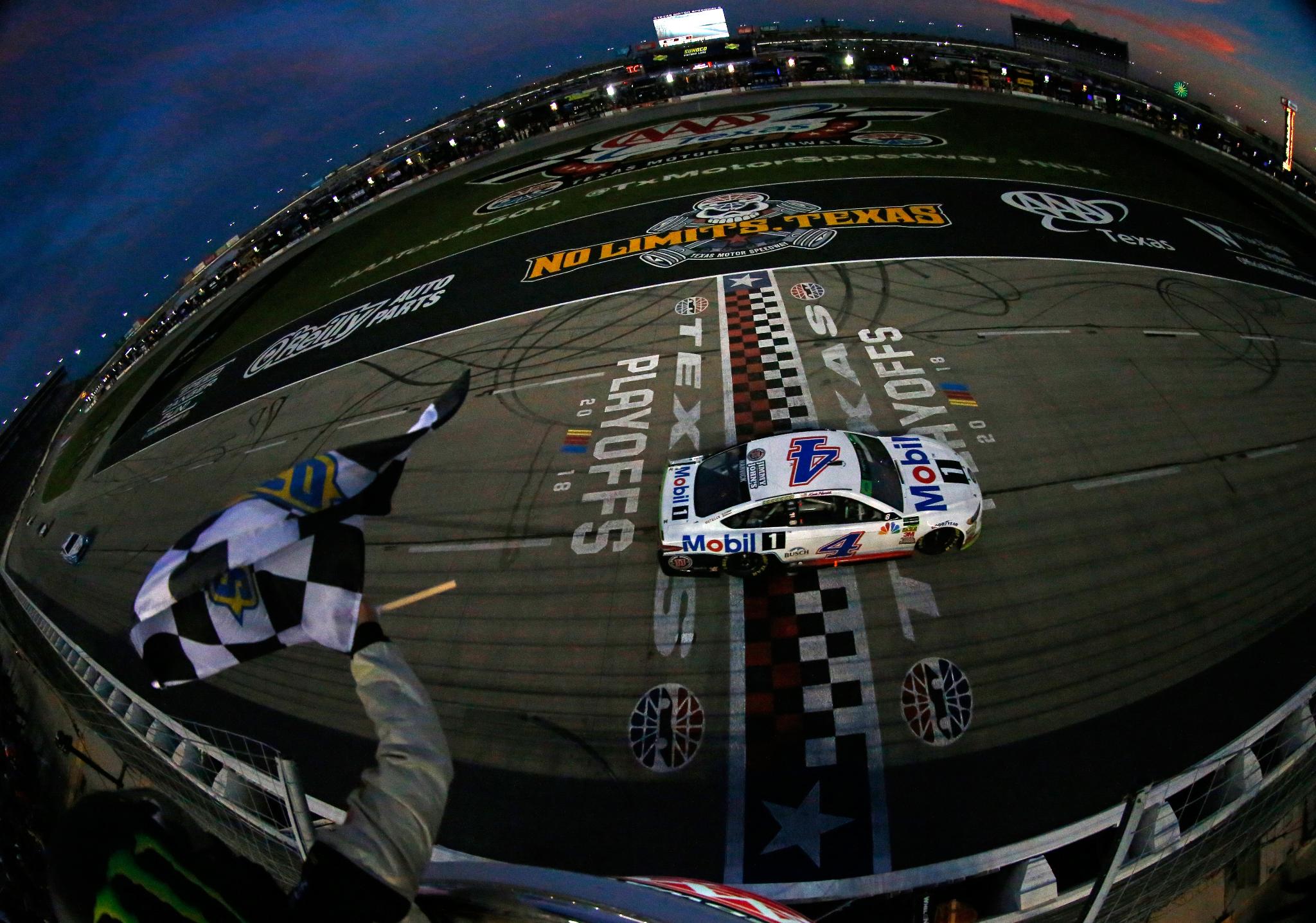 Kevin Harvick scores his eighth win of the season
Matt Sullivan/Getty Images
"That last restart I knew I needed to pick the top," Harvick said. "I wanted to be on the bottom to be safe, because the top got such a good side-draft getting into Turn 1 and the outside groove got rubbered up. I thought if I could keep him from finishing the corner, I could drive back by him. It all worked out."
Blaney got a shove from fifth-place finisher Kyle Larson on the final restart, but it wasn't enough.
"The 42 (Larson) gave me a heck of a push, but I didn't quite get far enough ahead of the 4 into (Turn) 1," Blaney said. "We went in sideâ€'byâ€'side. If I sailed off in there as fast as he did, I would have got loose, wrecked us both.
"You kind of knew you were beat getting into 1 when you're there, because you know the guy on the outside is going to pin you. I figured when he took the top, it was going to take a really good push and position into 1 to have a prayer at it. Just didn't happen."
Harvick was the only one of so-called Big Three to avoid trouble on Sunday.
Kyle Busch drew an early speeding penalty entering pit road and later had to make an unscheduled pit stop because of a loose wheel. He finished 17th, the last driver on the lead lap.
Martin Truex Jr. came to pit road early on Lap 247 to correct a loose left front wheel and in the process drove through too many pit boxes entering his stall. Two laps down after a pass-through penalty, Truex rallied to finish ninth.
Nevertheless, with the Round of 8 elimination race at Phoenix looming, Busch holds a 28-point edge over his brother Kurt Busch, who is fifth in the Playoff standings after running seventh on Sunday. Truex is 25 points ahead of Kurt Busch, who likely will need a victory at Phoenix to advance to the Championship 4.
The same is true for sixth-place Texas finisher Chase Elliott (39 points below the cut line). Aric Almirola (eighth Sunday) and Clint Bowyer (26th, after contact with Denny Hamlin's Toyota on Lap 1) are both in must-win situations.
Erik jones ran fourth for the third time in the last five races.
RACE RESULTS
| | | | | | | | | |
| --- | --- | --- | --- | --- | --- | --- | --- | --- |
| Finish | Start | # | Driver | Sponsor/Make | Laps | Led | Points | Status |
| 1 | 3 | 4 | Kevin Harvick (P) | Mobil 1 Ford | 337 | 177 | 60 | Running |
| 2 | 1 | 12 | Ryan Blaney | Accella/Carlisle Ford | 337 | 40 | 51 | Running |
| 3 | 8 | 22 | Joey Logano (P) | AAA Insurance Ford | 337 | 54 | 45 | Running |
| 4 | 12 | 20 | Erik Jones | Sport Clips Toyota | 337 | 0 | 45 | Running |
| 5 | 22 | 42 | Kyle Larson | DC Solar Chevrolet | 337 | 0 | 32 | Running |
| 6 | 16 | 9 | Chase Elliott (P) | Kelley Blue Book Chevrolet | 337 | 0 | 34 | Running |
| 7 | 7 | 41 | Kurt Busch (P) | State Water Heaters Ford | 337 | 0 | 42 | Running |
| 8 | 4 | 10 | Aric Almirola (P) | Smithfield Spirals Ford | 337 | 0 | 35 | Running |
| 9 | 13 | 78 | Martin Truex Jr. (P) | Bass Pro Shops/5-hour ENERGY Toyota | 337 | 0 | 42 | Running |
| 10 | 26 | 3 | Austin Dillon | Dow NORKOOL Chevrolet | 337 | 0 | 27 | Running |
| 11 | 17 | 17 | Ricky Stenhouse Jr. | Fastenal Ford | 337 | 0 | 26 | Running |
| 12 | 5 | 2 | Brad Keselowski | Wurth Ford | 337 | 50 | 32 | Running |
| 13 | 11 | 21 | Paul Menard | Menards/Cardell Ford | 337 | 0 | 27 | Running |
| 14 | 18 | 88 | Alex Bowman | Axalta Chevrolet | 337 | 3 | 23 | Running |
| 15 | 23 | 48 | Jimmie Johnson | Lowe's for Pros Chevrolet | 337 | 11 | 22 | Running |
| 16 | 9 | 24 | William Byron # | Hendrick Autoguard Chevrolet | 337 | 0 | 21 | Running |
| 17 | 10 | 18 | Kyle Busch (P) | M&M's Toyota | 337 | 0 | 24 | Running |
| 18 | 14 | 31 | Ryan Newman | Caterpillar Next Gen Excavator Chevrolet | 335 | 0 | 19 | Running |
| 19 | 20 | 1 | Jamie McMurray | Sherwin-Williams Chevrolet | 335 | 0 | 18 | Running |
| 20 | 25 | 47 | AJ Allmendinger | Kroger ClickList Chevrolet | 335 | 0 | 17 | Running |
| 21 | 15 | 6 | Trevor Bayne | AdvoCare Rehydrate Ford | 335 | 0 | 16 | Running |
| 22 | 24 | 13 | Ty Dillon | GEICO Military Chevrolet | 335 | 0 | 15 | Running |
| 23 | 21 | 37 | Chris Buescher | Clorox Chevrolet | 335 | 0 | 14 | Running |
| 24 | 27 | 38 | David Ragan | Earthwater Ford | 335 | 0 | 13 | Running |
| 25 | 30 | 43 | Bubba Wallace # | NASCAR Racing Experience Chevrolet | 335 | 2 | 12 | Running |
| 26 | 2 | 14 | Clint Bowyer (P) | Rush Truck Centers/Mobil Delvac 1 Ford | 334 | 0 | 11 | Running |
| 27 | 28 | 95 | Regan Smith | Procore Chevrolet | 332 | 0 | 10 | Running |
| 28 | 19 | 19 | Daniel Suarez | ARRIS Toyota | 332 | 0 | 11 | Running |
| 29 | 29 | 34 | Michael McDowell | Love's/Luber Finer Ford | 331 | 0 | 8 | Running |
| 30 | 6 | 11 | Denny Hamlin | FedEx Office Toyota | 331 | 0 | 7 | Running |
| 31 | 34 | 96 | Parker Kligerman | Gaunt Brothers Racing Toyota | 329 | 0 | 0 | Running |
| 32 | 33 | 15 | Ross Chastain | Low T Center Chevrolet | 326 | 0 | 0 | Running |
| 33 | 38 | 7 | Reed Sorenson | Sustainable Quarry Crypto Mining Chevrolet | 326 | 0 | 0 | Running |
| 34 | 36 | 99 | Kyle Weatherman | StarCom Fiber Chevrolet | 323 | 0 | 3 | Running |
| 35 | 32 | 0 | Landon Cassill | Brookshire's Chevrolet | 321 | 0 | 0 | Running |
| 36 | 35 | 23 | JJ Yeley | maximum elevation off-road Toyota | 321 | 0 | 0 | Running |
| 37 | 39 | 51 | Joey Gase | Jacob Companies/Donate Life Texas Ford | 317 | 0 | 0 | Running |
| 38 | 31 | 32 | Matt DiBenedetto | Can-Am/Wholey Ford | 300 | 0 | 1 | Accident |
| 39 | 40 | 97 | David Starr | Toyota | 287 | 0 | 0 | Running |
| 40 | 37 | 72 | Corey LaJoie | Gas Monkey Garage Chevrolet | 269 | 0 | 1 | Running |
[adinserter name="GOOGLE AD"]