Kyle Busch Grabs Fourth Pole of the Season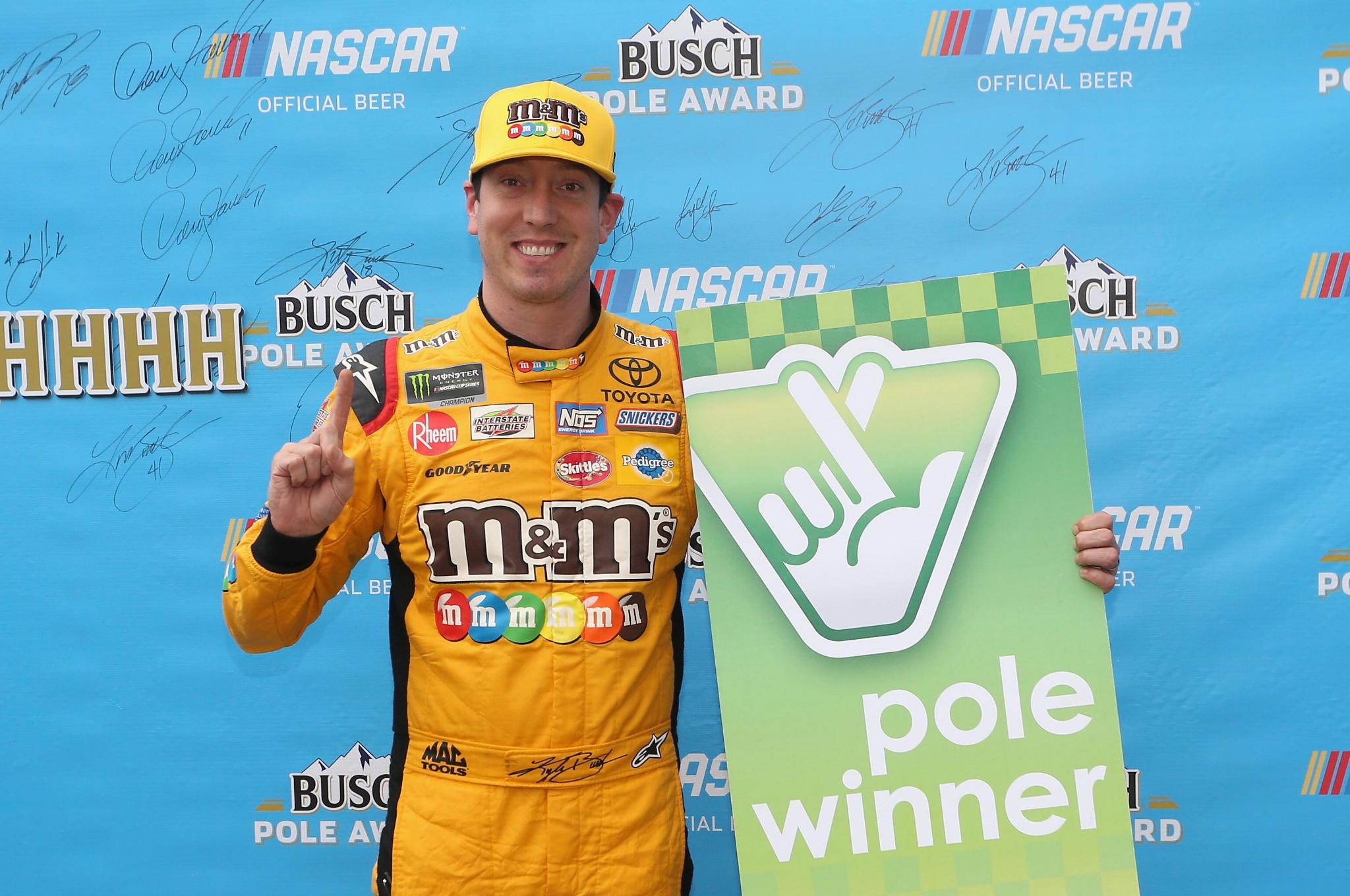 Kyle Busch
Brian Lawdermilk/Getty Images
Kyle Busch took his Joe Gibbs Racing Camry to the top of the starting grid for Sunday's First Data 500 at Martinsville Speedway with a lap time of19.673 seconds (98.254 MPH). Spring winner Clint Bowyer was second. Denny Hamlin, Ryan Blaney and Aric Almirola rounded out the top five.
Martin Truex Jr., Kurt Busch, Brad Keselowski, Daniel Suarez, Kyle Larson, Joey Logano and William Byron completed the top 12.
Six of the remaining eight playoff drivers will start in the first six rows Sunday.
Blaney led the way with a lap time of 19.660 seconds (96.317 MPH) in a first session where the biggest surprise was active Martinsville win leader Jimmie Johnson struggling to make the top 24. Johnson was 30th before making a second attempt, and it took him multiple laps to take a 23rd-place time, which he couldn't improve on in the next round. Johnson has nine career Martinsville wins and is a perennial favorite at the track.
The second round was Kurt Busch's turn to take over the top of the board, which he did with a time of 19.692 (96.161 MPH). Playoff drivers took five of the top 10 spots in the round as Busch topped brother Kyle, Hamlin, Bowyer and Almirola for the top five spots. Kevin Harvick (13th) and Chase Elliott (21st) were the only two playoff drivers not advancing to the pole round.
Sunday's race is an impound race, so all cars will be held by NASCAR and inspected Sunday prior to the race. Teams cannot do any work on them prior to inspection and should any car not pass on the first try, the qualifying time will be thrown out and that car will start at the back of the field.
QUALIFYING RESULTS
| | | | | | | |
| --- | --- | --- | --- | --- | --- | --- |
| POS | CAR | DRIVER | MANUF | BEHIND | TIME | SPEED |
| 1 | 18 | Kyle Busch (P) | Toyota | — | 19.673 | 96.254 |
| 2 | 14 | Clint Bowyer (P) | Ford | 0.027 | 19.700 | 96.122 |
| 3 | 11 | Denny Hamlin | Toyota | 0.029 | 19.702 | 96.112 |
| 4 | 12 | Ryan Blaney | Ford | 0.033 | 19.706 | 96.093 |
| 5 | 10 | Aric Almirola (P) | Ford | 0.040 | 19.713 | 96.058 |
| 6 | 78 | Martin Truex Jr. (P) | Toyota | 0.066 | 19.739 | 95.932 |
| 7 | 41 | Kurt Busch (P) | Ford | 0.076 | 19.749 | 95.883 |
| 8 | 2 | Brad Keselowski | Ford | 0.097 | 19.770 | 95.781 |
| 9 | 19 | Daniel Suarez | Toyota | 0.113 | 19.786 | 95.704 |
| 10 | 42 | Kyle Larson | Chevy | 0.133 | 19.806 | 95.607 |
| 11 | 22 | Joey Logano (P) | Ford | 0.152 | 19.825 | 95.516 |
| 12 | 24 | William Byron # | Chevy | 0.204 | 19.877 | 95.266 |
| 13 | 37 | Chris Buescher | Chevy | 0.135 | 19.795 | 95.661 |
| 14 | 38 | David Ragan | Ford | 0.136 | 19.796 | 95.656 |
| 15 | 20 | Erik Jones | Toyota | 0.142 | 19.802 | 95.627 |
| 16 | 2 | Brad Keselowski | Ford | 0.171 | 19.831 | 95.487 |
| 17 | 17 | Ricky Stenhouse Jr. | Ford | 0.172 | 19.832 | 95.482 |
| 18 | 4 | Kevin Harvick (P) | Ford | 0.176 | 19.836 | 95.463 |
| 19 | 24 | William Byron # | Chevy | 0.176 | 19.836 | 95.463 |
| 20 | 78 | Martin Truex Jr. (P) | Toyota | 0.198 | 19.858 | 95.357 |
| 21 | 88 | Alex Bowman | Chevy | 0.203 | 19.863 | 95.333 |
| 22 | 34 | Michael McDowell | Ford | 0.219 | 19.879 | 95.256 |
| 23 | 48 | Jimmie Johnson | Chevy | 0.221 | 19.881 | 95.247 |
| 24 | 9 | Chase Elliott (P) | Chevy | 0.231 | 19.891 | 95.199 |
| 25 | 15 | Ross Chastain | Chevy | 0.238 | 19.898 | 95.165 |
| 26 | 13 | Ty Dillon | Chevy | 0.245 | 19.905 | 95.132 |
| 27 | 6 | Matt Kenseth | Ford | 0.253 | 19.913 | 95.094 |
| 28 | 3 | Austin Dillon | Chevy | 0.256 | 19.916 | 95.079 |
| 29 | 32 | Matt DiBenedetto | Ford | 0.258 | 19.918 | 95.070 |
| 30 | 95 | Regan Smith | Chevy | 0.281 | 19.941 | 94.960 |
| 31 | 72 | Cole Whitt | Chevy | 0.397 | 20.057 | 94.411 |
| 32 | 43 | Bubba Wallace # | Chevy | 0.402 | 20.062 | 94.387 |
| 33 | 96 | DJ Kennington | Toyota | 0.502 | 20.162 | 93.919 |
| 34 | 23 | JJ Yeley | Toyota | 0.545 | 20.205 | 93.719 |
| 35 | 00 | Joey Gase | Chevy | 0.682 | 20.342 | 93.088 |
| 36 | 51 | Jeb Burton | Chevy | 0.728 | 20.388 | 92.878 |
| 37 | 66 | Timmy Hill | Toyota | 0.772 | 20.432 | 92.678 |
| 38 | 7 | Hermie Sadler III | Chevy | 0.812 | 20.472 | 92.497 |
| 39 | 21 | Paul Menard | Ford | 1.380 | 21.040 | 90.000 |
| 40 | 99 | Landon Cassill | Chevy | — | 0.000 | 0.000 |
[adinserter name="GOOGLE AD"]