Torrence, Capps, Line, Smith Win at zMax Dragway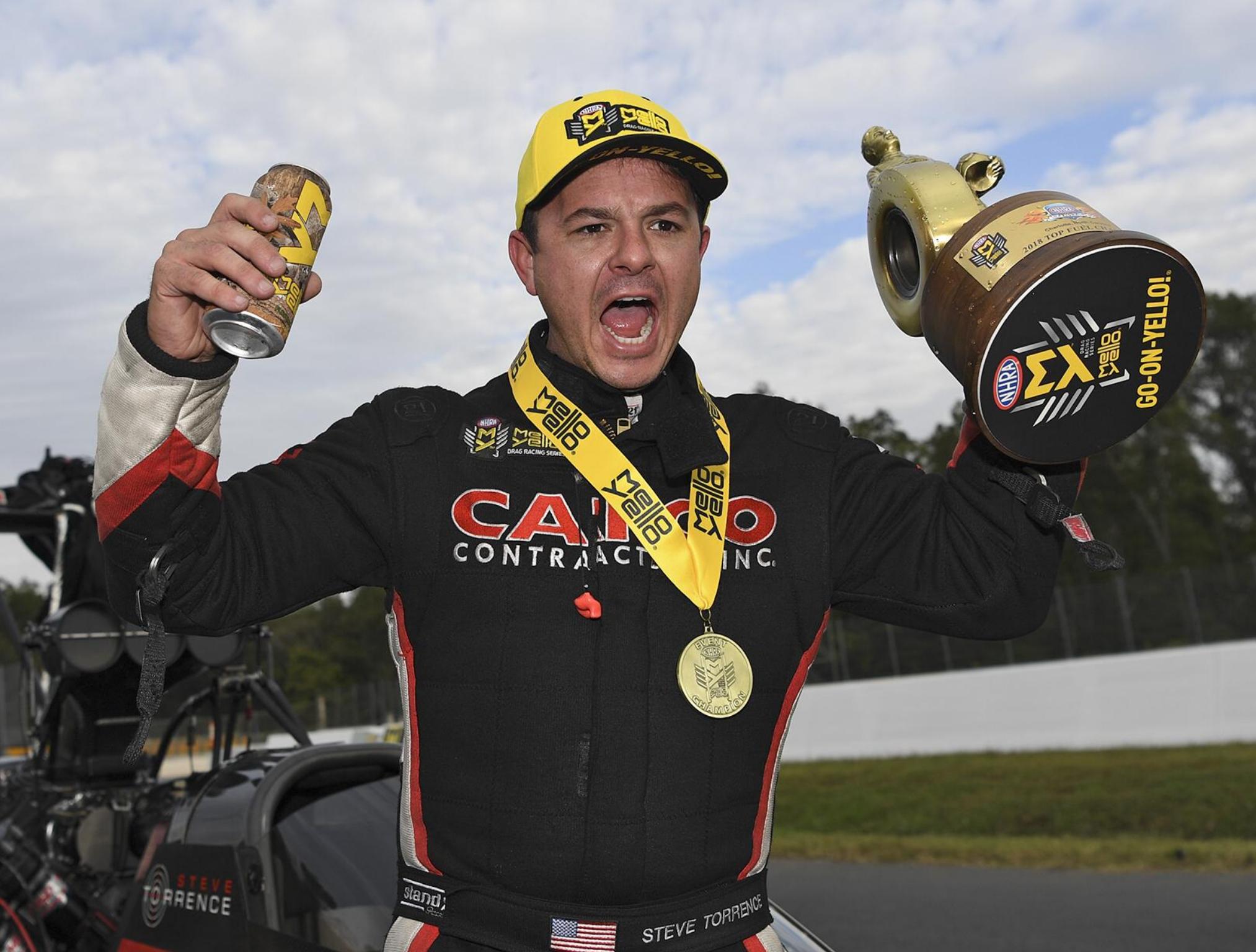 Steve Torrence
Steve Torrence continued his dominance in the Top Fuel division with a win in Sunday's 11th Annual Carolina Nationals at zMax Dragway to tally his fourth-straight victory – setting an unprecedented undefeated mark in the NHRA Mello Yello Drag Racing Series Countdown for the Championship.
Ron Capps (Funny Car), Jason Line (Pro Stock) and Matt Smith also went to the Winner's Circle in Sunday's event – the fourth race in the six-race battle for the championship.
Torrence bested No. 1 qualifier Brittany Force in the final round of the Top Fuel final to win his ninth race of the season and his 16th– straight round victory, winning every round he's competed in the first four races of the Countdown.
[adinserter name="GOOGLE AD"]After picking up round wins against Chris Karamesines, Leah Pritchett and Tony Schumacher, Torrence advanced to ninth final round of the season and beat out Force by half a car length, posting a 3.703 at 329.67 mph over Force's 3.708, 329.26
With the victory, Torrence becomes the first driver to win four-straight races in the Countdown and the first to string together four consecutive national event victories since Tony Schumacher won seven straight back in 2008.
"It's been truly unbelievable for us to go out and accomplish what we've done," Torrence said. "We're in the middle of this thing and it's truly remarkable. I did my job today, but it's a team and it takes the whole village to make this machine work. I couldn't be more proud of what those guys are doing. They're pushing me to the front and it's pretty special to be part of. You don't win a championship by default. You go up there and do your job when it's crunch time. This was the biggest race of the season for us and we needed to capitalize, and we did what we needed to do."
Torrence, who came into Sunday's event with 103-point lead over Clay Millican, now leads the standings by 169 points going into the final two races.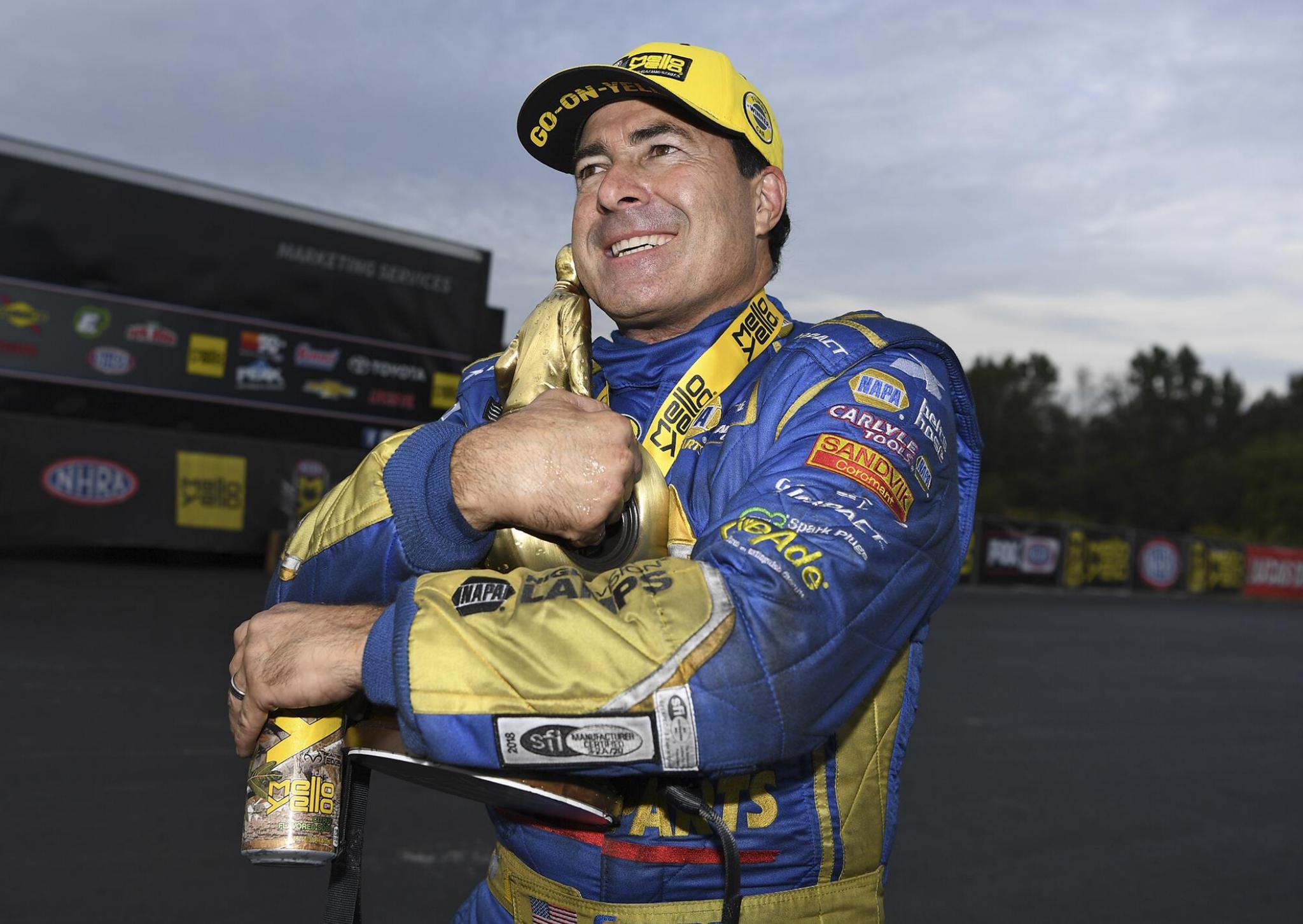 Ron Capps
In Funny Car, Ron Capps kept his championship hopes alive with a victory over J.R. Todd in the final round to collect his first win of the Countdown and his third overall this season.
Entering his 700th-career round of NHRA competition, Capps trailed Todd at the start but surged to the lead after Todd began smoking the tires at the 300-foot mark, clocking in at the line with a 3.890 at 331.20 mph.
The victory moved Capps from sixth to third in points behind Hight and Todd, and denied Todd a chance to move to the top of the Funny Car standings. It was also Capp's 61st-career NHRA victory – 60 in Funny Car and one in Top Fuel.
"To throw down those speeds and E.T.s when we needed it, that was very cool," said Capps, who beat out Dale Creasy, Jr., point's leader Robert Hight and Tim Wilkerson to reach the finals. "You've just got to be up for everything and I was just so glad that we did what we talked about doing. We've got a lot of business left and it's not over. Anything can happen and we're going to go down fighting. I can't wait to celebrate and get to the next race. We're gaining momentum and it really gives me a lot of confidence."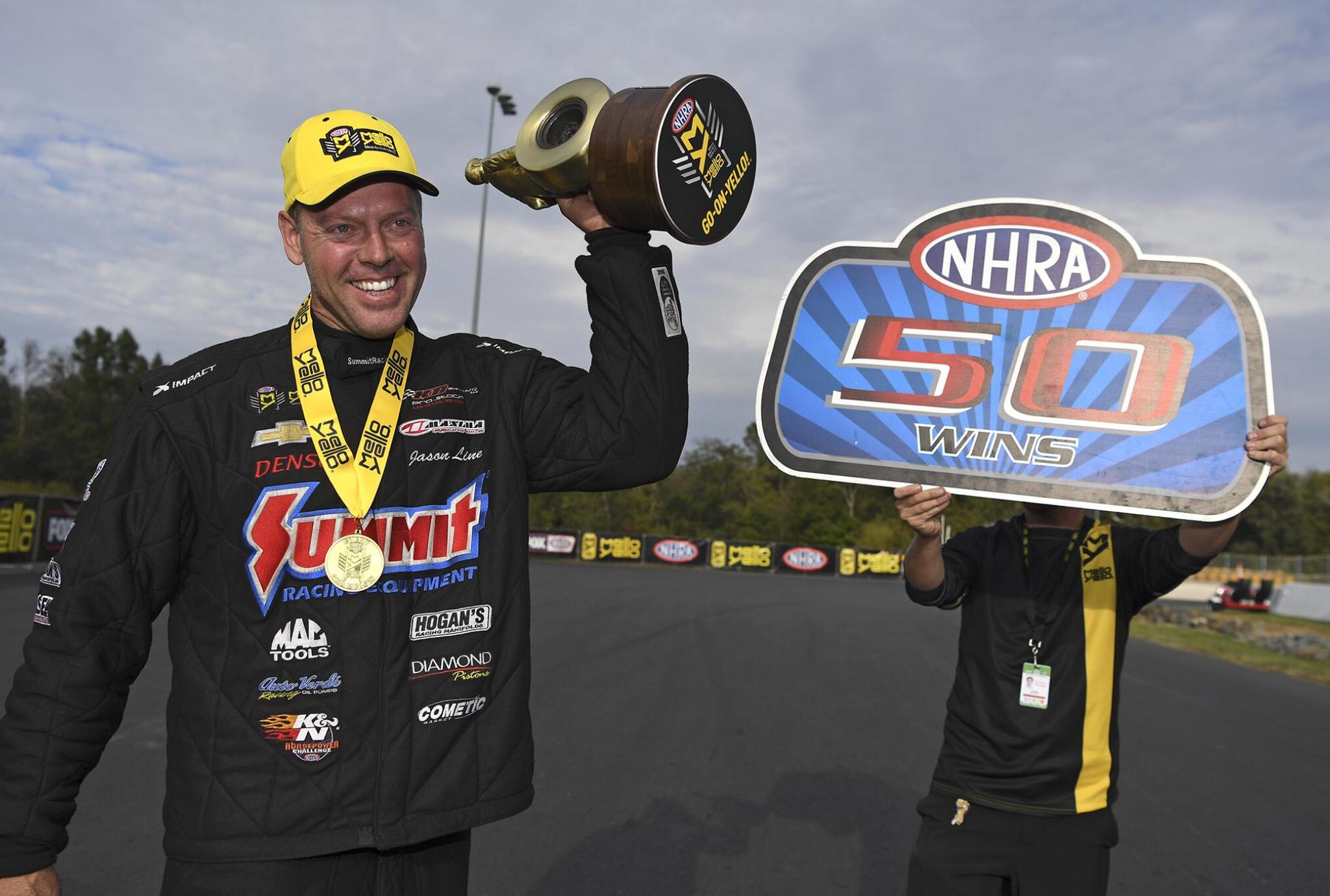 Jason Line
Jason Line spoiled the party for Tanner Gray after taking down the Pro Stock point's leader in the final round to secure his first victory of the season and his 50th overall NHRA win.
Line was the last of the KB Racing entries left in the field and advanced to his fourth final round of the season after winning out over teammate Bo Butner, Jeg Coughlin, Jr. and top qualifier Drew Skillman to earn his first-career final-round matchup against Gray.
In the final, Line got the jump with a .020 light and never looked back – posting a 6.531 at 211.89 to win by half a car-length over Gray, who ran 6.534, 211.43.
"I'm not an emotional guy, but this is really cool," said Line. "I want to thank all the folks at Summit for sticking with me. The 50th Wally goes to them, for sure. None of this could happen without them.
"We struggled this year; we haven't had the greatest year by an stretch of the imagination. Today I managed to put it all together. I had been getting a lot of heat from a lot of people; my dad won't even talk to me anymore, so this is a big deal to win today."
Despite the loss, Gray still has a commanding lead in the Pro Stock standings – leading by 130 over Coughlin, Jr.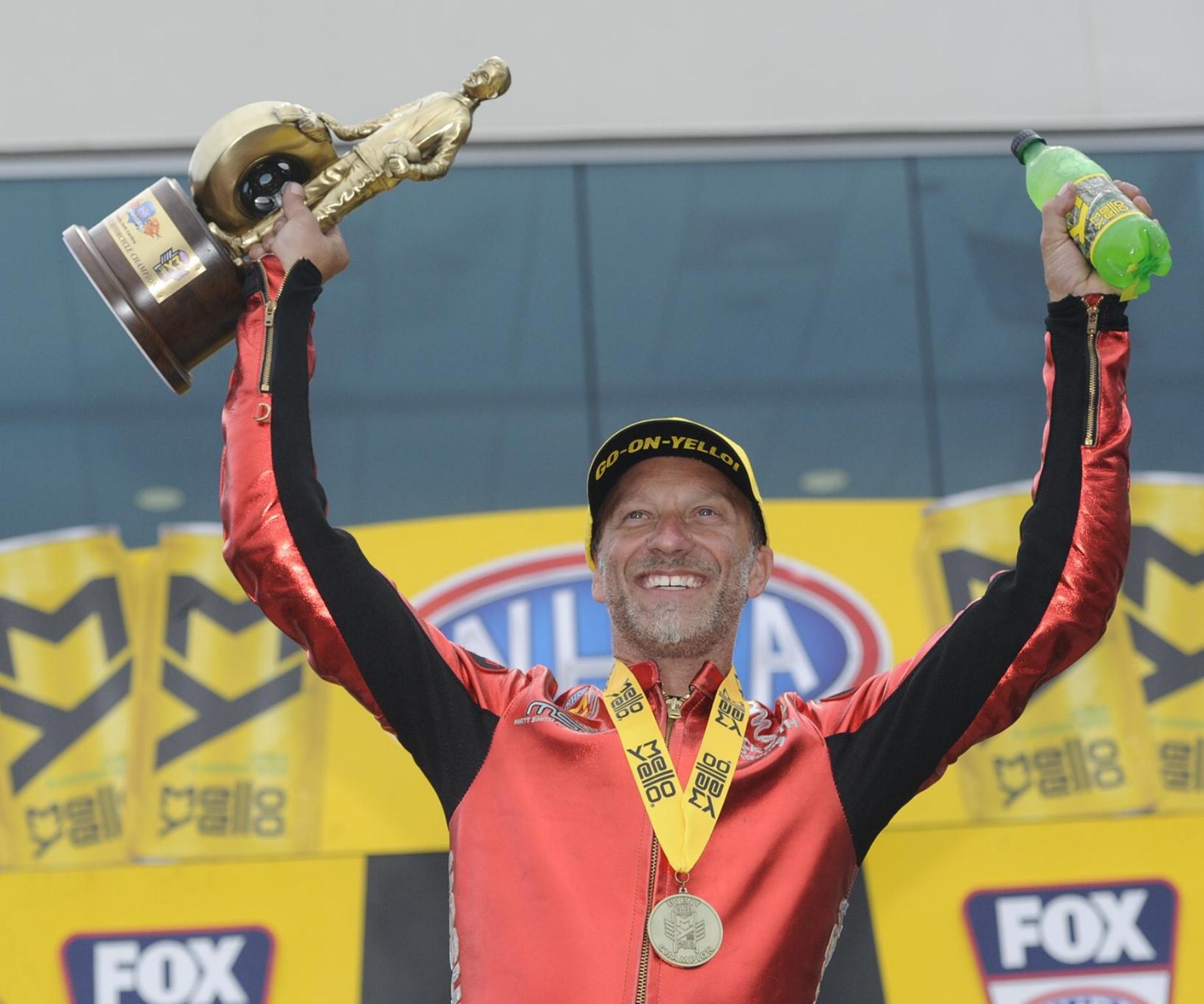 Matt Smith
Matt Smith re-gained the top spot in the points standings with a victory over Chip Ellis in the Pro Stock Motorcycle final for his third victory of the season.
Smith was in perfect position to make a jump in the standings after division point leader LE Tonglet went out in the first round and top qualifier Eddie Krawiec got beat in the quarter-finals – both courtesy of Angie Sampey. Smith then bested Sampey to face Ellis in the final round after winning out over Karen Stoffer and Scotty Pollacheck in earlier rounds.
Ellis, making just his third start of the season, had a chance to play spoiler and help out his Vance & Hines Harley-Davidson teammates Krawiec and Andrew Hines, but turned in a red-light start in the final to give Smith a walk-off victory and a 41-point lead in the championship standings.
"It's pretty big if you look at the points," said Smith. "I went up and raced scared in Dallas and didn't do my job, so I figured I would come here and do my job. All in all, the bike worked great and I just had to do my job. I said it to begin with that if we can win three races in the Countdown I think we can win this championship. We just can't have another first-round loss and we have to keep going rounds. We're going to do everything we can to make this dream come true again."
The Mello Yello Drag Racing Series continues Oct. 25-28 with the fifth race in the Countdown to the Championship, the NHRA Toyota Nationals at The Strip at Las Vegas Motor Speedway.
Final round-by-round results from the 11th annual NHRA Carolina Nationals presented by WIX Filters at zMax Dragway, the 22nd of 24 events in the NHRA Mello Yello Drag Racing Series.
ROUND ONE — Clay Millican, 4.405, 244.16 def. Kyle Wurtzel, 5.574, 119.80; Leah Pritchett, 3.707, 324.67 def. Richie Crampton, 3.750, 317.79; Doug Kalitta, 3.718, 329.42 def. Scott Palmer, 3.788, 326.00; Mike Salinas, 3.725, 331.12 def. Pat Dakin, 20.722, 23.17; Brittany Force, 3.717, 323.12 def. Audrey Worm, 5.162, 157.23; Steve Torrence, 3.954, 323.81 def. Chris Karamesines, 4.121, 225.37; Tony Schumacher, 3.699, 329.91 def. Antron Brown, 3.736, 328.14; Dom Lagana, 3.716, 329.42 def. Terry McMillen, 3.780, 324.98; QUARTERFINALS — Salinas, 3.723, 329.83 def. Kalitta, 3.741, 328.30; Force, 3.702, 328.54 def.
Lagana, 3.730, 329.58; Schumacher, 3.712, 330.55 def. Millican, 3.729, 328.86; Torrence, 3.716,
330.96 def. Pritchett, 4.222, 219.76;
SEMIFINALS — Torrence, 3.728, 328.38 def. Schumacher, 3.718, 329.42; Force, 3.708, 330.07 def. Salinas, 3.737, 328.94;
FINAL — Torrence, 3.703, 329.67 def. Force, 3.708, 329.26.
ROUND ONE — Tim Wilkerson, Ford Mustang, 3.915, 308.28 def. Jim Campbell, Dodge Charger, 7.556, 86.70; Dave Richards, Mustang, 4.283, 279.27 def. Tommy Johnson Jr., Charger, 7.265, 112.70; Ron Capps, Charger, 3.926, 328.86 def. Dale Creasy Jr., Dodge Stratus, 4.041, 316.67; J.R. Todd, Toyota Camry, 3.874, 330.55 def. Jonnie Lindberg, Mustang, 3.964, 325.22; Cruz Pedregon, Camry, 4.019, 270.00 def. Courtney Force, Chevy Camaro, 4.132, 232.31; Matt Hagan, Charger, 3.891, 328.62 def. Shawn Langdon, Camry, 9.638, 78.22; Robert Hight, Camaro, 3.877, 330.96 def. Jack Beckman, Charger, 3.906, 329.26; John Force, Camaro, 3.970, 325.45 def. Bob Tasca III, Mustang, 4.146, 256.60;
QUARTERFINALS — J. Force, 3.948, 329.18 def. Richards, 4.272, 260.56; Wilkerson, 3.910, 328.46 def. Hagan, 3.903, 323.58; Todd, 3.919, 325.53 def. Pedregon, 3.943, 306.46; Capps, 3.889, 332.43 def. Hight, 3.953, 285.23;
SEMIFINALS — Todd, 3.891, 326.48 def. J. Force, 3.968, 331.12; Capps, 3.903, 320.97 def. Wilkerson, 3.978, 323.97;
FINAL — Capps, 3.890, 331.20 def. Todd, 4.311, 214.96.
ROUND ONE — Vincent Nobile, Chevy Camaro, 6.522, 211.30 def. Greg Anderson, Camaro, 18.517, 33.29; Alex Laughlin, Dodge Dart, 6.505, 211.83 def. Deric Kramer, Camaro, 16.308, 37.67; Jason Line, Camaro, 6.503, 211.96 def. Bo Butner, Camaro, 6.526, 211.76; Jeg Coughlin, Camaro, 6.499, 212.76 def. Fernando Cuadra, Camaro, 6.535, 210.77; Drew Skillman, Camaro, 6.522, 212.09 def. Shane Tucker, Camaro, 12.410, 71.33; Tanner Gray, Camaro, 6.537, 211.63 def. Alan Prusiensky, Dart, 12.705, 69.24; Erica Enders, Camaro, 6.493, 212.73 def. Wally Stroupe, Camaro, 6.722, 205.79;
QUARTERFINALS — Skillman, 15.965, 34.99 was unopposed; Gray, 6.563, 211.66 def. Laughlin, 6.529, 211.39; Line, 6.510, 212.16 def. Coughlin, 6.527, 211.89; Enders, 6.521, 212.26 def. Nobile, 6.585, 211.46;
SEMIFINALS — Gray, 6.527, 211.20 def. Enders, 6.529, 211.36; Line, 6.527, 211.86 def. Skillman, 6.547, 211.10;
FINAL — Line, 6.531, 211.89 def. Gray, 6.534, 211.43.
ROUND ONE — Angie Smith, Buell, 6.902, 191.10 def. Ryan Oehler, Buell, 8.462, 117.98; Jerry Savoie, Suzuki, 6.883, 194.02 def. Steve Johnson, Suzuki, 6.910, 192.19; Chip Ellis, Harley-Davidson, 6.778, 197.19 def. Joey Gladstone, Buell, 6.973, 194.32; Matt Smith, 6.869, 196.67 def. Karen Stoffer, Suzuki, 7.010, 192.33; Scotty Pollacheck, Suzuki, 6.878, 194.18 def. Hector Arana Jr, 6.855, 197.65; Andrew Hines, Harley-Davidson, 6.812, 196.53 def. Hector Arana, 6.903, 196.56; Eddie Krawiec, Harley-Davidson, 6.848, 197.91 def. Jim Underdahl, Suzuki, 7.073, 158.99; Angelle Sampey, Buell, 6.809, 196.90 def. LE Tonglet, Suzuki, 6.940, 194.77;
QUARTERFINALS — M. Smith, 6.881, 197.19 def. Pollacheck, 6.890, 194.27; Ellis, 6.831, 197.08 def. A. Smith, 6.913, 191.67; Savoie, 6.842, 194.27 def. Hines, 6.857, 195.53; Sampey, 6.834, 195.31 def. Krawiec, 6.837, 197.91;
SEMIFINALS — M. Smith, 6.869, 194.86 def. Sampey, 6.922, 193.18; Ellis, 6.854, 197.13 def. Savoie, 16.849, 35.06;
FINAL — M. Smith, 6.830, 196.64 def. Ellis, Foul – Red Light.
Point standings (top 10) following the 11th annual NHRA Carolina Nationals presented by WIX Filters at zMax Dragway, the 22nd of 24 events in the NHRA Mello Yello Drag Racing Series –
1. Steve Torrence, 2,592; 2. Clay Millican, 2,423; 3. Tony Schumacher, 2,382; 4. Leah Pritchett, 2,297; 5. Antron Brown, 2,253; 6. Brittany Force, 2,243; 7. Mike Salinas, 2,228; 8. Doug Kalitta, 2,225; 9. Terry McMillen, 2,221; 10. Scott Palmer, 2,149.
1. Robert Hight, 2,445; 2. J.R. Todd, 2,434; 3. Ron Capps, 2,336; 4. Tim Wilkerson, 2,334; 5. Tommy Johnson Jr., 2,296; 6. Courtney Force, 2,264; 7. John Force, 2,241; 8. Matt Hagan, 2,229; 9. Jack Beckman, 2,204; 10. Shawn Langdon, 2,152.
1. Tanner Gray, 2,509; 2. Jeg Coughlin, 2,379; 3. Vincent Nobile, 2,373; 4. Drew Skillman, 2,356; 5. Erica Enders, 2,338; 6. Greg Anderson, 2,299; 7. Jason Line, 2,291; 8. Bo Butner, 2,186; 9. Deric Kramer, 2,168; 10. Chris McGaha, 2,096.
1. Matt Smith, 2,426; 2. LE Tonglet, 2,385; 3. Eddie Krawiec, 2,370; 4. Jerry Savoie, 2,326; 5.
Andrew Hines, 2,291; 6. Hector Arana Jr, 2,288; 7. Angie Smith, 2,221; 8. Angelle Sampey, 2,216; 9. Steve Johnson, 2,209; 10. Scotty Pollacheck, 2,177.