B. Force, Johnson, Jr., Skillman, Krawiec No. 1 at zMax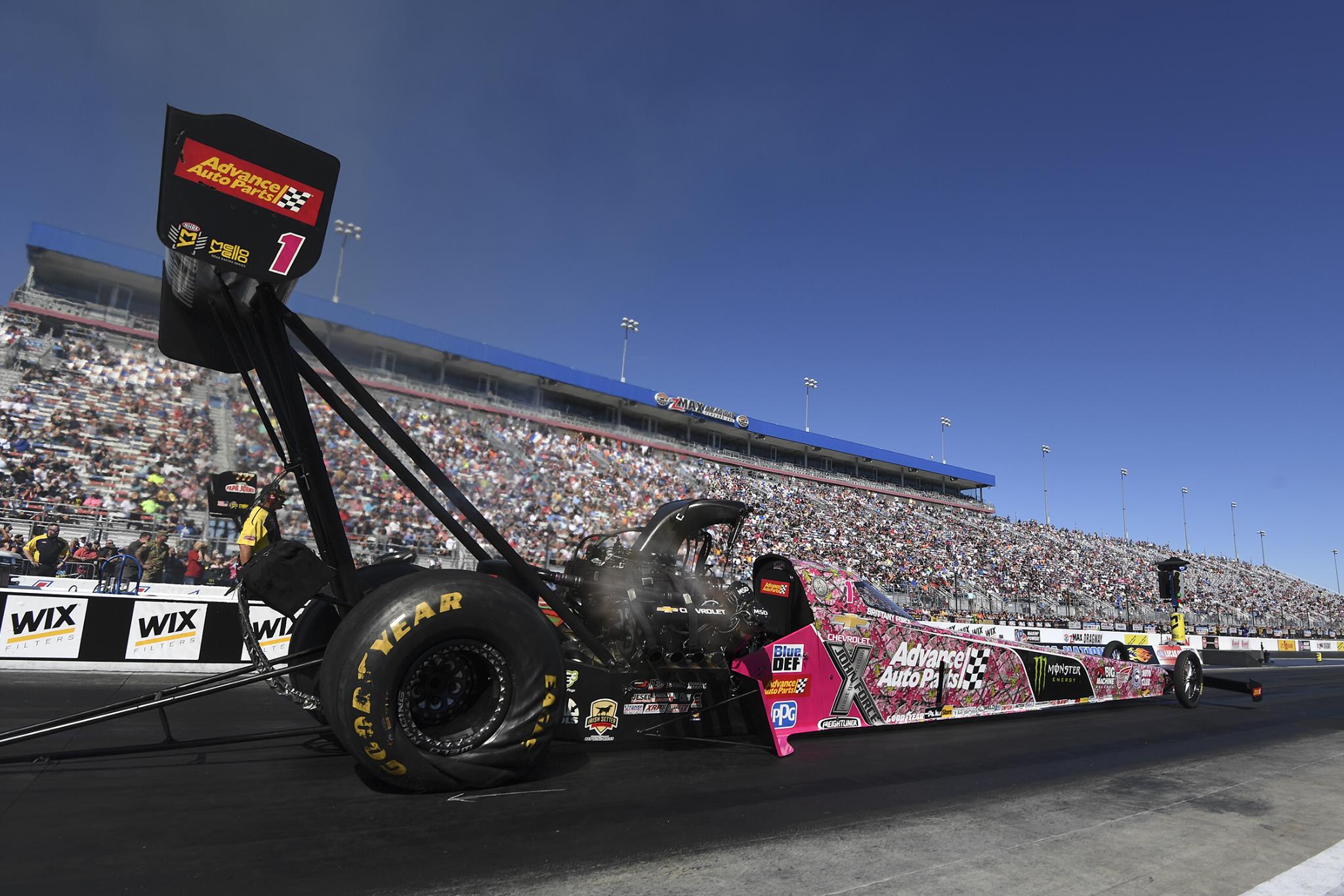 Brittany Force
Brittany Force saved her best run for last and made it pay off with a top qualifying run to rise to the top of the Top Fuel ladder in Saturday's qualifying for Sunday's 11th annual Carolina Nationals at zMax Dragway.
Tommy Johnson, Jr. (Funny Car), Drew Skillman (Pro Stock) and Eddie Krawiec (Pro Stock Motorcycle) also took the No. 1 qualifier spots in their respective divisions for Sunday's race – the fourth of six events in the Countdown to the Championship.
Saturday's final two sessions saw some impressive speeds and low E.T.'s as cooler-than-normal track temperatures meant ideal qualifying track conditions – leading to the provisional pole changing hands in three of the four top divisions.
Force hit the track as part of the second-to-last pair in the fourth and final round of qualifying and turned in a pass of 3.700 even at 330.72 mph to knock Steve Torrence from the top spot and secure her second No. 1 qualifier of the season and tenth of her career.
It was the second straight top qualifier for Brittany, who took the No. 1 qualifier for the Four Wide Nationals earlier this year. She enters Sunday's event ninth in the Countdown standings, just 328 points behind division leader Steve Torrence.
"Our team has been perfect this weekend," said Force, who will face Audrey Worm in the opening round. "I'm really hoping we're going to turn a corner. We made four consistent runs. I've got to thank my entire team. They've been working so hard. I'd like to get us back in the winner's circle. … A win (on Sunday) would be huge. There's three races left and every driver wants to end the season on a good note. We want to move up that ladder as much as we can. We always seem to do well in cool conditions. … This is what every driver and team wants. Stealing that top spot is very big for our team."
Torrence, who had held the top spot since Friday's opening qualifying rounds, picked up a little bit of speed in the fourth round but not enough to bump Brittany, finishing the day with a 3.704 at 331.53 mph to take the second spot. Clay Millican was third at 3.718, 321.73. Mike Salinas (3.720, 329.02) and Doug Kalitta (3.727, 327.59) rounded out the top five.
More importantly, each of the top five Countdown contenders – Torrence, Millican, Tony Schumacher, Leah Pritchett and Antron Brown – are on the same side of the Top Fuel ladder, with teammates Brown and Schumacher facing each other in the first round.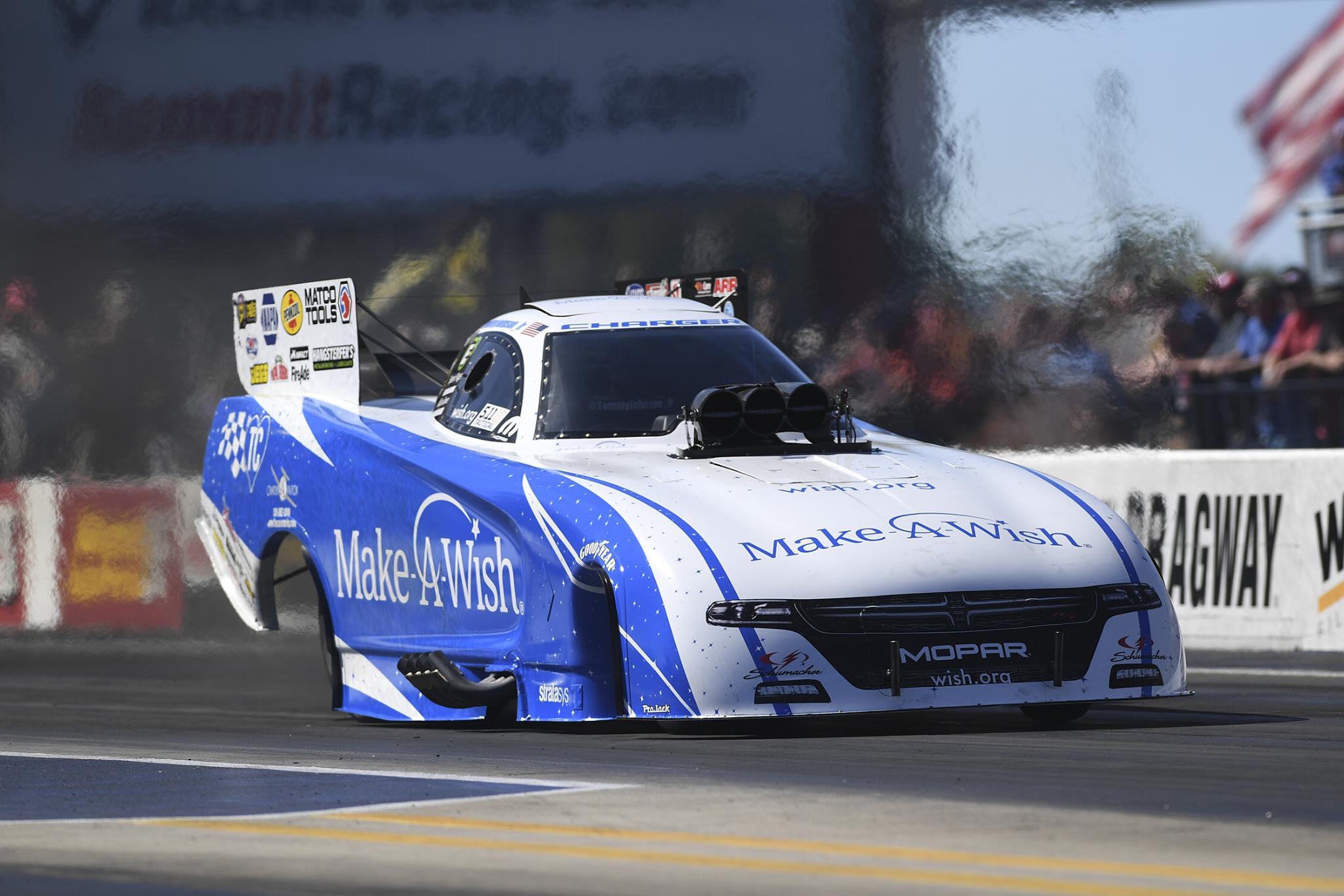 Tommy Johnson, Jr.
Tommy Johnson, Jr. was another fourth round surprise as he bumped his way past provisional pole sitter Ron Capps to earn his second-straight No. 1 qualifier in Funny Car – marking his only two top qualifying efforts of the season.
Johnson, Jr. was part of the third-to-last pair in the final session and turned in a season-best 3.873 at 329.10 mph to move to the top of the ladder. Capps held onto the second spot standing on his 3.875, 329.42 from Friday along with Tim Wilkerson, who also stood pat with a 3.876, 323.74. J.R. Todd (3.894. 327.90) and Cruz Pedregon (3.901, 325.77) made up the rest of the top five.
"We've got a really, really good race car right now and the guys are doing such a great job," Johnson Jr. said. "You can just see it in their confidence. I would say the only thing we have to change is semifinals (where he has lost three of the past four races). We have to fix that this weekend. We've had a good car for the last 6-7 races and we just keep building on it."
Funny Car point's leader Robert Hight – broken collarbone and all – qualified seventh, the highest among the three John Force Racing entries.
Dave Richards took the bump spot to earn a first-round matchup against Johnson, Jr. Bob Gilbertson was the lone non-qualifier.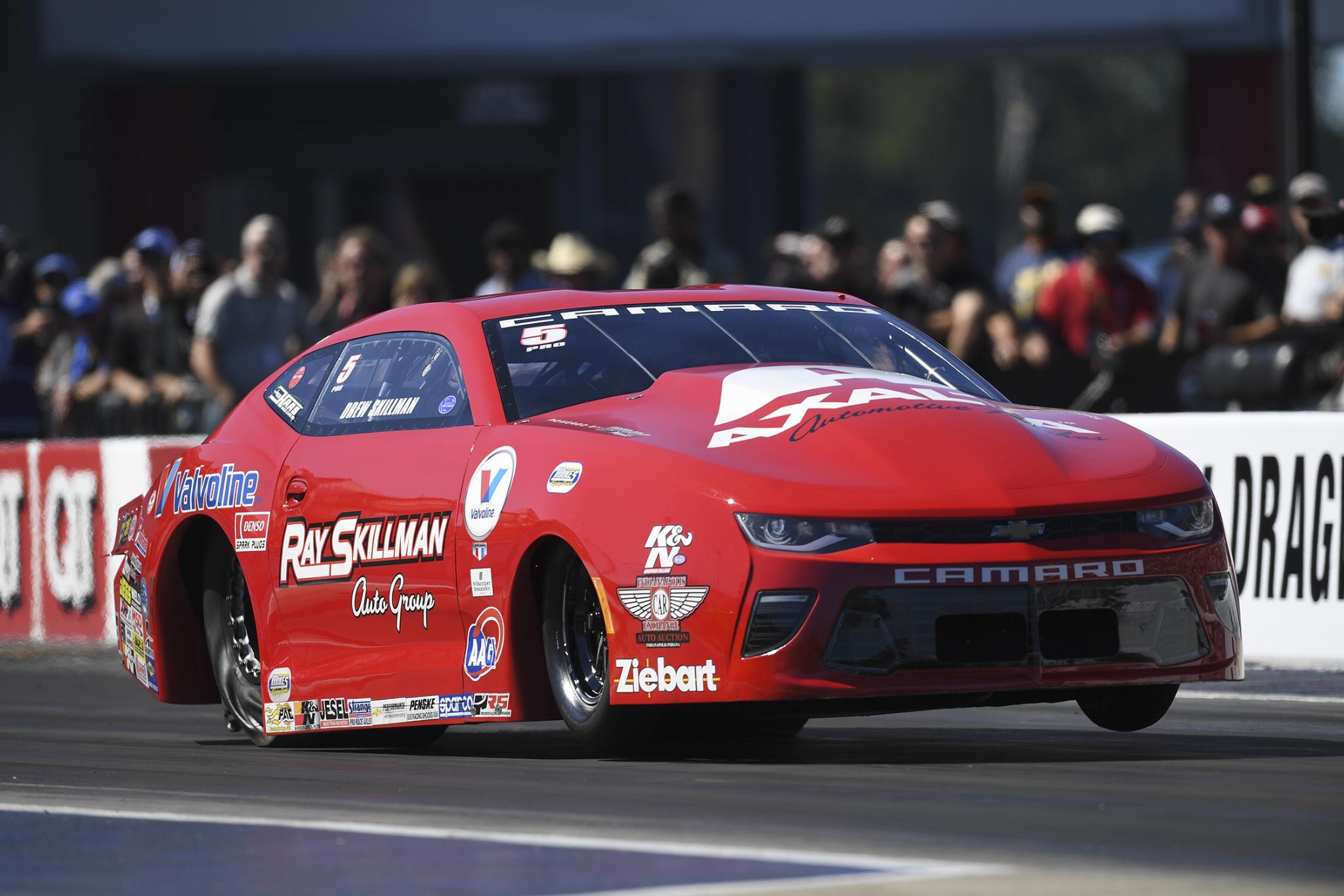 Drew Skillman
In Pro Stock, Drew Skillman jumped from fourth to the top of the ladder in the fourth and final round, bumping Erica Enders and point's leader Tanner Gray en route to his second No. 1 qualifier of the season.
Skillman turned in a time of 6.509 at 211.30 mph to take the pole – besting Ender's time of 6.513 at 211.96 mph and Gray's 6.516, 212.33.
The race for the top spot in Pro Stock was a highly coveted prize among the contenders in the Countdown field – with only 13 cars answering the bell on Sunday, the top qualifier will earn a bye in the first two rounds, practically guaranteeing an automatic slot into the semi-final round.
That could prove to be a big shot in the arm for Skillman's Countdown run, as he trails Gray by 134 points in the championship standings.
Asked if he will coast through the first two rounds or try to make a full run, Skillman said they'll see what happens.
"We're going to have two plans, for sure," said Skillman. "We have nothing to lose, so we'll probably try to make a pretty good poke at it and figure out what the race track can take. You have to back down throughout the day on race day – the track goes away a little bit, it's just part of racing – having lane choice is always an advantage."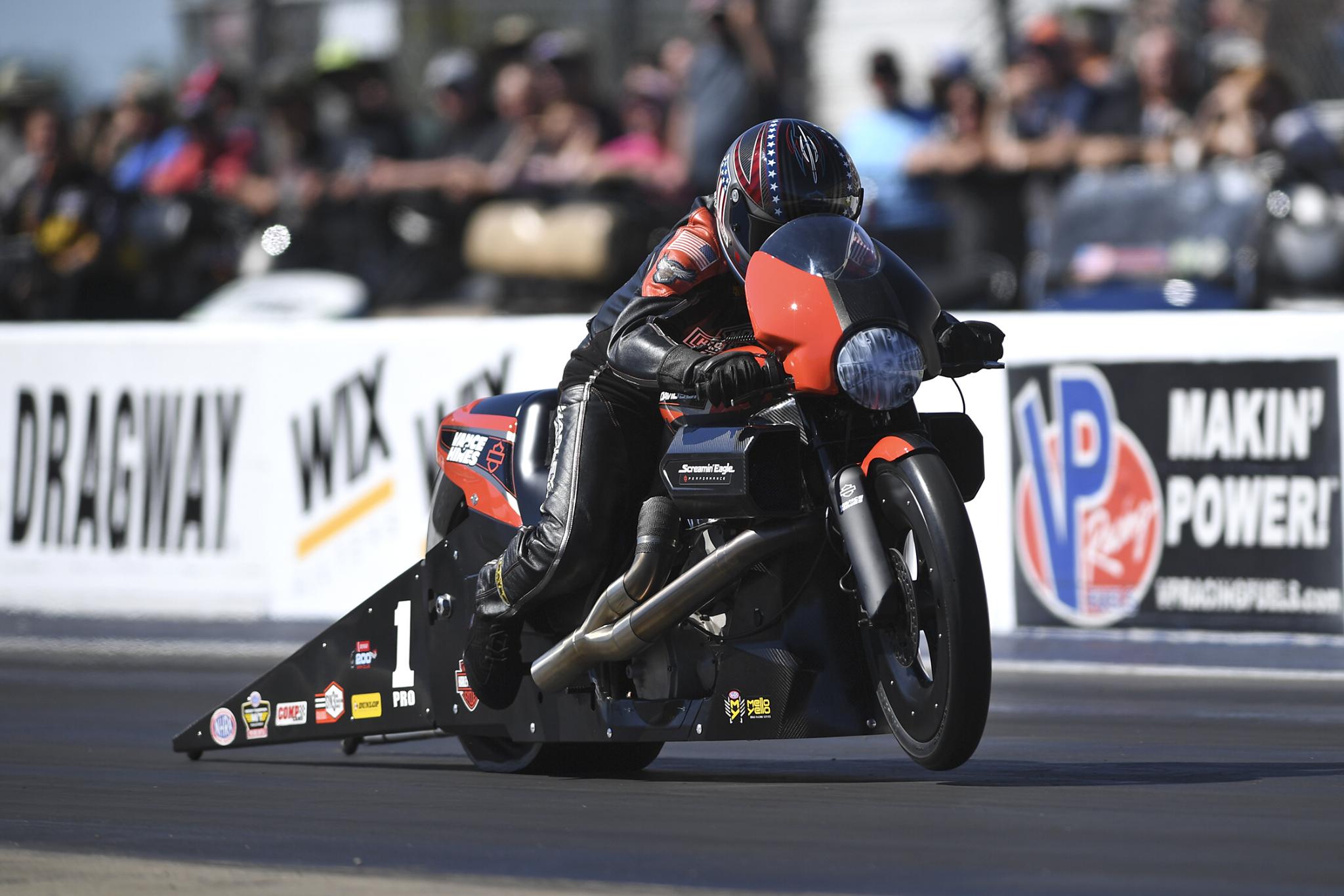 Eddie Krawiec
Eddie Krawiec held onto the No. 1 qualifier spot in Pro Stock Motorcycle by his fingernails – winning a tie-breaker over Chip Ellis to earn his second straight top qualifier and fourth of the season.
Krawiec's time of 6.806 at 197.83 mph had held up from Friday's session until the final session, where Ellis turned in an identical E.T. 6.806, but ended up with a slower top speed of 196.90 mph, allowing Krawiec to hold onto the top spot by the slimmest of margins.
Matt Smith took the third qualifying spot with a 6.836 at 194.91 mph, followed by Andrew Hines (6.842, 196.64) and Hector Arana , Jr. (6.849, 199.29).
Countdown point's leader L.E. Tonglet – who leads Krawiec by 47 points – qualified eighth.
[adinserter name="GOOGLE AD"]