Kurt Busch Wins Pole for first Charlotte ROVAL Race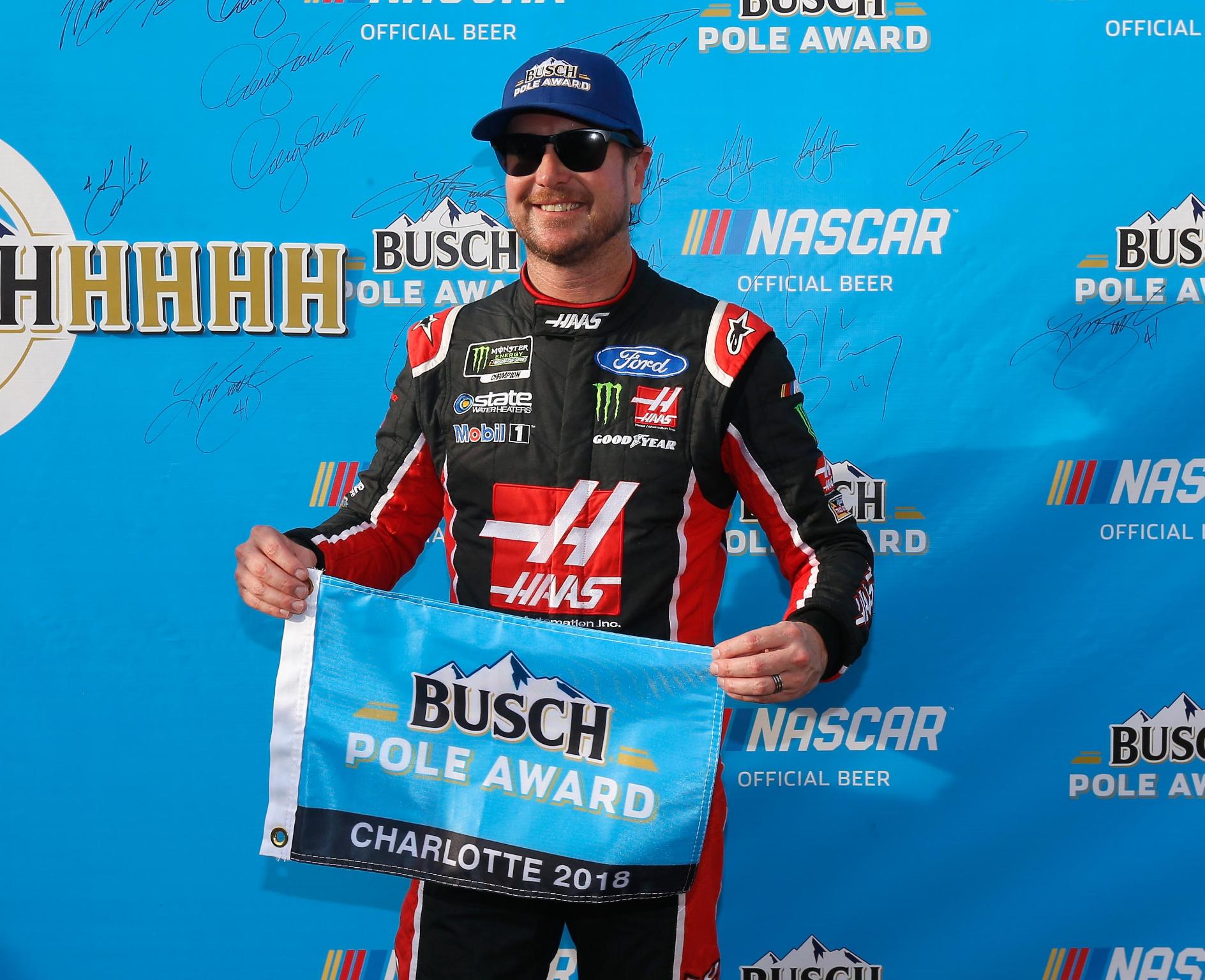 Kurt Busch scored his fourth pole of 2018
Jonathan Ferrey/Getty Images
While the Big Three watched the second and final round of qualifying at Charlotte Motor Speedway on the big screen with the fans, Kurt Busch took the pole with a lap time of 76.805 seconds (106. 868 MPH). Busch tamed a wild Charlotte road course that has chewed up and spit out both Cup Series and XFINITY cars all weekend long.
It's Busch's 26th career Cup Series pole and his fourth of 2018.
Road course ace AJ Allmendinger was second on the charts after pacing round 1 followed by teammates Alex Bowman and Chase Elliott in third and fourth, with Kyle Larson rounding out the top 5.
[adinserter name="GOOGLE AD"]With their backs against the wall in the playoffs, Jimmie Johnson and Clint Bowyer qualified sixth and seventh. Jamie McMurray was eighth, Ryan Blaney ninth and Chris Buescher 10th. Youngsters Daniel Hemric and Erik Jones completed the 12 drivers who made the second round.
Playoff drivers not making the second-round cut included Martin Truex Jr. (13th), Kyle Busch (14th), Joey Logano (15th), Kevin Harvick (19th), Austin Dillon (24th), Brad Keselowski (25th) and Denny Hamlin (27th). Hamlin will start at the back of the field as his team elected to go to a backup car after suffering damage in qualifying.
There are definite playoff implications—it's still largely unknown how difficult it will be to pass (and where the passing zones will be). Keselowski can breathe easy with his win at Las Vegas and Kyle Busch also has a pass thanks to his win at Richmond. Truex and Harvick will make it through on points, but for the drivers facing elimination, only seven points separate safety in 10th place and elimination in 13th. Austin Dillon has a 10-point cushion over Bowyer going in, but starts 24th, essentially erasing any advantage at the drop of the flag.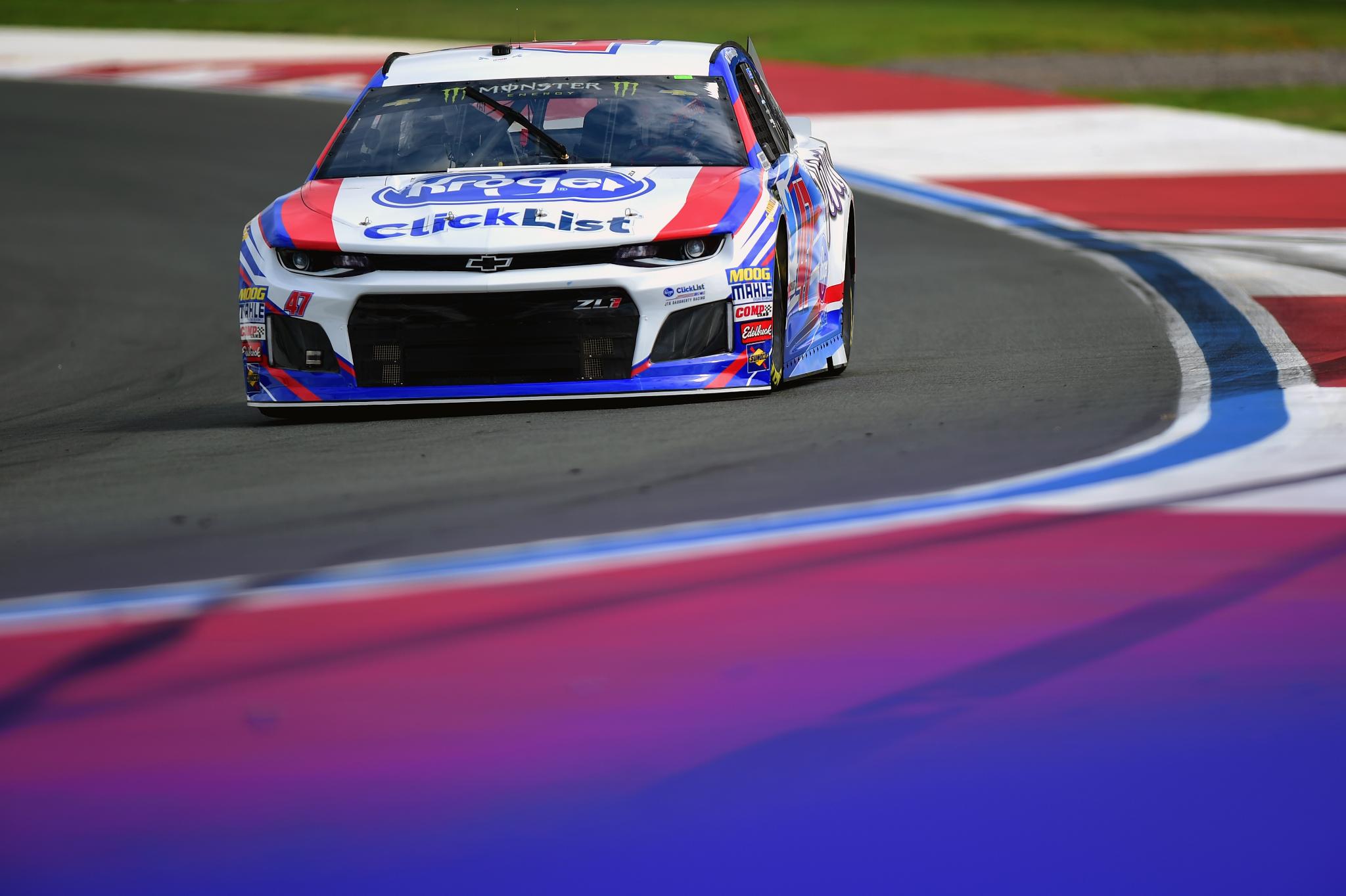 A.J. Allmendinger briefly held the pole before Kurt Busch booted him from the top spot
Jared C. Tilton/Getty Images
Both Busch and Allmendinger are moving on from their rides after the season, and this race is an opportunity for both to shine as they work on plans for 2019.
Allmendinger says there was no one area of the track where he lost speed. "(it was) all of it. I mean this is the way this place is. It's what makes it interesting and fun," Allmednigr said after the session. "I kind of look back like my Champ Car days it's a street course. Yeah, you can nitpick and say I could have got a little more here or there, but you could also be in the wall very easily. We weren't very good in practice, so Trent and all the boys went to work on this Kroger Clicklist Chevy. Got it way better than in practice because I was not very happy. That close, but good starting spot…Hell, I've got nothing to lose, I don't have a job, so we just go out there and hang it out."
"It's pretty special to get the pole at an inaugural event and to do it here at the Roval, I mean, there's so much going on, Busch said after his run. "There's so much that everybody has to manage, crew chief, lead engineer, myself, engine tuners, everybody chipped in on this 41 car the right way. We had a plan for the first two rounds and it paid off. I struggled this year qualifying at Watkins Glen and at Sonoma, so we came here with a plan and it worked. Some conventional wisdom and thinking played out with our pole run today, but thanks to the guys, Monster Energy, Haas Automation, and Ford. We're on the pole for the Roval."
RACE LINEUP
| | | | | | |
| --- | --- | --- | --- | --- | --- |
| Pos | # | Driver | Sponsor/Make | Lap | Speed |
| 1 | 41 | Kurt Busch (P) | Haas Automation/Monster Energy Ford | 76.805 | 106.868 |
| 2 | 47 | AJ Allmendinger | Kroger ClickList Chevrolet | 76.846 | 106.811 |
| 3 | 88 | Alex Bowman (P) | Axalta Chevrolet | 76.854 | 106.800 |
| 4 | 9 | Chase Elliott (P) | SunEnergy1 Chevrolet | 77.001 | 106.596 |
| 5 | 42 | Kyle Larson (P) | Clover/First Data Chevrolet | 77.017 | 106.574 |
| 6 | 48 | Jimmie Johnson (P) | Lowe's for Pros Chevrolet | 77.098 | 106.462 |
| 7 | 14 | Clint Bowyer (P) | Mobil 1/Advance Auto Parts Ford | 77.192 | 106.332 |
| 8 | 1 | Jamie McMurray | DC Solar Chevrolet | 77.358 | 106.104 |
| 9 | 12 | Ryan Blaney (P) | Menards/Pennzoil Ford | 77.493 | 105.919 |
| 10 | 37 | Chris Buescher | Maple Cheerios Chevrolet | 77.76 | 105.556 |
| 11 | 8 | Daniel Hemric(i) | Smokey Mountain Herbal Snuff Chevrolet | 77.796 | 105.507 |
| 12 | 20 | Erik Jones (P) | Reser's Toyota | 77.868 | 105.409 |
| 13 | 78 | Martin Truex Jr. (P) | Auto-Owners Insurance Toyota | 77.39 | 106.060 |
| 14 | 18 | Kyle Busch (P) | M&M's Toyota | 77.575 | 105.807 |
| 15 | 22 | Joey Logano (P) | Shell Pennzoil Ford | 77.589 | 105.788 |
| 16 | 6 | Trevor Bayne | AdvoCare Rehydrate Ford | 77.618 | 105.749 |
| 17 | 19 | Daniel Suarez | Lenox Toyota | 77.663 | 105.687 |
| 18 | 34 | Michael McDowell | K-LOVE Radio Ford | 77.668 | 105.681 |
| 19 | 4 | Kevin Harvick (P) | Jimmy John's New 9-Grain Wheat Sub Ford | 77.947 | 105.302 |
| 20 | 10 | Aric Almirola (P) | Smithfield Ford | 78.031 | 105.189 |
| 21 | 24 | William Byron # | Unifirst Chevrolet | 78.082 | 105.120 |
| 22 | 21 | Paul Menard | Motorcraft/Quick Lane Tire & Auto Center Ford | 78.101 | 105.095 |
| 23 | 17 | Ricky Stenhouse Jr. | SunnyD Ford | 78.258 | 104.884 |
| 24 | 3 | Austin Dillon (P) | Dow Chevrolet | 78.389 | 104.709 |
| 25 | 2 | Brad Keselowski (P) | Alliance Truck Parts Ford | 78.435 | 104.647 |
| 26 | 13 | Ty Dillon | GEICO Chevrolet | 78.455 | 104.620 |
| 27 | 11 | Denny Hamlin (P) | FedEx Freight Toyota | 78.561 | 104.479 |
| 28 | 32 | Matt DiBenedetto | Superior Logistics Services Inc. Ford | 78.657 | 104.352 |
| 29 | 31 | Ryan Newman | Grainger/American Red Cross Chevrolet | 78.665 | 104.341 |
| 30 | 38 | David Ragan | MDS Transport Ford | 78.898 | 104.033 |
| 31 | 15 | Justin Marks(i) | GoPro Motorplex/Pickers Vodka Chevrolet | 78.972 | 103.936 |
| 32 | 95 | Regan Smith | Procore Chevrolet | 79.267 | 103.549 |
| 33 | 72 | Cole Whitt | Rinnai Chevrolet | 79.489 | 103.260 |
| 34 | 43 | Bubba Wallace # | World Wide Technology Chevrolet | 79.91 | 102.716 |
| 35 | 7 | Ross Chastain(i) | SOKAL Media Group Chevrolet | 79.94 | 102.677 |
| 36 | 23 | JJ Yeley(i) | Adirondack Tree Surgeons Toyota | 80.444 | 102.034 |
| 37 | 96 | Jeffrey Earnhardt | iK9/Xtreme Concepts Toyota | 80.51 | 101.950 |
| 38 | 0 | Landon Cassill(i) | Dairi O Chevrolet | 81.196 | 101.089 |
| 39 | 51 | Stanton Barrett | Jacob Companies Ford | 81.871 | 100.255 |
| 40 | 66 | Timmy Hill(i) | Ternio Toyota | 82.022 | 100.071 |
[adinserter name="GOOGLE AD"]