Rossi beats Team Penske to win pole in Long Beach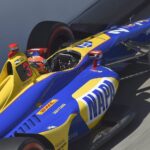 Alexander wins his 2nd career IndyCar pole in his young career
Alexander Rossi took the rest of the drivers to school on Saturday on the streets of Long Beach to win the pole for the 44th Toyota Grand Prix of Long Beach with a lap comfortably faster than everyone else.
All weekend long Rossi and his Honda have been fast and his lap of 1m06.553s was 3/10ths of a sec. faster than the former king of qualifying at Long Beach Will Power in the Penske Chevy.
Power's teammate Simon Pagenaud will start third.
Scott Dixon and Graham Rahal rounded out the top-5 with Honda power and Josef Newgarden will start 6th after brushing the wall, bending a toelink, and ruining his run in the Fast Six.
"I just ran out of talent momentarily," Newgarden said. "I probably got too greedy with too much slide on the entry (into the corner), so I just hit the wall, bent the toe (link) – and it was pretty bent – so I had to pit. I don't know that we would've gotten the pole; it would've been tight."
Scott Dixon won the Long Beach race in 2015 but has never sat on the pole in 12 tries at the track.
In Q2, a fuming Ryan Hunter-Reay was assessed a drive-through penalty for crossing the pit-exit blend line and missed out on a chance to get into the Firestone Fast Six
[adinserter name="GOOGLE AD"]"We were in the top 12 and had a car that was easily fast enough to advance," said Hunter-Reay. "We were leaving the pits on red tires and we did what I've always done here – which is put the right-side tires on the right side of the reflectors on the end of pit lane. From the vantage point in the car, you can't see any paint down or anything else, so that's what we've always gone on.
"They're saying there's an issue and I cut the end of the line and my timing beacon didn't register on their system, so they immediately penalized me with a drive through. Our data says that same beacon did trip the transponder, the timing beacon. We're at a loss for what actually happened. Beyond that, I feel none of this has anything to do with qualifying. [The rule] is put in place for racing purposes so a car on pit lane does not come out in front of a car on the racetrack – but there were no other cars in the vicinity. I'm very frustrated with the call and we're working to understand the discrepancy between our data and [INDYCAR's]."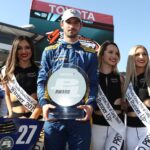 Rossi collects his pole award
Long Beach winner James Hinchcliffe (Schmidt Peterson), who is separated from rookie teammate Robert Wickens by St. Petersburg winner, Sebastien Bourdais, in the Dale Coyne Racing-Honda will start after Hunter-Reay.
Wickens bent a toelink brushing the wall in Turn 4 and missed the Fast Six.
The Toyota Grand Prix of Long Beach is hosting Indy cars for the 35th straight year. Sunday's 85-lap race airs live on NBCSN and the Advance Auto Parts INDYCAR Radio Network at 4 p.m. ET. It is the second of 17 races on the 2018 Verizon IndyCar Series schedule.
Quotes
JOSEF NEWGARDEN (No. 1 Verizon Team Penske Chevrolet, Verizon IndyCar Series points leader): (About hitting the wall in qualifying): "That's why I pitted, I bent the left rear suspension touching the wall. It was a mistake on my part, which is a shame. I think we had the pace there on the optimum set of (Firestone) tires that we were going to run. I think we had the pace to be up there with (Alexander) Rossi. I don't know if we would have gotten him (Rossi), but we would have been in the ballpark. So we never got to see that through, which is tough and makes our race a little harder starting from sixth. We have great speed in the Verizon car. I think Team Chevy has done a great job this weekend so we have the drivability that we are looking for, we should have good power to make this thing work on race day."

MATHEUS "MATT" LEIST (No. 4 ABC Supply AJ Foyt Racing Chevrolet): "Tough qualifying. We've been struggling a little bit with setup and myself as well because it's a new track for me, it's my first time here, and INDYCAR has a lot of great drivers. The car is very good. We just missed the top 12 by one position. I'm pretty happy. I'm confident that we will have a great car in race trim, and hopefully we'll have a good race tomorrow."
JAMES HINCHCLIFFE (No. 5 Arrow Electronics SPM Honda, 2017 Toyota Grand Prix of Long Beach winner): "Not a bad qualifying for us given where we were this morning. We rolled off the truck with not the strongest No. 5 Arrow Electronics Honda, but again, credit to the team. We worked on everything, we improved the position of the cars, we improved the balance; it was definitely a lot of work. This place is a very different circuit than St. Pete, so unfortunately, it wasn't just a direct copy setup-wise. Again, we were kind of out to lunch this morning, and really proud of the guys to get the car into a place where we could sneak into the top 10. We'll see what we can do tomorrow. It's a long race, and we've seen before how much things can change from qualifying to Sunday afternoon. We will put our heads down, put together a good race car, pray for great strategy and go from there."
ROBERT WICKENS (No. 6 Lucas Oil SPM Honda): "I pushed a little too hard, and I brushed the wall at the exit of Turn 4. I bent the rear toe link, so we had to bring it back in; it's a shame. When you're pushing on the limit, and trying to get into the Firestone Fast Six, you risk everything. We went a little bit too far in that one, but the Lucas Oil car was good enough to get into the Fast Six today, nevertheless it was a good turnaround from the guys considering where we came from in practice. The car felt much better than it has all weekend, so good job by the guys crunching the data, crunching the numbers to give us a better car here for this afternoon."
SCOTT DIXON (No. 9 PNC Bank Chip Ganassi Racing Honda): "It was good for us to make the top six. The car rolled off the truck really well and we worked on it through the first few sessions. We made some pretty hefty changes before qualifying and the car came back where we needed it. I was disappointed I made a bit of a mistake going into Turn 8 near the end and that cost us a shot at the front row I think. Overall, I'm happy with the result and know we can get the PNC Bank car to winner's circle from this spot."
ED JONES (No. 10 NTT DATA Chip Ganassi Racing Honda): "It was a little more difficult out there after the sports car race. I think the second lap was going to be my quickest, but I made a mistake so I had to go to my third and I dropped by a tenth. It is certainly frustrating. The guys did a great job after struggling a lot yesterday. This morning we were P10 and pretty good. I do still think we have a good NTT DATA car for the race tomorrow."
WILL POWER (No. 12 Verizon Team Penske Chevrolet): "It was good. I felt like we had a really good car. Got to the Firestone Fast Six like we needed to, and yeah, just were not fast enough basically to be on pole, but very happy to be on the front row. You know, we've kind of crept up all weekend and definitely made the car better and in a good window now. That was a lot of fun."
TONY KANAAN (No. 14 ABC Supply AJ Foyt Racing Chevrolet): "That's where we've been around all year long and that's where the goal was. I think this weekend we could have been a little bit better, but we had a few issues electronically that put us behind, and missing a session is never a good thing but it's racing. Problems happen and I'm glad it happened today and not tomorrow. But I'm pleased – I think it was a big improvement on the No 4 car as well so we're gonna go race." (About expectations for tomorrow): "It's always tough when the field is that close. It's going to be a fuel mileage race so we've got to talk about strategy here. Strategy is going to play a big role here – it always has, so we'll see.
GRAHAM RAHAL (No. 15 Total Honda): (About if he got everything out of the car): "Yeah, I think so. Obviously, you can always look back and say here or there maybe you had a tenth or two, but certainly…I didn't have speed to be anywhere near Alex (Rossi). But you know, overall, that first session I was just happy to advance. It was unbelievably slippery and pretty ugly in Group 1. You know, obviously improved quite a lot for Group 2, and then into Round 2 it was much better. But I'm really pleased with where we're at. I mean, if you look at St. Pete and how we were there, we were awful, and so that was kind of our only baseline to come here with, and obviously it's worked a lot better. Proud of everybody on the Total team, and we're going to put our heads down and try to go race with these two and a whole bunch of good guys tomorrow.
SEBASTIEN BOURDAIS (No. 18 Team SealMaster Honda): "I'm disappointed with Q2 (round 2 of qualifying) after the way Q1 went. We put ourselves in a hole in Q1. We got ourselves at the tail end of the queue and the car in front of us locked up going into turn one, so I had to abort that lap. It was not an easy run, but I still pulled it off on lap three and I really thought we were going to pretty good from there. Unfortunately, I didn't get the lap I wanted to achieve in Q2. I got a big wiggle in turn one. I'm not sure what happened, but that was the difference. We lost two, two and a half tenths on that lap and that was that. We missed Q3 by a tenth. It's a bummer, but it is what it is. We will keep digging and hope for a better outcome tomorrow."
ZACHARY CLAMAN DE MELO (No. 19 The Paysafe Car Honda): "It was a tough qualifying session today aboard the No. 19 Paysafe Car in Long Beach. We had an issue this morning that took away some valuable practice time and I think that hurt us heading into qualifying. It's not an easy track but I did the best I could under the circumstances. We'll get better for the race tomorrow and hope for the best."
JORDAN KING (No. 20 Ed Carpenter Racing Fuzzy's Vodka Chevrolet): "I was happy to get through the first session as obviously that's the first thing you've got to do. I didn't get a great lap in on the second session. I think maybe the crash I had earlier made me have to reset slightly, which didn't help. We should have been closer to the cusp, maybe not quite quick enough to get through. We should have definitely been better than 12th, 10th or 8th, that kind of region. Overall still a positive run, but from a personal performance I think there was more to be had."
SPENCER PIGOT (No. 21 Preferred Freezer Service Chevrolet): "We've made some really good changes to the car throughout the weekend, but this is a tough track. When it came time for qualifying, we really struggled with grip and when we put the red tires on, it just wasn't there for us. We will go back and look at everything and focus on getting better for tomorrow."
SIMON PAGENAUD (No. 22 DXC Technology Team Penske Chevrolet): "Pretty proud of everybody at Team Penske. We have such success with the previous aero kit, we have to rethink a little of what have been doing, but when you have success that changing method is very complicated. These (Team Penske) guys, they react so quick and we are already back in the fight. The car was really good. I think (Alexander) Rossi is reachable it's just that I am learning the car because it's just starting to feel really great, so I left some on the table. We are coming back."
CHARLIE KIMBALL (No. 23 Tresiba Chevrolet): "I'm really disappointed honestly, because we made such good progress this morning. I felt really good about the No. 23 Tresiba Chevrolet after this morning's session, but we just struggled to get any good lap times out of the tires and find any grip. We'll go back and figure out what it needs for the race and dial up the strategy. There's always something going on around here as far as yellows, strategies, and fuel, so I'm optimistic. Max (Chilton) did a really nice job in qualifying, so we'll go back and compare our data to see where we need to be for tomorrow."
ZACH VEACH (No. 26 Group One Thousand One Honda): "We missed advancing slightly today. I got into the wall on the blacks in the first run, so I think I was a little too cautious at the end when we shouldn't have been. The Andretti cars have been great, obviously Ryan (Hunter-Reay) and Alex (Rossi) are really liking what they have. I just need more time to figure it out. We were close to advancing in St. Pete and here, so hopefully in Barber we'll figure it out. But we have a race to focus on now, and we're looking forward to it."
ALEXANDER ROSSI (No. 27 NAPA AUTO PARTS Honda): "The team is doing a great job. Hats off to all of them, to Honda, to everyone who has put in so much effort. The big job is tomorrow so we have to execute that. I feel like we have given up two potential wins, so we are trying not to do that again tomorrow. But, the team definitely executed some NAPA Know How today and we are really happy to start from the best spot tomorrow. Obviously you go out every single session and believe that you have the best car and the best opportunity to do it. We have been so strong, we were strong here last year. The NAPA AUTO PARTS Honda has been so fast and I'm looking forward to leading the field tomorrow."
RYAN HUNTER-REAY (No. 28 DHL Honda): "The DHL guys did a great job with the car and they deserve better. We had a front row car here, and we're starting seventh. The drive through penalty in qualifying isn't something I really understand, and once we got issued that we didn't have time to warm up the tires and set a new fast lap. What we do is, we leave with a certain amount of time to get exactly the two or three laps we need. The tires are set to a pressure timed to those number of laps, so when you get a drive-through like that your [tire temperatures] aren't up yet, and you can't get up to speed in time."
TAKUMA SATO (No. 30 Mi-Jack / Panasonic Honda): "Qualifying was disappointing. On the first lap, I was kind of held up in traffic and never got the temperature in the tires. Then on the second lap there was another local yellow flag in Turn 1. After that I caught up to Marco (Andretti) and was behind him the entire lap, so I couldn't go faster. That was it. It was very disappointing. Hopefully we have a strong race car so we can try to go through the field."
KYLE KAISER (No. 32 Juncos Racing Chevrolet): "It was an unfortunate early end to the qualifying session today. I pushed the brake zone too hard going into Turn 9 and that caused the car to push wide and make contact with the wall. We made solid progress to the car from yesterday and I'm still confident we'll have a great car for the race. I feel terrible for the team, but I'm grateful and confident we'll have the car ready to race tomorrow."
MAX CHILTON (No. 59 Gallagher Chevrolet): "Progress has definitely been made. We had traffic and the increase in temperature made the car balance pretty challenging. I feel like we made a huge step forward and I was able to get the most out of what we had apart from the traffic. It's really good for myself and the whole team to see some progression being made and hopefully we'll be able to carry that into the race tomorrow with the No. 59 Gallagher Chevrolet."
GABBY CHAVES (No. 88 Harding Group Chevrolet): "It looked like rush hour traffic out there for us unfortunately. There were a lot of cars not following the rules as they should be and putting other cars behind them, so it was unfortunate we got stuck. We only got our one time lap when we were trying to get two or three and that really cost a lot. I don't know where we would have ideally ended up, but it was not 19th or 20th, we were better than that today. So it's just unfortunate, we'll keep working and move up in the race."
MARCO ANDRETTI (No. 98 U.S. Concrete / Curb Honda): "I made a mistake pushing too hard into (Turn 1) and ended up in the runoff. Once we flat spotted the tires, we didn't really have hopes of a faster lap. It's on me and that is going to make it hard to sleep tonight. We were riddled with an issue yesterday and the whole crew worked really hard last night to get to the bottom of it and correct it. We kind of started from scratch this morning and I think we headed in the right direction. I think the U.S. Concrete / Curb car had the pace to advance. Starting 20th doesn't show our true pace, or the true talents of the No. 98 team."
Lineup
Pos
Car
Driver Name
Engine
Time
Speed
Session

1

27

Rossi, Alexander

Honda

01:06.5528

106.454

Round 3 / Firestone Fast Six

2

12

Power, Will

Chevy

01:06.9054

105.893

Round 3 / Firestone Fast Six

3

22

Pagenaud, Simon

Chevy

01:06.9107

105.884

Round 3 / Firestone Fast Six

4

9

Dixon, Scott

Honda

01:07.0483

105.667

Round 3 / Firestone Fast Six

5

15

Rahal, Graham

Honda

01:07.1275

105.542

Round 3 / Firestone Fast Six

6

1

Newgarden, Josef

Chevy

01:07.1922

105.441

Round 3 / Firestone Fast Six

7

28

Hunter-Reay, Ryan

Honda

01:07.1415

105.520

Elimination Round 2 / Top 12

8

5

Hinchcliffe, James

Honda

01:07.1899

105.444

Elimination Round 2 / Top 12

9

18

Bourdais, Sebastien

Honda

01:07.1943

105.438

Elimination Round 2 / Top 12

10

6

Wickens, Robert (R)

Honda

01:07.2289

105.383

Elimination Round 2 / Top 12

11

14

Kanaan, Tony

Chevy

01:07.3478

105.197

Elimination Round 2 / Top 12

12

20

King, Jordan (R)

Chevy

01:07.6427

104.739

Elimination Round 2 / Top 12

13

10

Jones, Ed

Honda

01:08.3844

103.603

Elimination Round 1 / Group 1

14

4

Leist, Matheus (R)

Chevy

01:08.1622

103.940

Elimination Round 1 / Group 2

15

59

Chilton, Max

Chevy

01:08.7167

103.102

Elimination Round 1 / Group 1

16

26

Veach, Zach (R)

Honda

01:08.1763

103.919

Elimination Round 1 / Group 2

17

60

Harvey, Jack (R)

Honda

01:08.8207

102.946

Elimination Round 1 / Group 1

18

21

Pigot, Spencer

Chevy

01:08.2739

103.770

Elimination Round 1 / Group 2

19

88

Chaves, Gabby

Chevy

01:08.8623

102.884

Elimination Round 1 / Group 1

20

98

Andretti, Marco

Honda

01:08.5294

103.383

Elimination Round 1 / Group 2

21

19

Claman De Melo, Zachary

Honda

01:09.1429

102.466

Elimination Round 1 / Group 1

22

30

Sato, Takuma

Honda

01:08.6340

103.226

Elimination Round 1 / Group 2

23

23

Kimball, Charlie

Chevy

01:09.7481

101.577

Elimination Round 1 / Group 1

24

32

Kaiser, Kyle (R)

Chevy

No Time

No Speed

Elimination Round 1 / Group

2