Preece scores Xfinity win, $100,000 bonus at Bristol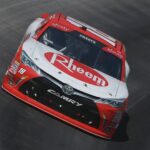 Ryan Preece
Sean Gardner/Getty Images
Ryan Preece took the lead from Joe Gibbs Racing teammate Brandon Jones on the final restart of Saturday's Fitzgerald Glider Kits 300 for the NASCAR Xfinity Series, and drove away to score the victory at Bristol Motor Speedway.
It marks his second career series victory, as he scored his first win last year at Iowa, and his first at Bristol in three starts, although he can boast a NASCAR Whelen Modified Tour victory at the speedway in 2015.
Preece said winning the bonus felt "really good."
"I don't think you can say winning $100,000 doesn't feel good," said Preece. "I know what it's going to do for me and my life and I can officially say that I'm going to be paid off with everything I risked last year and this is a big day for me. One thing that I want to point out to everyone is this guy (Eric Phillips, crew chief) right here gave me a real, real great set of match tires there at the end and they came through for me."
Jones had dominated the final segment of the race after taking the lead on a lap 193 restart. When the caution came out for a blown tire by Shane Lee with 19 laps to go, Jones' Joe Gibbs Racing team made the call to take two tires, while Preece and the rest of the leaders took four tires.
[adinserter name="GOOGLE AD"]When the green flag flew again with nine laps to go, Preece and Lee battled for a lap, with Preece finally taking the lead coming to eight laps to go.
From there, Preece drove away to the win.
"To be honest with you, when they said 10 (laps) to go, I asked to when," said Preece, who competes part time in the Xfinity Series while still running the bulk of the NASCAR Whelen Modified Tour . "It went by so quick that I thought there was still 60 or so to go. I didn't think it was that quick. I wasn't thinking about the $100,000, I knew we'd be in good shape. I tell everybody this and I mean it, I come here to win races. I don't come to finish second. Winning $100,000 was a big deal to me, but winning that UTV and winning that sword and to be able to say that I won at Bristol in a modified and an Xfinity car, that's a big deal to me. That would mean just as much."
For Jones, who hails from Atlanta, Georgia, it was a near miss. He led 106 laps, the most of his Xfinity Series career, and appeared to have the win in hand before the final caution flag flew. He would end up in sixth at the end.
"Can't say enough about the guys that support us the most and we are just so close right now," Jones said." It breaks my heart just to see that, but we had a gamble right there at the end. We had to take the two tires to try to see what we could do. Just too much wheel-spinning on the restart to make anything of it."
Justin Allgaier finished in second, coming back from several set-backs on the day, giving him his fifth top 10 of the 2018 season. Dash 4 Cash driver Daniel Hemic come home in third, followed by series points leader Elliott Sadler in fourth and Spencer Gallagher in fifth.
Jones, Tyler Reddick, Dash 4 Cash driver Cole Custer, Ross Chastain and Ryan Truex rounded out the top ten.
The fourth Dash 4 Cash eligible driver, Christopher Bell, was caught up in a hard crash with Vinnie Miller and Cody Ware on lap 140. No one was injured, but Bell and Miller's days were over.
"I don't know, that's the second time this weekend that I've crashed from guys going seconds off the pace," said Bell. "Can't slow down whenever they spin out and it's frustrating. We had a really fast GameStop Camry and I don't know, just trying to get the top in pretty much all race long. That was our worst run of the day handling-wise and we were still up there. Unfortunate."
The race was slowed 12 times by caution for 93 laps. It was also stopped once under red to allow for clean-up from the Miller-Bell crash.
NASCAR Xfinity Series
Bristol Motor Speedway – Bristol, TN
Fitzgerald Glider Kits 300 – April 14, 2018
1. (7) Ryan Preece, Toyota, 300.
2. (2) Justin Allgaier, Chevrolet, 300.
3. (4) Daniel Hemric, Chevrolet, 300.
4. (13) Elliott Sadler, Chevrolet, 300.
5. (9) Spencer Gallagher, Chevrolet, 300.
6. (6) Brandon Jones, Toyota, 300.
7. (25) Tyler Reddick #, Chevrolet, 300.
8. (1) Cole Custer, Ford, 300.
9. (15) Ross Chastain, Chevrolet, 300.
10. (21) Ryan Truex, Chevrolet, 300.
11. (16) Alex Labbe #, Chevrolet, 300.
12. (10) Austin Cindric #, Ford, 300.
13. (5) John Hunter Nemechek, Chevrolet, 299.
14. (8) Shane Lee, Chevrolet, 299.
15. (23) Ryan Sieg, Chevrolet, 299.
16. (28) Joey Gase, Chevrolet, 299.
17. (35) Garrett Smithley, Chevrolet, 298.
18. (12) Ryan Reed, Ford, 298.
19. (30) Joe Nemechek(i), Chevrolet, 298.
20. (26) B.J. McLeod, Chevrolet, 298.
21. (18) Michael Annett, Chevrolet, 297.
22. (32) Josh Williams, Chevrolet, 297.
23. (22) Chase Briscoe, Ford, 295.
24. (40) David Starr, Chevrolet, 295.
25. (37) Spencer Boyd #, Chevrolet, 295.
26. (27) Tommy Joe Martins, Chevrolet, 293.
27. (31) Timmy Hill, Dodge, Brakes, 257.
28. (38) Stephen Leicht, Toyota, Brakes, 212.
29. (3) Christopher Bell #, Toyota, Accident, 140.
30. (39) Cody Ware(i), Dodge, Accident, 140.
31. (33) Dylan Lupton, Ford, Accident, 133.
32. (36) Josh Bilicki #, Toyota, Overheating, 121.
33. (34) Vinnie Miller #, Chevrolet, Accident, 105.
34. (14) Ty Majeski, Ford, Accident, 98.
35. (11) Matt Tifft, Chevrolet, Accident, 66.
36. (29) Chad Finchum #, Toyota, Engine, 48.
37. (20) J.J. Yeley, Chevrolet, Brakes, 47.
38. (17) Kaz Grala #, Ford, Accident, 26.
39. (24) Jeff Green, Chevrolet, Brakes, 25.
40. (19) Jeremy Clements, Chevrolet, Accident, 4.
Average Speed of Race Winner: 67.857 mph.
Time of Race: 02 Hrs, 21 Mins, 57 Secs. Margin of Victory: Caution.
Caution Flags: 12 for 93 laps.
Lead Changes: 13 among 8 drivers.
Lap Leaders: C. Custer 0; J. Allgaier 1-47; C. Custer 48; D. Hemric 49-55; C. Bell # 56-90; A. Cindric # 91; R. Preece 92-109; D. Hemric 110-163; R. Preece 164-173; C. Briscoe 174-183; B. Jones 184-285; R. Preece 286; B. Jones 287-290; R. Preece 291-300.
Leaders Summary: (Driver, Times Lead, Laps Led) B. Jones 2 times for 106 laps; D. Hemric 2 times for 61 laps; J. Allgaier 1 time for 47 laps; R. Preece 4 times for 39 laps; C. Bell # 1 time for 35 laps; C. Briscoe 1 time for 10 laps; A. Cindric # 1 time for 1 lap; C. Custer 1 time for 1 lap.
Stage #1 Top Ten: 20,21,00,18,22,42,3,16,11,7