Vettel nips Raikkonen for all-Ferrari front row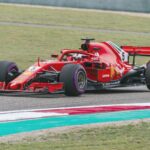 Sebastian Vettel charges to another pole
Just one week after the Bahrain lock-out, Scuderia Ferrari once again qualified both cars on the front row as Sebastian Vettel beat Kimi Raikkonen by a mere 0.087 seconds in the qualifying session for the 2018 Chinese Grand Prix. Vettel's pole was his 52nd in F1, his fourth in China, and Ferrari's first in Shanghai since 2004 – the inaugural event.
Mercedes' Valtteri Bottas and Lewis Hamilton were off the pace in third and fourth.
Hamilton was outqualified by Bottas for the second race in a row
It ends Mercedes' stranglehold on pole position at Shanghai, having taken P1 in each of the last six years. It was also Ferrari's second successive front row lock-out.
The last time they achieved that feat was in 2006 at the United States and French Grands Prix, which incidentally were also Michael Schumacher's last two pole positions.
Vettel and Raikkonen reinforced Ferrari's dominant form in final practice by setting the pace in Q1, with Vettel a full 0.750s quicker than the leading Mercedes of Bottas in third.
Reigning world champion Hamilton, having led the way on Friday, was just over a second off the ultimate pace in sixth, as the cooler conditions in Shanghai on Saturday appeared to hamper Mercedes.
[adinserter name="GOOGLE AD"]Red Bull did a tremendous job changing Daniel Ricciardo's engine, after a suspected turbo failure in FP3, to get him out with three minutes to go in the session. The Australian had just one run and despite going wide at the hairpin, he did just enough to scrape through to Q2, two places above the drop zone.
Ferrari and Mercedes opted to do their first runs in Q2 on the soft tire, as they considered their strategy options for the race.
The Prancing Horse replicated their advantage, with Raikkonen and Vettel setting an impressive pace on the more durable rubber.
Mercedes could not respond and though both Bottas and Hamilton went quicker on a second run on the same compound, they remained four- and six-tenths respectively off the ultimate pace.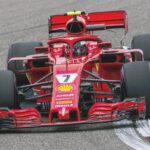 Raikkonen to start 2nd for third time this year
Hamilton and Bottas headed back out on another set of soft tires while Ferrari opted for the ultrasofts. This time, the Mercedes duo found more performance with Hamilton and Bottas going first and second.
Raikkonen and Vettel were both on course to go quicker, but they aborted their laps, meaning the top four drivers will start Sunday's race on the softs.
Raikkonen took first blood in Q3, setting the fastest time in all three sectors, ahead of Vettel, with Bottas once again the quickest Mercedes, albeit 0.425s off the pace, with Hamilton a fraction back in fourth.
On the second runs, Bottas improved but stayed third while Hamilton aborted his lap after a mistake at the hairpin leaving the Ferraris to battle it out for pole.
Raikkonen blitzed the first two sectors but Vettel was just 0.098s adrift and when the Iceman lost time in the final sector, his team mate made no mistake to snatch pole position by just 0.087s and set a new track record.
"The car was amazing," said Vettel. "it just kept getting better. The first lap I had some mistakes – I lost the rear at Turn 3, and then at 6 again. So I was a bit beaten up, but I knew if I got a tidy lap and bit of a margin I could push."
Max Verstappen was best of the rest in fifth, ahead of Red Bull team mate Ricciardo, with Nico Hulkenberg to start seventh for the third time this season in the Renault.
Quotes
Sebastian Vettel
"It's been a great result and I am really happy for the team. Today the car was amazing and it was great fighting for the front row with both cars on our own. It was very windy and not easy to get the right feeling. However, when the car is quick and works, you get a lot of confidence and that helps. We didn't expect to be so strong compared to our competition. We made some small changes today on our car, but it was pretty good yesterday already. I made some mistakes during my first lap in turn three and six, where I had oversteer. The tires here are very sensitive, so I knew that if I kept it clean, then the final part of the lap would be better. I didn't know what the others were doing, but I was quite sure about getting the pole because I think I was one of the last cars and so could profit from track evolution. Tomorrow the weather should be sunny, which makes the asphalt hotter. We'll see how it works, but I think we'll be very close.
Kimi Raikkonen
We have been pretty happy with the way things have been so far this weekend. Qualifying today was pretty close; we had two good laps, but unfortunately I lost some speed in the last sector and couldn't improve. Obviously I wanted more, but tomorrow is another day. We 'll start the race with the Soft tires and our rivals start with the same compound: that will be slightly different compared to the other cars and I think it will be better like this. We did what we think is the best for us and is supposed to give us the best result in the end. Our aim is to win, first of all we need to do a good job tomorrow and take the most out of it. I think we have been ok in all the races so far; we have been extracting more out of the car and learning more about it. We have been pretty consistent and happy with things, obviously we need to improve here and there but that's a normal and never ending process.
Valtteri Bottas
We came here thinking we'd be fighting for pole position but unfortunately that was out of reach. It was a pretty straightforward qualifying and it felt like I got everything out of the car. Maybe we didn't get the tires absolutely perfect for the lap but I don't think it would have been enough for us to beat the Ferraris. That's particularly disappointing because the gap to them is quite big. We definitely have work to do but tomorrow is a different day. Today it was really windy and cold, tomorrow it should be nice and sunny. We've been looking better on the harder compounds and we will start the race on the Soft, so maybe we can use that to our advantage. It's a long race ahead and, as we saw last weekend, it will be close. On paper, this track is easier for overtaking than Bahrain, so hopefully tomorrow we can make up for what we lost today.
Lewis Hamilton
It's been a difficult day. We started the weekend positively in practice, but the car went away from us today, the pace just wasn't there. Ferrari have definitely improved over the weekend – maybe they didn't quite show their true pace yesterday – but today they were rapid. We were half a second behind them in qualifying, which is why I boxed on my final lap because I knew I couldn't match their pace. It's not going to be easy to beat Kimi and Sebastian tomorrow, they're the quickest on the straights too, so overtaking will be tough. We start fourth and I'm gonna have to fight from there. It should be hotter tomorrow, which could turn everything on its head. We'll keep our heads up and keep pushing. The fans here in China have been amazing, I hope they know I'll do everything to fight for them tomorrow.
Toto Wolff
It has been a complex weekend for us so far – on some laps, we have hit the window of tire performance just right like on the final run in Q2; but more often it has felt like we were chasing that window, especially on the UltraSoft tire where we have been lacking overall grip. On the other hand, Ferrari have been strong in all conditions and on all tires and this afternoon's qualifying results reflect as much. We can see a number of areas of difference on the GPS traces and we need to analyze those carefully. We expect the track temperatures to be much warmer tomorrow and we hope that we have anticipated that change in the right way with the set-up. Ferrari and ourselves will start of the soft tires, which is a strategic variation to the cars right behind us, and should provide one more ingredient for an interesting race.
Andrew Shovlin
Conditions today have been even cooler than yesterday and we really struggled to get the tires to work well. We saw this more or less straight away in FP3: both drivers were reporting that the grip wasn't there and it was taking us multiple laps to get down to a time. Conversely it seemed to come easily for some other teams. We made some changes to improve the situation for qualifying however, we always seemed to be a step behind Ferrari and we didn't have an answer for their performance in the final session. We were able to get through Q2 with the more durable soft tire and, although this wasn't initially as easy as we would have hoped, it does mean that we can challenge Ferrari on the same strategy. For tomorrow, we're expecting clear skies, sunshine and a different situation regarding the track and tires. This is a circuit where you can overtake and so long as we can stay close to Ferrari, there are plenty of ways that we can put them under pressure. We're also going to have to keep our eyes on Red Bull who looked very consistent on Friday on the UltraSoft and will be able to take risks on strategy if there is no threat from behind. As always, our goal is to win and we will be doing everything we can to make that happen.
MAX VERSTAPPEN
"We achieved a good car balance and feeling today so I don't think we could have done too much more, I would say fifth on the grid is quite realistic and where we should have been. I don't feel like we got the maximum out of the engine in Q3, I think there would have been some time to find if we had. We are losing time on both of the straights which is hard to make up in other areas of the track, we knew the corners would be important but it was not enough to make up the difference. In general it was not a bad Qualifying, Ferrari were very fast but we were not that far off Mercedes at the end. In the race they can't use these engine modes so, based on the long run pace, we can be a lot closer to the guys in front. We have a different strategy, it may be a one stop or possibly a two stop race and depending on temperatures and degradation things can change. Hopefully we'll have a clean start and then we'll have to see if we can get up the field and secure a podium."
DANIEL RICCIARDO
"I'm happy to have got out in Qualifying and I want to thank the mechanics for doing such a great job. I think they have broken their own record for an engine change several times and they did it again today. It got to 2pm and the guys were saying get ready, but we didn't think it was going to happen. I didn't expect to get out but I was ready to go and excited when I did. What happened this morning wasn't the mechanics' fault but they had all the pressure to put the new engine in the car in time and they did very well. In the end it's relatively close, we're at the tail end of the top six which isn't ideal, but I think with all things considered it wasn't a bad afternoon and I'm just thankful that the team were able to get me out there. I think they all start on softs in front of us tomorrow and from what I understand myself and Max will start on ultrasofts, so strategy will definitely play a big part and hopefully it can help get us up on the podium."
CHRISTIAN HORNER
"It was a fantastic effort from the crew on car three, assisted when possible by the car 33 crew to get an engine change turned around in such a short period of time. There was a significant amount of work to get Daniel out for Q1 and everyone in the garage did a brilliant job. Progressing through to Q3 in fifth and sixth is about where we are pace wise on this track in Qualifying trim, but hopefully we can be in a more competitive shape tomorrow. We have a different tire to start the race on so hopefully that will make things interesting."
Results
| | | | | | | | |
| --- | --- | --- | --- | --- | --- | --- | --- |
| POS | NO | DRIVER | CAR | Q1 | Q2 | Q3 | LAPS |
| 1 | 5 | Sebastian Vettel | FERRARI | 1:32.171 | 1:32.385 | 1:31.095 | 15 |
| 2 | 7 | Kimi Räikkönen | FERRARI | 1:32.474 | 1:32.286 | 1:31.182 | 17 |
| 3 | 77 | Valtteri Bottas | MERCEDES | 1:32.921 | 1:32.063 | 1:31.625 | 20 |
| 4 | 44 | Lewis Hamilton | MERCEDES | 1:33.283 | 1:31.914 | 1:31.675 | 17 |
| 5 | 33 | Max Verstappen | RED BULL RACING | 1:32.932 | 1:32.809 | 1:31.796 | 12 |
| 6 | 3 | Daniel Ricciardo | RED BULL RACING | 1:33.877 | 1:32.688 | 1:31.948 | 12 |
| 7 | 27 | Nico Hulkenberg | RENAULT | 1:33.545 | 1:32.494 | 1:32.532 | 15 |
| 8 | 11 | Sergio Perez | FORCE INDIA MERCEDES | 1:33.464 | 1:32.931 | 1:32.758 | 13 |
| 9 | 55 | Carlos Sainz | RENAULT | 1:33.315 | 1:32.970 | 1:32.819 | 18 |
| 10 | 8 | Romain Grosjean | HAAS FERRARI | 1:33.238 | 1:32.524 | 1:32.855 | 19 |
| 11 | 20 | Kevin Magnussen | HAAS FERRARI | 1:33.359 | 1:32.986 | – | 13 |
| 12 | 31 | Esteban Ocon | FORCE INDIA MERCEDES | 1:33.585 | 1:33.057 | – | 9 |
| 13 | 14 | Fernando Alonso | MCLAREN RENAULT | 1:33.428 | 1:33.232 | – | 11 |
| 14 | 2 | Stoffel Vandoorne | MCLAREN RENAULT | 1:33.824 | 1:33.505 | – | 11 |
| 15 | 28 | Brendon Hartley | TORO ROSSO HONDA | 1:34.013 | 1:33.795 | – | 15 |
| 16 | 35 | Sergey Sirotkin | WILLIAMS MERCEDES | 1:34.062 | – | – | 7 |
| 17 | 10 | Pierre Gasly | TORO ROSSO HONDA | 1:34.101 | – | – | 9 |
| 18 | 18 | Lance Stroll | WILLIAMS MERCEDES | 1:34.285 | – | – | 7 |
| 19 | 16 | Charles Leclerc | SAUBER FERRARI | 1:34.454 | – | – | 9 |
| 20 | 9 | Marcus Ericsson | SAUBER FERRARI | 1:34.914 | – | — | 9 |