Busch Brothers to start 1-2 in Bristol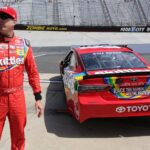 Kyle Busch wins pole
Kyle Busch secured the Busch Pole Award for the Monster Energy NASCAR Cup Series at Bristol Motor Speedway, leading a brotherly sweep in Friday's qualifying.
Kyle Busch set the pace at 128.822 mph around the .533-mile track in the Joe Gibbs Racing No. 18 Toyota. His second Busch Pole of the season was his second at Bristol and the 29th of his premier-series career.
Kurt Busch turned in the second-fastest lap at 128.804 mph, just .002 seconds behind his younger brother's speed. He'll share the front row for the start of Sunday's Food City 500 (2 p.m. ET, FOX, PRN, SiriusXM).
Brad Keselowski was third-fastest with Ricky Stenhouse Jr. and Ryan Blaney rounding out the top five.
A handful of top names missed out on advancing past the first round of qualifying. Among them, Denny Hamlin (who will start 25th), defending series champion Martin Truex Jr. (26th), Ryan Newman (30th), and Jamie McMurray (31st).
Kevin Harvick, a two-time Bristol winner, will start last in the 39-car field. His Stewart-Haas Racing team unloaded a reserve No. 4 Ford after Harvick crashed in Friday's opening practice. The team opted not to make a qualifying attempt in an untested car.
KYLE BUSCH, No. 18 Skittles Toyota Camry, Joe Gibbs Racing
Starting Position: 1st
What is it like to start alongside your brother?
[adinserter name="GOOGLE AD"]"He always told everybody, 'If you think I'm good, wait for my younger brother,' so I'm glad I'm living up to those expectations. Just a little bit, but we're doing alright here this weekend. I have to give it to my guys, they do an awesome job and the preparation and everything that we've got going on right now is great for our Skittles Camry. Can't say enough about Joe Gibbs Racing and TRD Costa Mesa – all those guys with the motors and everything too. It's nice to come out here and grab a front row starting spot, but I have to be careful and mindful to have a good race car because every time I've ever started on the front row, I've not finished up front and any time I've ever started in the back I've finished up front. We're trying to change things around this time this weekend and I know I have a fast race car to do that with. Just working at it and hopefully find some more things tomorrow that will help us for Sunday."
How unpredictable is the surface of the race track here at Bristol?
"It never is, it changes the aspect of the race track every time you get out there and every time you get on it – it's continually changing and I think that shows well for driver that can adapt and ever since they put that back down, it's brought the bottom back into play and for me, that's always been better for me. I think I finally started to figure out the top, but now we have the bottom back so I'm like, 'Yes, we're back.' It's just kind of working for us. You have to be mindful of that and it will just be interesting to see whether or not the top will come in during practice at all tomorrow. It's pretty warm outside so maybe the rubber will transfer down and get down faster than we expect it to and we'll be practicing up there. If not, we'll just have to play games with our computer and figure out what's going to be best on Sunday."
Take us through your pole-winning today.
"Not real sure we were going to get it there, but our guys did a great job here today bringing a fast Skittles Camry to the track and just making some good adjustments there to it through, through the qualifying rounds and making sure that we were staying on top of things and having a – continuing to have a good piece. We got a little bit tight there in that final round, but was able to still maintain a quick enough speed in order to beat Kurt (Busch) out. He seemed to say that he missed the corner a little bit more maybe than I did, but you know all in all it was a great day for the Busch brothers to be up front and looking forward to starting the race on Sunday."
How cool is it to be in equal equipment to your brother?
"It's definitely good to see those guys having good equipment although it's not good to see those guys having good equipment. Obviously just – they're a force to be reckon with. Each and every week they've certainly upped their game and gotten a lot better and those are kind of the guys that we feel like each and every week we've got to keep our eye on them and sometimes who we're chasing and sometimes who are chasee. It's certainly fun to be 1-2 with the bro and you know hoping that the rest of (Stewart-Haas Racing) SHR doesn't keep catching up."
What happened in the second round when Kurt Busch was quickest?
"I was behind the 47 (Darrell Wallace Jr.) and so just kind of got a little bit – things just kind of got a little bit congested there for a little bit you know, the first lap and then the second lap we were kind of waiting on a couple guys out in front of us and I got a little bit too close to the 47, so I actually felt like that might have hindered my speed just a little bit of being able to get through the corner as good as I needed to get through the corner. With making some adjustments to the car to continue to make it freer during the rounds, we still didn't do it enough."
How do you characterize the on-track battles with your brother and how much fun is it to have a day like today when you can go back and forth with him?
"Yeah, it was you know tough going years ago obviously for a few times, but lately I guess we've been racing each other a little bit better. Like last week, you know, we ran each other hard, we ran each other clean and that was for a stage point. In Sonoma last year, I got out front first and was just kind of hanging on and hoping that I could continue to hold him off, where he was probably a better car and had faster car overall that weekend, but we did our job and so it was the first time we've ever finished 1-2 and it came at a road course. Kind of ironic with that, but overall just keep trying to make sure that we have those good battles and make sure that they're clean battles and not ugly ones."
Does he push you to make you better?
"Everybody pushes you to make you better. I don't think you need your brother to push you to make you better. I think anybody that's good at any race track is going to push you to make you better. You look at what Kyle Larson does here around the top sometimes, that pushes you to make you better and what (Erik) Jones did here last time running around the bottom, that pushes you to be better. You've kind of got two things pushing you to make sure that you stay on top of your game at this place, but in particular anywhere else. Denny Hamlin obviously would push you to be better at Martinsville and the list goes on. Jimmie Johnson at Dover, so you've just got to keep fighting and keep pushing and keep trying to learn off of your competitors and what they kind of do and making sure that you can continue to improve."
Can you talk about running the Late Model race at Berlin Raceway in June?
"We've got the Money in the Bank 150 coming up at Berlin Raceway the Monday after the Michigan Cup race. Looking forward to returning there again. I ran there in that race a couple years ago, it's not the Rowdy 251 like it was a couple years ago, that race actually happens a little later in the year. They still run 251 laps, but the race I'm running is 150 lapper so it's a bit shorter. Looking forward to it. The guys up there at Berlin Raceway are awesome to work with and they're fun, the race track is fun. It's a neat characteristic of how you have to save your tires to the end and it's also a good payday for a weekday race that I've available to go to. I like to help support the local short tracks and get my Super Late Model team out as much as I can so we're going to do that one."
Are the fenders being so close to the tires at short tracks impacting the side-by-side, close racing?
"I agree with that, you look back at cars from 1998 and the front fenders just kind of started to round down and then they just stopped right at the tire tread, same with the front. They didn't come around and down and overlap the tire if you will. I would agree with that, but I would also just say that we're going so fast and everybody has learned so much about aerodynamics that anywhere you go, it's about aerodynamics. I know Denny (Hamlin) said that he knocked his nose in at Martinsville and got way tighter after he did that. It happens everywhere, as much as we don't want to say aerodynamics at Martinsville or Bristol, it's certainly a big part of it. These cars are just way more fragile than they used to be too. We've all tried to lighten up our cars as much as we can and make the nose cone as light as possible and you punch that thing in and it changes your car a lot. We all try to not do that and we all try to stay unscathed as much as you can to have a good car at the end. If it comes down for the win on the last few laps, that's when you can let it loose and that's when you can go out there like Kurt (Busch) and Ricky Craven at Darlington that one time. That's my impression."
Does this change how you drive the race car?
"I think I've always tried to strive to continue to get better at keeping my car in one piece because I remember I had Jeff Gordon telling me, 'Man, if you ever figure out how to come through a race with a clean right side, you're going to be the guy to beat.' He was obviously one of the guys that was one of my mentors at Hendrick for a long time and gave me some advice on some of that stuff and he was right. You could change your cars handling characteristics a lot by right-siding it so I try not to do that."
How much do you banter with your brother and what does it mean to start alongside him Sunday?
"It's been awhile since Kurt's (Busch) won here and I'm sure he's hungry, he might be more hungry than I am if that's possible. Just by looking at it, you would think about it that way. I would certainly like to give the opportunity to go out there and race him only for the win and have it be a Busch brothers one-two all day long, but I know there's going to be plenty of other competitors that will have something to say about that. We'll give it our best, but as far as a little banter back and forth, I would say that we don't tend to do that much because a lot of times we tend to have to eat our own words. Might as well be better off just keeping your mouth shut."
Sunday Lineup
| | | | | | |
| --- | --- | --- | --- | --- | --- |
| Pos | Car | Driver | Team | Time | Speed |
| 1 | 18 | Kyle Busch | Skittles Toyota | 14.895 | 128.822 |
| 2 | 41 | Kurt Busch | Haas Automation/Monster Energy Ford | 14.897 | 128.804 |
| 3 | 2 | Brad Keselowski | Discount Tire Ford | 14.960 | 128.262 |
| 4 | 17 | Ricky Stenhouse Jr. | SunnyD Ford | 14.961 | 128.253 |
| 5 | 12 | Ryan Blaney | REV Ford | 14.969 | 128.185 |
| 6 | 42 | Kyle Larson | McDonald's Chevrolet | 14.985 | 128.048 |
| 7 | 21 | Paul Menard | Menards/Dutch Boy Ford | 14.993 | 127.980 |
| 8 | 88 | Alex Bowman | Nationwide Chevrolet | 15.010 | 127.835 |
| 9 | 34 | Michael McDowell | Love's Travel Stops Ford | 15.029 | 127.673 |
| 10 | 22 | Joey Logano | Autotrader Ford | 15.041 | 127.571 |
| 11 | 24 | William Byron # | AXALTA Chevrolet | 15.053 | 127.470 |
| 12 | 19 | Daniel Suarez | ARRIS Toyota | 15.153 | 126.628 |
| 13 | 20 | Erik Jones | DeWalt Toyota | 15.071 | 127.317 |
| 14 | 14 | Clint Bowyer | Haas Automation Demo Day Ford | 15.086 | 127.191 |
| 15 | 95 | Kasey Kahne | WRL General Contractors Chevrolet | 15.095 | 127.115 |
| 16 | 9 | Chase Elliott | Mountain Dew Baja Blast Chevrolet | 15.105 | 127.031 |
| 17 | 48 | Jimmie Johnson | Lowe's for Pros Chevrolet | 15.112 | 126.972 |
| 18 | 47 | AJ Allmendinger | Kroger ClickList Chevrolet | 15.136 | 126.771 |
| 19 | 10 | Aric Almirola | Smithfield Ford | 15.144 | 126.704 |
| 20 | 43 | Darrell Wallace Jr. # | STP Chevrolet | 15.178 | 126.420 |
| 21 | 3 | Austin Dillon | Realtree Chevrolet | 15.181 | 126.395 |
| 22 | 37 | Chris Buescher | Bush's Beans Chevrolet | 15.196 | 126.270 |
| 23 | 38 | David Ragan | The Pete Store Ford | 15.204 | 126.204 |
| 24 | 32 | Matt DiBenedetto | Keen Parts/CorvetteParts.Net Ford | 15.285 | 125.535 |
| 25 | 11 | Denny Hamlin | FedEx Freight Toyota | 15.256 | 125.773 |
| 26 | 78 | Martin Truex Jr. | Auto-Owners Insurance Toyota | 15.257 | 125.765 |
| 27 | 15 | Ross Chastain(i) | LowT Center Chevrolet | 15.320 | 125.248 |
| 28 | 23 | Gray Gaulding | Earthwater Toyota | 15.358 | 124.938 |
| 29 | 00 | Landon Cassill | TW CABLE Chevrolet | 15.360 | 124.922 |
| 30 | 31 | Ryan Newman | Bass Pro Shops/Cabela's Chevrolet | 15.383 | 124.735 |
| 31 | 1 | Jamie McMurray | Cessna Chevrolet | 15.410 | 124.517 |
| 32 | 13 | Ty Dillon | GEICO Chevrolet | 15.477 | 123.978 |
| 33 | 6 | Trevor Bayne | AdvoCare Ford | 15.499 | 123.802 |
| 34 | 72 | Corey LaJoie | TriStar Motorsports Chevrolet | 15.755 | 121.790 |
| 35 | 96 | DJ Kennington | Gaunt Brothers Racing Toyota | 15.807 | 121.389 |
| 36 | 55 | Reed Sorenson | VIPRacingExperience.com Chevrolet | 15.810 | 121.366 |
| 37 | 51 | Harrison Rhodes | Industrial Construction Experts Inc. Chevrolet | 16.253 | 118.058 |
| 38 | 66 | Chad Finchum(i) | Concrete North/Smithbilt Homes Toyota | 16.735 | 114.658 |
| 39 | 4 | Kevin Harvick | Busch Beer Ford | 0.000 | 0.000 |
[adinserter name="GOOGLE AD"]