Kyle Busch outduels Harvick in Texas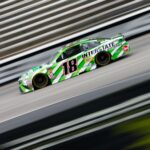 Kyle Busch speeds to victory
Kyle Busch held off Kevin Harvick and took home the checkered flag at Texas Motor Speedway on Sunday to win his first race of the season.
Despite three runner-up finishes in the first six races, Busch was on it today and the victory is Busch's third at the 1.5-mile track and first since Martinsville in October 2017.
Last year's Texas winner Harvick won Stage 1 rather easily, building more than a 12-second advantage over Truex, who was poised to finish the stage in second before his No. 78 lost a tire and went hard into the wall. Harvick gathered 10 stage points and a playoff point while Truex saw his day come to a close. Kyle Busch finished the stage second followed by Kurt Busch, Joey Logano and Kyle Larson to round out the top five.
Kyle Busch took the lead from his brother and pole-starter Kurt Busch late in Stage 2 to take the green-and-white checkered while Harvick and Ryan Blaney suffered setbacks. Larson hit the wall hard, ending his day while Harvick and Blaney had to hit pit road under green due to reports of loose wheels. Both Harvick and Blaney were able to recover and get back on the lead lap rather quickly.
Busch led a race-high 116 of the 334 laps in the O'Reilly Auto Parts 500 in the Joe Gibbs Racing No. 18 Toyota. His third win at the 1.5-mile Fort Worth track was the 44th of his Monster Energy NASCAR Cup Series career. It also provided some consolation for Busch, who finished second in three of the first six races this year.
[adinserter name="GOOGLE AD"]Kevin Harvick held on for a roundabout second-place finish, his Stewart-Haas Racing No. 4 Ford just three-tenths of a second behind at the checkered flag. He won the first stage and led 87 laps, but just missed his fourth victory of the season.
Jamie McMurray finished in third place, with Erik Jones fourth — both season-best results. Ryan Blaney rounded out the top five positions.
Harvick had one of the most eventful days, rallying from three pit-road penalties, a sluggish stop because of a jammed-up jack, and an extra pit-road visit for a loose wheel.
Several pre-race favorites ran into early trouble. Martin Truex Jr. crashed just before the end of the first stage and was relegated to last place in the 37-car field. Kyle Larson suffered the same fate on Lap 126, hitting hard after a right-front tire went away in Turn 1. He finished 36th.
Denny Hamlin, Jimmie Johnson and Brad Keselowski were among seven drivers snared by a Lap 177 stack-up that forced an 11-minute red flag for clean-up.
KYLE BUSCH, No. 18 Interstate Batteries Toyota Camry, Joe Gibbs Racing
Finishing Position: 1st
How good does it finally feel to be here in Victory Lane today?
"It feels awesome. Any time you can win at a track that kind of isn't maybe one of your favorites or isn't one of your best, then it definitely means even more because it just – you try to focus on those tracks and make it a little bit more meaningful and a little bit more special to get it done. So cool though to be in Victory Lane here – finally this year and punch our ticket into the Playoffs and of course, you know also just continue our hot streak of being the points leader right now and keeping these guys focused on what we need to do all year long."
Only fitting that the sun comes out when you're in Victory Lane. Talk about the win here today.
"I know, Norm Miller (chairman of Interstate Batteries) and myself were just talking about that. I brighten everybody's day every day. It's just certainly a team effort and a great win. My guys were awesome on pit road. Adam Stevens (crew chief) and my guys did a phenomenal job of getting me a great race car today. This Interstate Batteries Camry was flying and you know we might have been just a tick behind the 4 (Kevin Harvick) on overall speed, but when we were out front and we were where we needed to be there at the end, we were just able to hold them off and then run the right line in order to hold them off. Can't say enough about all these guys – everybody on this Toyota. It was rocking today."
How much were you concerned Kevin Harvick was going to catch you?
"It looked to me like he stayed pretty good right there the whole last run of the race. I kind of got out on him a little bit 'cause he kind of slipped a couple laps and then he kind of closed back in on me, but once he closed back in on me, it just kind of seemed like it was the accordion of four to six lengths. That was about all there was and that was what it was in dirty air for everybody today. It was really hard to pass some of the guys that were even slower than us. A fun time for us, you know being out front, being where it mattered and being able to go to Victory Lane and celebrate and throw some confetti and have a good night."
What was going through your mind when you were holding off Kevin Harvick there at the end?
"They were probably just a tick faster overall, but I just had to make sure to do everything I could to hit all my marks and everything to focus on making sure that I did the right things to block his air a little bit. This Interstate Batteries Camry was really awesome today. Really want to thank Interstate. It's their hometown. Norm Miller (chairman of Interstate Batteries) is here, so this one means a lot more to win here in Texas right here in the hometown of the Interstate Batteries' guys. Can't say enough about M&Ms – everybody from them – Nos Energy Drink, Cessna, DVX Eyewear and Black Clover and of course the fans. This has been a trying couple of months I guess. You know after Daytona, we've just been on a roll of finishing really good and getting really pumped and excited about that and the momentum we were able to carry, but frustrated at the same time trying to get to Victory Lane."
How much of a difference does the first win of the year make?
"It means a lot. It just kind of solidifies your Playoffs and solidifies us in being the points leader and the way we've been running this year. My guys were just so good. I can't say enough about everybody on my team and you know, we've just got everything clicking right now. Adam (Stevens, crew chief) does a great job. He leads these guys really really well. We all communicate so well and we do what we need to do inside the hauler to make sure that we have a good race car and get good feedback and things like that to be able to have fast race cars on race day."
Results
| | | | | | |
| --- | --- | --- | --- | --- | --- |
| POS | CAR | DRIVER | MANUF | BEHIND | LAPS |
| 1 | 18 | Kyle Busch | Toyota | 0.000s | 334 |
| 2 | 4 | Kevin Harvick | Ford | 0.300 | 334 |
| 3 | 1 | Jamie McMurray | Chevy | 7.323 | 334 |
| 4 | 20 | Erik Jones | Toyota | 7.980 | 334 |
| 5 | 12 | Ryan Blaney | Ford | 9.725 | 334 |
| 6 | 22 | Joey Logano | Ford | 10.040 | 334 |
| 7 | 41 | Kurt Busch | Ford | 12.607 | 334 |
| 8 | 43 | Darrell Wallace Jr. # | Chevy | 15.624 | 334 |
| 9 | 14 | Clint Bowyer | Ford | 15.969 | 334 |
| 10 | 24 | William Byron # | Chevy | 16.520 | 334 |
| 11 | 9 | Chase Elliott | Chevy | -1L | 333 |
| 12 | 6 | Trevor Bayne | Ford | -1 | 333 |
| 13 | 13 | Ty Dillon | Chevy | -2 | 332 |
| 14 | 34 | Michael McDowell | Ford | -2 | 332 |
| 15 | 37 | Chris Buescher | Chevy | -3 | 331 |
| 16 | 32 | Matt DiBenedetto | Ford | -5 | 329 |
| 17 | 95 | Kasey Kahne | Chevy | -6 | 328 |
| 18 | 15 | Ross Chastain(i) | Chevy | -9 | 325 |
| 19 | 72 | Cole Whitt | Chevy | -10 | 324 |
| 20 | 23 | Gray Gaulding | Toyota | -12 | 322 |
| 21 | 00 | Landon Cassill | Chevy | -13 | 321 |
| 22 | 51 | Harrison Rhodes | Chevy | -15 | 319 |
| 23 | 38 | David Ragan | Ford | -17 | 317 |
| 24 | 47 | AJ Allmendinger | Chevy | -18 | 316 |
| 25 | 17 | Ricky Stenhouse Jr. | Ford | -19 | 315 |
| 26 | 3 | Austin Dillon | Chevy | -30 | 304 |
| 27 | 31 | Ryan Newman | Chevy | -31 | 303 |
| 28 | 88 | Alex Bowman | Chevy | -40 | 294 |
| 29 | 19 | Daniel Suarez | Toyota | -44 | 290 |
| 30 | 21 | Paul Menard | Ford | -119 | 215 |
| 31 | 55 | * Reed Sorenson | Chevy | -125 | 209 |
| 32 | 10 | Aric Almirola | Ford | -156 | 178 |
| 33 | 2 | Brad Keselowski | Ford | -156 | 178 |
| 34 | 11 | Denny Hamlin | Toyota | -157 | 177 |
| 35 | 48 | Jimmie Johnson | Chevy | -159 | 175 |
| 36 | 42 | Kyle Larson | Chevy | -208 | 126 |
| 37 | 78 | Martin Truex Jr. | Toyota | -254 | 80 |
# DENOTES ROOKIE
(I) NOT ELIGIBLE FOR POINTS
(*) REQUIRED TO QUALIFY ON TIME