Newgarden uses new tires to win in Phoenix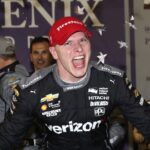 Josef Newgarden
Chris Jones/IndyCar
Tim Cindric made a call to bring Josef Newgarden in for fresh tires on a late pitstop when Ed Jones hit the wall and with fresh tires and 8 laps to go Newgarden passed the three cars in front of him who were on old tires to win the 250-mile the Desert Diamond West Valley Casino Phoenix Grand Prix race at ISM Raceway in Phoenix.
Newgarden, among eight lead-lap cars that stopped for new tires, bolted immediately past Rossi and Hinchcliffe on the outside through Turns 1 and 2 on the restart. He then made the winning pass – again on the outside in Turn 1 – on Lap 247 on Wickens.
It was Newgarden's eighth career victory and first at ISM Raceway. It was also the 198th Indy car victory for Team Penske.
Wickens finished second by 2.9946 seconds for his first podium finish in his second Verizon IndyCar Series start. Rossi, in the No. 27 MilitaryToMotorsports.com Honda, placed third.
Four-time Verizon IndyCar Series champion Scott Dixon finished fourth in the No. 9 PNC Bank Chip Ganassi Racing Honda, with Andretti Autosport's Ryan Hunter-Reay fifth in the No. 28 DHL Honda.
The race saw just two caution periods, for single-car incidents involving Jones and rookie Pietro Fittipaldi. Neither driver was injured.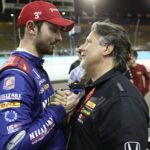 Team owner Michael Andretti congratulates Rossi on a fantastic drive
Newgarden also unofficially took the championship lead with 77 points after two of 17 races, followed by Rossi with 72, Sebastien Bourdais with 70, Graham Rahal with 63 and Hunter-Reay with 62.
The drive of the race was by Alexander Rossi who came from 1.5 laps behind, and with no cautions to help him, he came through the entire field almost twice to finish third. On a night when very few drivers could pass, Rossi made over 50 passes. Without a doubt Rossi's drive was the drive of the race.
Rossi got a drive-thru penalty for sliding in his pitbox and had to be backed up and straightened out which in itself cost him a boatload of time. IndyCar made the miscue worse by handing him a drive-thru penalty under green and he lost over a lap. Whereas Sebastien Bourdais hit his crewman and also got a drive-thru, Rossi appeared to hit no one. The call on Rossi was questionable, but too late now.
Once again ISM Raceway was a 1-groove track for the IndyCar but the racing was better than the last two years thanks to Rossi's amazing 53 passes and the changes Jay Frye and team made to the design of the car. Unfortunately only about 5,000 to 9,000 fans showed up to see the race putting in question the future of the event.
"I think we were a top-five car tonight, for sure," Newgarden said. "But I struggled a little bit with the balance, so it was difficult for me to force the issue until we got to the end when I had a tire advantage.
"I knew I could force the issue. I kind of bided my time for that. I was trying to be calm tonight and make it to the finish."
Newgarden's winning speed of 147.395 mph set a record for a race at ISM Raceway, as well as the number of lead changes (12) and drivers who led (nine). The race was slowed by just two caution periods, for single-car incidents involving rookie Pietro Fittipaldi (Lap 41) and Jones (Lap 229). Neither driver was injured.
Bourdais, who started from the pole after winning the Verizon P1 Award in qualifying on Friday, and Rossi were penalized for hitting crew members on their first pit stops. The ensuing drive-through penalties put each driver a lap down. Bourdais finished 13th but Rossi, who made an incredible 53 on-track passes (19 percent of all passes made in the race), charged back to reach the podium.
"The only reason I was able to do that was because the team gave me an unbelievable car," Rossi said. "As I said, we spent so much of our time and brain effort and research in the time between the (February) open test and (race weekend) focusing on tire life. Hopefully, it's something that we can keep an advantage on people going forward for the next short ovals.
"You've got to take the podiums when you can get them. Unfortunately, we probably gave away a win today, but that's the way it goes."
The next Verizon IndyCar Series race is the Toyota Grand Prix of Long Beach on Sunday, April 15. It airs live at 4 p.m. ET on NBCSN and the Advance Auto Parts INDYCAR Radio Network.
Quotes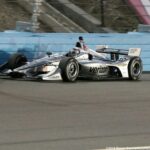 Josef Newgarden
JOSEF NEWGARDEN (No. 1 Verizon Team Penske Chevrolet, 2018 Desert Diamond West Valley Casino Phoenix Grand Prix winner): "We had everything, we had the whole package with Team Chevy power. We had the fuel mileage from Team Chevy that we needed. Just being able to have Verizon on the car finally and get victories for them feels so good. They've done so much for the sport and for Team Penske. It's a Team Penske win tonight, I'll tell you that. It wasn't me. This was a team effort tonight that got it done."
MATHEUS "MATT" LEIST (No. 4 ABC Supply AJ Foyt Racing Chevrolet): "My first oval done, my first complete race in the Verizon IndyCar Series done, so lots of new stuff learned. We made a lot of passes which was good, not too many guys were passing. I was feeling good physically in the car, I'm not tired at all. Today wasn't our day, wasn't my day, but I want to say thanks to the team. I think we had a car to finish in the top seven. On to Long Beach now."
JAMES HINCHCLIFFE (No. 5 Arrow Electronics SPM Honda): "Not the ending we wanted, but that last restart starting second – huge credit to the team. Schmidt Peterson Motorsports have done an incredible job since the test here in February when we were at the bottom [of the time sheets], to get two cars in the top six in both qualifying and the race. Huge congrats to Robbie (Wickens) on his first podium. I think the Arrow Electronics guys really did an incredible job today, picked up a lot of spots on pit lane which is huge for a short oval like this. Restarting second on that last restart, I thought maybe we had a shot at it. We took a gamble, other guys took a gamble – it's tough to tell how it went in terms of stopping for tires on the last restart; Alex [Rossi], Robbie and I decided not to. Ultimately the new tire guy won, but track position is key at a place like this, and we made a call – that call was right. I'm proud of the guys. Stinks to lose a couple spots so late in the race like that when we were running at the top all day, but good points day, and huge for the team."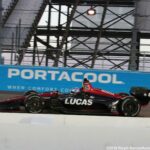 Robert Wickens
ROBERT WICKENS (No. 6 Lucas Oil SPM Honda): "It's a dream come true. All I wanted to do was finish every lap of my oval debut. So, to come home P2 and even lead tonight, you can never expect that as a rookie. It's so hard here, but the team did a great job. The car was great all day. James (Hinchcliffe) and I were quick so I think it's really encouraging for things to come." (About if there was anything he could do to hold off Josef Newgarden): "I did as much as I could without crashing both of us, so I don't think there's any stopping him. I think once he built up the courage to just out brake me around the outside, it was pretty easy. But congratulations to him. You know, these INDYCAR races are so much longer than what I'm used to. It's confusing. I didn't know where he was at one point and then he popped up in the lead and (Ed) Jones got ahead of me there. But I'm still happy with how it turned out."
SCOTT DIXON (No. 9 PNC Bank Chip Ganassi Racing Honda): "We just didn't get the run we needed to on (Alexander) Rossi there at the end when it counted. All in all, it was a good day for us. The weekend didn't start out great, but we survived with the PNC Bank car and got some good points tonight."
ED JONES (No. 10 NTT DATA Chip Ganassi Racing Honda): "Obviously it was a long race and we didn't know what to expect coming in with the NTT DATA car. The car actually handled a little better than expected. The tire degradation wasn't that bad and my guys did some great pit stops tonight. Every time we came in we made up positions. I just got into the turn, and it just started going straight and there was nothing I could do. We were second and having a great run, and I'm looking forward to improving upon that and getting better for the next race."
WILL POWER (No. 12 Verizon Team Penske Chevrolet): "I was having a good race, actually. I felt like we had a pretty good Verizon Chevy. (Alexander) Rossi ran up on the inside of me pretty late and I got on the brakes once I saw him go to the inside because I knew the marbles were pretty bad. I was going pretty slow and still got up into the wall because it was like being on ice. Disappointed for the guys, but we will just have to move on, have a couple of good races and get back in the hunt. I am determined for Long Beach, Barber, the Indy road course and the Indy 500. Happy to see Josef (Newgarden) in victory lane tonight, though."
TONY KANAAN (No. 14 ABC Supply AJ Foyt Racing Chevrolet): "It was a big improvement for the team. We've been aiming to finish in the top 10 and we did that tonight. We have our struggles, and there are things we need to fix and we're doing it one piece at a time. I think we had a great weekend. We were in the top six all weekend long. I'm happy with the progress, but there's a lot more work to do."
GRAHAM RAHAL (No. 15 One Cure Honda): "It wasn't bad. I'm a little disappointed that we lost spots there. We were trying to go really long on our stints – which was the whole goal – and frankly, it should have worked. There were a couple of times there that yellows should have come out and they didn't, and because of that, we paid the price running on old tires. Strategy and history shows that that's the best way to do it, so we stuck to our plan but it didn't quite work out today, but ultimately we got a top 10 for the One Cure team and that's a heck of a lot better than we did last year here. We will just keep our heads down and keep pounding away. We're not bad, but we need to continue improving on a day-to-day basis. We need to show up close (to the right setup) at Long Beach and we should be able to."
SEBASTIEN BOURDAIS (No. 18 Team SealMaster Honda, pole sitter): "We were pretty much in control of the race and things were looking good. Then the first and almost only yellow came out. We paraded around for two or three laps and all I was thinking about was hitting my marks when we pitted. I didn't scrub my tires. I didn't pay attention that my tires loaded up with a bunch of junk and next thing I knew I was on the concrete in the pit lane. I tried to slow down and locked up the wheels instantly and nothing happened. Nothing. I just skated and two guys left with me. That was the failed moment of the race because after that there were no yellows until all the pit stops were completed. So, that was that. We just never recovered from going down a lap because of the drive-through penalty. I made a bunch of passes and recovered a decent amount of positions, but nothing to put us where we belonged. So, pretty disappointing overall for sure."
PIETRO FITTIPALDI (No. 19 The Paysafe Car Honda): "We were running well, but then I caught a group of cars and I ran a bit hard. There was a lot of turbulence, and with that group of cars I wasn't expecting that much difference, and the Paysafe car just went away from me. Once you get in the gray, you just go straight into the wall."
ED CARPENTER (No. 20 Ed Carpenter Racing Fuzzy's Vodka Chevrolet): "This was really a race where you had to race your own car. We were able to get a top 10 out of it and stayed on the lead lap, which is really hard to do when you start at the back on a short oval. We were just trying to have a clean race. I felt like that would give us a chance to work forward and it mostly did. We just ran out of steam at the end. I screwed up a little bit on my in-lap on the second-to-last pit stop and that maybe cost us a position. Then, I just couldn't get Hinch (James Hinchcliffe) after that last restart. I really don't like the blocking rules on ovals, I don't think there's a place for it in oval racing. We can't seem to get away from it, but it is what it is. There's a lot of positives to take away from this. The Fuzzy's Vodka guys had great pit stops all night. We ended last season on some bad luck, so it's nice to be able to roll the car on the truck. We have a little more work to do on our short oval package, but I'll take tonight's finish."
SPENCER PIGOT (No. 21 Ed Carpenter Racing Fuzzy's Vodka Chevrolet): "That was definitely a difficult race. At the beginning, it was so tricky and I was really on edge. We made the car a bit better throughout the race. We just struggled with having the grip and balance to get close to guys and run in the pack after the peak grip of the tires wore off. The good thing is we finished the race and brought the car home. Now we have to look forward to Long Beach and get back to running up at the front."
SIMON PAGENAUD (No. 22 Menards Team Penske Chevrolet, 2017 Desert Diamond West Valley Casino Phoenix Grand Prix winner): "We practiced on pit road all weekend long, and I don't know, for some reason it was super slippery tonight. I was honestly taking it easy on pit road because I knew that I had good track position and a good car. There was no need to push the limits. There was nothing I could have done differently in that situation. In fact, I've been replaying it over in my head and I would have done the same thing every time. It is what it is and we got shuffled back and had to make the best of it, but the car had too much understeer. I couldn't get rid of it. It was better at the end of the race, but it was too late at that point. Congrats to Josef (Newgarden) and Team Penske on getting a win early in the season. A little disappointed and frustrated though because we had a good car this weekend."
CHARLIE KIMBALL (No. 23 Tresiba Chevrolet): "Tonight's race was definitely a step in the right direction for us. We made some progress with the set-up and by the end of the race the No. 23 Tresiba Chevrolet felt the best it had all weekend. We learned a lot and we got a huge amount of information that will help us moving forward."
ZACH VEACH (No. 26 Group One Thousand One Honda): "I'm extremely thankful. I think we had a much better showing tonight than in St. Pete. It was really hard to fight for 16th. We had a small mishap at the end, running 13th or 12th so I think we should have finished a little bit better. My Group One Thousand One guys have done a great job all weekend. We started a little behind with a mechanical issue earlier in the weekend and in qualifying. Starting last was tough, but we did the best we could to work through the field. The important thing, as Michael says, is every race I just have to complete every lap. We completed every lap here, and in St. Pete. If we do that, we'll be pretty strong at the end of the year."
ALEXANDER ROSSI (No. 27 MilitaryToMotorsports.com Honda): "We had a strong start but then had a mishap on the first stop. It was unfortunate, but the important thing is that my crew is okay, that's always my first concern. I didn't challenge the box that hard, it was a stop under yellow so there wasn't a need to – I went to turn right to line up and (the car) just went straight. Then we didn't get the yellow we needed, so we had to completely unlap ourselves and come back through the field. The Military To Motorsports Honda was by far the best car on track, I think, and it deserved to win. It wasn't meant to be today, but I'm happy to stand on the podium."
RYAN HUNTER-REAY (No. 28 DHL Honda): "I'm disappointed not to finish P2 tonight. I think we had the car to do that. A top five is nice, but we're looking for podiums and wins. We had some issues in the pits tonight. I made a mistake on the first one – then we pitted a little bit too early, a little bit too late on one of them. But, it was an exciting race at the end and congrats to Josef on the win and to Alexander on the podium. I just wish we would have gone green a little bit sooner there at the end of the race; that would have made the show, I think. I'm not really sure what took so long that time to get back to green, but definitely a shame to not get back at it soon and have more time to get the DHL Honda to the podium it deserved."
TAKUMA SATO (No. 30 Mi-Jack / Panasonic Honda): "It was a tough weekend. After we had the positive test, we came here and had a difficult time. Going into qualifying there were so many unknowns and we had to change the car so much. After that, it was the same scenario in the race. I never got comfortable. It was very tough out there, and in the end, the strategy did not play out well. We started 13th and finished 11th, so not a good weekend at all. The timing of the pit stop was key and I think we stayed out too long. When the tires started to go off, there was quite a battle. I was able to overtake a few cars. It was a frustrating night."
KYLE KAISER (No. 32 Juncos Racing Chevrolet): "Obviously, I'm a little disappointed with the way things ended, but I am extremely happy with how the car was and effort from the team. I think we had a really nice race car. We had strong pace and were running times with the guys who were running up front. The Chevy engine was great the whole time. We had some good runs and got some good passes in and I learned a ton. I'm a rookie with a rookie team, so we are out here on a super steep learning curve. Being able to go out there and run that many laps and learn as much as I did was very valuable. I'm looking forward to getting back in the car at Long Beach and building on what we learned from this weekend."
MAX CHILTON (No. 59 Gallagher Chevrolet): "It was a tough weekend for the team, but every time we're on track we're learning and making progress. That race was just tough. We didn't qualify well and starting so far back on the grid on a track that's already difficult to pass on made it even harder to gain any positions. By the end of the race we had quite good pace, we just couldn't move forward at all. I'm ready to move on from tonight's race and get to Long Beach to see what we can do there."
GABBY CHAVES (No. 88 Harding Group Chevrolet): "It was a long and trying night for us. In spite of not having the race we wanted to have, we were able to learn a lot of things that will help us develop the car and move forward faster. We hung in there, learned and gained a lot. Now we'll keep our heads up and look forward to the next one, turn the page and keep moving forward to Long Beach."
MARCO ANDRETTI (No. 98 Oberto Circle K / Curb Honda): "Nice work to the Oberto Circle K crew for getting me in and out of the pits smoothly all night. We had a big day ahead of us from the start, starting 20th after a dropped skid in qualifying. Tonight, I think we were just down on COP all day. The number was just so low that we didn't trust it – I think we were around five percent low off of what my teammates were running. We were just way behind on front wing all day and just kind of hanging on. I'm not thrilled to finish P12, but with what we were working with all day it was a decent result for us. We put the 98 to its limits tonight for sure."
Results
| | | | | | | | | | |
| --- | --- | --- | --- | --- | --- | --- | --- | --- | --- |
| Pos | No | Name | Laps | Diff | Gap | FTime | Led | Engine | Team |
| 1 | 1 | Josef Newgarden | 250 | 0.000s | 0.000s | 21.097 | 30 | Chevy | Team Penske |
| 2 | 6 | Robert Wickens | 250 | 2.9946 | 2.9946 | 20.970 | 44 | Honda | Schmidt Peterson Motorsports |
| 3 | 27 | Alexander Rossi | 250 | 3.4890 | 0.4944 | 20.724 | 1 | Honda | Andretti Autosport |
| 4 | 9 | Scott Dixon | 250 | 3.8175 | 0.3285 | 21.423 | 0 | Honda | Chip Ganassi Racing Teams |
| 5 | 28 | Ryan Hunter-Reay | 250 | 4.0122 | 0.1947 | 21.080 | 5 | Honda | Andretti Autosport |
| 6 | 5 | James Hinchcliffe | 250 | 9.4497 | 5.4375 | 20.995 | 20 | Honda | Schmidt Peterson Motorsports |
| 7 | 20 | Ed Carpenter | 250 | 9.4731 | 0.0234 | 21.412 | 0 | Chevy | Ed Carpenter Racing |
| 8 | 14 | Tony Kanaan | 250 | 9.8650 | 0.3919 | 21.063 | 0 | Chevy | AJ Foyt Enterprises |
| 9 | 15 | Graham Rahal | 250 | 10.1747 | 0.3097 | 21.357 | 7 | Honda | Rahal Letterman Lanigan |
| 10 | 22 | Simon Pagenaud | 250 | 10.3247 | 0.1500 | 20.661 | 3 | Chevy | Team Penske |
| 11 | 30 | Takuma Sato | 250 | 10.9443 | 0.6196 | 21.122 | 0 | Honda | Rahal Letterman Lanigan |
| 12 | 98 | Marco Andretti | 249 | 1 LAPS | 21.9989 | 21.605 | 0 | Honda | Andretti Autosport |
| 13 | 18 | Sebastien Bourdais | 249 | 1 LAPS | 0.9106 | 20.627 | 60 | Honda | Dale Coyne Racing |
| 14 | 21 | Spencer Pigot | 249 | 1 LAPS | 0.9684 | 21.652 | 0 | Chevy | Ed Carpenter Racing |
| 15 | 88 | Gabby Chaves | 249 | 1 LAPS | 1.9618 | 21.440 | 0 | Chevy | Harding Racing |
| 16 | 26 | Zach Veach | 249 | 1 LAPS | 0.4644 | 21.468 | 0 | Honda | Andretti Autosport |
| 17 | 23 | Charlie Kimball | 248 | 2 LAPS | 22.1910 | 21.589 | 0 | Chevy | Carlin |
| 18 | 59 | Max Chilton | 247 | 3 LAPS | 1 LAPS | 21.773 | 0 | Chevy | Carlin |
| 19 | 4 | Matheus Leist | 241 | 9 LAPS | 6 LAPS | 21.606 | 0 | Chevy | AJ Foyt Enterprises |
| 20 | 10 | Ed Jones | 228 | 6 LAPS | 3 LAPS | 21.287 | 0 | Honda | Chip Ganassi Racing Teams |
| 21 | 32 | Kyle Kaiser | 174 | 10 LAPS | 1 LAPS | 21.337 | 0 | Chevy | Juncos Racing |
| 22 | 12 | Will Power | 153 | 13 LAPS | 3 LAPS | 20.914 | 80 | Chevy | Team Penske |
| 23 | 19 | Pietro Fittipaldi | 40 | 7.9946 | 0.1186 | 21.491 | 0 | Honda | Dale Coyne Racing |
Race Statistics:
Winner's average speed: 147.395
Time of Race: 1:44:00.3552
Margin of victory: 2.9946 seconds
Cautions: 2 for 23 laps
Lead changes: 12 among 9 drivers
Lap Leaders:
Bourdais, Sebastien 1 – 43
Power, Will 44 – 123
Rahal, Graham 124 – 128
Hinchcliffe, James 129 – 148
Wickens, Robert 149 – 177
Hunter-Reay, Ryan 178 – 182
Pagenaud, Simon 183 – 185
Rahal, Graham 186 – 187
Rossi, Alexander 188
Bourdais, Sebastien 189 – 205
Newgarden, Josef 206 – 231
Wickens, Robert 232 – 246
Newgarden, Josef 247 – 250