Bourdais outduels Penske team for pole in Phoenix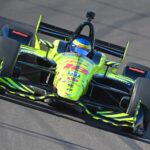 Sebastien Bourdais
David defeated Goliath again. Sebastien Bourdais drove Dale Coyne Racing's Honda to victory in St. Petersburg, Florida and today he drove two sensational laps to win pole for the Phoenix IndyCar race at ISM Raceway.
Continuing his impressive start to the 2018 Verizon IndyCar Series, Sebastien Bourdais claimed the pole for the Desert Diamond West Valley Casino Phoenix Grand Prix at ISM Raceway in Friday's qualifying session, with a lap of 19.5034 seconds (188.539 mph).
"This is why we're out there," said Bourdais. "We come out every week and try to win it, be on pole, do the best you can. We'll still a very small organization when you compare to the likes of Ganassi, Andretti, Penske. When you do [well], it's really sweet.
Bourdais, the driver of the No. 18 Team SealMaster Honda, is joined on the front row by his fellow Frenchman, defending race winner Simon Pagenaud (188.148 mph). Bourdais' Dale Coyne Racing teammate, Pietro Fittipaldi, grandson of open-wheel legend Emerson Fittipaldi, qualified 10th in his first race at ISM Raceway.
[adinserter name="GOOGLE AD"]Also qualifying in the top five were Will Power in third, Alexander Rossi in fourth and James Hinchcliffe in fifth. Three of the top-five qualifiers were Hondas. Besides Pagenaud, the other former ISM Raceway winners in field were Tony Kanaan in ninth and Scott Dixon in 17th.
Pietro Fittipaldi took part in his first Verizon IndyCar Series oval qualifying and was an impressive 10th in the 23-car field aboard his #19 Paysafe car.
The Brazilian-American driver was the sixth driver to take to the 1.022-mile oval. He immediately jumped to first place following a first lap of 184.379 mph and maintained his position with an even quicker second lap of 184.717mph.
His two-lap average of 184.548mph kept him atop the time charts for a little while but he would be relegated to 10th once all cars had made their qualifying attempt.
Earlier in the day, the USAC Silver Crown Champ Car Series held its qualifying session for Saturday's Phoenix Copper Cup. Three-time series champion Kody Swanson, from Kingsburg, Calif., claimed the pole with a lap of 25.326 seconds. Swanson looks to earn his first win at ISM Raceway; he finished second in last year's Copper Cup. Swanson beat out 2017 race winner Bobby Santos, who will start second with a lap of 25.363 seconds.
Also on track today was the Vintage Desert Classic Presented by Classic Racing Times. Throughout the event, fans will be able to see over 30 vintage Indy cars make laps on the track. With this weekend's Mario Andretti 25th anniversary celebration of his final IndyCar win, some of his cars will be featured in the Classic.
The family aspect of racing was visible throughout the day in the Phoenix Mini Copper Cup as the USAC .25 Midgets staged qualifying and heat races for competitors age 5 to 16 in 12 classes on a temporary 1/20th of a mile oval set up on the DC Solar Power Pavilion.
A full day of racing action continues Saturday with USAC .25 Midget heat and feature races and more demonstration runs for older Indy cars as part of the Vintage Desert Classic. The 100-lap Phoenix Copper Cup race takes the green flag at 3:30 p.m. with the 250-lap Desert Diamond West Valley Casino Phoenix Grand Prix set to begin at 6:30 p.m.
QUOTES
JOSEF NEWGARDEN (No. 1 Verizon Team Penske Chevrolet, 2017 Verizon IndyCar Series champion): "The grip was good. Simon (Pagenaud) and Will (Power) did good laps, but I had a lot of understeer. I think we had a good shot there. We tried to do what we could after practice. We didn't have the best first practice session, but we've got speed in this car. As you can see with Pagenaud and Power, they did a great job. Hopefully, they hold on and we will get a Team Penske pole position here, but just missed it there. (Turn) 3 and 4 were really the worst spot for me, so I think if we get that cleaned up and really focus on our race car then hopefully tomorrow we can capitalize."

MATHEUS "MATT" LEIST (No. 4 ABC Supply AJ Foyt Racing Chevrolet): "The car is good. The first lap was a bit tough because I didn't know how the car would be. It's tough too because it's my first oval track (in an Indy car). Practice was tough because the track was so slippery and then we go right into qualifying. The car was better than it was in practice, which means we made some progress. I'm looking forward to the race. We have 250 laps and it's going to be a crazy tough race, probably the most difficult race I've ever been in. Hopefully, we can get a top 10, or maybe a top five."
JAMES HINCHCLIFFE (No. 5 Arrow Electronics SPM Honda): "A huge credit to the Schmidt Peterson Motorsports guys, because we did not have a great test here back in February. Obviously, things have changed a lot conditions-wise, but we went back, had a big think about it, a big look inside ourselves. I just can't thank those guys and gal enough for getting us good cars and getting us both up there – it's awesome. This is a long race, and I think with these new cars, with the way they've been driving and the way that they've been falling off, it's going to be a lot more of an interesting race than it has been the last couple years. If we can stay on top of our tires and have clean pit stops, out laps, all that good stuff, I think we'll be sitting pretty."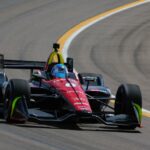 Robert Wickens
ROBERT WICKENS (No. 6 Lucas Oil SPM Honda): "I had my moment of fame there for a couple of moments (sitting in P1), but I'm pretty happy with the job that we did. The Lucas Oil car was good… it was my first oval qualifying. I was a little too safe on the first lap, especially when that kind of sets the mood for the whole run. I feel pretty good (on the oval). To be honest, that qualifying was the best I've felt so far, so I just wish I could give it another go."
SCOTT DIXON (No. 9 PNC Bank Chip Ganassi Racing Honda): "I'm really not sure what happened. We struggled a bit too in the session earlier today with overall grip. We just had a lot of understeer in Turn 4 and the car just wanted to break loose and take off. We just missed the balance with the PNC Bank car, and if you do that on a short track like this you really pay the price in the lap times."
ED JONES (No. 10 NTT DATA Chip Ganassi Racing Honda): "In the first practice today the track was really slippery. We ran into a bit of traffic on our mock qualifying runs but it wasn't terrible. I was happy overall with the NTT DATA car to that point, but in qualifying it wasn't an ideal run. My front bar in the car did something odd and I couldn't make the adjustments I needed to. So we were a bit behind with the car and it's really hard to attack. So it's moving on to the night session to try and improve the car for tomorrow."
WILL POWER (No. 12 Verizon Team Penske Chevrolet): "In practice, the track temperatures were really high and we were having massive lifts. During qualifying, the track was just totally different and the car was really stuck. It felt really good. It is just a very different condition because all of the downforce comes from the floor. When the track gets hot, it loses a lot. I am hoping tomorrow night we can open a second lane because if that happens, it will make the racing great. Otherwise it is a single line and it makes it tough. So hopefully, early on people will go up for a second lane and then it starts rubbering in as the race progresses."
TONY KANAAN (No. 14 ABC Supply AJ Foyt Racing Chevrolet): "That was a helluva save, so instead of talking about qualifying, let's talk about the save. The car's in one piece. We were expecting the track to change, but it gained more front grip than expected and that's why we got loose. If it wasn't for that, we would have been a couple tenths quicker and we would have picked up a couple more positions, but I don't think we had a car for the pole. But I'm really proud of my guys, we've worked really hard. We're in the top 10, so we'll take it and go from there."
GRAHAM RAHAL (No. 15 One Cure Honda): "All in all it was a decent day for us." (About the difference having a teammate made): "It did make quite a difference. We heard Takuma's (Sato) report that his car was extremely loose in qualifying, so we adjusted ours. And then mine in qualifying had a ton of understeer, which, I think, limited us a fair bit. Having said that, it's a powerful thing to have a teammate. We rolled off the trucks this morning we both struggled, but at least we both had the exact same feedback, which gives us a good opportunity to improve the One Cure car as we go through this next session. Twelfth isn't great, but if you look at it, if you gain a tenth and a half (of a second), you are four or five spots up. INDYCAR racing is the most competitive form of motorsport in the world. Here is just a prime example: I ran my laps and thought they were going to say over the radio that is was eighth or seventh and they said 11th. I thought 'No way.'"
SEBASTIEN BOURDAIS (No. 18 Team SealMaster Honda, 2018 Desert Diamond West Valley Casino Phoenix Grand Prix pole winner): "I have to say every time I jump in that car in qualifying trim and stuff, I think (about my crash in qualifying for the 2017 Indianapolis 500). It stays in the back of your mind. You fight yourself more than the car, I think at some point. It was just a good effort. The guys did a really good job. Obviously, qualifying position is pretty big. I knew it was going to take a flat (Turn) 3 and 4. I wasn't quite sure about Turn 1 and 2 and how much I needed to dig. The car was really solid. That SealMaster No. 18 Honda was really solid. As soon as that track temp cooled off, it just gives you all the grip you need to make it happen. It's high tension, high pressure. Really listening to the car and making sure you don't overdo it. It's a great achievement for the whole Dale Coyne Racing team with Vasser and Sullivan."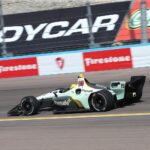 Pietro Fittipaldi in his first ever oval qualifying
PIETRO FITTIPALDI (No. 19 The Paysafe Car Honda): "It was great. A first top ten in my first Verizon IndyCar Series qualifying, I'm happy with that. The car felt really good. The engineers did a great job giving me a good car for qualifying. Practice was a lot different than when we tested here in February. The track is a lot hotter and the Paysafe car is moving around a lot more but overall it felt good, I felt confident. The Dale Coyne team has done a great job in getting me up to speed. I'm doing my best and trying to learn as much as I can. I'm really happy overall with everything."
ED CARPENTER (No. 20 Ed Carpenter Racing Fuzzy's Vodka Chevrolet): "It was tough out there, for sure. The car had been feeling pretty good. I wasn't quite expecting to get that loose. I had a pretty big wiggle in Turn 1 on my first lap, which probably didn't help my confidence for the second lap. It's qualifying, though, you just have to adjust the best you can. It's going to be tough tomorrow night, but I know we'll be up for the challenge."
SPENCER PIGOT (No. 21 Ed Carpenter Racing Fuzzy's Vodka Chevrolet): "We're still struggling a little bit to find the balance we had at the end of the test in February, but we made good improvements in qualifying. However, we're still looking for more for both Fuzzy's Vodka cars for tomorrow. It's going to be a totally different animal during the race, with traffic and long stints on the tires. Phoenix is definitely a new challenge for me but it's an exciting one."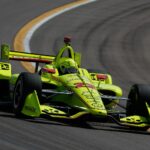 Simon Pagenaud
SIMON PAGENAUD (No. 22 Menards Team Penske Chevrolet, 2017 Desert Diamond West Valley Casino Phoenix Grand Prix winner): "It was fun. What a phenomenal qualifying session for our team. We were mid pack, and I knew we would go faster at the end. When you see the lap time hold on, you hope. The hope was strong. Congratulations Seb (Sebastien Bourdais). Very cool that we have a French front row on an oval. It's rare. It's very cool for him, too. He's obviously having great success right now. Well deserved. It's good for him, but we're friends and want to beat each other really bad. He got me today, I'll try to get him tomorrow. But the conditions were a lot easier this afternoon. This morning was super tough. Very, very difficult, very greasy. The cars were sliding around, which actually I thought was good because driving was really difficult.This afternoon with the temperature going down for qualifying, it got better, everybody got better. It was easier to drive. I would say qualifying was not as challenging as this morning practice. I think the race is going to be quite similar to qualifying. The cars are fun to drive. So far I love it. Hopefully, we can bring another trophy.
CHARLIE KIMBALL (No. 23 Tresiba Chevrolet): "Our qualifying result isn't where we want to be, but I think we found the direction we need to go after the first practice. Part of it is that the conditions are a little bit easier and everyone is going quicker as the track temps cool down. We didn't roll off the trucks setup-wise exactly where we wanted to be, so we're just trying to get the No. 23 Tresiba Chevrolet back to where it needs to be for tonight's practice. This last practice is going to be really important for getting ready for tomorrow night's race with the conditions being similar to race conditions. We just have to keep making forward progress and make the car better, because anything can happen over 250 laps."
ZACH VEACH (No. 26 Group One Thousand One Honda): "I don't know what we've done from the test to now. At the test, we had a really good car, but since we've come back we just haven't had it. Every time we get into a corner, it feels like I'm saving my life. The guys have been working insanely hard to try and fix it, we just don't have a lot of time to figure it out with only a one-hour session before qualifying. Hopefully we can work with the teammates and figure it out tonight, but we're going to have a long day tomorrow working our way back up."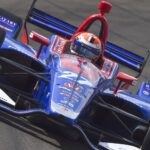 Alexander Rossi
ALEXANDER ROSSI (No. 27 MilitaryToMotorsports.com Honda): "The Military to Motorsports Honda was good, no doubt about it. There was a big change in track conditions from just two hours ago. It was a good two laps – I'm happy with it. We qualified fourth and had a strong run for the team. It's definitely a handful out there, I hope the fans get quite the show tomorrow night because we're working really hard out there."
RYAN HUNTER-REAY (No. 28 DHL Honda): "We thought we'd be a bit better than eighth. We'll have to go back and look at it, we were a little bit conservative with our run. The track conditions really improved from earlier today, so it's interesting. We just didn't get everything out of it. But tonight's practice is, I think, the most important session of the weekend – aside from the race. Hopefully, we can make up some ground tonight, set up our car for tomorrow and get the DHL Honda up front."
TAKUMA SATO (No. 30 Mi-Jack / Panasonic Honda): "It was a challenging qualifying. In the practice session, we couldn't get things together and we had to change so much on the car for qualifying. I had a wiggle twice over the two laps, but I saved it. It was a bit too sketchy, but I'm relatively happy with where we are. Compared to where the car was in practice, it was much better in qualifying."
KYLE KAISER (No. 32 Juncos Racing Chevrolet): "I am very happy with the way my first Verizon IndyCar Series qualifying session went. The Chevy engine was super strong. We rolled out with a ton of power and I was getting used to it. As we got going the track was very different from the practice session earlier, but I felt really great. I personally feel like I may have left a tiny bit on the table not knowing how well the car was going to be during this session. Overall, I'm thrilled, I think we put down a good lap. Now let's see how the car is during the race tomorrow night."
MAX CHILTON (No. 59 Gallagher Chevrolet): "Short oval qualifying is always a bit hectic – it's out and within two minutes you're completely done with qualifying. We went the wrong way with our setup for the first practice and unfortunately, we didn't have enough time between the first practice and qualifying to change it back. We just had to put a band-aid on the car and get it through qualifying. Now we just need to get the No. 59 Gallagher Chevrolet back to where it needs to be to make sure it's ready for race running, which is really what matters tonight and tomorrow."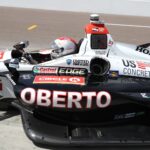 Marco Andretti struggling with lower down-force cars
GABBY CHAVES (No. 88 Harding Group Chevrolet): "This qualifying was a big improvement in terms of how the car feels from Practice 1, so that is a major positive. We won't be starting near the front, but at least we get to take away that we improved the car, and hopefully, we can work on it some more during practice and make even more improvements for the race tomorrow."
MARCO ANDRETTI (No. 98 Oberto Circle K / Curb Honda): "Not where we wanted to end up in qualifying. We're going to work tonight to just get a good race car for tomorrow. Halfway through a stint around a track like this, things are going to get difficult. We need to get the No. 98 comfortable from Lap 15 to 50 on tires. We were a lot too low on our qual run – we weren't expecting the big pace gain. I was just bottoming everywhere and at the limit of the deck of the car. After qualifying, we found that the skid was pulling down, and we were bottoming in third gear. That caused our struggle and lost time. We're going to need to make some headway and work our way back in the race. Hoping to put on a good show and get a good result with for our Oberto Circle K throwback."
Lineup
| | | | | | | | | |
| --- | --- | --- | --- | --- | --- | --- | --- | --- |
| Pos | No | Name | FTime | Diff | Gap | FSpeed | Engine | Team |
| 1 | 18 | Sebastien Bourdais | 19.503 | –.—- | –.—- | 188.644 | Honda | Dale Coyne Racing |
| 2 | 22 | Simon Pagenaud | 19.537 | 0.0811 | 0.0811 | 188.322 | Chevy | Team Penske |
| 3 | 12 | Will Power | 19.668 | 0.3523 | 0.2712 | 187.066 | Chevy | Team Penske |
| 4 | 27 | Alexander Rossi | 19.684 | 0.3584 | 0.0061 | 186.908 | Honda | Andretti Autosport |
| 5 | 5 | James Hinchcliffe | 19.781 | 0.5880 | 0.2296 | 185.999 | Honda | Schmidt Peterson Motorsports |
| 6 | 6 | Robert Wickens | 19.765 | 0.6690 | 0.0810 | 186.145 | Honda | Schmidt Peterson Motorsports |
| 7 | 1 | Josef Newgarden | 19.802 | 0.6867 | 0.0177 | 185.796 | Chevy | Team Penske |
| 8 | 28 | Ryan Hunter-Reay | 19.864 | 0.8099 | 0.1232 | 185.215 | Honda | Andretti Autosport |
| 9 | 14 | Tony Kanaan | 19.844 | 0.8339 | 0.0240 | 185.403 | Chevy | AJ Foyt Enterprises |
| 10 | 19 | Pietro Fittipaldi | 19.918 | 0.8440 | 0.0101 | 184.717 | Honda | Dale Coyne Racing |
| 11 | 10 | Ed Jones | 19.919 | 0.8949 | 0.0509 | 184.713 | Honda | Chip Ganassi Racing Teams |
| 12 | 15 | Graham Rahal | 19.990 | 0.9803 | 0.0854 | 184.053 | Honda | Rahal Letterman Lanigan Racing |
| 13 | 30 | Takuma Sato | 20.051 | 1.1902 | 0.2099 | 183.490 | Honda | Rahal Letterman Lanigan Racing |
| 14 | 32 | Kyle Kaiser | 20.092 | 1.2124 | 0.0222 | 183.119 | Chevy | Juncos Racing |
| 15 | 21 | Spencer Pigot | 20.166 | 1.3990 | 0.1866 | 182.449 | Chevy | Ed Carpenter Racing |
| 16 | 4 | Matheus Leist | 20.145 | 1.4430 | 0.0440 | 182.635 | Chevy | AJ Foyt Enterprises |
| 17 | 9 | Scott Dixon | 20.136 | 1.4459 | 0.0029 | 182.714 | Honda | Chip Ganassi Racing Teams |
| 18 | 20 | Ed Carpenter | 20.296 | 1.5710 | 0.1251 | 181.278 | Chevy | Ed Carpenter Racing |
| 19 | 88 | Gabby Chaves | 20.234 | 1.6410 | 0.0700 | 181.836 | Chevy | Harding Racing |
| 20 | 98 | Marco Andretti | 20.370 | 1.8064 | 0.1654 | 180.617 | Honda | Andretti Autosport with Curb-Agajanian |
| 21 | 59 | Max Chilton | 20.572 | 2.2039 | 0.3975 | 178.845 | Chevy | Carlin |
| 22 | 23 | Charlie Kimball | 20.572 | 2.4276 | 0.2237 | 178.845 | Chevy | Carlin |
| 23 | 26 | Zach Veach | 20.670 | 2.8440 | 0.4164 | 177.995 | Honda | Andretti Autosport |
[adinserter name="GOOGLE AD"]