Kurt Busch leads SHR Fords 1-2-3 in qualifying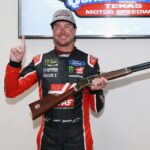 Kurt Busch won a gun for winning the pole
Kurt Busch will start from the pole position Sunday after lightning near Texas Motor Speedway halted Friday's Busch Pole Award qualifying session following Round 1. Sunday's qualifying order in the Lone Star State will be set based on Round 1 qualifying speeds.
Busch, who holds the track record for the quickest lap, was fastest in qualifying's opening round with a top speed of 197.368 mph in his No. 41 Stewart-Haas Racing Ford. Stewart-Haas Racing will start 1-2-3 on Sunday, as Kevin Harvick's No. 4 Ford was second-fastest (197.116 mph) and Martinsville winner Clint Bowyer came up third-quickest in his No. 14 with a fast lap of 196.829 mph.
Team Penske's Ryan Blaney will roll off the grid fourth in his No. 12 Ford (196.600 mph), while Denny Hamlin's No. 11 Joe Gibbs Racing Toyota rounded out the top five with a top speed of 196.257 mph.
Reigning race winner Jimmie Johnson's No. 48 Hendrick Motorsports Chevrolet was the highest-ranking Chevy, recording the ninth-fastest speed in the field after a 195.603-mph lap.
Chris Buescher made contact with the Turn 2 wall during his first qualifying attempt in Round 1. After his crew assessed the damage, NASCAR approved the No. 37 team to make a two-tire change. He was able to make a lap before time expired in Round 1 and will start Sunday's race 18th.
The Monster Energy Series is back on track for practice on Saturday at 11 a.m. ET (FS1).
Lineup
| | | | | | |
| --- | --- | --- | --- | --- | --- |
| Pos | Car | Driver | Team | Time | Speed |
| 1 | 41 | Kurt Busch | Haas Automation/Monster Energy Ford | 27.360 | 197.368 |
| 2 | 4 | Kevin Harvick | Busch Light Ford | 27.395 | 197.116 |
| 3 | 14 | Clint Bowyer | Mobil 1/Rush Truck Centers Ford | 27.435 | 196.829 |
| 4 | 12 | Ryan Blaney | Menards/Richmond TheWtrHtrExprts Ford | 27.467 | 196.600 |
| 5 | 11 | Denny Hamlin | FedEx Office Toyota | 27.515 | 196.257 |
| 6 | 78 | Martin Truex Jr. | Bass Pro Shops/5-hour ENERGY Toyota | 27.554 | 195.979 |
| 7 | 22 | Joey Logano | Shell Pennzoil Ford | 27.562 | 195.922 |
| 8 | 18 | Kyle Busch | Interstate Batteries Toyota | 27.583 | 195.773 |
| 9 | 48 | Jimmie Johnson | Lowe's for Pros Chevrolet | 27.607 | 195.603 |
| 10 | 42 | Kyle Larson | Credit One Bank Chevrolet | 27.688 | 195.030 |
| 11 | 2 | Brad Keselowski | Miller Lite Ford | 27.689 | 195.023 |
| 12 | 10 | Aric Almirola | Smithfield Ford | 27.693 | 194.995 |
| 13 | 6 | Trevor Bayne | Performance Plus Ford | 27.715 | 194.840 |
| 14 | 19 | Daniel Suarez | STANLEY Racing for a Miracle Toyota | 27.719 | 194.812 |
| 15 | 43 | Darrell Wallace Jr. # | Click n' Close Chevrolet | 27.726 | 194.763 |
| 16 | 88 | Alex Bowman | Nationwide Chevrolet | 27.729 | 194.742 |
| 17 | 3 | Austin Dillon | Symbicort Chevrolet | 27.757 | 194.546 |
| 18 | 37 | Chris Buescher | Bush's Beans Chevrolet | 27.758 | 194.539 |
| 19 | 21 | Paul Menard | Quick Lane Tire & Auto Center Ford | 27.774 | 194.426 |
| 20 | 9 | Chase Elliott | NAPA Auto Parts Chevrolet | 27.789 | 194.321 |
| 21 | 20 | Erik Jones | Reser's Toyota | 27.810 | 194.175 |
| 22 | 47 | AJ Allmendinger | Kroger ClickList Chevrolet | 27.842 | 193.952 |
| 23 | 13 | Ty Dillon | GEICO Chevrolet | 27.861 | 193.819 |
| 24 | 1 | Jamie McMurray | Cessna Chevrolet | 27.873 | 193.736 |
| 25 | 31 | Ryan Newman | Grainger Chevrolet | 27.905 | 193.514 |
| 26 | 17 | Ricky Stenhouse Jr. | SunnyD Ford | 27.913 | 193.458 |
| 27 | 34 | Michael McDowell | Love's Travel Stops Ford | 27.919 | 193.417 |
| 28 | 95 | Kasey Kahne | Procore Chevrolet | 28.030 | 192.651 |
| 29 | 38 | David Ragan | 1000Bulbs.Com Ford | 28.082 | 192.294 |
| 30 | 32 | Matt DiBenedetto | Can-Am/Wholey Ford | 28.184 | 191.598 |
| 31 | 15 | Ross Chastain(i) | LowT Center Chevrolet | 28.325 | 190.644 |
| 32 | 23 | Gray Gaulding | Earthwater Toyota | 28.569 | 189.016 |
| 33 | 24 | William Byron # | Liberty University Chevrolet | 28.694 | 188.193 |
| 34 | 72 | Cole Whitt | Rinnai Chevrolet | 28.963 | 186.445 |
| 35 | 00 | Landon Cassill | USFRA.ORG Chevrolet | 30.276 | 178.359 |
| 36 | 51 | Harrison Rhodes | Rick Ware Racing Chevrolet | 32.729 | 164.991 |
| 37 | 55 | Reed Sorenson | Chevrolet | 0.000 | 0.000 |