IndyCar Phoenix Grand Prix Preview
Simon Pagenaud won in 2017
Desert Diamond West Valley Casino Phoenix Grand Prix Fast Facts
Race weekend: Friday, April 6 – Saturday, April 7, 2018
Track: ISM Raceway, a 1.022-mile oval in Avondale, Arizona
Race distance: 250 laps / 255.5 miles
Entry List: Desert Diamond West Valley Casino Phoenix Grand Prix (PDF)
Firestone tire allotment: Ten sets primary
Twitter: @ISMRaceway, @IndyCar, #DesertDiamondPGP, #IndyCar
Event website: www.ISMRaceway.com
INDYCAR website: www.IndyCar.com
2017 race winner: Simon Pagenaud (No. 1 Menards Team Penske Chevrolet)
2017 pole winner: Helio Castroneves (No. 3 REV Group Team Penske Chevrolet), 37.7538 seconds (194.905 mph)
Qualifying lap record: Helio Castroneves (18.8701 seconds; 194.975 mph), set on April 29, 2017
NBCSN race telecast: Saturday, April 7 (9 p.m. ET, live)
NBCSN qualifying telecast: Saturday, April 6 (8 p.m. ET, live)
Leigh Diffey will be the play-by-play announcer for NBCSN's telecast of the Desert Diamond West Valley Casino Phoenix Grand Prix alongside analysts Townsend Bell and Paul Tracy. Marty Snider, Kevin Lee, Katie Hargitt and Robin Miller are the pit reporters.
Video Streaming: Both practice sessions will be available on RaceControl.IndyCar.com and on the INDYCAR YouTube channel (www.youtube.com/indycar)
[adinserter name="GOOGLE AD"]Radio broadcasts: The Advance Auto Parts INDYCAR Radio Network is led by chief announcer Mark Jaynes, with analyst Anders Krohn. The turn reporter is Jake Query with Nick Yeoman and Michael Young reporting from the pits.
All Verizon IndyCar Series races are broadcast live on the Advance Auto Parts INDYCAR Radio Network, Sirius 214, XM 209, IndyCar.com, indycarradio.com and on the INDYCAR Mobile app. Verizon IndyCar Series qualifying is broadcast on Sirius 214, XM 209, IndyCar.com, indycarradio.com and the INDYCAR Mobile app and Verizon IndyCar Series practices are broadcasted on IIndyCar.com, indycarradio.com and the INDYCAR Mobile app.
At-track schedule (all times local):
Friday, April 6
2 – 3 p.m. – Verizon IndyCar Series practice #1, RaceControl.IndyCar.com
5 p.m. – Qualifying for the Verizon P1 Award (single-car format, two laps each), NBCSN (Live)
8 – 9 p.m. Verizon IndyCar Series final practice, RaceControl.IndyCar.com
Saturday, April 7
6 p.m. – NBCSN on air
6:35 p.m. – Desert Diamond West Valley Casino Phoenix Grand Prix (250 laps/255.50 miles), NBCSN (Live).
Race Notes: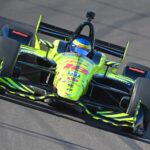 Sebastien Bourdais
* Sebastien Bourdais claimed the season-opening race of the Verizon IndyCar Series for the second year in a row as he won the Firestone Grand Prix of St. Petersburg on March 11. Bourdais is hoping to claim back-to-back wins to start the season for the first time since 2006 as he pursues a fifth Indy car championship.
* Josef Newgarden of Team Penske continues defense of his 2017 Verizon IndyCar Series championship. Newgarden captured his first series title in his first season with Team Penske, winning four times. Now he aims to be Team Penske's first repeat champion since Gil de Ferran collected back-to-back CART championships in 2000 and 2001.
* Scott Dixon hopes to add to his record-setting resume in 2018. Dixon's four season championships tie him with Indy car greats Mario Andretti, Sebastien Bourdais and Dario Franchitti, trailing only the seven titles collected by A.J. Foyt. Dixon is fourth on the all-time Indy car victory list with 41 and won at ISM Raceway in 2016.
* The Desert Diamond West Valley Casino Phoenix Grand Prix will be the 64th Indy car race at ISM Raceway since the track opened as Phoenix International Raceway in 1964. Al Unser has the most wins by an Indy car driver at the track (six). Tony Kanaan (2003 and 2004), Scott Dixon (2016) and Simon Pagenaud (2017) are the past Phoenix winners entered in this year's race.
* ISM Raceway will host the first of six oval races on the 2018 Verizon IndyCar Series schedule. Other ovals event scheduled are: 102nd Running of the Indianapolis 500 presented by PennGrade Motor Oil (May 27), DXC Technology 600 at Texas Motor Speedway (June 9), Iowa Corn 300 at Iowa Speedway (July 8), ABC Supply 500 at Pocono Raceway (Aug. 19) and Bomarito Automotive Group 500 presented by Valvoline at Gateway Motorsports Park (Aug. 25).
* Twelve drivers have won the Phoenix race from the pole: Mario Andretti (1966), Lloyd Ruby (1967), Bobby Unser (1968, 1972), Al Unser (1969 and 1985), Gordon Johncock (1973), Johnny Rutherford (1977), Rick Mears (1982, 1989 and 1990), Teo Fabi (1983), Tom Sneva (1984), Arie Luyendyk (1996), Helio Castroneves (2002) and Tony Kanaan (2003).
* Drivers who have won at Phoenix have gone on to win the Indy car championship nine times: A.J. Foyt (1964, first race; 1975, second race), Mario Andretti (1966, second race), Bobby Unser (1968, first race), Al Unser (1970, first race; 1985), Rick Mears (1982, first race), Bobby Rahal (1992), Buddy Lazier (2000), Sam Hornish Jr. (2001) and Tony Kanaan (2004).
* Matheus "Matt" Leist, Robert Wickens, Pietro Fittipaldi and Kyle Kaiser will each make their first Indy car oval start this weekend at ISM Raceway. Fittipaldi, the grandson of two-time Indianapolis 500 winner Emerson Fittipaldi, and Kaiser, the 2017 Indy Lights champion, will each be making his series debut in Phoenix. The four drivers – along with Zach Veach – are all Sunoco Rookie of the Year contenders.
* Tony Kanaan seeks to start his 284th consecutive race this weekend, which would extend his Indy car record streak that began in June 2001 at Portland. Kanaan will attempt to make his 345th Indy car start, which would pass Helio Castroneves for third on the all-time list.
* Scott Dixon has made 225 consecutive starts heading into the weekend, which is the second-longest streak in Indy car racing. Andretti Autosport's Marco Andretti has made 201 consecutive starts, which is the fourth-longest streak in Indy car racing.
DESERT DIAMOND WEST VALLEY CASINO PHOENIX GRAND PRIX PRE-EVENT QUOTES:
JOSEF NEWGARDEN (No. 1 Verizon Team Penske Chevrolet, 2017 Verizon IndyCar Series champion): "We had a decent start to the season at St. Petersburg with a top-10 finish but we're hungry for more. We tested recently at ISM Raceway with the new aero kit and learned a lot that we can apply to our oval program for the season. Phoenix is a really fun market and the fans there always are really excited for the race weekend. Last season we had a decent finish there but we're ready to find a better result this year for the No. 1 Verizon Chevrolet."
MATHEUS "MATT" LEIST (No. 4 ABC Supply AJ Foyt Racing Chevrolet): "Phoenix will be one of the hardest races for me because it'll be my first race (on an oval) in an Indy car and also my first night race in a car ever. I've done a few go-kart races at night but never a car race. I'm pretty excited. I think the preseason test in Phoenix was good, the car was looking fast. With all of the hard work we've been doing in the offseason, I think we're in good shape for the race. Hopefully, we'll have fun and manage to get some great results for the team and myself as well. I'm really looking forward to the challenge."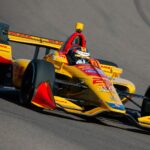 Ryan Hunter-Reay
JAMES HINCHCLIFFE (No. 5 Arrow Electronics SPM Honda): "Obviously Phoenix is a totally different racetrack than St. Pete, but the whole SPM team is pretty buoyed by the performance that we saw out of the whole team in Round 1. So fingers crossed we can keep the momentum going that we started the season with. Of course, everything is new going into the race weekend with the new (aero) kits on a short oval, but we're all pretty confident that the racing will be better than what we've seen there the last couple seasons. That's the most important thing for us – putting on a show for the fans. Phoenix has been part of IndyCar's return in a big way, and we want to reward them with a great show. Hopefully, we'll see the Arrow Electronics and Lucas Oil Hondas up front."
ROBERT WICKENS (No. 6 Lucas Oil SPM Honda): "After my first Indy car race in St. Petersburg, it obviously didn't go quite as planned, but there are still a lot of positives to take away from it. Now I'm looking forward to my first oval race in Phoenix. I don't really know what to expect; we'll just take it one session at a time. I think qualifying will be very important, so hopefully, we can do a strong jump there. I just want to make it through my first oval race incident free, hopefully, complete every lap and learn. The dream would be to have the Lucas Oil car in the top 10 at the end."
SCOTT DIXON (No. 9 PNC Bank Chip Ganassi Racing Honda): "I think the race in Phoenix this year will be a bit of an unknown with the new package we have. We did get to test here in the No. 9 PNC Bank car for spring training, but obviously, that will be different running with other cars together in race conditions. We were able to dig deep and come from the back a few times in St. Petersburg to get a decent result, and we're hoping we make life a bit easier for ourselves for this weekend's race."
ED JONES (No. 10 NTT DATA Chip Ganassi Racing Honda): "I'm excited to be back in the NTT DATA car this weekend for Phoenix. We had a great test there earlier in the year, and this will be the very first oval race of the season, which I'm looking forward to. The car was really strong in the test and it should be interesting to see how everything works out racing under the lights in oval trim. I can't wait to get back to racing in just a few short days."
WILL POWER (No. 12 Verizon Team Penske Chevrolet): "It was great to have some time off to spend with my family but I'm ready to head back to the racetrack. We didn't have the finish we wanted at St. Petersburg so I'm really looking forward to the weekend at ISM Raceway. We found some great speed at our test there back in February and feel like we're going to bring a strong oval No. 12 Verizon Chevrolet for the race.
TONY KANAAN (No. 14 ABC Supply AJ Foyt Racing Chevrolet): "Phoenix is one of the tracks that I always look forward to going back to. For some reason, ISM Raceway and I click really well and I was fortunate to win there twice over the years. The track layout suits my style, I guess. AJ Foyt Racing had a pretty good test there earlier this year, which is a good indication that the team is headed in the right direction with our short oval package. Setting up the car for a night race is always a bit tricky because we practice and qualify in the heat of the day which is quite different from what we'll have in race conditions, but that's part of what makes this race so special. I'm looking forward to getting to Phoenix this week and hitting the ground running with the No. 14 ABC Supply Chevrolet."
GRAHAM RAHAL (No. 15 One Cure Honda): "I am very pleased with how the season began. I would have liked to finish one spot better, of course, but I won't get too greedy! We got lucky there with some stuff, and overcame a lot with strategy, having speed when needed and keeping our heads down throughout that race. I definitely think Phoenix should be good for us. We need to focus hard on areas we were weak at during the test and find a way to make some magic happen for the One Cure team. I believe we should be very competitive, but always keeping in mind that others will improve too. There is no doubt about that. I think we needed to focus on chassis balance a bit as we approach the weekend but I am confident Tom (German) and the engineering group will get it right. The new aero kit will make it much more competitive. Everyone knows the struggles of the past, and somewhat of a split grid. That won't be the case this time. I think you are in for a long night and a very competitive race weekend."
SEBASTIEN BOURDAIS (No. 18 Team SealMaster Honda, Verizon IndyCar Series points leader): "Obviously, winning at St. Petersburg to open the season was big. It is always great to start a season with a good result. I am not a big believer in momentum, but the Dale Coyne Racing with Vasser-Sullivan SealMaster team knows that if we keep digging and working hard as a group we can achieve the results we want. We did not get as much pre-season testing as some other teams, but we did test at Phoenix with the new aero kits in February. We know there are going to be challenges, but I am confident we can put a competitive car on the track this weekend."
PIETRO FITTIPALDI (No. 19 The Pay safe Car Honda): "I'm really excited, it's going to be my first Indy car race and I'm really looking forward to it. We tested at Phoenix earlier this year and it went well. I learned the track and we did several race stints. The races are a lot longer than what I'm used to, so that is going to be new for me. It's going to be my first oval race in six years. I used to race ovals with late model (stock cars) but this is going to be my first real open-wheel oval race, so I'm really excited. We've done a good job in testing and developing the No. 19 Pay safe car. I've gotten up to speed with the car and with how things work like pit stops and fuel saving and I feel good heading into the weekend. As for goals and expectations, obviously as a racing driver you want to win every race, but INDYCAR is an extremely competitive series and it's going to be my first race on an oval with the Indy car and I'm a rookie so I'm going to try and do as many laps as I can, learn as much as I can and at the end of the day I want to try and deliver the best result for the team. That's the most important part. I can't wait to get on track."
ED CARPENTER (No. 20 Ed Carpenter Racing Fuzzy's Vodka Chevrolet): "I am very excited to get my season started finally. The team has done a very good job getting prepared for this year and I am confident that we are ready for this first oval race. Phoenix always presents a tough challenge for the teams, but we are heading there to go fight for a win."
SPENCER PIGOT (No. 21 Ed Carpenter Racing Fuzzy's Vodka Chevrolet): "This will be my first time ever racing at Phoenix and it will be my first race on a short oval since Indy Lights in 2015, so there's a lot to look forward to. I really enjoyed the challenges of the track at the open test back in February. It's extremely fast. It's very important to be precise with the car because the racing line is very narrow. If you're not in the right place, it will cost a lot of lap time. We made good progress at the test on the Fuzzy's Vodka car which we hope will put us in a good spot this weekend. I've spent a lot of time with ECR the past two seasons watching and studying everything about oval racing, so it will be a nice change to be actually driving in the race."
SIMON PAGENAUD (No. 22 Menards Team Penske Chevrolet, 2017 Desert Diamond West Valley Casino Phoenix Grand Prix winner): "I'm really excited to go back to Phoenix. While St. Petersburg did not go as we expected, I feel after testing at ISM Raceway earlier this year that the new aero kit is going to make some really exciting racing and I believe we prepared the No. 22 Menards Chevrolet really well for that event. Winning there last with the Menards Chevrolet team was terrific. Phoenix is a fantastic market for INDYCAR and has really great support from the fans, so I can't wait to go racing full speed on this thrilling oval at ISM Raceway."
CHARLIE KIMBALL (No. 23 Tresiba Chevrolet): "I'm looking forward to going back to ISM Raceway with the No. 23 Tresiba Chevy Carlin team. With the three back-to-back upcoming Verizon IndyCar Series race weekends, there are lots of points to collect before May. It's nice that we have some track data from the open test in February, so we'll be using what we learned to quickly get up to speed as soon as we arrive in the desert. Since the checkered flag in St. Pete, we've had just one day on track, testing at Barber, but we've really worked to maximize every single lap as a learning opportunity. We'll see how it plays out with the warmer temperatures, tires, and strategy in Phoenix. We'll control what we can and adapt when needed."
ZACH VEACH (No. 26 Group One Thousand One Honda): "I've been really looking forward to racing in Phoenix since we announced my full season with Andretti! As a young guy, you always dream about racing an Indy car under the lights. To finally be into race week and heading to ISM Raceway with the Group One Thousand One car is definitely something I'm excited about. With the first race behind us, we have a little momentum starting to build and I'm ready to see what's in store for us at Phoenix. As a team, we had a pretty strong test here back in February, so we should be starting off on the right foot.
Alexander Rossi
ALEXANDER ROSSI (No. 27 MilitaryToMotorsports.com Honda): "It's been quite a few weeks since St. Pete which has allowed us all to get prepared for three back-to-back races starting this weekend in Phoenix. I cannot wait to get out there and get started and hopefully grab the second podium of the year."
RYAN HUNTER-REAY (No. 28 DHL Honda): "The first oval race of the year coming up at ISM Raceway and one thing's for sure, it's going to be quite a bit different than the past couple years. The new universal aero kit with less downforce will present a whole new set of challenges when it comes to running in traffic. Clean air will be key; however, due to the size of the track, we'll spend most the race buried in traffic. This is potentially an opportunity we can take advantage of if we can develop a good race setup in practice.
TAKUMA SATO (No. 30 Mi-Jack / Panasonic Honda): "We had quite a successful open test in February. Obviously, the temperatures and conditions will be different but it gave us a very good indication of the new aero kit on the track there and we had a very productive test. The test was something I was looking forward to for a long time. I felt the car was very fun to drive and we looked strong in testing. Phoenix is an exciting track. The sensation of speed and G-forces are impressive. Hopefully we have a good night and hopefully, we will be competitive. As we expected for St. Pete, the reduction of downforce affected the racing a lot. At Phoenix, it is now difficult to go flat (on the accelerator). In fact, no one has gone flat there yet. Imagine you now have to race with the qualifying level (of downforce) that we had last year there. The tire management is going to be even more important. At the end of every stint, it is going to come down to who can manage their tires better because there will be big tire degradation for sure due to the lack of downforce. I'm sure that will make the racing very exciting. In St. Pete we weren't fortunate in the race but I think we showed a good competitiveness so hopefully, we will be very strong again in Phoenix."
KYLE KAISER (No. 32 Juncos Racing Chevrolet): "I'm very excited to be making my Verizon IndyCar Series debut at ISM Raceway. This track will always be a special place for me since I got my first win in the Indy Lights series in 2016, so I couldn't think of a better place to have my first race in the Verizon IndyCar Series. The team and I have been working hard and making great progress since our first test day in Phoenix, so I'm just looking forward to getting back in the car and showing what we've got."
MAX CHILTON (No. 59 Gallagher Chevrolet): "I think we're all ready to get back out on track after St. Pete and a couple of weekends off. St. Pete was a great learning experience for the whole Carlin team and we feel like we made a lot of progress just in that one weekend. We know we have a lot of work to do to get where we want to be, but everyone here at Carlin is completely confident that we'll get there in time. The No. 59 Gallagher Chevrolet was solid in St. Pete, so we want to take that stability and turn it into some speed this weekend in Phoenix. We made big leaps forward here at the Phoenix open test in February and we're just hoping that the data we were able to get is going to translate into some positive results on track. It's a pretty packed weekend with it only being a two-day event, so we'll have to make sure we get everything we can out of every lap we have in those two practice sessions."
GABBY CHAVES (No. 88 Harding Group Chevrolet): "Heading out to Phoenix for our first short oval race, not only of the year but as a team. We had two days of testing there in the pre-season, so we have a good idea of the direction we want to take from where we were. We expect that it will be a pretty tough race in terms of passing. We think everything will come down to qualifying up front, then holding your track position as best as you can throughout the race and having clean pit stops. I think we've done a lot of work in between pre-season testing and getting back to the race weekend now, so hopefully, we can put all that work and effort into a good result out there this weekend."
MARCO ANDRETTI (No. 98 Oberto Circle K / Curb Honda): "We had a pretty good test in Phoenix back in February – ending P6 – and we're looking to build on that as we enter the race weekend. I'm excited to celebrate the 25th anniversary of my grandfather's last win with a special throwback livery to his 1993 Newman/Haas colors. Big thanks to Oberto Beef Jerky and Circle K for coming together and helping us really throw things back properly."