Francis and Haley Grab Georgia Trans Am Poles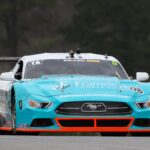 Ernie Francis, Jr
Ernie Francis, Jr., and Justin Haley will start on pole come tomorrow's duo of Trans Am Series presented by Pirelli races at Road Atlanta, Round 2 of the 2018 championship. Also setting pole for the TA3 class was Randy Kinsland, his second consecutive production class pole at Road Atlanta.
Ernie Francis, Jr., secured his ninth career TA class pole with a 1:21.060 lap around the 2.54-mile, 12 turn Road Atlanta circuit. The defending TA champion will start at the front of the multi-class TA and TA3 races in the No. 98 Frameless Shower Doors Ford Mustang, eager to continue what now stands as a streak of five consecutive wins.
Starting alongside Francis and aiming to snap that streak will be Chris Dyson, in the No. 20 Plaid/ CD Racing Ford Mustang, who turned a 1:21.665 lap to secure his own spot on the front row. Dyson finished second to Francis at the Trans Am Sebring opener after making his way up front fifth starting position.
"Tomorrow's going to be tough," said Francis. "Dyson has a good car, same chassis as we have— Meissen builds a good car and helped us win a championship last year. It's going to be a good year for us, and I think tomorrow will be a good race. We had a really fast car in qualifying; it took awhile messing around with setup to get it there with the limited track time. But we put together a good car, and the Original Frameless Shower Doors Ford Mustang should take it home tomorrow."
Starting third in the TA class will be David Pintaric, in the No. 57 Kryderacing Cadillac CTS-V, who turned a 1:21.775. Pintaric's starting position sees Road Atlanta's starting top three a mirror of Sebring's podium; as Pintaric secured third place at the Florida track. The TA class top five was completed by Simon Gregg, in the No. 59 Derhaag Motorsports Chevrolet Corvette, and Amy Ruman, in the No. 23 McNichols Company Chevrolet Corvette, with times of 1:22.088 and 1:23.995.
[adinserter name="GOOGLE AD"]In TA2, Justin Haley's pole came in the form of a blistering qualifying track record 1:24.617 lap, putting the No. 99 Fraternal Order of Eagles Ford Mustang atop the 26 car TA2 grid for tomorrow's Trans Am Muscle Car Challenge.
The pole stands as Haley's fourth of his Trans Am career in what will be his 21st start in the TA2 class. A Trans Am win still eludes Haley, despite his success in qualifying. In fact, in each of Haley's past three poles the victory has gone to Tony Buffomante, who will start alongside Haley in second position.
"I feel like every time I come over here to the Trans Am Series I can run pretty fast, put a track record down, get a pole but it's hard to win one of these," said Haley. "They're so long, 40 laps here, 100 miles, you've got to keep the tires under these cars— I don't know what the magic recipe is quite yet, but I'm working on it. Hopefully, we'll have a good run tomorrow."
Haley, who has competed in Trans Am in a limited capacity alongside his career in the NASCAR ranks, has enjoyed working on his road racing craft in TA2 as a part of the Mike Cope team.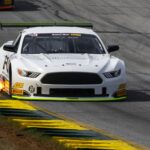 Justin Haley
"I think TA2 has definitely helped me out," said Haley. "We went out to Mosport in a truck and almost qualified on pole there. This Series has taught me a lot, and I'm glad I've been introduced to it with Mike Cope Racing. They always put a competitive car on the grid, and I can't wait to win one."
For Buffomante, who secured second starting position through a 1:25.031 lap of his own, Road Atlanta has been a stronghold over the past two seasons, with two poles and two victories. Another member of the Mike Cope team, Buffomante will attempt to chase down his teammate and a third consecutive TA2 victory on the Georgia track.
Qualifying third was Misha Goikhberg, in the No. 25 BC Race Cars Chevrolet Camaro, turning in a 1:25.073 in his Trans Am and TA2 debut. Sebring victor Marc Miller, in the No. 12 Berryman/ Prefix Dodge Challenger, and Rafa Matos, in the No. 88 3-Dimensional Services Group Chevrolet Camaro, will start in fourth and fifth positions after times of 1:25.131 and 1:25.207, respectively.
The TA2 top ten also included, in order, Keith Prociuk, Louis-Philippe Montour, Shane Lewis, Scott Lagasse, Jr., and Paul Tracy. Tomorrow's race will mark Tracy's Trans Am debut in the No. 87 3-Dimensional Services Group Chevrolet Camaro and his return to pro racing after a hiatus.
In the TA3 class, set to feature alongside TA tomorrow in multi-class competition, Randy Kinsland, in the No. 11 RF Engines Chevrolet Corvette, captured pole for the second consecutive year with a track record of his own: a 1:25.602 lap.
Kinsland was also the victor here at Road Atlanta in 2017 and will look to break a streak of mechanical failures that stretches back into the 2017 season— finally bringing the No. 11 back to the winner's circle.
Sebring winner, and defending TA3 class champion, Mark Boden, in the No. 46 Fall-Line Motorsports Porsche 991 GT3 Cup, will start alongside Kinsland after a 1:26.969 lap. Boden's Fall-Line teammate, Tim Kezman, will start third after turning a 1:27.012 lap of his own.
The TA3 class top five was completed by Aaron Pierce, in the No. 4 LSI/ Sam Pierce Chevy Chevrolet Corvette, with a time of 1:27.481 and Tom Herb, in the No. 16 Fall-Line Motorsports Porsche 991 GT3 Cup.
Trans Am competitors will return to the Road Atlanta track tomorrow for the two 101.6-mile, 40 lap competitions, the TA2 Trans Am Muscle Car Challenge powered by AEM at 11:05 AM EDT, and the TA and TA3 class Georgia Speedfest at 2:55 PM EDT, with both constituting Round 2 of the 2018 Trans Am Championship.
Fans can keep up with the remainder of the event and all of The Trans Am Series presented by Pirelli at www.gotransam.com, on Facebook at www.facebook.com/gotransam and on Twitter at @gotransam.
Remaining Event Schedule
Saturday March 31, 2018
11:10 AM — 12:25 PM TA2 – Trans Am Muscle Car Challenge
2:55 PM — 4:10 PM TA, TA3 – Trans Am Georgia Speedfest
All times are EDT
Circuit:
2.54-miles, 12-turn
Race Lengths:
40 laps/101.6-miles or 75 minutes, whichever is completed first.
Qualifying Results
| | | | | | | |
| --- | --- | --- | --- | --- | --- | --- |
| Pos | No. | Cls | PIC | Name | Sponsor/Car | Best Tm |
| 1 | 98 | TA | 1 | Ernie Francis Jr / Dania Fla. | Frameless Shower Doors/Ford Mustang | 01:21.060 |
| 2 | 20 | TA | 2 | Chris Dyson (R) / Poughkeepsie N.Y. | CD Racing/Ford Mustang | 01:21.665 |
| 3 | 57 | TA | 3 | David Pintaric / Canfield Ohio | Kryderacing/Cadillac CTS-V | 01:21.775 |
| 4 | 59 | TA | 4 | Simon Gregg / Ponte Vedra Fla. | Derhaag Motorsports/Chevrolet Corvette | 01:22.088 |
| 5 | 23 | TA | 5 | Amy Ruman / Stow Ohio | McNichols Company/Chevrolet Corvette | 01:22.250 |
| 6 | 9 | TA | 6 | Jeff Hinkle / Destin Fla. | TechnicalRealtyTexas/Netdepot/Dodge Challenger | 01:23.995 |
| 7 | 77 | TA | 7 | Tim Rubright / Kutztown PA | BlueKnobAuto.com/Ford Mustang | 01:25.485 |
| 8 | 30 | TA | 8 | Richard Grant / Germantown Tenn. | Grant Racing/Chevrolet Corvette | 01:25.806 |
| 9 | 19 | TA | 9 | Kerry Hitt / Harrisburg Pa. | Advanced Composite Products Inc/Cadillac CTS-V | 01:26.244 |
| 10 | 53 | TA | 10 | Larry Hoopaugh (R) / Chester S.C. | Hoopaugh Grading Co/Chevrolet Corvette | 01:30.681 |
| 11 | '03 | TA | 11 | Jim McAleese / Leesburg VA | McAleese and Associates/Chevrolet Camaro | – |
| 12 | 2 | TA | 12 | Lawrence Loshak / Shorewood Wis. | Pennzoil/ETE/GoShare Chevrolet Camaro | – |
| 13 | 82 | TA | 13 | Joseph Freda / Auburn AL | ERALab.com/Chevrolet Corvette | – |
| 14 | 86 | TA | 14 | John Baucom / Wesley Chapel N.C. | BaucomMtrspts/RoadRaceParts.com/Ford Mustang | – |
| 1 | #99 | TA2 | 1 | Justin Haley / Winamac IN | Mike Cope Racing Ford Mustang | 01:24.617 |
| 2 | #34 | TA2 | 2 | Tony Buffomante / Naperville Ill. | Mike Cope Racing/Ford Mustang | 01:25.031 |
| 3 | #25 | TA2 | 3 | Misha Goikhberg (R) Ontario Can | BC Race Cars Chevrolet Camaro | 01:25.073 |
| 4 | #12 | TA2 | 4 | Marc Miller (R) / Holland Mich. | Speedlogix/Prefix/Dodge Challenger | 01:25.131 |
| 5 | #88 | TA2 | 5 | Rafa Matos / Boca Raton Fla. | 3-Dimensional Services Group/Chevrolet Camaro | 01:25.207 |
| 6 | #9 | TA2 | 6 | Keith Prociuk / Deer Park Ill. | HP Tuners LLC/Chevrolet Camaro | 01:25.226 |
| 7 | #13 | TA2 | 7 | Louis-Philippe Montour / Quebec | Montour Ltd/Chevrolet Camaro | 01:25.323 |
| 8 | #92 | TA2 | 8 | Shane Lewis / Jupiter Fla. | Turnkey Industries/Surphis/Chevrolet Camaro | 01:25.466 |
| 9 | #95 | TA2 | 9 | Scott Lagasse Jr / St. Augustine Fla. | M1 Fastrack Road Racing Chassis/Chevrolet Camaro | 01:25.697 |
| 10 | #87 | TA2 | 10 | Paul Tracy (R) / Scottsdale Ariz. | Coleman Motorsports Chevrolet Camaro | 01:25.928 |
| 11 | #97 | TA2 | 11 | Tom Sheehan / Bow N.H. | LTK Insulation Technologies/Chevrolet Camaro | 01:26.352 |
| 12 | #77 | TA2 | 12 | Paul Van Terry (R) / Fillmore Utah | Paul Terry Trucks/Prefix/Dodge Challenger | 01:26.678 |
| 13 | #80 | TA2 | 13 | Jordan Bupp / Ft Lauderdale Fla. | Donatelife.net/Bupp Motorsports/Ford Mustang | 01:26.690 |
| 14 | #49 | TA2 | 14 | Ethan Wilson (R) / Santa Clara Calif. | Western Grinding/Prefix/Dodge Challenger | 01:26.709 |
| 15 | #91 | TA2 | 15 | Joe Napoleon / Magnolia Texas | Turnkey Industries/Surphis/Chevrolet Camaro | 01:26.992 |
| 16 | #76 | TA2 | 16 | Anthony Honeywell (R) / Tulsa Okla. | Liqui Moly/Honeywell Competition/Chevrolet Camaro | 01:27.644 |
| 17 | #70 | TA2 | 17 | Edward Sevadjian (R) / Texas | Multi Bldrs/TX Tool Traders/Double G/Chevrolet Camaro | 01:27.682 |
| 18 | #31 | TA2 | 18 | Elias Anderson / Driftwood Texas | Sampson Race Eng/Soul Speed/Ford Mustang | 01:27.880 |
| 19 | #14 | TA2 | 19 | Matt Parent (R) / Bellevue WA | Mike Cope Racing/Ford Mustang | 01:30.032 |
| 20 | #48 | TA2 | 20 | Mike McGahern / Ottawa | BC Race Cars/Chevrolet Camaro | 01:30.337 |
| 21 | #57 | TA2 | 21 | Maurice Hull (R) / High Point N.C. | Waukegan Farms LLC/Ford Mustang | 01:30.452 |
| 22 | #29 | TA2 | 22 | Ray Neveau / San Clemente Calif. | Class Auto Centers/Chevrolet Camaro | 01:30.818 |
| 23 | #67 | TA2 | 23 | Chris Pedersen / Mundelein IL | C&P Installations/Chevrolet Camaro | 01:34.566 |
| 24 | #94 | TA2 | 24 | Philip Di Pippo (R) / Laurel NY | Kryderacing/Chevrolet Camaro | 01:34.941 |
| 25 | #82 | TA2 | 25 | Frank Dalene (R) / E Hampton N.Y. | Telemark Inc/Chevrolet Camaro | 01:35.183 |
| 26 | #15 | TA2 | 26 | Carl Wingo (R) / Nashville TN | Franklin American Mortgage Co/Ford Mustang | – |