Take a Number: 190 (and Counting)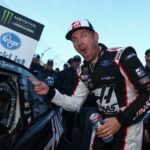 Clint Bowyer
When Clint Bowyer won at Martinsville on Sunday, he snapped a winless streak of 190 races. That's a lot of races, stretching all the way back to October of 2012. Among other things, Danica Patrick's entire career as a full-time Cup driver happened in that span (she did run a few races in early 2012, but didn't run a full season until 2013).
When the streak started rookie William Byron was 14 years old, and 24 drivers in the 43-car field for the 2012 Bank of America 500 (Bowyer's last win before Monday's STP 500) are no longer racing full-time in the Cup Series. Five of those have gone on to television careers. Outside of racing, there have been two U.S. Presidential elections and five complete solar eclipses. The iPhone 5 had just been released.
That's a lot of things to have happen between wins. But Bowyer's streak wasn't the longest currently going on. Paul Menard hasn't won in 238 races, all the way back to August of 2011. It's been 257 races since Trevor Bayne last took the checkers, though he's only made 171 attempts during that stretch.
[adinserter name="GOOGLE AD"]Lest anyone think that the best drivers don't go that long without visiting Victory Lane, consider that some of the longest droughts in NASCAR's modern era belong to Hall of Fame drivers.
Bill Elliott's 227-race winless streak lasted seven years, the longest losing streak in the modern era. Terry Labonte went 157 races between wins, and had another streak of 136 races some 10 years prior. Rusty Wallace had a drought of 106 races.
Bear in mind that these streaks are between wins, so each of those drivers has won at least two races, excluding Menard and Bayne, whose streaks are ongoing. Michael Waltrip went a fill 462 races at NASCAR's top level before getting his first win–15 full seasons plus a handful of races before his rookie year. Most drivers don't get that far without a win, though J.D McDuffie had 653 starts at NASCAR's top level and never won a single race.
One thing that's certain in racing, every winning driver will eventually visit Victory Lane for the final time, and even the best can go out chasing one more win that never quite happens. Hall of Famer Darrell Waltrip didn't record a win in his final eight seasons. Neither did all-time win leader Richard Petty, the King himself.
There are a couple of things to be gleaned from looking at the time between wins. First and foremost, it shows how hard it is to win at NASCAR's top level. Keep in mind that there have only been 127 drivers with at least two wins in history, so ending even the longest drought is quite a feat, all things considered.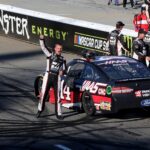 Bowyer finally won at Martinsville
Also, in many cases, the droughts emphasize the importance of top equipment in today's NASCAR. Menard, for example, had decent cars racing at Richard Childress Racing through the end of last year, but nobody from that organization was setting the world on fire; the same can be said for Roush Fenway Racing and Bayne, as well as the JTG Daugherty teams for AJ Allmendinger and Chris Buescher who both have substantial time since their last wins.
Martin Truex Jr. went over 200 races between wins, and again, he wasn't driving cars that could compete for wins.
Waltrip and Petty both illustrate how difficult it is to walk away from a sport that defined them in many ways, but they also serve as a reminder of what every driver faces. Even when it seems like a driver will go on winning forever, his time at the top is finite. When a driver wins, it seems strange to think it won't ever happen again, but one of those times, it won't.