Ben Rhodes wins Truck pole at Martinsville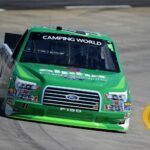 Ben Rhodes charges to pole in his Ford
ThorSport Racing has had an uncharacteristically slow start to the 2018 season after switching manufacturers from Toyota to Ford in the offseason, but they came out swinging at Martinsville Speedway. Ben Rhodes laid down a fast lap under threatening skies to win the pole for Saturday's Alpha Energy Solutions 250 with a speed of 95.942 MPH. It's Rhodes' third career Truck Series pole.
His ThorSport teammates Matt Crafton and Grant Enfinger qualified second and third, respectively, giving the team a stronghold on the front of the field. Kyle Benjamin and Stewart Friesen rounded out the top 5.
Series point leader Johnny Sauter qualified sixth, Brett Moffitt was seventh and John Hunter Nemechek, rookie Myatt Snider and Cody Coughlin filled the top 10. The most recent CWTS race winner at Martinsville, Noah Gragson, who snagged his first career win in that race, will start 11th. Mark Harmon was the only driver who failed to qualify for the race.
Todd Gilliland, who posted the fastest lap in the first round, did not make an attempt in the second round. Gilliland was already starting from the back of the field after an engine change Friday, so his team chose not to burn tires in qualifying.
Lineup:
| | | | | | |
| --- | --- | --- | --- | --- | --- |
| Pos | No. | Driver | Team | Time | Speed |
| 1 | 41 | Ben Rhodes | Alpha Energy Solutions Ford | 19.737 | 95.942 |
| 2 | 88 | Matt Crafton | Ideal Door/Menards Ford | 19.786 | 95.704 |
| 3 | 98 | Grant Enfinger | Champion Power Equipment/Curb Records | 19.810 | 95.588 |
| 4 | 54 | Kyle Benjamin(i) | Crosley Brands/Foothills Capital LLC Toyota | 19.830 | 95.492 |
| 5 | 52 | Stewart Friesen | We Build America Chevrolet | 19.831 | 95.487 |
| 6 | 21 | Johnny Sauter | Allegiant Airlines Chevrolet | 19.832 | 95.482 |
| 7 | 16 | Brett Moffitt | AISIN Group Toyota | 19.850 | 95.395 |
| 8 | 8 | John H. Nemechek(i) | Fleetwing Chevrolet | 19.851 | 95.391 |
| 9 | 13 | Myatt Snider # | Liberty Tax Ford | 19.889 | 95.208 |
| 10 | 2 | Cody Coughlin | JEGS.com Chevrolet | 19.902 | 95.146 |
| 11 | 18 | Noah Gragson | Safelite Toyota | 19.965 | 94.846 |
| 12 | 24 | Justin Haley | Fraternal Order of Eagles Chevrolet | 20.050 | 94.444 |
| 13 | 51 | Harrison Burton | DEX Imaging Toyota | 19.981 | 94.770 |
| 14 | 99 | Tyler Matthews | Popeye's/BB&T Scott & Stringfellow Chevrolet | 20.011 | 94.628 |
| 15 | 02 | Austin Hill | United Rentals Chevrolet | 20.047 | 94.458 |
| 16 | 92 | Timothy Peters | BTS Tire & Wheel/Carquest Auto Parts Ford | 20.097 | 94.223 |
| 17 | 04 | Cory Roper | Preferred Industrial Contractors Inc. Ford | 20.133 | 94.055 |
| 18 | 25 | Dalton Sargeant # | Performance Plus Motor Oil Chevrolet | 20.176 | 93.854 |
| 19 | 45 | Justin Fontaine | ProMATIC Automation/SprrEssx Chev | 20.227 | 93.617 |
| 20 | 20 | Reid Wilson | OEM2 Powered by TruNorth Chevrolet | 20.248 | 93.520 |
| 21 | 22 | Austin Wayne Self | Kreuz Market/Dn'tMssWthTxs Chev | 20.262 | 93.456 |
| 22 | 83 | Kyle Donahue | First Responder Racing Chevrolet | 20.406 | 92.796 |
| 23 | 4 | Todd Gilliland # | Mobil 1 Toyota | 19.888 | 95.213 |
| 24 | 15 | Robby Lyons | Bubba Bear Sauce Chevrolet | 20.248 | 93.520 |
| 25 | 3 | Jordan Anderson | Bommarito/Lucas Oil Chevrolet | 20.414 | 92.760 |
| 26 | 33 | Josh Reaume | R Coin/Green Heart Partners Chevrolet | 20.458 | 92.560 |
| 27 | 63 | Kevin Donahue | First Responder Racing Chevrolet | 20.474 | 92.488 |
(i) Ineligible for driver points in this series
[adinserter name="GOOGLE AD"]