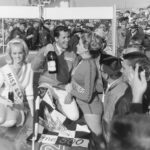 The legendary Mario Andretti "only had one win" in NASCAR – the 1967 Daytona 500 – but won so much more including the F1 World Championship, Indy 500, IndyCar title, etc.
RacingOne Multimedia
Does 189 seem like a big number? $189 would be a nice sum of money to find in the couch cushions, after all. 189 days is just over half a year. 189 races is roughly five years' worth for NASCAR's top series, a career's worth for some drivers.
But space that 189 out, over, say 70 years, and suddenly it doesn't seem like a very big number at all.
As NASCAR's 70th season is underway, 189 drivers have won at least one race in its premier series. Only 189 of all who tried over the years. Fewer then 200 drivers have held what's now a Cup Series trophy aloft after all this time.
If you like math, that averages into 2.7 new winners every season since the beginning. That seems about right now, but you have to consider that in the early years, just by the new nature of the sport, first-time winners happened at a much faster clip…in the 1949 season, six different drivers won in 8 races that season. In 1950, 12 more added their names to the winner's list.
[adinserter name="GOOGLE AD"] As time goes on, of course, new drivers enter the sport and some of them win. But recent years might produce a couple of first-timers at most. Three is a banner year.
In other words, when you break it down to just 189 winners after all this time, it becomes apparent just how hard it is to win at NASCAR's top level. "He only had one win" gets tossed out all the time as a way to disparage a driver when the opposite is true: winning a race puts a driver in pretty rare company. 72 of the 189 race winners "only" won one race.
For some of those one-timers, like Mark Donohue and Mario Andretti, focused on other racing series for most of their careers. Others spent careers toiling in equipment that wasn't quite good enough, hoping they could find just one more win. And yes, a few "got lucky," if you call putting themselves in the position to capitalize on a given situation getting lucky (and hey, some days it's better to be lucky than good, right?).
Moving up the list of the 127 drivers with two or more victories, you have to get better than 70 to find more than five wins. Just 60 drivers have more than 10.
Keep rolling and you reach NASCAR's elite. As it stands right now, more than 20 wins seems to make a driver a Hall of Fame candidate (that may drop in the future as the Hall enshrines five people each year). Move up to 30 wins, and of the 25 drivers to hit that career mark, all who are eligible are in the Hall. Jeff Gordon is on the ballot for the first time this year and will likely be a first-ballot selection, as will Tony Stewart when he meets eligibility next year.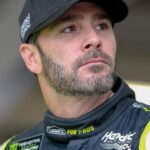 Jimmie Johnson is the current active wins leader in NASCAR with 83 victories
Ashley R Dickerson for Chevy Racing
The top dozen winners have 50 wins or more. There, only Gordon and Jimmie Johnson, who's still racing, aren't in the Hall of Fame yet. The others were among the first inducted. In other words, show me a driver with 50 career wins and I'll show you one of the greatest drivers ever to sit behind the wheel.
Several drivers racing today are in outstanding company. Johnson is exceptional, with 83 wins and seven titles. Kyle Busch has 43 wins, Kevin Harvick 40. Interestingly, Harvick's name is often overlooked in discussions of today's very best, but the numbers suggest that's a huge mistake.
If wins are secondary to titles (it may seem that way today, but it's certainly arguable), then consider this…winners win titles. The top 25 on the wins list all have at least 31 victories, and all but four are champions. Of those, Junior Johnson never raced for a title, and Fireball Roberts was killed in a crash in the prime of his career. Denny Hamlin is the only active driver to post 30 wins and no title.
NASCAR's wins list is a fascinating time capsule, a record of those who have tried and conquered the sport at its highest level. That list of 189 is surprisingly short given the 70 years they've been trying and the number of races run. Even those toward the bottom have accomplished something relatively few have.. So next time somebody says, "he only won one race," remind that naysayer that that puts the driver on a pretty short list of those who've accomplished something most never will.