Truex Jr. takes pole in Fontana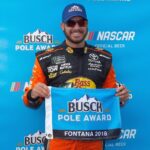 Martin Truex Jr.
Getty Images for NASCAR
Martin Truex Jr. earned his second Busch Pole Award of the season and his first at Auto Club Speedway when he sped his No. 78 Furniture Row Toyota around the track at 186.567 mph in the final round of Friday qualifying.
Truex, who also started on the pole last week at Phoenix, earned his 17th pole of his career.
He was able to speed past two of the fastest cars of the day — including Kevin Harvick's No. 4 Stewart-Haas Racing Ford, which qualified 10th after setting a track record in the first round of qualifying.
Kyle Busch qualified second for Sunday's Auto Club 400 (3:30 p.m. ET, FOX, MRN) when he wheeled his No. 18 Joe Gibbs Racing Toyota around the track at 186.437 mph.
Kyle Larson in the No. 42 Chip Ganassi Racing Chevrolet, Erik Jones in the No. 20 JGR Toyota and Austin Dillon in the No. 3 Richard Childress Racing Chevrolet rounded out the top five.
Harvick set a track record in the first round of qualifying by zipping around the track at 188.744 mph. Denny Hamlin previously held the record for his 2016 qualifying speed of 188.511 mph. Larson's first-round lap of 188.516 mph was good enough for second in the round, but also topped the track record.
Numerous cars did not pass pre-qualifying inspection, most notably all four Hendrick Motorsports cars and two of Stewart-Haas Racing's fast Fords from practice — the No. 14 of Clint Bowyer and the No. 10 of Aric Almirola.
In all, just 24 cars attempted a first-round qualifying lap; 13 did not.
Quotes
MARTIN TRUEX JR., No. 78 Bass Pro Shops/ 5-hour ENERGY Toyota Camry, Furniture Row Racing
Starting Position: 1st
How does it feel to get back-to-back poles?
"Yeah first time ever. It's definitely pretty cool, really. I just am proud of everybody; 5-hour ENERGY, Bass Pro Shops and Toyota. It's been awesome all day long and we tried to stay on scuffs that first practice and ran our best laps on scuffs this morning. We thought that played into our hands in qualifying during the second round and we got the seam a little bit the first time and that bit me. But luckily in the third round we were able to put a nice round together. I wouldn't say it was perfect but it was a pretty solid lap. I am happy with everyone at the team. I was out visiting the guys out at TRD (Toyota Racing Development) Engines. Thanks to them for all the great horsepower it takes a lot to get around here. It's been a fun week and a great way to cap off the day. Looking forward to getting in this thing tomorrow.
[adinserter name="GOOGLE AD"]How tough is it turning a fast lap here?
"You're on such an edge. You have to try to stay off the seams as much as much as you can but you have to carry enough speed to go really fast. You just miss by a few inches like I did that first time in the second round. And you get off those seams and you have to let off the gas to slow down because it just takes off on you. It's definitely tricky, but luckily we were able to get it right in the third round when it counted."
How big for this for TRD?
"Yeah, it's really close to home for them. I was out there visiting them this week. And all the guys do such a great job leading us to a championship. Their engine program is amazing and it's cool to see all those folks. And I know a lot of them are here today. Excited to have a pair of Toyotas on the front row and thanks to the guys for doing a great job. All-in-all, just a great day for our team and good job by everybody."
Can you describe that final run?
"It wasn't perfect by any means but we did what we had to do there. Second round, we jumped the seam there between Turns 1 and 2 and lost quite a bit of time. I was really worried we might not transfer into the third round but I was able to make a little adjustment on the car and a little adjustment to how I drove into Turn 1 and I was able to put it together. A great lap for the guys and looking forward to tomorrow and for sure Sunday."
How cool is it to have Busch back on the pole award?
"It's cool to see them a part of this and the history in it. When I first starting racing, running the Busch North Series and winning my first big pole award was sponsored by Busch as well. Definitely cool and feels good to have that throwback feel. Excited to get the first one when they came back. Thanks for them partnering up with NASCAR and sponsoring this award. It's exciting."
How confident were you that you could sit on pole?
"I felt good in practice about our chances. We opted to stay on one set of tires the whole practice and run our fastest lap on scuffs. That put us seventh overall and some guys put on tires late in practice and were a little bit quicker than that. I felt that was a big advantage for us. We ran the fastest lap of anyone on scuff tires and felt like would bode well for us in qualifying. Really had to put it all together. Second round I slipped a little bit with the seam in Turns 1 and 2 and lost a bunch of time. Had to make an adjustment on the car as well as the way I had to drive the car to the hit my marks. Not a perfect lap but we did what we had to do today."
How racing here this affect your setup on the car?
I'd say it's not much different. I think the tire wear and fall off – there's definitely more grip on the racetrack. It makes it a little easier to get the car balanced. It's still going to be a huge challenge when we get in race trim because of it wears the tires out so bad here. I think we'll have a similar situation, we'll just have a little more grip taken off. You'll have to build more take off speed in your car for the late race caution. We'll see how it plays out. Generally the set-up doesn't change a whole lot."
What's your take on the cars failing inspection?
"Honestly, I don't know what happened today. What guys were fighting. If it was a certain area. I know for us in the past, sometimes the biggest issue is the LIS. Measuring the rear tow. It seems like you go across it four times and you get four different numbers. For the crew chiefs, it's a difficult situation to be in. Nobody goes into tech expecting to fail or trying to fail. Sometimes you just get caught off guard. I think our number popped up at Atlanta and we were like how did this happen? It's obviously on us because we failed. But when things are changing so much it's hard to know exactly where you need to be to make it through there. I don't know what guys were fighting today but if I had to guess, it would be rear tow or something like that where they thought they were good on or boarder line, and it was reading one way or another. It's just a difficult thing. And it's a little bit of moving target from what I understand. I just drive. I'll let them all figure it out but it's definitely a real source of frustration and nerves. Every time you're going across, you have your fingers and toes crossed hoping it makes it. Everybody deals with it the same. It's a tough situations sometimes."
How big of advantage will guys starting on sticker tires have?
"It's a huge advantage. On that first run especially if it goes long. In my mind if you're not probably in the top-four, you are better off being 25th. It's going to be a big deal. I think for us hopefully we can get out front and get a big lead or get some clean air to get separated. The field generally separates pretty big here. I know at Atlanta we started on stickers and it was like a video game those first laps because you have so much grip, more grip than anyone else. We'll see how it plays out. It's going to be for sure interesting. A lot of guys will be blasting up through field early on."
KYLE BUSCH, No. 18 M&M's Toyota Camry, Joe Gibbs Racing
Starting Position: 2nd
Describe that final run for you.
"I thought our run was really good. We had a fast car. We kind of just threw away the first round and we were pretty good that second round. We made some minor changes for the third and I thought I got through 1 and 2 pretty well but that was all I could get out of that. I felt pretty positive about the Interstate Batteries Camry and being able to qualify on the pole. Then I got into Turn 3 and threw it all away. Just messed up a little bit out there. Wasn't bad but getting back to the gas and exiting the corner I was wide open the rest of the way off. And by the time I got to the exit , there was just not enough speed. I am not pushing enough speed in the car through the corner and we just fell too far behind. Good effort and that will be a good starting spot for us.
What are the top needs for this car heading into tomorrow?
"We focused on the long run near the last four or five years and it paid off in 2011 and 2013. And a couple of years ago as well. It almost paid off for us. It just hasn't the last couple of years. We end up having these short-run bursts. These short five or six lap runs. Whatever it is until the finish of the race. We just haven't been able to have that short-run speed. If we can try to have both, that would be the perfect world. But we need some adjustability to have the long-run and find the short-run at the end of the race."
What do you think of that final lap and what does this mean to Toyota today?
"Our final lap was pretty good. And being in the backyard of TRD and not Toyota anymore I guess but for a long time it was. But the TRD guys down in Costa Mesa (CA), they always put this one on the calendar to come. They want to come out here and run well. Proud of the effort to have two of us on the front row and then Erik (Jones) there in fourth. Overall a good day for us with our Interstate Batteries Camry. Car felt good in qualifying. Wish we could have gotten just a little bit more out of it. Felt like Turns 1 and 2 were really but certainly messed up Turns 3 and 4. Seemed like I had either one or the other. All day today, I couldn't put together all four corners. Maybe Sunday will be better."
How difficult are the seams?
"You have to be careful with the seams. Especially on exit trying to throttle up. Whether you get your right rear on it or your left rear on it, you just always have to be mindful of what seam you're going to hit and be ready for it if something does jump out at you or your car jumps out at you. It's certainly something that you're aware of and I think that's just been a product of this racetrack overtime. I don't notice it being any different today than it has been in years past."
What's your take on the cars that didn't make it to qualifying?
"I am not sure exactly. It would be better for the crew chiefs to answer that question than me certainly. I just try to focus on if I have to go drive or not. And I was able to with our qualifying run today. I have heard something about the garage area around the amount of push around and cycle around that may have something to do with it. Also look at those places like Michigan and Loudon. And Pocono as some potential other places. There's a long delay or hold in having the circle around the garage areas. That kind of sets you off a little bit. But just being able to get through. On the first shot, it's hard to get through on the first shot. So a lot of guys are taking two shots, it's just took long around."
Does it surprise you to see that happen?
"No, I think you especially expected it in Atlanta and I wouldn't say that California is place to not expect it. I would think that it's not out of the ordinary for coming to a place like this here. With speeds being so high and it being so meaningful to get through the OSS."
Should drivers expect show money for running grass roots events?
"Yes. Whatever you want. I guess that's your prerogative. You know the thing about it is, when you go to some of those places, and you have your equipment, and you're going there and spending your money and stuff like that, you go out there to have fun. But when you're going there without your own equipment and you're just a show up and getting in the car and driving. I've been in situations where I have not been paid to go to races and I have been situations where they've offered to have me go to the racetrack and they've paid me. It works both ways. I think there's a way for it to work both ways. But obviously it depends on what you sell them with a package on what you're going to get paid to go or not get paid to go depending on what you're going to do for them in return."
Are the cars starting in the back in a better position than those who went out and qualified?
"For him yes (Kevin Harvick) because he went balls out on all three rounds and burned his stuff up. Now he's starting 10th and he's going to have a car with four fresh tires starting 15 spots behind him with Denny (Hamlin) starting in 25th I presume. I think that it's definitely a thought and for us, I was contemplating. I don't really know the rules but if there would have been only 23 or 22 cars that have taken time, if you just go out there just pass the start-finish line and attempt a lap, then are you good and you can save that lap on those tires for the next round. But we didn't want to sacrifice that much of it not knowing the full scope of the rules. We made sure to run our runs and do what we needed to do in order to get a good qualifying effort. Certainly a lot of different strategies in a lot of play can happen and I think that's just gamesmanship. That's a part of the sport and a part of the game. I don't see anything wrong with it. Just some of those guys – I don't think they meant to not get through tech. I think some of them wanted to get out there and get on the racetrack. But obviously they have a different way of starting their event than we are."
Are you going to help our teammates that didn't get to qualify including Denny and Daniel (Suarez)?
"Denny made a qualifying lap in practice. So he kind of got that feel of what he needed in a fast lap. But Denny has enough experience around here that he'll be fine. I am sure he won't really worry a whole lot. Daniel on the other hand, I am sure he is a little bit frustrated with what happened and probably, and he got on a seam it looked like. That's why he crashed. If he needs a little bit of help, certainly there are some notes we've all been going back and forth on and I'd be happy to talk to him and help him of course."
Is NASCAR harsh enough on the guys who don't get through tech?
"It is not a big deal. It's not. We're all trying. We're all trying the best we can do. And this is a whole new system. It's our fourth week on it. I think you have to give it a little bit more time. I think also the reason why these systems are so complicated to begin with is because we've over-engineered our racecars over the course of the last 20 years by 10-fold, 100-fold. Whatever you want to call it. It's certainly just the grounds of trying to keep everyone equal. NASCAR is doing what they need to be doing and we're all doing what we need to be doing. There's going to be times where our line is past their line of what they want to allow through. And I think that's just natural and I think there has to be more leniency from this room."
Lineup
| | | | | | |
| --- | --- | --- | --- | --- | --- |
| Pos | Car | Driver | Team | Time | Speed |
| 1 | 78 | Martin Truex Jr. | Bass Pro Shops/5-hour ENERGY Toyota | 38.592 | 186.567 |
| 2 | 18 | Kyle Busch | Interstate Batteries Toyota | 38.619 | 186.437 |
| 3 | 42 | Kyle Larson | DC Solar Chevrolet | 38.683 | 186.128 |
| 4 | 20 | Erik Jones | SiriusXM Toyota | 38.700 | 186.047 |
| 5 | 3 | Austin Dillon | Dow Coating Chevrolet | 38.770 | 185.711 |
| 6 | 22 | Joey Logano | Auto Club of Southern California Ford | 38.798 | 185.577 |
| 7 | 41 | Kurt Busch | Haas Automation/Monster Energy Ford | 38.880 | 185.185 |
| 8 | 12 | Ryan Blaney | PPG Ford | 38.903 | 185.076 |
| 9 | 31 | Ryan Newman | Chevrolet Accessories Chevrolet | 38.951 | 184.848 |
| 10 | 4 | Kevin Harvick | Busch Beer Ford | 39.038 | 184.436 |
| 11 | 2 | Brad Keselowski | Wurth Ford | 39.054 | 184.360 |
| 12 | 37 | Chris Buescher | Healthy Choice Power Bowls Chevrolet | 39.058 | 184.341 |
| 13 | 6 | Trevor Bayne | Perfomance Plus Ford | 38.973 | 184.743 |
| 14 | 21 | Paul Menard | Menards/FVP Ford | 39.004 | 184.596 |
| 15 | 1 | Jamie McMurray | McDonald's Chevrolet | 39.106 | 184.115 |
| 16 | 17 | Ricky Stenhouse Jr. | Ford Ford | 39.169 | 183.819 |
| 17 | 13 | Ty Dillon | Twisted Tea Chevrolet | 39.198 | 183.683 |
| 18 | 32 | Matt DiBenedetto | Can-Am/Wholey Ford | 39.259 | 183.397 |
| 19 | 43 | Darrell Wallace Jr. # | Farmer John Chevrolet | 39.377 | 182.848 |
| 20 | 23 | Gray Gaulding | Earthwater Toyota | 41.105 | 175.161 |
| 21 | 38 | David Ragan | 1000Bowls.com Ford | 39.158 | 183.870 |
| 22 | 34 | Michael McDowell | Love's Travel Stops Ford | 39.215 | 183.603 |
| 23 | 00 | Jeffrey Earnhardt | VRX Simulators Chevrolet | 40.899 | 176.043 |
| 24 | 55 | Reed Sorenson | Chevrolet | 53.838 | 133.735 |
| 25 | 11 | Denny Hamlin | FedEx Express Toyota | 0.000 | 0.000 |
| 26 | 14 | Clint Bowyer | Rush Truck Centers Ford | 0.000 | 0.000 |
| 27 | 10 | Aric Almirola | Smithfield Ford | 0.000 | 0.000 |
| 28 | 88 | Alex Bowman | Nationwide Chevrolet | 0.000 | 0.000 |
| 29 | 24 | William Byron # | AXALTA Chevrolet | 0.000 | 0.000 |
| 30 | 19 | Daniel Suarez | ARRIS Toyota | 0.000 | 0.000 |
| 31 | 9 | Chase Elliott | NAPA Auto Parts Chevrolet | 0.000 | 0.000 |
| 32 | 47 | AJ Allmendinger | Kroger ClickList Chevrolet | 0.000 | 0.000 |
| 33 | 48 | Jimmie Johnson | Lowe's for Pros Chevrolet | 0.000 | 0.000 |
| 34 | 95 | Kasey Kahne | WRL General Contractors Chevrolet | 0.000 | 0.000 |
| 35 | 51 | Timmy Hill(i) | Bubba Burgers Chevrolet | 0.000 | 0.000 |
| 36 | 15 | Ross Chastain(i) | LowT Center Chevrolet | 0.000 | 0.000 |
| 37 | 72 | Cole Whitt | SoCal Chevy Chevrolet | 0.000 | 0.000 |
[adinserter name="GOOGLE AD"]