Kyle Busch tops final Xfinity Series Practice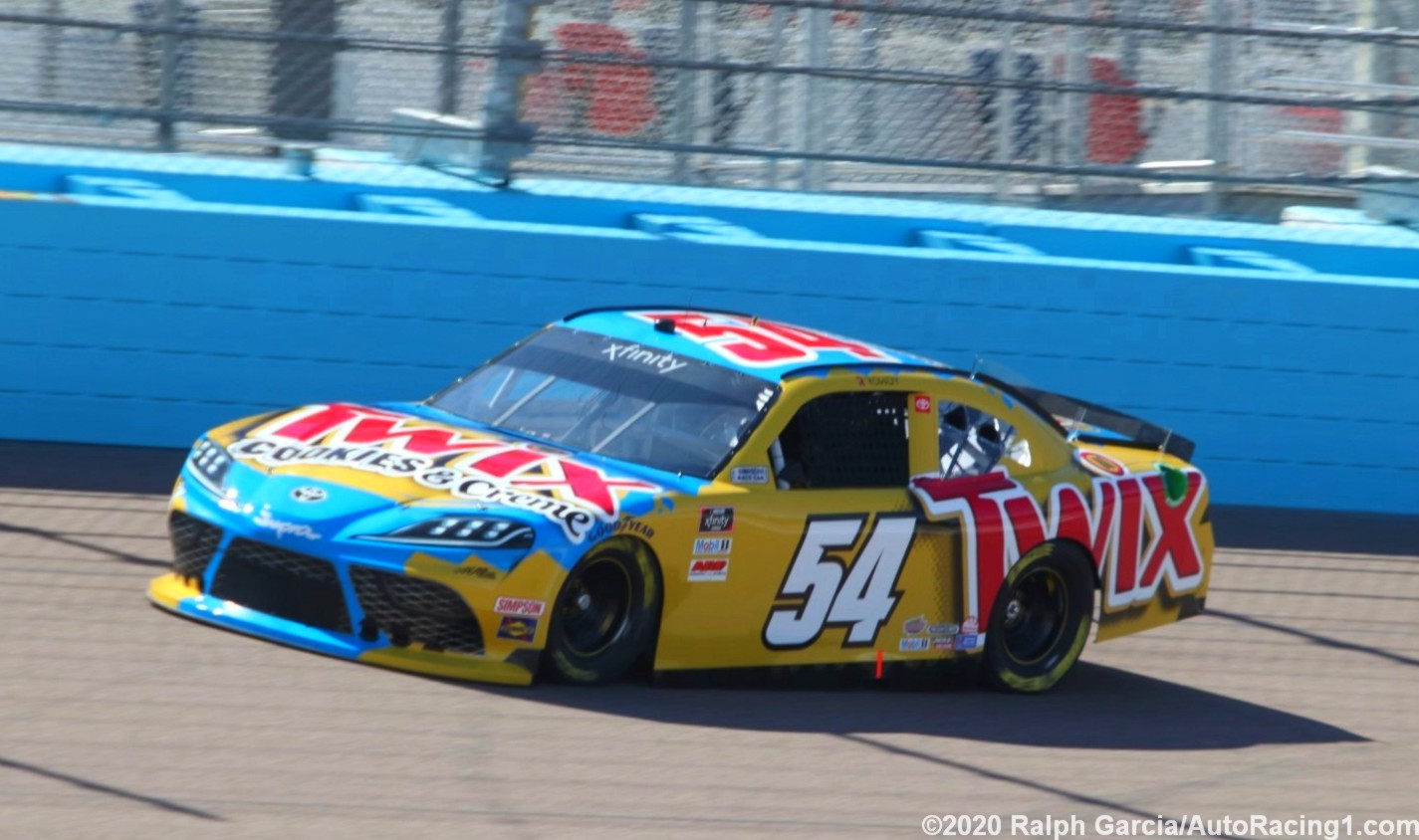 Kyle Busch
In the second and final practice session, Kyle Busch completed 27 laps and his fourth lap put him atop the leaderboard. He wheeled his No. 54 Joe Gibbs Racing Toyota to a fast time of 129.510 mph. He too is making his first Xfinity Series start of this season.
Justin Allgaier, Cindric, Chase Briscoe and Alex Labbe rounded out the top five.
After securing the fastest time in the first practice, Chastain was 13th fastest in this session. Thirty-four drivers completed a lap in this session.
Final Practice Results
| | | | | | |
| --- | --- | --- | --- | --- | --- |
| Pos | No. | Driver | Team | Time | Speed |
| 1 | 54 | Kyle Busch(i) | Twix Cookies & Cream Toyota | 27.797 | 129.510 |
| 2 | 7 | Justin Allgaier | BRANDT Chevrolet | 27.814 | 129.431 |
| 3 | 22 | Austin Cindric | MoneyLion Ford | 27.967 | 128.723 |
| 4 | 98 | Chase Briscoe | Ford Performance Racing School Ford | 27.972 | 128.700 |
| 5 | 36 | Alex Labbe | Larue Industrial Snow Blowers Chevrolet | 28.010 | 128.526 |
| 6 | 39 | Ryan Sieg | CMRRoofing.com Chevrolet | 28.016 | 128.498 |
| 7 | 12 | Brad Keselowski(i) | XPEL Ford | 28.072 | 128.242 |
| 8 | 11 | Justin Haley | LeafFilter Gutter Protection Chevrolet | 28.077 | 128.219 |
| 9 | 18 | Riley Herbst # | Monster Toyota | 28.104 | 128.096 |
| 10 | 8 | Daniel Hemric | Poppy Bank Chevrolet | 28.12 | 128.023 |
| 11 | 21 | Myatt Snider | TaxSlayer Chevrolet | 28.127 | 127.991 |
| 12 | 20 | Harrison Burton # | Dex Imaging Toyota | 28.127 | 127.991 |
| 13 | 10 | Ross Chastain | Nutrien Ag Solutions Chevrolet | 28.134 | 127.959 |
| 14 | 90 | Dillon Bassett | Bassett Gutters & More Chevrolet | 28.157 | 127.855 |
| 15 | 68 | Brandon Brown | Mid Atlantic Wrecker Service Chevrolet | 28.161 | 127.836 |
| 16 | 51 | Jeremy Clements | Repairables.com Chevrolet | 28.177 | 127.764 |
| 17 | 9 | Noah Gragson | Nationwide Children's Chevrolet | 28.177 | 127.764 |
| 18 | 19 | Brandon Jones | Menards/Turtle Wax Toyota | 28.231 | 127.519 |
| 19 | 8 | Joe Graf Jr # | CORE Development Group Chevrolet | 28.241 | 127.474 |
| 20 | 2 | Brett Moffitt(i) | FR8 Auctions Chevrolet | 28.262 | 127.380 |
| 21 | 1 | Michael Annett | Pilot Flying J Chevrolet | 28.292 | 127.244 |
| 22 | 6 | David Starr | Bob Menery's Ripper Magoos Chevrolet | 28.319 | 127.123 |
| 23 | 89 | Landon Cassill | Visone RV Chevrolet | 28.326 | 127.092 |
| 24 | 93 | Jeff Green | C2 Freight Chevrolet | 28.377 | 126.863 |
| 25 | 44 | Tommy Joe Martins | Gilreath Farms Red Angus Chevrolet | 28.436 | 126.600 |
| 26 | 61 | Timmy Hill(i) | MBM MOTORSPORTS Toyota | 28.536 | 126.156 |
| 27 | 92 | Josh Williams | General Formulations Chevrolet | 28.572 | 125.997 |
| 28 | 99 | JJ Yeley | Chevrolet | 28.579 | 125.967 |
| 29 | 15 | Colby Howard | Project Hope Foundation Chevrolet | 28.688 | 125.488 |
| 30 | 4 | Jesse Little # | TeamJDMotorsports.com Chevrolet | 28.739 | 125.265 |
| 31 | 13 | Chad Finchum | CrashClaimsR.US Toyota | 29.063 | 123.869 |
| 32 | 78 | Vinnie Miller | Koolbox Chevrolet | 29.094 | 123.737 |
| 33 | 52 | Kody Vanderwal # | Chevrolet | 29.206 | 123.262 |
| 34 | 74 | Bayley Currey(i) | Findlay Cadillac Chevrolet | 29.249 | 123.081 |