Vautier puts #90 Cadillac on Sebring pole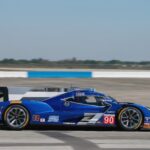 Vautier drives the #90 Cadillac to pole
Tristan Vautier put the #90 Cadillac on pole for Saturday's Mobil 1 Twelve Hours of Sebring – the second round of the IMSA WeatherTech SportsCar Championship season.
The Spirit of Daytona driver put up a fast lap of 1:47.432 in the No. 90 Cadillac DPi-V.R, outpacing the No. 2 Tequila Patron ESM Nissan Onroak DPi of Olivier Pla by 0.160 seconds.
Ricky Taylor will roll off third in the No. 7 Team Penske Acura ARX-05, following a spin in his DPi contender early in the 15-minute session.
Taylor recorded a 1:47.773, edging out ESM's sister No. 22 Nissan DPi of Pipo Derani in fourth.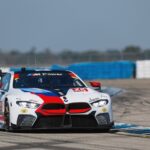 #25 BMW charges to pole
Thanks to BMW receiving multiple Balance of Performance breaks since January's season-opening Rolex 24 at Daytona, Connor De Phillippi narrowly edged James Calado to take the first pole for the BMW M8 GTE and will lead the GT Le Mans class field to green tomorrow in the Mobil 1 Twelve Hours of Sebring.
De Phillippi's best lap of 1:55.839 in the No. 25 BMW Team RLL entry was a new class track record, and checked in a mere 0.058 seconds faster than Calado's fastest time in the No. 62 Ferrari 488 GTE for Risi Competizione.
It was the first pole for BMW since taking the top spot at Circuit of The Americas last year.
"This is my second pole in a row, so I seem to like this place!" said Vautier. "The whole track is very technical and very high-commitment, and that suits me. And obviously you must have a good setup as well, and both times I've been on pole I've had a very good engineer. But I was going for it. With the new Continental Tire spec and the heat, the tires came in very quick. No one expected that lap time. I saw a 47 on the dash and I didn't expect it to be that quick. My second flyer didn't feel like my best lap so I thought that it was going to be tough for anyone else to beat that time."
Team owner Troy Flis was happy to see the signature blue Spirit of Daytona colors back on top, especially for one of the biggest races of the season.
"It's been a tough weekend," said an emotional Flis. "But Tristan did a great job driving this car and we just need to thank Cadillac for all the help. We really needed this. I'm excited about tomorrow. We knew we were going to come here with a good car and I know we have the best team, but we have to make it to the end. It's always a tough race here but this is one race we haven't won and we really want it. We know we have a good car and a great team, so we have to stay out of trouble and get it done."
"This means a lot to the team," Vautier continued. "To think that the guys got the car in December and powered through the Christmas break to get it ready, then with the issues we had yesterday – to be in the top-five at Daytona and on pole here is big. When you see the names of the teams and drivers that we've put behind us in qualifying, it means a lot. The race is going to be tough, you have to push 101 percent. I don't think there's going to be much race management or saving anything for the end: the level of competition is just too high, people will be pushing the whole time. We'll work to stay in contention the whole race and be there for the final push."
A final 20-minute warmup session for the WeatherTech Championship is scheduled for 8 a.m. ET Saturday morning ahead of the Mobil 1 Twelve Hours of Sebring. The race itself is scheduled for a 10:40 a.m. ET start.
Results
| | | | | | |
| --- | --- | --- | --- | --- | --- |
| Pos | Pic | Driver | Mfg | Time | Behind |
| 1 | 1 | Tristan Vautier | #90 CADILLAC DPICP | 1:47.432 | 0.000S |
| 2 | 2 | Olivier Pla | #2 NISSAN DPICP | 1:47.592 | 0.160 |
| 3 | 3 | Ricky Taylor | #7 ACURA DPICP | 1:47.773 | 0.341 |
| 4 | 4 | Pipo Derani | #22 NISSAN DPICP | 1:47.834 | 0.402 |
| 5 | 5 | Felipe Nasr | #31 CADILLAC DPICP | 1:47.853 | 0.421 |
| 6 | 6 | Juan Pablo Montoya | #6 ACURA DPICP | 1:48.177 | 0.745 |
| 7 | 7 | Rene Rast | #77 MAZDA DPICP | 1:48.192 | 0.760 |
| 8 | 8 | Filipe Albuquerque | #5 CADILLAC DPICP | 1:48.256 | 0.824 |
| 9 | 9 | Jonathan Bomarito | #55 MAZDA DPICP | 1:48.279 | 0.847 |
| 10 | 10 | Renger Van Der Zande | #10 CADILLAC DPICP | 1:48.370 | 0.938 |
| 11 | 11 | Stephen Simpson | #99 ORECA LMP2CP | 1:48.742 | 1.310 |
| 12 | 12 | Pato O Ward | #38 ORECA LMP2CP | 1:49.068 | 1.636 |
| 13 | 13 | Colin Braun | #54 ORECA LMP2CP | 1:49.158 | 1.726 |
| 14 | 14 | Simon Trummer | #85 ORECA LMP2CP | 1:49.329 | 1.897 |
| 15 | 15 | Sebastian Saavedra | #52 LIGIER LMP2CP | 1:49.423 | 1.991 |
| 16 | 16 | Paul Di Resta | #32 LIGIER LMP2CP | 1:49.488 | 2.056 |
| 17 | 1 | Connor De Phillippi | #25 BMW M8 GTLMMGTLM | 1:55.839 | 8.407 |
| 18 | 2 | James Calado | #62 FERRARI 488 GTEMGTLM | 1:55.897 | 8.465 |
| 19 | 3 | Jesse Krohn | #24 BMW M8 GTLMMGTLM | 1:55.985 | 8.553 |
| 20 | 4 | Richard Westbrook | #67 FORD GTMGTLM | 1:56.098 | 8.666 |
| 21 | 5 | Joey Hand | #66 FORD GTMGTLM | 1:56.191 | 8.759 |
| 22 | 6 | Laurens Vanthoor | #912 PORSCHE 911 RSRMGTLM | 1:56.251 | 8.819 |
| 23 | 7 | Antonio Garcia | #3 CHEVROLET CORVETTE C7.RMGTLM | 1:56.588 | 9.156 |
| 24 | 8 | Nick Tandy | #911 PORSCHE 911 RSRMGTLM | 1:56.626 | 9.194 |
| 25 | 9 | Tommy Milner | #4 CHEVROLET CORVETTE C7.RMGTLM | 1:56.900 | 9.468 |
| 26 | 1 | Daniel Serra | #51 FERRARI 488 GT3CGTD | 1:58.710 | 11.278 |
| 27 | 2 | Christopher Mies | #29 AUDI R8 LMS GT3CGTD | 1:59.229 | 11.797 |
| 28 | 3 | Jack Hawksworth | #15 LEXUS RC F GT3CGTD | 1:59.251 | 11.819 |
| 29 | 4 | Dominik Baumann | #14 LEXUS RC F GT3CGTD | 1:59.476 | 12.044 |
| 30 | 5 | Madison Snow | #48 LAMBORGHINI HURACAN GT3CGTD | 1:59.489 | 12.057 |
| 31 | 6 | Gunnar Jeannette | #63 FERRARI 488 GT3CGTD | 1:59.609 | 12.177 |
| 32 | 7 | Thomas Jaeger | #75 MERCEDES-AMG GT3CGTD | 1:59.952 | 12.520 |
| 33 | 8 | Tom Dyer | #69 ACURA NSX GT3CGTD | 2:00.069 | 12.637 |
| 34 | 9 | Frank Montecalvo | #64 FERRARI 488 GT3CGTD | 2:00.080 | 12.648 |
| 35 | 10 | Katherine Legge | #86 ACURA NSX GT3CGTD | 2:00.198 | 12.766 |
| 36 | 11 | Christina Nielsen | #58 PORSCHE 911 GT3 RCGTD | 2:00.378 | 12.946 |
| 37 | 12 | Marc Miller | #36 ACURA NSX GT3CGTD | 2:00.686 | 13.254 |
| 38 | 13 | Kenton Koch | #71 MERCEDES-AMG GT3CGTD | 2:00.717 | 13.285 |
| 39 | 14 | Ben Keating | #33 MERCEDES-AMG GT3CGTD | 2:00.743 | 13.311 |
| 40 | 15 | John Potter | #44 AUDI R8 LMS GT3CGTD | 2:02.151 | 14.719 |
| 41 | 16 | Don Yount | #96 BMW M6 GT3CGTD | 2:03.227 | 15.795 |
| 42 | 17 | Timothy Pappas | #73 PORSCHE 911 GT3 RCGTD | 2:04.650 | 17.218 |
| 43 | 18 | Justin Marks | #93 ACURA NSX GT3CGTD | 0.000 | – |
[adinserter name="GOOGLE AD"]