Wickens takes IndyCar pole in St. Petersburg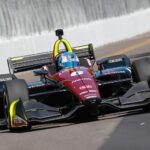 Rookie Robert Wickens storms to pole
Canadian rookie Robert Wickens nudged veteran Will Power off fast time and won the pole position in his first IndyCar street qualifying session on a partially wet track in St. Petersburg, Florida – for Sunday's 110-lap race that kicks off the 2018 season.
Fastest in Round 2 and fastest again in the final Fast Six round proved this was no fluke that brought big smiles in the Schmidt Peterson Honda pits.
Wickens became the first driver to win the pole position in his maiden Indy car race since Sebastien Bourdais in 2003 – also at St. Petersburg.
"It was just chaos – half wet, half dry," said Wickens, 28. "I like those conditions a lot. As a kid my whole career, I've seemed to excel in that type of session, and thankfully the team and everyone on the Lucas Oil car did a great job getting us on track at the right time with the right tire, with the whole procedure.
"Thankfully, I'm starting from pole position. Way better than I ever expected my first INDYCAR race to be, but I'm definitely not complaining with it."
Leist qualified third in the No. 4 AJ Foyt Racing ABC Supply Chevrolet (1:01.7631, 104.917 mph), beating King, in the No. 20 Ed Carpenter Racing Fuzzy's Vodka Chevrolet (1:01.7633, 104.917 mph), by an eyelash.
"I think I was expecting to be like top 10," said Leist, the 19-year-old Brazilian teaming with veteran Tony Kanaan for AJ Foyt Racing, "but definitely not top five, top six. The team just did an amazing job, and very happy for the performance throughout the whole weekend already, and looking forward to the race."
Yet another rookie, Jordan King will start 4th ahead of Takuma Sato and Ryan Hunter-Reay.
King, in fact, set the new lap record for the 1.8-mile, 14-turn temporary street course in the first round of qualifying with a lap of 1:00.0476 (107.914 mph), eclipsing Power's old standard from 2016 by nearly two-hundredths of a second.
"Coming into qualifying, I knew we were quick enough to get through," said King, the 23-year-old Englishman who joined the Verizon IndyCar Series after three seasons in FIA Formula 2 and two as a Formula 1 reserve driver. "But still, I had to perform, and it being my first time, I was obviously putting more pressure on myself than anybody else. But then I just had to keep reminding myself that if I just do what I know I can, the rest of it will be fine."
After coming to the Verizon IndyCar Series from European touring cars, the rookie Schmidt Peterson Motorsports driver needed to get reacquainted with the more prone position in an open-wheel car. It's been tougher than he imagined.
[adinserter name="GOOGLE AD"]While he's not complaining about feeling a pea under his seat cushion, Wickens jokes that he might be trying his crew's patience.
"I feel like a huge diva because I am constantly working on my seat and adjusting things and the mechanics are getting a little bit tired of it, but they are putting up with me," Wickens laughed as he prepares to make his Verizon IndyCar Series debut Sunday in the Firestone Grand Prix of St. Petersburg.
"The last time I raced in open wheel was 2011 and I've been sitting so upright for so long that I just feel weird laying down so much."
The 28-year-old Canadian arrives with impressive credentials in both open-wheel racers and touring cars. He won the 2006 Formula BMW USA championship before heading to Europe to race in several Formula 1 ladder series. Wickens took the 2011 Formula Renault 3.5 Series title in a field with four drivers who went on to race in F1, including Daniel Ricciardo and Alexander Rossi (who has since joined Andretti Autosport and won the 2016 Indy 500). After spending a season as a Marussia F1 reserve driver, Wickens joined Mercedes in the Deutsche Tourenwagen Masters (DTM) Series. In six seasons, he took six wins and five poles in arguably one of the toughest racing series on the planet.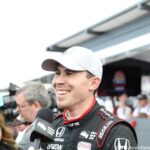 A happy Wickens
Two of Hunter-Reay's teammates failed to advance from earlier qualifying rounds when they were penalized for qualifying interference. Marco Andretti (No. 98 Ruoff Home Mortgage/Curb Honda) would have advanced from the first round and Alexander Rossi (No. 27 NAPA AUTO PARTS Honda) would have moved on from Round 2, but both had their fastest two laps negated by penalty and could not advance by rule. Not fastest lap, two fastest lap – a royal screwing.
Four-time Verizon IndyCar Series champion Scott Dixon saw his string of qualifying for the Firestone Fast Six in nine straight events come to an end. Dixon will start ninth in the No. 9 PNC Bank Chip Ganassi Racing Honda.
Sebastien Bourdais, the 2017 St. Petersburg race winner, will go off 14th in the No. 18 SealMaster Honda for Dale Coyne Racing. Graham Rahal will start last in the 24-car field after being penalized his two best laps for causing a stoppage of his session when his car stopped in the Turn 1 runoff.
Quotes
JOSEF NEWGARDEN (No. 1 Hitachi Team Penske Chevrolet): "Not the best qualifying for us. Everyone picked up more than I thought they would but, for us, it just wasn't enough. I didn't do a good enough lap and it's a shame we weren't able to capitalize more in our first session for the year, but I feel like we've got a great car. I'm really happy with the Chevrolet engine that we've got this weekend. I think we've got what it takes to win this race and it's been fun driving the Hitachi car for the first time so, not the perfect way to start the weekend off, but I think we'll have a good car."
MATHEUS "MATT" LEIST (No. 4 ABC Supply AJ Foyt Racing Chevrolet): "I'm very happy with the whole team and with our performance throughout the whole weekend. I'm looking forward to my first INDYCAR race, my first time doing pit stops, saving fuel and saving tires, so I have a lot of things to learn yet. Tony (Kanaan, teammate) is a very special guy, he's been helping me a lot, not just inside the track, but outside the track as well. And not just him, but A.J. (Foyt, owner), Larry (Foyt, team manager), and everyone on the team is helping me a lot because I'm a rookie. Tony is a very special guy and I'm super grateful to have him as a teammate. I grew up watching him and Helio (Castroneves), so having him as a teammate is a dream come true for me."
JAMES HINCHCLIFFE (No. 5 Arrow Electronics SPM Honda): "Obviously not the day we wanted on the No. 5 Arrow Electronics car. We got caught out by the rain there and only had one lap to get it done and transfer into the top six, which we only missed by a couple hundredths of a second. I'm pretty disappointed as the car is quick and Robbie (Wickens) proved that. Huge congratulations to everybody on the No. 6 car. It's great to see the team rewarded for all their hard work. That was an amazing lap in really difficult conditions. He's totally proven to everybody that he is a force to be reckoned with, and like I said, proves the car is fast, so hopefully we move up from seventh tomorrow."
ROBERT WICKENS (No. 6 Lucas Oil SPM Honda): "I'm a little speechless. First off, Group 1 was dry and normal. The best of the best, you know, rises to the top, and I was happy to make it through. My goal going in to today was just a top 10. If I made Fast Six at all, it would have been amazing and the fact that we topped Q2 was already a surprise. From there I'm like, well, I'm in the top 6, let's go and have some fun and somehow we had great strategy to get out right at the end, to get a lap on the track, in my opinion, when it was probably at its best. It was tough but the No. 6 Lucas Oil Honda was fantastic. My whole team behind me, we all kept our cool and we made the right changes for the wet there for the last qualifying and, yeah, we got it."
SCOTT DIXON (No. 9 PNC Bank Honda): "We thought it would get drier as the qualifying session went on, so we elected to go with the black (Firestone primary) tires. The track felt good the first few laps, but then when the rain came it was all too late. Turn 1 was especially bad with the painted runway there. There were several cars that went off there, including myself in the PNC Bank car. So I think we just misread it there. The car is still really fast, though, and we'll have some work to do to get to the front tomorrow. But we're here to win and that's the goal."
ED JONES (No. 10 NTT DATA Honda): "This morning we struggled a bit with the car and we went back to what we had yesterday on the NTT DATA Honda. I felt more comfortable for qualifying, but we just missed advancing by a fraction. We had a car come out in front of us, which deterred our progress and that's unfortunate. It's frustrating in that sense, but we'll see what the weather will bring tomorrow and how things will shake out."
WILL POWER (No. 12 Verizon Team Penske Chevrolet): "Starting up at the front is definitely better as far as getting through the first corner and that sort of thing. Obviously pole is the best position you can be in. It will be interesting. We don't know how these cars race. I know they follow well, but I don't think they draft that well. But yeah, very close (to pole position). I had a big mis-shift during my lap where I just got stuck in gear for quite a while, and then when I saw how tight it was, it was like, yeah, probably lost a tenth of a second or so there. Fantastic job by (Robert) Wickens, first time out, to get pole."
TONY KANAAN (No. 14 ABC Supply AJ Foyt Racing Chevrolet): "I am extremely happy with the team effort so far this weekend. We came here with the intention to put two ABC Supply Racing cars in the top 10 and we actually did one better, putting one in the top 10 and another in the top three. I am looking forward to the race tomorrow."
GRAHAM RAHAL (No. 15 United Rentals Honda): "I'm obviously disappointed. I got good signs out of the car in the back section, and I knew that the first lap on the reds (Firestone alternate tires) was supposed to be the really good one. Yesterday we didn't get a good feel for that, but obviously I wanted to go out there and push hard, and I just came out of Turn 10 and stood on it. It seemed OK and the next thing I knew, it just went around. I'm disappointed clearly for everybody. I don't know what the pace would have been, but it was giving me positive vibes. I thought that on the used blacks (Firestone primary tires), when others were on new blacks, we were pretty competitive, so I felt like going forward we should be half decent. I'm disappointed for the first race to start off this way but we can't get too down on ourselves. We've just got to stay focused. Tomorrow is a new day and we are going to work hard to get the United Rentals car to the front. (Sebastien) Bourdais started last here last year and won. With the pit windows and the fuel strategy and everything else now, there are big opportunities, so we've just got to think through it."
SEBASTIEN BOURDAIS (No. 18 Team Sealmaster Honda): "It's frustrating. We were obviously pretty good on blacks (Firestone primary tire). We were P2. It was just the wrong timing for the red flag for us. When you are at the back of the pit lane, you can't get a quick out lap. I passed one car and I picked up the next car in Turn 10, so I had to back off. You can't get heat in your tires. I had one lap, but I was four or five tenths off my fastest lap by the time I got to Turn 1. I came back some, but one lap…one lap for everybody is fine, but the guys at the other end of the pit got a quick out lap, so they could put some heat in the tires and we didn't."
ZACHARY CLAMAN DE MELO (No. 19 The Paysafe Car Honda): "It was a tough session. We worked on the car all day. We struggled a bit in the morning session and there are some places that I need to work on as well. That said, I'm confident we'll be fine for tomorrow. I'm always better in the race. And judging by how the team did last year with the team starting in the back and Seb (Sebastien Bourdais) managing to win it, and his teammate was third for a lot of the race, so I'm confident we'll be OK."
JORDAN KING (No. 20 Ed Carpenter Racing Fuzzy's Vodka Chevrolet): "It's good, but I still think we should have been a bit quicker. I'm really happy. It's all gone well. We made some really good progress from the first time. I can't grumble too much, but when there was potential to be a little higher up you can't help, as a racing driver, to want a bit more. It was quite slippery at Turn 1, and actually at the back of the circuit, it was really quite dry. But unfortunately, I almost went off at Turn 10 on my first push lap. I came in on the last lap a little bit tentative and looking at the time (of the last lap), that's why I'm a little bit like, well, it could be more. I can't complain for my first time. I don't want to put too much expectation on it. We've got a good car. If I do my job, I'm sure the rest will unfold nicely."
SPENCER PIGOT (No. 21 Autogeek Chevrolet): "It was a messy session there with the red flag, then trying to find a gap to get a good lap in. I made a few little mistakes; one area, I accidentally upshifted twice when I should have only done once that that cost us. Overall, I am just frustrated. Hopefully we can get the Autogeek car back up front tomorrow where we need to be."
SIMON PAGENAUD (No. 22 Menards Team Penske Chevrolet): "Mother Nature kind of got us today. The Menards Chevy was really good for qualifying but in the second round we just didn't execute with our tires the right way for the rain we saw toward the end. We should have put on the red Firestone tires early on and that would have helped in the end. Instead we struggled to stay on track when it was wet and we couldn't advance. The good news is we feel really good about the car for Sunday's race and the Menards guys will work to get us up to the front."
CHARLIE KIMBALL (No. 23 Tresiba Chevrolet): "Our qualifying result might not have been exactly what we wanted, but at the same time we made progress every session on-track especially during qualifying. The No. 23 Tresiba Chevrolet has run without any mechanical issues this whole race weekend so far and that's a credit to the work of Trevor (Carlin), Colin (Hale), and all the mechanics at Carlin. We're making progress, we're learning. With new bodywork, there's a lot to learn aerodynamically and mechanically for everyone. We're making good progress and we're learning quickly. I know we'll be ready to put a good, clean race together tomorrow."
ALEXANDER ROSSI (No. 27 Napa Honda): "I'm extremely frustrated after the way qualifying turned out. We were confident that the NAPA AUTO PARTS car was fast enough to get us on the front row and we were there, we made the Fast Six – until we were issued a penalty that I, personally, find questionable. We'll take a deep look at it, but need to regroup and focus on getting the job done tomorrow."

RYAN HUNTER-REAY (No. 28 DHL Honda): We just got a little bit too aggressive with the car today. There at the end, I think it was just down to the drivers figuring out, and I was quick around the rest of the track, but I just didn't get it together in Turn 1 and 2, and that's down to me. Every time I passed start finish, they kept telling me P1, P1, P1, and then it fell from there the last two laps. But good job for these guys, and obviously to (Robert) Wickens. He certainly sorted out Turn 1 and 2 out there. It was like running on ice. Somehow those runway strips – we're sitting so low in the car. You can't really place your car and try to get around them because they're so wide you have to get over them, and you can't see them until you're on them. It was definitely tricky out there. I'm surprised we didn't end up with any cars in the wall. Fun session, though. That'll definitely keep you on your toes."
TAKUMA SATO (No. 30 Panasonic Honda): "I enjoyed qualifying. Obviously it was tricky conditions and I wish I could have been little higher but I'm not complaining. The Firestone Fast Six is just the best place to be for the race. The guys did a tremendous job in very tricky conditions. They sent me out in the perfect time. It's a little bit of a shame because being on the front row would have been nice but the important thing is to have a strong car in the race which I believe we have."
RENE BINDER (No. 32 Binderholz tiptop timber Chevrolet): "My first qualifying attempt in the Verizon IndyCar Series was most interesting, but challenging as it was more or less my first use of the Firestone red (alternate tires) set. We used two sets of tires with only two push laps. My focus was on maintaining a decent pace and not to push it to the limit, and to also understand the course and get comfortable. We will continue to go over the data we gathered and focus on identifying a good race set up for tomorrow."
MAX CHILTON (No. 59 Gallagher Chevrolet): "That's the end of our first INDYCAR qualifying effort for Carlin. Both cars made big improvements throughout the weekend. Every time we went out, we felt better about the car balance and overall performance. Both Charlie and I felt pretty happy with our laps, but we were just lacking the speed we needed to advance into the second round. We aren't where we'd like to be quite yet, but the No. 59 Gallagher Chevrolet is now definitely in a place where I'm happy with the balance which gives us a good race car. I think we should do better in the race tomorrow and I'm really looking forward to green flag."
JACK HARVEY (No. 60 AutoNation/Sirius XM MSR w/SPM Honda): "Our first set on Firestone reds (alternate tires) went pretty well. We just couldn't improve the right amount on the second set to progress. For now, we will just try to understand why that happened and how we can work on that for next time. Where we are starting will give us the opportunity to move up which is great. Now we will just look at strategy and try to see what we can do to have a good race."
GABBY CHAVES (No. 88 Harding Group Chevrolet): "I am so proud of this team. Everyone has worked tirelessly this offseason to get here, and I'm beyond happy that we were able to go out on track and qualify in the top 10, especially after some of the issues we had after Practice 1 yesterday. This team works hard and I'm so excited to finally get to race tomorrow for the Firestone Grand Prix of St. Petersburg."
Qualifying Times
Round 1 Group 1
Pos
No
Name
FTime
Diff
Gap
Engine
Team
1
20
Jordan King
1:00.048
–.—-
–.—-
Chevy
Ed Carpenter Racing
2
27
Alexander Rossi
1:00.094
0.0460
0.0460
Honda
Andretti Autosport
3
6
Robert Wickens
1:00.100
0.0523
0.0063
Honda
Schmidt Peterson
4
14
Tony Kanaan
1:00.283
0.2352
0.1829
Chevy
AJ Foyt Enterprises
5
22
Simon Pagenaud
1:00.324
0.2766
0.0414
Chevy
Team Penske
6
28
Ryan Hunter-Reay
1:00.409
0.3611
0.0845
Honda
Andretti Autosport
Cutoff to advance
7
1
Josef Newgarden
1:00.432
0.3844
0.0233
Chevy
Team Penske
8
26
Zach Veach
1:00.459
0.4109
0.0265
Honda
Andretti Autosport
9
10
Ed Jones
1:00.501
0.4533
0.0424
Honda
Chip Ganassi Racing
10
60
Jack Harvey
1:01.027
0.9794
0.5261
Honda
Michael Shank Racing
11
23
Charlie Kimball
1:01.187
1.1392
0.1598
Chevy
Carlin
12
32
Rene Binder
1:01.700
1.6527
0.5135
Chevy
Juncos Racing
Round 1 Group 2
Pos
No
Name
FTime
Diff
Gap
Engine
Team
1
12
Will Power
1:00.597
–.—-
–.—-
Chevy
Team Penske
2
4
Matheus Leist
1:00.633
0.0362
0.0362
Chevy
AJ Foyt Enterprises
3
9
Scott Dixon
1:00.843
0.2466
0.2104
Honda
Chip Ganassi Racing
4
5
James Hinchcliffe
1:00.844
0.2472
0.0006
Honda
Schmidt Peterson
5
88
Gabby Chaves
1:00.851
0.2538
0.0066
Chevy
Harding Racing
6
30
Takuma Sato
1:00.958
0.3611
0.1073
Honda
Rahal Letterman Lanigan
Cutoff to advance
7
18
Sebastien Bourdais
1:00.959
0.3618
0.0007
Honda
Dale Coyne Racing
8
21
Spencer Pigot
1:00.967
0.3699
0.0081
Chevy
Ed Carpenter Racing
9
98
Marco Andretti*
1:01.301
0.7044
0.3345
Honda
Andretti Autosport
10
59
Max Chilton
1:01.336
0.7391
0.0347
Chevy
Carlin
11
19
Zachary Claman De Melo
1:01.857
1.2598
0.5207
Honda
Dale Coyne Racing
12
15
Graham Rahal**
1:04.099
3.5021
2.2423
Honda
Rahal Letterman Lanigan
* Lost 2 fastest laps due to blocking
** Lost 2 fastest laps for causing red flag
Round 2 – Fast 12 (Light rain falling throughout session)
Pos
No
Name
FTime
Diff
Gap
Engine
Team
1
6
Robert Wickens (R)
1:00.543
–.—-
–.—-
Honda
Schmidt Peterson
2
12
Will Power
1:00.591
0.0483
0.0483
Chevy
Team Penske
3
27
Alexander Rossi*
1:00.631
0.0880
0.0397
Honda
Andretti Autosport
4
20
Jordan King (R)
1:00.730
0.1877
0.0997
Chevy
Ed Carpenter Racing
5
4
Matheus Leist (R)
1:00.768
0.2251
0.0374
Chevy
AJ Foyt Enterprises
6
30
Takuma Sato
1:00.847
0.3042
0.0791
Honda
Rahal Letterman Lanigan
Cutoff to advance to Fast Six
7
28
Ryan Hunter-Reay
1:00.924
0.3815
0.0773
Honda
Andretti Autosport
8
5
James Hinchcliffe
1:00.999
0.4558
0.0743
Honda
Schmidt Peterson
9
88
Gabby Chaves
1:01.119
0.5763
0.1205
Chevy
Harding Racing
10
22
Simon Pagenaud
1:01.202
0.6591
0.0828
Chevy
Team Penske
11
9
Scott Dixon
1:01.653
1.1099
0.4508
Honda
Chip Ganassi Racing
12
14
Tony Kanaan
1:01.721
1.1785
0.0686
Chevy
AJ Foyt Enterprises
12
22
Simon Pagenaud*
1:04.674
4.1311
Chevy
Team Penske
*Loss 2 fastest laps
Round 3 – Fast 6
| | | | | | | | |
| --- | --- | --- | --- | --- | --- | --- | --- |
| Pos | No | Name | FTime | Diff | Gap | Engine | Team |
| 1 | 6 | Robert Wickens (R) | 1:01.664 | –.—- | –.—- | Honda | Schmidt Peterson Motorsports |
| 2 | 12 | Will Power | 1:01.735 | 0.0703 | 0.0703 | Chevy | Team Penske |
| 3 | 4 | Matheus Leist (R) | 1:01.763 | 0.0988 | 0.0285 | Chevy | AJ Foyt Enterprises |
| 4 | 20 | Jordan King (R) | 1:01.763 | 0.0990 | 0.0002 | Chevy | Ed Carpenter Racing |
| 5 | 30 | Takuma Sato | 1:01.882 | 0.2178 | 0.1188 | Honda | Rahal Letterman Lanigan Racing |
| 6 | 28 | Ryan Hunter-Reay | 1:02.038 | 0.3742 | 0.1564 | Honda | Andretti Autosport |
Lineup
| | | | | | | |
| --- | --- | --- | --- | --- | --- | --- |
| Pos | Car | Driver Name | Engine | Time | Speed | Session |
| 1 | 6 | Wickens, Robert (R) | HONDA | 01:01.6643 | 105.085 | Round 3/Fast Six |
| 2 | 12 | Power, Will | CHEVY | 01:01.7346 | 104.965 | Round 3/Fast Six |
| 3 | 4 | Leist, Matheus (R) | CHEVY | 01:01.7631 | 104.917 | Round 3/Fast Six |
| 4 | 20 | King, Jordan (R) | CHEVY | 01:01.7633 | 104.917 | Round 3/Fast Six |
| 5 | 30 | Sato, Takuma | HONDA | 01:01.8821 | 104.715 | Round 3/Fast Six |
| 6 | 28 | Hunter-Reay, Ryan | HONDA | 01:02.0385 | 104.451 | Round 3/Fast Six |
| 7 | 5 | Hinchcliffe, James | HONDA | 01:00.9986 | 106.232 | Round 2/Top 12 |
| 8 | 88 | Chaves, Gabby | CHEVY | 01:01.1191 | 106.023 | Round 2/Top 12 |
| 9 | 9 | Dixon, Scott | HONDA | 01:01.6527 | 105.105 | Round 2/Top 12 |
| 10 | 14 | Kanaan, Tony | CHEVY | 01:01.7213 | 104.988 | Round 2/Top 12 |
| 11 | 22 | Pagenaud, Simon** | CHEVY | 01:04.6739 | 100.195 | Round 2/Top 12 |
| 12 | 27 | Rossi, Alexander** | HONDA | 01:07.0377 | 96.662 | Round 2/Top 12 |
| 13 | 1 | Newgarden, Josef | CHEVY | 01:00.4320 | 107.228 | Round 1/Group 1 |
| 14 | 18 | Bourdais, Sebastien | HONDA | 01:00.9587 | 106.301 | Round 1/Group 2 |
| 15 | 26 | Veach, Zach (R) | HONDA | 01:00.4585 | 107.181 | Round 1/Group 1 |
| 16 | 21 | Pigot, Spencer | CHEVY | 01:00.9668 | 106.287 | Round 1/Group 2 |
| 17 | 10 | Jones, Ed | HONDA | 01:00.5009 | 107.106 | Round 1/Group 1 |
| 18 | 98 | Andretti, Marco** | HONDA | 01:01.3013 | 105.707 | Round 1/Group 2 |
| 19 | 60 | Harvey, Jack (R) | HONDA | 01:01.0270 | 106.183 | Round 1/Group 1 |
| 20 | 59 | Chilton, Max | CHEVY | 01:01.3360 | 105.648 | Round 1/Group 2 |
| 21 | 23 | Kimball, Charlie | CHEVY | 01:01.1868 | 105.905 | Round 1/Group 1 |
| 22 | 19 | Claman De Melo, Zachary | HONDA | 01:01.8567 | 104.758 | Round 1/Group 2 |
| 23 | 32 | Binder, Rene (R) | CHEVY | 01:01.7003 | 105.024 | Round 1/Group 1 |
| 24 | 15 | Rahal, Graham | HONDA | 01:04.0990 | 101.094 | Round 1/Group 2 |
**Lost 2 fastest laps for interference. Rossi was contender for pole but got the shaft from up above