Harvick dominates in Las Vegas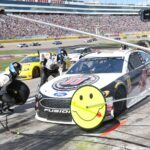 Kevin Harvick was untouchable
Ralph Garcia/AR1.com
If you thought last Sunday's Monster Energy NASCAR Cup Series race at Atlanta was an aberration on old asphalt, think again.
Kevin Harvick was every bit as dominant on the newer asphalt at Las Vegas Motor Speedway, racking up impressive numbers in winning Sunday's Pennzoil 400, the third event of the season.
In winning his second straight race and his second at the 1.5-mile track, Harvick finished 2.906 seconds ahead of runner-up and Las Vegas native Kyle Busch. Third-place finisher Kyle Larson was more than 13 seconds back. Paul Menard in ninth-place was the last driver on the lead lap.
Harvick won for the 39th time in the Monster Energy Series and the 100th time over all three of NASCAR's national touring series combined. He is tied with Tim Flock and Matt Kenseth for 19th on the all-time Cup victory list and third among active drivers.
The driver of the No. 4 Stewart-Haas Racing Ford also took the series lead by three points over second-place Joey Logano and four over third-place Ryan Blaney, who started from the pole on Sunday and led one lap – the first.
"As you look at the last two weeks and our 1.5-mile program in general, it has been really good since I started here at SHR," said Harvick, a Bakersfield, California, native. "They put a lot of effort into everything we do from every standpoint to get these cars going like they are. It's great to win on the West Coast for me."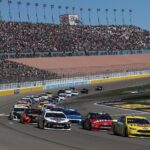 A good crowd was on hand for the start
Harvick led 214 of 267 laps, most ever by a Las Vegas winner. His fastest lap was more than .4 seconds better than the quickest circuit posted by anyone else. Harvick won the first two stages of the race with relative ease, picking up two Playoff points in the process.
With all that, the outcome wasn't a foregone conclusion after Harvick lost three spots on pit road under caution at the end of Stage 2. He restarted fourth on Lap 167, fell back to fifth and didn't regain fourth-place until he passed Chase Elliott on Lap 172.
"We had some trouble getting through traffic there," Harvick said. "That was our worst run, as far as where the car was. I don't know if it was just the car, tire set, handling, whatever it was. We were just stuck in traffic and needed to come make an adjustment."
[adinserter name="GOOGLE AD"]After two more cautions—the first for Jamie McMurray's brush with the backstretch wall on Lap 176, the second for a hard crash off Turn 4 that eliminated Kurt Busch and Elliott on Lap 183—Harvick lined up beside eventual seventh-place finisher Logano for a restart on Lap 195 and rocketed into the lead through the first corner.
At that point, it was game over. Kyle Busch led laps 225-230 after Harvick made a green-flag pit stop on Lap 225, but that was Busch's last glimpse of the lead. Harvick reclaimed first place after Busch came to pit road on Lap 230 and stayed there the rest of the way.
"There was no catching that 4," Kyle Busch said. "They were on rails today… Certainly would have liked to have been able to run down the 4 or catch the 4 and put on a race, but they were just so far out there and so far the class of the field all day long, I don't think anybody was really keeping up with them."
Notes: Cole Custer finished 25th, three laps down in his Monster Energy NASCAR Cup Series debut… Darrell "Bubba" Wallace Jr. was the highest finishing Sunoco Rookie of the Year contender in 21st, also three laps down… Defending series champion Martin Truex Jr. started fourth and finished fourth. Blaney completed the top five.
Quotes
KYLE BUSCH, No. 18 M&M's Caramel Toyota Camry, Joe Gibbs Racing
Finishing Position: 2nd
What was your race like at Las Vegas?
"Our M&M's Camry was really strong there the last 100 laps of the race. Early on, just having to start the race on our qualifiers (tires) was really bad for us and then we over tightened and over adjusted for the second run. From there we were making small tweaks to it to get it back. It was rolling fast the last 100 laps or so. A lot of those guys would go and short pit on the long side of it and I think that helped us too getting back up through those guys, too. The M&M's Caramel Camry was good and Adam (Stevens, crew chief) and the guys did a great job this weekend. We came here and prepared well. They did a good job through practice getting us a great race car. There was no catching that 4 (Kevin Harvick), he was on rails today and lights out. I don't know what we need to do to catch up and get better like those guys, but certainly we have some work to do, especially here at Vegas and some other places we go to maybe we'll get closer. It was a great day for us and we'll go to Phoenix."
What did you need to contend for the win in Las Vegas?
"Just needed to be closer to the car to see if I had a chance to race him (Kevin Harvick) through traffic. We were just so far back, by the time he'd get through traffic, I'd get the traffic and I'd get held up and he'd drive away. We were kind of accordioning back and forth that last two runs of the race. Overall, a great M&M's Caramel Camry. The guys did a great job bringing a really great car. I wouldn't say we were far off, it was just the tires from qualifying. We were really, really loose to start the race and we adjusted on it and got better and a lot closer as the day went."
Is there any consolation in a second-place finish?
"Definitely, second is fine if you get your butt beat as bad as we got our butt beat. We'll take that finish. It was a win for the field as the 4 (Kevin Harvick) was a class of his own. Our guys did a great job. We worked really hard to fix the balance of our car today and had a good race car in practice yesterday. Real proud of Adam (Stevens, crew chief) and the boys. Seems like we are able to do those things, I just don't remember the last time I had as dominant of a car as the 4 car the last couple of weeks. We just have to go to work and try to figure it out and fix it and get ourselves to that level."
Are you concerned with Kevin Harvick's performance so far this year?
"It's early, this is only race three – we aren't worried yet. Show me that race 26 through 36."
What do you take from this race for September when you return to Vegas?
"Definitely take some notes. It was a great run for us. Really fine tuning and figuring out what the race track needed in order to get better throughout the race was a good thing for us."
Results
| | | | | | | | |
| --- | --- | --- | --- | --- | --- | --- | --- |
| POS | CAR | DRIVER | MANUF | Behind | LAPS | FLAP | STATUS |
| 1 | 4 | Kevin Harvick | Ford | 0.000s | 267 | 28.808s | Running |
| 2 | 18 | Kyle Busch | Toyota | 2.906 | 267 | 29.622 | Running |
| 3 | 42 | Kyle Larson | Chevy | 13.304 | 267 | 29.336 | Running |
| 4 | 78 | Martin Truex Jr. | Toyota | 15.166 | 267 | 29.425 | Running |
| 5 | 12 | Ryan Blaney | Ford | 16.715 | 267 | 29.227 | Running |
| 6 | 2 | Brad Keselowski | Ford | 18.562 | 267 | 29.565 | Running |
| 7 | 22 | Joey Logano | Ford | 20.582 | 267 | 29.301 | Running |
| 8 | 20 | Erik Jones | Toyota | 20.898 | 267 | 29.794 | Running |
| 9 | 21 | Paul Menard | Ford | 26.848 | 267 | 29.750 | Running |
| 10 | 10 | Aric Almirola | Ford | -1 L | 266 | 29.939 | Running |
| 11 | 31 | Ryan Newman | Chevy | -1 L | 266 | 29.882 | Running |
| 12 | 48 | Jimmie Johnson | Chevy | -1 L | 266 | 29.978 | Running |
| 13 | 3 | Austin Dillon | Chevy | -1 L | 266 | 29.834 | Running |
| 14 | 17 | Ricky Stenhouse Jr. | Ford | -2 L | 265 | 29.492 | Running |
| 15 | 37 | Chris Buescher | Chevy | -2 | 265 | 29.973 | Running |
| 16 | 88 | Alex Bowman | Chevy | -2 | 265 | 29.720 | Running |
| 17 | 11 | Denny Hamlin | Toyota | -2 | 265 | 29.761 | Running |
| 18 | 14 | Clint Bowyer | Ford | -2 | 265 | 29.880 | Running |
| 19 | 95 | Kasey Kahne | Chevy | -3 L | 264 | 30.058 | Running |
| 20 | 6 | Trevor Bayne | Ford | -3 | 264 | 29.938 | Running |
| 21 | 43 | Darrell Wallace Jr. # | Chevy | -3 | 264 | 29.932 | Running |
| 22 | 32 | Matt DiBenedetto | Ford | -3 | 264 | 30.284 | Running |
| 23 | 38 | David Ragan | Ford | -3 | 264 | 30.103 | Running |
| 24 | 13 | Ty Dillon | Chevy | -3 | 264 | 30.184 | Running |
| 25 | 51 | Cole Custer(i) | Ford | -3 | 264 | 30.315 | Running |
| 26 | 19 | Daniel Suarez | Toyota | -4 L | 263 | 29.804 | Running |
| 27 | 24 | William Byron # | Chevy | -4 | 263 | 29.966 | Running |
| 28 | 72 | Cole Whitt | Chevy | -5 L | 262 | 30.317 | Running |
| 29 | 15 | Ross Chastain(i) | Chevy | -5 | 262 | 30.356 | Running |
| 30 | 47 | AJ Allmendinger | Chevy | -5 | 262 | 30.052 | Running |
| 31 | 00 | Jeffrey Earnhardt | Chevy | -12 L | 255 | 31.031 | Running |
| 32 | 55 | Joey Gase | Chevy | -14 L | 253 | 31.038 | Retired |
| 33 | 23 | Gray Gaulding | Toyota | -72 | 195 | 30.731 | Retired |
| 34 | 9 | Chase Elliott | Chevy | -84 | 183 | 29.427 | Retired |
| 35 | 41 | Kurt Busch | Ford | -84 | 183 | 29.343 | Retired |
| 36 | 1 | Jamie McMurray | Chevy | -91 | 176 | 30.022 | Retired |
| 37 | 34 | Michael McDowell | Ford | -167 | 100 | 30.019 | Retired |
#Rookie