Red Bull Toro Rosso Honda STR13 unveiled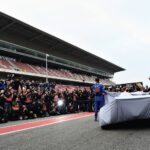 STR13 being unveiled early Monday morning
The highly anticipated first collaboration between Scuderia Toro Rosso and Honda, the STR13, was unveiled this morning, just before the first day of pre-season testing got underway at the Barcelona-Catalunya Circuit.
The cover was pulled off our 2018 challenger by our driver pairing of Pierre Gasly and Brendon Hartley.
The STR13 sticks with our striking blue, red and silver livery, but makes history as the first car produced by Toro Rosso featuring an exclusive engine partnership with Honda.
Franz Tost
(Red Bull Toro Rosso Honda Team Principal)
"I am really looking forward to begin this new season and enter a new era for our team, working together with Honda. It's an exciting time for Toro Rosso because we have not had our own engine supplier before, so to partner with a manufacturer, with the history Honda has, will be great. We also have two accomplished rookies for the 2018 season. They are not completely new because both Pierre and Brendon drove a handful of races for us last year, but this will be their first full season in Formula 1. Both drivers come to us as champions, as Pierre won the 2016 GP2 (now F2) Championship, while Brendon is a double World Endurance Champion and 24 Hour of Le Mans winner. I'm convinced that if we provide them with a competitive car, they will be able to perform at very high levels. We have been working very hard on the STR13, and I'm happy we do not have to wait too long to see it running. The season has begun… Ganbarimasu!"
Katsuhide Moriyama
(Chief Officer for Brand and Communication Operations, Honda Motor Co., Ltd.)
"I am delighted that our new car is here and ready for the start of winter testing, having been designed and built to a very tight schedule. That is a tribute to the dedication of the Honda and Scuderia Toro Rosso personnel who have already learned to work very well together, developing the STR13 chassis and RA618H power unit package over the short winter months. Now we have just eight days to evaluate our work on the track, in order to be ready for the coming season. We appreciate the warm support from the fans and hope they enjoy watching us compete in this year's championship."