Saturday Daytona Notebook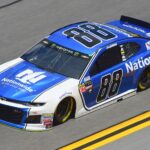 Alex 'Bowman The Showman' says his car is looser
DAYTONA BEACH, Fla. – When is "worse" actually "better?"
When a driver talks about the way his race car handles.
"Worse" in racer parlance means tougher to drive, and to the elite drivers in the Monster Energy NASCAR Cup Series, that's a good thing. The stars of the sport would rather see races decided by the person behind the wheel, rather than the power under the hood.
Traditionally, Daytona International Speedway has been a handling track, but a repave in 2010 tipped the scale toward horsepower at the expense of chassis setup. Defending Daytona 500 champion Kurt Busch thinks the equation may change as a result of NASCAR's elimination of the post-race ride-height requirement.
In other words, cars at the superspeedways of Daytona and Talladega no longer will have to meet a minimum height in post-race inspection, bringing those speedways in line with all other Cup tracks, where a ride-height rule was not in effect last year.
[adinserter name="GOOGLE AD"]"The way the cars will be pinned to the ground, it's the first time really that we're looking at moving around nose weight and the balance of the car to adjust the handling," Busch told the NASCAR Wire Service. "We haven't done that really here in Daytona for eight years. They repaved it in (2010), so since then it has been no handling issues whatsoever.
"I'm really excited about this time around to hopefully see what the tire wear shows and how the balance of the car will shake out with the ride height rule."
Goodyear is bringing the same tire combination the Monster Energy NASCAR Cup Series ran at Daytona last July, and the tire maker doesn't expect any issues with the low-slung cars. But that doesn't mean Goodyear reps won't be looking with watchful eyes when cars come off the track.
Alex Bowman tested the 2018 package last year. On Feb. 18, he'll compete in the Daytona 500 for the second time-and the first time as the successor to Dale Earnhardt Jr. in the No. 88 Hendrick Motorsports Chevrolet.
During the test, Bowman noticed a difference in the way the car drove, but he conceded that other teams might achieve different results with varying approaches to their chassis setups.
"I thought it made the cars drive worse," Bowman said. "I was looser on entry, but it was kind of split. Obviously, not everybody tackled it the same way, and not everybody had the same setup in their cars. I think there were only six or seven cars here.
Some of the guys thought their cars drove better, and the other half of everybody thought their cars drove worse. We'll just kind of have to see. I think cars, just walking around the garage, are more aggressive coming back here than they were in that test by far.
"I think everybody is going to be a little looser on entry and exit when the spoiler is not up in the air, but we'll just have to wait and see. I think there is definitely going to be guys that can go faster-but their cars are going to drive worse-and guys that can be aggressive, but their cars are going to be slower. It will be interesting to see how everybody compromises that."
And it will be interesting to see if "worse" is indeed "better" when it comes to the action on the track in the Great American Race.
ALEX BOWMAN MAY BE FORCED TO EMBRACE HIS NICKNAME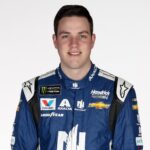 Bowman the Showman
Alex Bowman has never liked the nickname "Bowman the Showman."
Not one to try to hog the limelight, Bowman would rather be known for his prowess on the race track, but he acknowledges that his soubriquet has already gained traction.
"I think at this point I've just got to own it, right?" Bowman said. "I don't see it changing anytime soon. I'm not the biggest fan of it, but kind of is what it is at this point."
Asked whether he expects to see "Bowman the Showman" T-shirts at the merchandise trailer, Bowman replied, "Oh man, I don't know. I'm not in charge of the T-shirt department. If they put that on a t-shirt, you won't see me wearing it, I can tell you that much."
Bowman did reveal that his crew chief, Greg Ives, has a nickname, too, based on some of the esoteric things he says.
"Greg has been great to work with," Bowman said. "He's still 'the Riddler.' Sometimes he puts out sentences that you are like, 'What?!' But he's so smart. He's just great to work with and is always looking out for any little advantage he can get.
"That's why he kind of talks the way he talks sometimes and says the things he says sometimes, just trying to take advantage of anything he can. Really looking forward to working with him. He's a great guy and a great friend."
BEN KENNEDY BRINGS NEW PERSPECTIVE TO MANAGEMENT ROLE
France family scion Ben Kennedy brings a welcome point of view to his new role as general manager of the NASCAR Camping World Truck Series.
As recently as last November, at Homestead-Miami Speedway, Kennedy competed in both the NASCAR Xfinity and Camping World Truck Series. The son of International Speedway Corporation CEO Lesa France Kennedy and the nephew of NASCAR Chairman and CEO Brian France, Kennedy also fielded a team in the NASCAR K&N Pro Series.
"I think, more than anything, I can kind of bring my own perspective into the series," Kennedy said. "I think being on both the driver side as well as the team owner side, I see both lenses, kind of, on the competition side."
All told, Kennedy ran 73 Camping World Truck Series events and 17 Xfinity races, posting a victory in the Truck Series last year at Bristol. Though he says he will miss the competition, Kennedy is ready for the excitement of a new challenge on the management side.
"I had been thinking about it for a long time, and it was certainly a long decision for me," said Kennedy, 26. "But I was happy with what I've done in my career in the trucks as well as Xfinity, and had some opportunities to continue forward.
"But I think more than anything, I'm so passionate about this sport and so passionate about the health of the sport, and this opportunity kind of came along, and really weighing out all my options, it made the most sense for me now and for the long run as well.
"I think it's a good time for it, and the Camping World Truck Series is the best place for it."
SHORT STROKES
In the final Monster Energy NASCAR Cup Series practice before Sunday's Daytona 500 qualifying and the Can-Am Duels on Thursday night, Sunoco Rookie of the Year contender William Byron posted the fastest lap of the day on Saturday, running 201.681 mph in the No. 24 Hendrick Motorsports Chevrolet…
Ricky Stenhouse Jr., a two-time winner on restrictor-plate tracks last year, was second fastest at 201.649 mph in the No. 17 Roush Fenway Racing Ford, as drivers got their last chance to draft before the Duels…
Byron and Stenhouse had a close call late in final practice, narrowly avoiding what could have been a major crash in traffic on the first day on the track. "Yeah, that was one of those 'Oh, shoot' moments, but that was a lot of fun," Byron said. "That was the best chance for me to really learn what I needed to do in the draft. I'm really glad we got a pack formed up like that and a chance to also see how our Axalta Chevy Camaro ZL1 handles. It handles good, it has a lot of speed, so hopefully we can keep that going and just learn a little bit. Definitely, the lanes are always jostling, especially in practice you don't really have a clear lane of where you are supposed to be. It was good for me to learn that." NASCAR Wire Service