Sato again fastest as IndyCar testing wraps up at ISM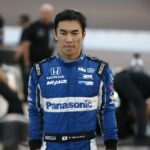 Quick man Takuma Sato
Takuma Sato made it a clean sweep of the 4 IndyCar regular practice sessions at ISM in Phoenix as teams tried to come to grips with the diabolical handling in traffic of the new IndyCar. The drivers are starting to get more comfortable with the new car's handling.
Sato inched closer to the 190 mph mark with a lap of 189.955 mph to beat the Penske Chevy of Will Power (189.769 mph) and the AJ Foyt Chevy of Tony Kanaan (189.632 mph).
Josef Newgarden was 4th quick at 189.399 mph while Marco Andretti rounded out the top-5 as the last driver in the 189 mph bracket.
The entire field was separated by just 0.78 sec.
The only incident of significance over the two days involved four-time series champion Scott Dixon, whose No. 9 PNC Bank Chip Ganassi Racing Honda made contact with the Turn 2 SAFER Barrier with 30 minutes remaining in the final practice. Dixon was uninjured.
"We were just in traffic there," Dixon said. "It was our second or third lap out of the pits. A couple of the Andretti cars got by and were a little bit slower. I got low in (Turns) 1 and 2, touched the throttle and had a bit of a run and lost the rear. Kind of late in the corner, but just touched with the rear and bent the left rear suspension."
Drivers now have a month to prepare in private team testing before the 2018 season opener, the Firestone Grand Prix of St. Petersburg from March 9-11. It is the first of 17 races on this year's calendar. The race airs live at 12:30 p.m. ET March 11 on ABC and the Advance Auto Parts INDYCAR Radio Network.
The Verizon IndyCar Series returns to ISM Raceway for the Phoenix Grand Prix on April 6-7. The race weekend will commemorate the 25th anniversary of Mario Andretti's final Indy car win in 1993 at the oval in the desert. The race airs live at 9 p.m. ET on NBCSN and the Advance Auto Parts INDYCAR Radio Network.
QUOTES
JOSEF NEWGARDEN (No. 1 Hitachi Team Penske Chevrolet): "It was OK. We're still learning today. These are valuable sessions. I think we made a little more progress now and I'm excited to get going at night. I'm ready to run a little bit more in the No. 1 Hitachi Chevrolet."
[adinserter name="GOOGLE AD"]ROBERT WICKENS (No. 6 Lucas Oil Schmidt Peterson Motorsports Honda): "So far so good. I'm feeling more and more comfortable with every session here at ISM Raceway, so that's nice. It seems like we can't really improve from 13th (laughs). We've been 13th in every session so far, I think. At least I'm feeling more comfortable; I think the car is going in the right direction. I'm looking forward to this last night session in the Lucas Oil Honda."
SCOTT DIXON (No. 9 PNC Bank Chip Ganassi Racing Honda): "We saved some tires in the first session and didn't go out right away and run. We used those tires for qualifying simulations later this afternoon on the PNC Bank car and tried to really match up the air temperatures to where it would be when we come back for the race."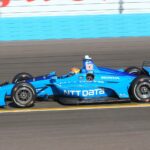 Ed Jones in the NTT Data car
ED JONES (No. 10 NTT Data Honda): "I think we turned at or around 70 laps in the NTT Data car in the afternoon session today which was some good, solid running. We logged a lot of good laps and I'm starting to feel better after yesterday. We made a lot of changes to the car as well, which all seemed to go in the right direction, which I'm happy about. I think the car felt a bit more comfortable and we got up to around sixth, with Scott (Dixon) around third. We still have much more work to do, but I feel we're heading in the right direction."
WILL POWER (No. 12 Verizon Team Penske Chevrolet): "It's been good. Definitely gone through all the processes and tried to do some qualifying simulations, because that's what time we'll be qualifying the car when we come back in April. Really enjoying this car, the 2018 car is awesome. Our No. 12 Verizon Chevy's been pretty good the whole time, we just had the wrong gears in yesterday when we did our qualifying run. We're really in a good window, I feel like. So are a lot of people, by the look of it."
GRAHAM RAHAL (No. 15 Rahal Letterman Lanigan Racing Honda): "Today has been OK. I think the car has pace, but we have some work to do to get it just right to come back here. So far it's been a tremendous start for the team overall, and I'm excited to get back here and go racing. It's far more fun to come back here and know you have a shot at it than years past, so I'm excited about that."
SEBASTIEN BOURDAIS (No. 18 SealMaster Honda): "We definitely made some improvement to the SealMaster Honda car. I was quite a bit more comfortable on new tires. We still have work to do tonight to see how it is going to be on long runs, but I think everybody is struggling with the same thing as far as tire degradation. It's just very low downforce and that is going to dictate how much degradation you get. At least we got some performance out of one lap. We still have a little bit of room to go and I can do a little better on my own, but we are heading in the right direction."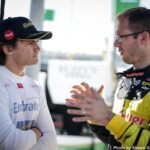 Fittipaldi and Bourdais
PIETRO FITTIPALDI (No. 19 Paysafe Honda): "I'm gaining more experience with each day. Like yesterday, the team is doing a good job and helping me get up to speed. We're trying different things on the No. 19 Paysafe car so I can experience them and see what the changes do on the oval, especially on the longer runs when you have used tires to simulate a race run, and we also ran a bit in traffic. I think we made a good step forward in this session and I'm confident we'll make another step in the evening session."
ED CARPENTER (No. 20 Fuzzy's Vodka Chevrolet): "We certainly accomplished more in this session than we did in yesterday's first session, but we just aren't there on speed yet. Fortunately, we have another three hours yet this evening to work on dialing in our set ups."
SPENCER PIGOT (No. 21 Fuzzy's Vodka Chevrolet): "We are still working on getting more speed out of the car. I am looking forward to running in more race-like conditions tonight and getting more experience with that. We've got a good plan going into this evening and I'm ready to get back to work."
SIMON PAGENAUD (No. 22 Menards Team Penske Chevrolet): "It was good. Today we were doing some experiments. Yesterday we were very happy with the car in general. Today is a different day. We need to experiment to have a broader feel about this aero package. I wouldn't say it was better, but it was interesting to learn. So, so far, so good. I think we're on the right path of learning in the No. 22 Menards Chevrolet and doing our homework. We're having quite cool temperatures, which it won't be like that on the race weekend. We have to be cautious. We're still having a lot of fun out there. I'll be doing some more traffic running tonight to get a better feel of how it will be at a race."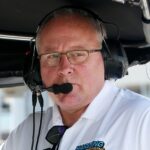 Harding Racing boss Brian Barnhart
CHARLIE KIMBALL (No. 23 Tresiba Chevrolet): "It's been another productive session with the No. 23 Tresiba Chevy team. There are things we're still working out, even just fundamentals with the new car, but we're making progress every time we make a run. It will be valuable to finally have this data and start building from here. Overall, I'm just so encouraged and excited about this team and what we can accomplish this season. It's step by step, and I know everyone at Carlin is pushing hard to be competitive from Lap 1."
ZACH VEACH (No. 26 Group One Thousand One Honda): "Good afternoon session in the No. 26 Group One Thousand One Honda just trying some of our test items. I'm just gaining experience and laps still at this point. I think we're looking pretty good with what we have, so I'm excited for this evening."
ALEXANDER ROSSI (No. 27 NAPA AUTO PARTS Honda): "It was a good afternoon. We found some stuff that worked and we need to continue in the evening. We've done half our checklist, we'll finish it tonight and see where the NAPA AUTO PARTS Honda stands."
RYAN HUNTER-REAY (No. 28 DHL Honda): "We made some good gains in the No. 28 DHL Honda overnight. We continued to work on setup for overall balance and I think we find ourselves in a position where we're two or three changes away now. We're P4 to end what would be, I think, a qualifying simulation session, so it's a good start for when we come back. Now we'll focus on race running tonight."
MAX CHILTON (No. 59 Gallagher Chevrolet): "Its been a good couple of testing days here in Phoenix. We had a lot to learn coming into this weekend and I think we were able to make loads of progress. We're still battling the same balance issues we had yesterday, but we were able to get quite a few things sorted out this afternoon and find some pace. The No. 59 Gallagher Chevrolet looks great on track and it's been a solid few days for the whole Carlin team. I'm looking forward to getting back out out there tonight and getting our race setup to where it needs to for the night race."
MARCO ANDRETTI (No. 98 U.S. Concrete / Curb Honda): "We only ran one set of tires in the afternoon session, but it feels like progress. We hope we've found a good direction to head in for the evening session and the U.S. Concrete / Curb Honda will be on top."
Session 5 Results
| | | | | | | | | | |
| --- | --- | --- | --- | --- | --- | --- | --- | --- | --- |
| Pos | No | Name | FTime | Diff | Gap | Laps | FSpeed | Engine | Team |
| 1 | 30 | Takuma Sato | 19.379 | –.—- | –.—- | 158 | 189.855 | Honda | Rahal Letterman Lanigan |
| 2 | 12 | Will Power | 19.388 | 0.0088 | 0.0088 | 135 | 189.769 | Chevy | Team Penske |
| 3 | 14 | Tony Kanaan | 19.402 | 0.0228 | 0.0140 | 65 | 189.632 | Chevy | AJ Foyt Enterprises |
| 4 | 1 | Josef Newgarden | 19.426 | 0.0467 | 0.0239 | 121 | 189.399 | Chevy | Team Penske |
| 5 | 98 | Marco Andretti | 19.466 | 0.0868 | 0.0401 | 118 | 189.008 | Honda | Andretti Autosport |
| 6 | 27 | Alexander Rossi | 19.473 | 0.0939 | 0.0071 | 106 | 188.940 | Honda | Andretti Autosport |
| 7 | 9 | Scott Dixon | 19.515 | 0.1362 | 0.0423 | 79 | 188.530 | Honda | Chip Ganassi Racing Teams |
| 8 | 22 | Simon Pagenaud | 19.576 | 0.1973 | 0.0611 | 125 | 187.942 | Chevy | Team Penske |
| 9 | 21 | Spencer Pigot | 19.642 | 0.2635 | 0.0662 | 74 | 187.308 | Chevy | Ed Carpenter Racing |
| 10 | 19 | Pietro Fittipaldi | 19.652 | 0.2731 | 0.0096 | 118 | 187.217 | Honda | Dale Coyne Racing |
| 11 | 15 | Graham Rahal | 19.661 | 0.2818 | 0.0087 | 137 | 187.134 | Honda | Rahal Letterman Lanigan |
| 12 | 4 | Matheus Leist | 19.717 | 0.3379 | 0.0561 | 94 | 186.601 | Chevy | AJ Foyt Enterprises |
| 13 | 26 | Zach Veach | 19.756 | 0.3770 | 0.0391 | 120 | 186.232 | Honda | Andretti Autosport |
| 14 | 23 | Charlie Kimball | 19.762 | 0.3828 | 0.0058 | 101 | 186.177 | Chevy | Carlin |
| 15 | 10 | Ed Jones | 19.765 | 0.3855 | 0.0027 | 107 | 186.152 | Honda | Chip Ganassi Racing Teams |
| 16 | 59 | Max Chilton | 19.828 | 0.4488 | 0.0633 | 80 | 185.558 | Chevy | Carlin |
| 17 | 88 | Gabby Chaves | 19.923 | 0.5439 | 0.0951 | 86 | 184.672 | Chevy | Harding Racing |
| 18 | 20 | Ed Carpenter | 19.976 | 0.5969 | 0.0530 | 66 | 184.182 | Chevy | Ed Carpenter Racing |
| 19 | 28 | Ryan Hunter-Reay | 20.031 | 0.6523 | 0.0554 | 100 | 183.673 | Honda | Andretti Autosport |
| 20 | 18 | Sebastien Bourdais | 20.078 | 0.6995 | 0.0472 | 94 | 183.241 | Honda | Dale Coyne Racing |
| 21 | 5 | James Hinchcliffe | 20.098 | 0.7193 | 0.0198 | 71 | 183.060 | Honda | Schmidt Peterson Motorsports |
| 22 | 6 | Robert Wickens | 20.159 | 0.7800 | 0.0607 | 102 | 182.509 | Honda | Schmidt Peterson Motorsports |