Konica Minolta Cadillac team out to repeat at Rolex 24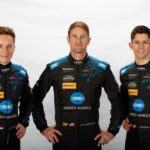 Renger van der Zande, Ryan Hunter-Reay and Jordan Taylor
DAYTONA BEACH, Florida – Seasons like the one enjoyed in 2017 by the No. 10 Konica Minolta Cadillac DPi-V.R team on the IMSA WeatherTech SportsCar Championship tour are certainly few and far between, but when Jordan Taylor, Renger van der Zande and Ryan Hunter-Reay take to the wheel of their sleek, black Prototype-class entry for this weekend's 56th running of the Rolex 24 At Daytona, it's time to wipe the slate clean and try to do it all over again.
A lot has changed since Taylor and his older brother Ricky Taylor co-drove to a thrilling victory in last year's Rolex 24 alongside now-retired Italian veteran Max "The Ax" Angelelli and four-time NASCAR Cup Series champion Jeff Gordon, kicking off an unbelievable five-race winning streak that led to the season-ending driver and team championships. But the race team has returned intact, and the addition to the driver lineup of van der Zande, the Dutch driving phenom, and Hunter-Reay, the 2012 IndyCar Series champion and 2014 Indy 500 winner, will go a long way toward offsetting the offseason departure of Ricky Taylor to the new, two-car Team Penske Prototype-class entry for 2018.
The No. 10 Konica Minolta Cadillac DPi-V.R team has been the most consistent at the iconic Daytona race the past five seasons, bringing home race-day finishes of second, second, third and second in the four years leading up to last year's career-first Rolex 24 victory for the Taylor brothers and Gordon, and the second for Angelelli. The No. 10 has been a fixture atop the Daytona (Fla.) International Speedway leaderboard with 963 laps led in the 3,539 laps contested over the 3.56-mile, 12-turn road course in that time and, most importantly, has managed to avoid major on-track incidents and mechanical maladies along the way.
[adinserter name="GOOGLE AD"]This weekend, it's expected to take more of the same, and then some, to successfully defend the team's Rolex 24 title as the beefiest Prototype-class field in recent memory takes to the track among the 50-car field – 20 Prototypes in all featuring the new Team Penske and Mazda Team Joest, as well as scores of elite international drivers headlined by Formula One star Fernando Alonso.
Jordan Taylor is certainly up to the task, as is the team that has propelled him and his older brother to 12 wins, 25 podium finishes and nine pole positions over the last four seasons. The addition of van der Zande, his new full-time co-driver for 2018, brings a steady but daring driving talent who last fall turned heads with a stunning pass through the famed Corkscrew series of turns at Laguna Seca Raceway in Monterey, California that led to the race win for the No. 90 Spirit of Daytona team. It was a pass that has been likened to "The Pass" that the legendary Alex Zanardi executed at the same part of the same racetrack for the last-lap victory in the 1996 IndyCar Series finale.
Hunter-Reay, meanwhile, will be the third driver at this season's endurance events at Daytona, Sebring, Florida, and Road Atlanta, and returns for his 12th Rolex 24 and fourth career event with the No. 10 team, highlighted by his runner-up finish in the 2013 Rolex 24 with Taylor and Angelelli.
Duplicating last season's incredible success by the No. 10 Konica Minolta Cadillac DPi-V.R team is certainly a tall order. Just getting through an iconic test of endurance like the Rolex 24 unscathed is difficult enough, much less any other weekend on the challenging IMSA WeatherTech series tour.
But, safe to say, based on their team's recent history at the Rolex 24, it likely would surprise no one if Taylor, van der Zande and Hunter-Reay are fighting tooth and nail for this year's race win once again.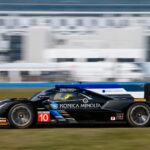 #10 Wayne Taylor Cadillac
Practice for this weekend's 56th Rolex 24 At Daytona begins Thursday morning with Prototype-class qualifying set for 4:45 p.m. EST, live video provided by IMSA.tv beginning at 3:55 p.m. The green flag for the 24-hour endurance marathon flies at 2:40 p.m. Saturday with live TV coverage starting on the FOX broadcast network at 2 p.m. FS2 picks up the coverage from 5 to 10 p.m. Saturday and from 8 to 10:30 a.m. Sunday. FS1 will carry the segments from 11 p.m. Saturday to 1 a.m. Sunday, and the race's conclusion followed by post-race activity from 10:30 a.m. to 3 p.m. Sunday. FOXSportsGO will also carry the entire race live. Live timing and scoring during all on-track sessions is available at IMSA.com and the IMSA smartphone app.
JORDAN TAYLOR, driver, No. 10 Konica Minolta Cadillac DPi-V.R:
You're heading back to Daytona as the defending race winner and defending series champion. Your overall thoughts?
"It'll good to get back there for the race weekend. The last time I was there for the race weekend, I was having a beer in the media center with Jeff Gordon, celebrating our race win, which was pretty cool. We did a little bit of testing over the break – the December test, IMSA BoP (Balance of Performance) test – and after that, we had a good weekend at the Roar. It was a good start, getting Renger (van der Zande) in the car for the first time, adding to the miles Ryan got in the car with us at Petit Le Mans. It'll be nice to get all three of us together again for real this weekend. Us together is still a new thing, but Ryan's been with this team a few times over the years – way back in '06 when he and my dad and Max almost won the race in Salt Lake City, and in 2013 when we finished second at the Rolex, then again last fall at Petit (Le Mans). We have a lot of new little pieces but I think we've all been jelling together well."
How much of an adjustment has it been for you with the new teammates, and how much of an adjustment has it been for them?
"It is different. Obviously, it's been a family oriented team from the beginning. I joined the team in 2013 when it was just Max and I, and Ryan at the Rolex. Max had been with the team until last year, and then it was just Ricky and I. Max was like a father figure, and Ricky was obviously family, so I've always had some sort of close person. This is the first time being in what I'd say is a normal environment of teammates. It's nice. When you look at teammates, and when we were looking for teammates to put in place with us, it was all about ego and how they'd fit in with the team from a personality point of view, not just on track because you can find tons of fast guys who don't get the full picture and the whole thing. These guys get the full picture – obviously Ryan's won so much stuff, and Renger's coming in after everybody saw his pass at Laguna last year. We've seen that they're the right pieces we want in place, where Renger is filling Ricky's role and he fits it perfectly with his driving style, the way attacked races in qualifying. I think it's definitely different, but everyone's on the same page and it's a good approach heading into Daytona."
How would you assess the team's weekend at the Roar Before the 24 test days?
"I think it was a productive weekend. Obviously, last year we won the event but we came in without doing much setup work. So, I think what we learned all throughout 2017 we're kind of putting on the car now to see what works and what doesn't work. I think we left knowing a lot more about what we wanted to bring back for the race weekend. But, I think, looking at the whole, big picture, we have a comfortable car. All three drivers are comfortable and the team's the same as it was last year, so I think we have all the pieces in the right place to try and repeat."
RENGER VAN DER ZANDE, driver, No. 10 Konica Minolta Cadillac DPi-V.R:
After enjoying some seat time with your new team in December and early January testing at Daytona, your overall thoughts about this weekend's Rolex 24 and the season ahead?
"It's great to be with this team. It's been five years since I started to race in America halfway through 2013 – did three full seasons in the LMPC class, one season last year in the Prototype class – it's nice to be in the top class and making the jump to a championship-winning team with Wayne Taylor. So that's a great thing. There's a great manufacturer in Cadillac behind us and, as a racecar driver, it's always important – I think it should be a goal – to be linked to a manufacturer. So, for me, it's all been good news. My first tastes in the car have been very nice – it's a very nice environment and a very nice car. I have some good teammates with me so we'll be ready to pick up the fight."
Watching this program from a distance last year, do you anticipate being as strong and able to duplicate that success?
"From my personal view, after racing with a lot of teams here in the States the last few years, it's clear why this team is so successful. If you meet the engineers, what they are doing all day, looking at all the little details, even looking at the sports physiology of us as racing drivers and all those other details I have not seen from other teams at all, it makes sense that they won the championship last year. Of course, they got off to such an incredible start last year, especially at Daytona – I was racing against them and it appeared to be serious business but fun for them. It was fun for us, too, especially at Daytona. But I think now the important part is that I'm with people who know what they are doing and they know how to cope with pressure and they know what it takes to win races and the championship. I'm just happy to be part of a group of people like that."
Your assessment of how things went for your and the team at the Roar Before the 24 Test Days?
"We had a few days of testing and it was interesting for me to get a feel for the car and the proper feel for the setup changes that we applied a few times. We got some driver change practice in, worked with the team and all that, blending in, I would say. I did qualifying (for pit stall and garage location) and got P4. For me, that was a bit of the limit, so we need to find what the actual time is, what the other teams found, and that's what we've been working in preparation for the race."
RYAN HUNTER-REAY, driver, No. 10 Konica Minolta Cadillac DPi-V.R: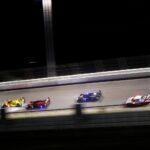 The twice round-the-clock race starts Saturday afternoon
You've had great success in the IndyCar Series over the years, and you're returning for your 12th Rolex 24 this weekend. How important is this race to you?
"Trust me, this is one of the biggest ones that I could be thinking about wanting to win – it has been for years. Last time we worked together at Daytona with Jordan and Max (Angelelli), we finished second on the podium, and it's been a few other times that way for me. I'd really love to get that watch for the Daytona 24 win and add my name to the list of drivers who have done it before. It's something that we really want badly and we're hungry for it, but it'll be one step at a time come race weekend and we'll be focused on continually improving the car and getting the teamwork going and looking forward to developing it further together. It's great to be back with Wayne Taylor, and it's great to be back together with Cadillac and GM. We have a great history together, as well. I'm really happy about everything. It's a great package. And this race and what IMSA has grown into, where this sport is going, is really special and it's a great time to be a part of it. I love to see the energy growing in the right direction like this. Looking at the Prototype class and how deep it is, it's definitely one of the best series in the world."
Watching this program from a distance last year, do you anticipate being as strong and able to duplicate that success?
"Watching these guys and what they did last year was special. Obviously, it was the first year of a new category, a new spec, and they took full advantage of that. I think it's going to be a tighter margin, now. It's going to be closer. I don't think there's going to be as big of a gap. That's my prediction. We're going to have to work for every bit of it, no doubt. Not that they didn't – they certainly did and they dominated – last year. We're going to have to probably eek out that every bit of an advantage that we can. It's a situation where you just put your best foot forward, being with the right group of people, and good things happen."
Your assessment of the team's performance at the Roar Before the 24 test days?
"It was a productive test. We came out with a new driver lineup for the team and we all jelled really well, working on the car the entire time and checking off some boxes that we really wanted to get done before the Rolex 24 weekend. I think we're all pretty happy with where we stand. Now, it's all about consistency and execution. This team's done a remarkable job. You can't say enough about the professionalism and hard work they put in. We'll go out there and hopefully have a flawless race weekend, which this team has gotten pretty good at the last several years."
WAYNE TAYLOR, owner, No. 10 Konica Minolta Cadillac DPi-V.R:
A lot has changed since last year's Rolex 24 win and the team's remarkable run to the championship. Your thoughts about the new season and this weekend's Rolex 24?
"First of all, I'm excited to be representing Konica Minolta and Cadillac again. As a father and the team owner, it's sad to not have both Ricky and Jordan in the car again together, but we replaced Ricky with a really good guy in Renger van der Zande, who won a big race last year and has fit in really well. We've got Ryan for the 24-hour and two other endurance races this season, and he's certainly going to help us try and pick up where we left off last year. This is the biggest Prototype field I've seen, ever, at the 24-hour, and it's definitely going to be the most competitive. That's exciting for us as a team, for our sponsors and fans, for everyone who loves this sport and has seen it grow the way it has the last several years. People ask if the pressure might be off a little bit after we finally won this race last year, but let me say that's definitely not the case with this team. Anyone who knows us knows each race is the next chance to go out and perform at our best and do everything we can to bring home another win. That is our business as usual and that's how you win races and championships. There's no reason, ever, to not give it absolutely everything you have."