Detroit Auto Show: Car and Truck of Year Awards
Truck of Year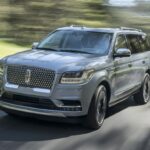 Lincoln Navigator
The all-new Lincoln Navigator has been named North American Truck of the Year, marking the first time a Lincoln vehicle has captured this prestigious honor, now in its 24th year. The 2018 Lincoln Navigator took the honors over the Chevrolet Colorado ZR2 and all-new Ford Expedition to win the award presented today at the 2018 North American International Auto Show.
"Lincoln is honored to be named the best among such a strong field of competitors," said Kumar Galhotra, president, The Lincoln Motor Company. "The entire Lincoln team is very proud of the work that was done to create a truly differentiated, luxury Lincoln experience in our all-new Navigator."
North American Car, Truck and Utility of the Year awards are based on innovation, design, safety, handling, driver satisfaction and value. Nearly 60 veteran journalists from the United States and Canada vote for the vehicles, which must be all-new or substantially changed from the previous model to qualify.
Modern luxury plus advanced technology
Navigator is Lincoln's flagship SUV, combining modern luxury with advanced technology to elevate family travel to first-class. A modern design turns heads, while Navigator's smooth power helps families move confidently along the road. A luxurious, spacious interior allows first-class seating for everyone aboard, with 10 power outlets to keep all passengers charged and connected.
The refined capability of the all-new Navigator is unmatched. It's powered by a twin-turbocharged 3.5-liter V6 engine that delivers 450 horsepower and 510 lb.-ft. of torque, and offers the most towing capability in its class – up to 8,700 pounds.
The 2018 Navigator offers all-new Lincoln drive mode technology, an advanced system that allows owners to adjust the vehicle to make driving easier and more enjoyable in any weather or terrain with the twist of a knob. An all-new head-up display is customizable to complement the 12.3-inch digital cluster – incorporating the same groundbreaking digital light processing technology used in movie theaters.
The all-new Lincoln Navigator is available in dealerships now.
Best Pickup Truck of Year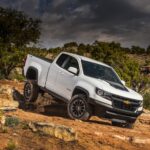 Chevrolet Colorado ZR2
The Chevrolet Colorado ZR2 is Cars.com's Best Pickup Truck of 2018.
The Colorado ZR2 was one of two Chevrolet nominees for the award, along with the Silverado 3500.
Cars.com and PickupTrucks.com editors praised the truck's "almost perfect combination of passion and technology," noting that it's, "not just an interesting example of a new pickup truck, but is quite possibly the most distinctive vehicle that's come along in years."
"To fully compete in the off-road space, we couldn't just launch with a 'me too' vehicle," said Paul Edwards, U.S. Vice President, Chevrolet Marketing. "As part of our strategic plan and continued investment in our truck lineup, ZR2 builds on the boldness of the Colorado program. Our midsize truck line has defied naysayers by selling more than 300,000 trucks in three years, and ZR2 adds forward-looking technology and innovation to the recipe to reach an entirely new group of off-road enthusiast customers."
The ZR2 is effectively a segment of one, combining the nimbleness and maneuverability of a mid-size pickup with a host of new off-road features and the most off-road technology of any vehicle in its segment.
Compared to a standard Colorado, the ZR2 features a three-and-a-half-inch wider track and a suspension lifted by two inches. Functional rocker protection has been added for better performance over rocks and obstacles, and the front and rear bumpers have been modified for better off-road clearance.
Class-exclusive features include front and rear electronic locking differentials, available diesel engine, and the first off-road application of Multimatic Dynamic Suspensions Spool Valve (DSSVTM) damper technology.
As a result, the Colorado ZR2 delivers exceptional performance in a variety of scenarios – from technical rock crawling to tight two-track trails to high-speed desert running to daily driving.
Concept Car of Year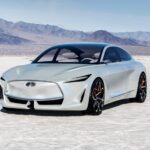 Infiniti Q Inspiration Concept
The INFINITI Q Inspiration Concept was named "Best Concept Vehicle" and also awarded "Best Designed Interior" by EyesOn Design at the 2018 North American International Auto Show. The Q Inspiration concept, a preview of INFINITI's future form language and innovative drivetrain design, made its world debut yesterday.
The annual EyesOn Design Awards, given in seven categories, are selected by more than 30 active and retired design heads of automotive manufacturers and transportation design chairs from top art schools. The awards are considered the validation of great automobile design from the industry's leaders.
"I am very proud of the recognition from the distinguished EyesOn Design panel. Proud that just as new technologies inspired new proportions, it has also inspired a new language that has raised the artistry of INFINITI inside and out," said Alfonso Albaisa, senior vice president of global design at Nissan Motor Co., Ltd.
The Q Inspiration Concept explores the future of the mid-size sedan segment with a combination of an innovative VC-Turbo powertrain, next-level autonomous drive technologies, and a unique human-centric interior. The sedan's direct, clear lines are combined with bold, chiseled styling that will form the basis of the future of the INFINITI brand's sedan design, with a coupe-like roofline and mid-size sedan proportions.
Inside, the cabin features plenty of room thanks to a minimalist design, with an emphasis on driver and passenger experience. INFINITI's VC-Turbo engine – the world's first production ready variable compression ratio engine – powers the Q Inspiration Concept and allows for optimal performance on demand while optimizing fuel economy across the powerband, previewing future uses of variable compression drivetrains. Paired with the latest ProPILOT suite of semi-autonomous driving systems, the Q Inspiration Concept allows the driver to delegate certain driving tasks to the vehicle's systems and enjoy the experience of the human-centric cockpit, while retaining ultimate control of the vehicle.
"The Q Inspiration Concept explores a new design language and new proportions for INFINITI while bringing our newest technologies to the forefront. The innovative powertrain, autonomous driving technologies and user experience are driving the push toward balanced proportions and a clear, simple yet bold form language " said Karim Habib, executive design director, INFINITI Motor Co., Ltd.
Luxury Car of Year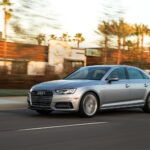 Audi A4
The 2018 Audi A4 has been named the 2018 Luxury Car of the Year by Cars.com at the North American International Auto Show in Detroit.
The annual award is presented as part of the 2018 Cars.com Best of Awards, with vehicles judged on quality, innovation and value. Cars.com editors praised the Audi A4 for its "balance of sport, luxury, function, amenities, quality and comfort" in the compact luxury sedan category.
"The versatility and competency of the A4 is unshakable, and combined with unwavering interior material quality, the A4 remains an outstanding luxury car," said Cars.com editors.
Cars.com editors also praised the "luxurious trimmings, chassis dynamics, spacious interiors and well-executed electronics" of the 2018 A4, in addition to its breadth of variants. The A4 sedan is available with a 2.0-liter TFSI® with FWD, quattro® or quattro with manual transmission. The S4 sedan is available with a 3.0-liter TFSI®. In addition, the A4 allroad with 2.0T engine offers the driving dynamics of the A4 sedan with the versatility of a wagon.
As one of the brand's bestselling models, the A4 line represents the best in design, driving dynamics, infotainment and available driver assistance systems.
The A4 interior features driver-focused technologies such as the available Audi virtual cockpit and standard Audi smartphone interface for compatible devices that supports Apple CarPlay™ and Google™ Android Auto integration. Advanced driver assistance systems such as standard Audi pre sense city® and available adaptive cruise control with stop & go and traffic jam assist help drivers navigate the road with increased confidence.
Cars.com Best of Awards include six categories: Best of 2018, Best Pickup Truck of 2018, Eco-Friendly Car of the Year, Family Car of the Year, Luxury Car of the Year and Most Fun-to-Drive Car of the Year. To be eligible, the vehicle must be a 2018 model and excel in three key criteria: quality, innovation and value. Pickup trucks are judged on power, capability and value. To qualify for the top award – Best of 2018 – models must be all-new or fully redesigned.
Most innovative Car and SUV of Year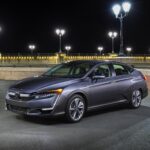 Honda Clarity Plugin, one of the ugliest cars ever designed
Reflecting Honda's progressive approach to design and technology, the editors at Edmunds.com named the 2018 CR-V and all-new Clarity series the Most Innovative SUV and Car of the Year, respectively, in the 2018 Edmunds CES Tech Driven Awards.
"With wins in two of six categories, it is clear that pushing the boundaries of automotive innovation is in Honda's DNA," said Alistair Weaver, Edmunds editor-in-chief. "Both the forward-thinking Honda Clarity and class-leading Honda CR-V are prime examples of how Honda innovates with buyers in mind, and makes advanced technology features that are both easy to use and accessible beyond high priced luxury vehicles."
The Honda Clarity series was recognized by Edmunds' editors for its leading-edge approach to electrified powertrain technology: "With options including pure electric, plug-in hybrid and hydrogen fuel cell models, the 2018 Honda Clarity provides unmatched flexibility when it comes to alternative fuel choices, and proves that innovative design can push the industry further toward a future using renewable energy."
The experts at Edmunds praised the 2018 CR-V for its packaging, efficiency and innovation, saying "the 2018 Honda CR-V offers advanced driver assistance technologies and active safety features at an affordable price point, a rarity among SUVs. Coupled with other outstanding features such as a deftly balanced ride and handling, class-leading fuel economy ratings, and a large and clever storage space, the CR-V is a winner."
Family Car of Year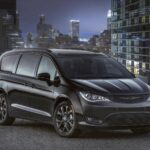 Chrysler Pacifica
Cars.com editors named the 2018 Chrysler Pacifica the "Family Car of the Year" at their annual 2018 Best of Awards show hosted in Detroit during the North American International Auto Show.
According to Cars.com editors, "Chrysler has a history of stuffing its minivans with innovations, and the Pacifica is no exception. It's an achievement in practicality, from the improved Stow 'n Go fold-flat seats to the available rear entertainment system that impresses even versus mobile devices. None of that costs you on the driving front, where the Pacifica pairs refined ride quality and quietness with a capable V-6. Following its 2017 model-year introduction, the minivan improved for 2018 thanks to newly standard safety features, a price reduction in base models and updated multimedia systems with Apple CarPlay and Android Auto. It's as competitive as ever, and perhaps even more so."
In 2017, the Chrysler Pacifica was the first minivan to win Cars.com's "Best of" award, which honors all-new or fully redesigned vehicles that excel in quality, innovation and value.
When determining award winners, Cars.com experts consider three key criteria for every car tested: quality, innovation and value; for pickup trucks, the criteria are power, capability and value. These are all assets that experts consider requirements for a well-rounded, award-worthy vehicle.
The Chrysler Pacifica reinvents the minivan segment with an unprecedented level of functionality, versatility, technology and bold styling. Re-engineered from the ground up on an all-new platform, the Pacifica delivers class-leading gasoline and hybrid powertrains to the minivan segment. With more than 100 available safety and security features, the Uconnect Theater rear-seat entertainment system, and a full array of comfort and convenience technologies, the Chrysler Pacifica is a no-compromises minivan ideally suited for today's families and has earned its spot as the most awarded minivan of 2017.
The Pacifica Hybrid takes this revolutionary vehicle a step further with its innovative, advanced plug-in hybrid powertrain. It's the first electrified vehicle in the minivan segment and achieves 84 miles per gallon equivalent (MPGe) in electric-only mode and 33 miles of all-electric range.
The Chrysler Pacifica lineup is expanding for 2018 with the addition of the S Appearance Package, which offers a customized, athletic look featuring black accents inside and out. The Chrysler Pacifica also receives additional updates for the 2018 model year, including standard SafetyTec across all gas and hybrid models, and upgraded Uconnect 4 systems with Apple CarPlay and Android Auto.
Best of Show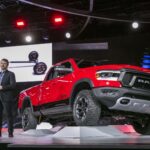 Dodge Ram
Cars.com editors named the all-new 2019 Ram 1500 "Best of Show" for the 2018 North American International Auto Show.
According to Cars.com, "Ram climbed to the top of the heap for its blend of capability, comfort, technology and efficiency."
When determining the Best of Show, Cars.com experts consider new vehicles for their innovation, overall show impact and execution of claims.
The all-new 2019 Ram 1500 becomes the benchmark for durability, technology, efficiency and convenience with features never before offered in a pickup.
Overall weight for the Ram 1500 has been reduced by 225 pounds. As the truck's backbone, the frame uses advanced materials and engineering to eliminate weight while increasing stiffness and durability for 12,750 pounds of towing capability and 2,300 pounds of payload.
An all-new eTorque mild hybrid system delivers improved fuel efficiency in both V-6 and V-8 configurations.
As a segment disrupter, the new Uconnect 4C with a massive 12-inch touchscreen leads the pickup world with technology featuring split-screen capability, 360-degree camera views and exclusive content from SiriusXM with 360L.
Active safety and security systems join the technology onslaught with adaptive cruise control, forward collision warning, Blind-spot Monitoring and ready alert braking.