Wood Brothers Remember The Great Dan Gurney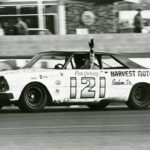 1965 – Gurney in his first go at Riverside for the Wood Brothers – he lapped the field
When Glen Wood looks back on his time racing at Riverside International Raceway with the great Dan Gurney, who died Jan. 14 at the age of 86, it's not so much about the four wins in five starts or the 540 laps led.
Instead Wood recalls a tall, handsome man who was as friendly as he was talented.
"He was one of the most likable people you'd ever meet," Wood said. "He was jolly all the time. You never saw him when he wasn't laughing or grinning."
Wood remembers one instance in which a clowning Gurney pulled all the lining from his helmet, and then put on the helmet to the amusement of those around him.
"It came down over most of his face," Wood said.
[adinserter name="GOOGLE AD"]The Woods first met Gurney in 1963 when he beat them in Gurney's and the Woods' first Cup race at Riverside. In that 500-miler, Gurney wheeled a Holman-Moody Ford to victory over A.J. Foyt, Troy Ruttman and Fireball Roberts.
The next year, the Woods got a chance to field a car for Gurney and jumped at it, even though brothers Glen and Leonard were told Gurney could be difficult to work with on matters like getting the seat fitted to the driver.
"We both wanted Dan," Glen Wood said. "And we didn't have a problem at all getting the car ready for him."
The race itself wasn't much of a problem either, despite the strong competition.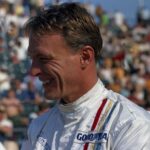 Dan Gurney in 1968
"Once we got him going, it was pretty much a sure thing we could win the race if nothing happened to the car," Wood said.
In the 500-miler at Riverside in January of 1964, Gurney, in the No. 121 Ford, started fourth and took the lead for good after just 54 of 185 laps as his teammate Marvin Panch, in the No. 21, finished a lap behind in second place.
The next year, Gurney started 11th but wound up leading 126 laps including the final 55 to beat the Ford of pole-sitter Junior Johnson by 27 seconds. Panch, in the No. 21, finished third.
The 1966 Motor Trend 500 at Riverside saw Gurney capitalize on the quick work of the Wood Brothers crew, which included brothers Glen, Leonard, Clay and Delano, to lead 148 laps including the final 57 to beat the second-finishing No. 6 Cotton Owens Dodge of David Pearson to the finish line by more than a minute.
Greg Fielden's Forty Years of Stock Car Racing reported that the Woods completed six pit stops in just two minutes while Pearson's crew made one additional stop and spent a total of three minutes and 51 seconds servicing his car.
Paul Goldsmith finished third, while Curtis Turner, driving the No. 41 Ford for the Woods, finished fourth despite several off-track excursions during the five-hour marathon.
Gurney drove a Mercury for Bill Stroppe in the 1967 Motor Trend 500, but returned to the No. 121 Ford for the Woods in 1968.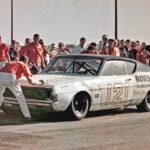 1968 and Gurney schools the NASCAR regulars again
Despite a blown tire mid-race that required the Woods to spend valuable seconds unraveling a shredded tire from the rear axle, Gurney led 124 laps including the final 27 to get the victory over David Pearson, Parnelli Jones, Bobby Allison and Cale Yarborough in the No. 21 Ford.
Glen Wood said the Riverside wins were much more difficult than they might seem in hindsight.
"Those races were 500 miles and lasted more than five hours," he said. "Road races today are nowhere near that long."
Throughout his career, which saw him, among other accomplishments, become the first driver to win at least one race in Formula One, NASCAR, Indy Car and sports cars. He won Formula One races in his own cars, teamed with A.J. Foyt to take Ford to victory at Le Mans, and was an Indy 500 winner as a car owner and builder.
Through the decades, Gurney maintained contact with the Woods.
The Woods were on hand in 2014 when the Henry Ford museum presented Gurney with the rarely-given Edison-Ford Medal for Innovation.
And last year, on his way to the NASCAR races at Fontana, Calif., Len Wood, now a co-owner of the team, visited Gurney at his Santa Ana shop. The Gurney's family business, Dan Gurney's All American Racers, now builds, among other things, the carbon fiber landing legs used by the SpaceX Falcon 9 rocket.
"We visited Dan in the motorcycle shop, which is in a building at the rear of the complex," Wood said. "He spoke in a deep, loud voice and was fully aware of what was going on."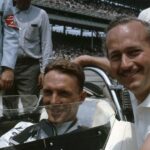 Dan Gurney and Colin Chapman at Indy in 1964
Len Wood said he saw Gurney race just once, in his final start at Riverside in 1980 at the age of 49.
Age hadn't slowed Gurney, Wood said. "By mid-race he was up to third place when his transmission tore up," he said.
Gurney and his wife Evi exchanged Christmas cards with Glen and Bernece Wood every year since they raced together.
This year's card was on the Woods' refrigerator door when word came that Gurney had died.
"On that card, Dan and Evi were both smiling," Wood said. "I was shocked when we heard he had died."