Harrison Burton wins his first NASCAR Xfinity race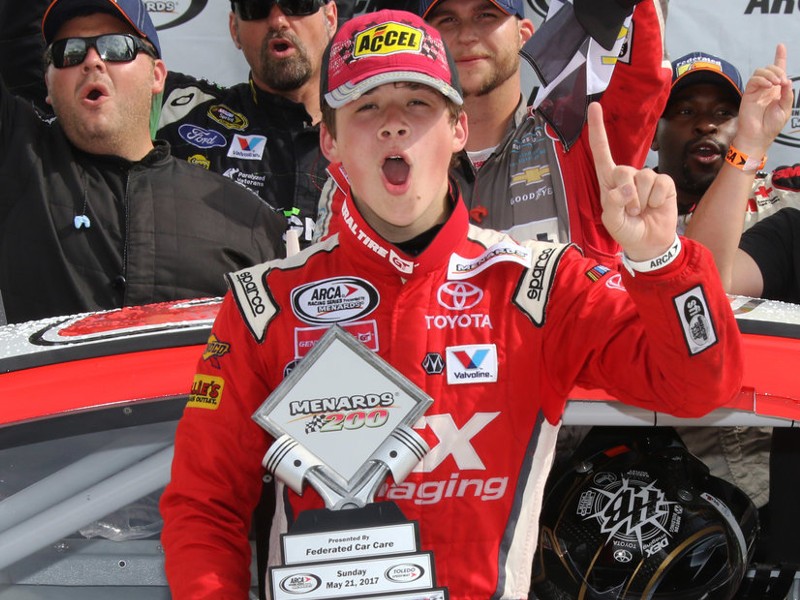 Harrison Burton
Holding off teammate Riley Herbst with a determined run over the final 19 laps, 19-year-old rookie Harrison Burton charged to his first NASCAR Xfinity Series victory in Saturday's Production Alliance Group 300 at Auto Club Speedway.
Working his way through traffic in the closing laps in his No. 20 Joe Gibbs Racing Toyota, Burton beat Herbst's No. 18 Camry to the finish line by 0.455 seconds, with Austin Cindric trailing the winner by 0.642 seconds in third.
The victory was redemption of sorts for Burton, son of former NASCAR Cup Series star Jeff Burton, after last year's winless season in the NASCAR Gander RV & Outdoors Truck Series.
HARRISON BURTON, No. 20 DEX Imaging Toyota Supra, Joe Gibbs Racing
Finishing Position: 1st
How does it feel to get your first win in the Xfinity Series?
"Heck yeah man, that's awesome. So proud of our guys. ll we've heard is we can't do it, we can't do it, we'll never do what last year's 20 did . We're off to a good start. It's awesome, it feels so good to win. There's times when you go through a little bit of a drought and just doubt yourself. To get a win feels so good, especially after last year when we struggled a little btit. Really proud of our guys. The DEX Imaging Supra was fast and once we moved up to the top at the end, it was going to be really hard for him to pass us. Just trying to be smart and not put it in the wall leading."
How big of a help was your spotter in today's race?
"Rick (Carelli, spotter) was huge today. He did a great job on those crazy restarts as well keeping me in the game and keeping me up to date with everything that was going on here. Rick was huge and our whole team was huge. I'm just so happy and this is something I worked so hard for and my team worked so hard for. Hell yeah, we won. That's awesome."
You didn't quite make it to victory lane (stuck in turn one), but how does the win feel?
"All that matters is we led on lap 150 and we'll get there when we get there. I had a great race car. We led early and lost that track position a little bit on the restart. Our car was so good that it was able to overcome mistakes I had early in the race. I learned a lot. Had a bad-to-the-bone Supra. It feels good to win here in California. What an awesome race track. Hell yeah, what can you say. That's awesome. I'm so proud of our guys. We were hungry for this one and we're hungry for more of it."
How much does this win mean after last season?
"I had a tough year last year. It pushed me harder and made me better I think. That was probably one of the hardest years of my career. Just trying to figure out when and if I was every going to win one of these things. They can't take this away from me. I'm excited and there are so many people that thought we couldn't do this. Our Dex Imaging Supra team is bad-to-the-bone and we got it done."
Have you had a chance to talk with your Dad since you won?
"Yes, I did. My dad was in victory lane and that's pretty cool to have your dad come and mom and sister are here too. The stars all aligned to where my whole family was here around me. That's cool. Those are the people that help you through tough times. They always have your back. To have them in victory lane was pretty meaningful to me. Just because they always have your back, they always believe in you. My dad and my mom always push me to be better and my sister always pushes me to be better. Just really cool. Proud of our whole family and our whole team."
Who are the people that said you weren't going to win?
"As a driver, your duty is to be on social media. Your job is to grow your brand, grow your company's brand. Just fans, outsiders of the sport. My team, my company always believed in me and I always kind of use them as motivation. Even Jimmie Johnson gets hate on Twitter. The guy is probably one of the best of all time and Kyle Busch wins every week and people tell him he sucks. It's just how it is, it's how the sport is and if you use it right, it's super powerful and can motivate you to beb etter. That's kind of what my whole team around me has been preaching and preaching. They knew I was coming off of a rough year last year and they knew that we could do it as a team. It was good to have them behind me. I never really believed them, it just gets frustrating after a while not to win."
What does it mean to be locked in the Playoffs so early?
"It's huge. You can get kind of lulled to sleep if you're not careful. We're in the Playoffs, we don't have to win – that's not how we're going to roll. We're going to go and attack next week like we didn't win this week. That's how my whole team is, we just want to go out and execute and do our job every weekend. Our ability to kind of move on, move forward I think is what's going to decide how the rest of the season goes and how much momentum and how many points we build up and all this going into the Playoffs because every spot matters, every win matters. It's fun to win so we're going to try to win every weekend."
Are you okay battling your teammates all season long?
"Absolutely, that's our goal. We had meetings earlier this year and we were kind of scoping out our competition and we were like, 'there's no reason our big three can't be in the room we're sitting in with our guys.' We have the best crew chiefs, we believe we have the best cars and I truly believe that we have an opportunity to do something really special this year as an organization. That's how I want it to be because that means your equipment is good and if your teammates are running good and some days you're going to win and some days they're going to win, but you can always learn from each other and I've already leaned a lot on Brandon (Jones), I've already leaned a lot of Riley (Herbst) and they've asked me questions as well. We just all go back and forth and it works really, really well. So far we have a really great relationship. If Riley gets a win and I finish second, I'm going to be excited for him. I know deep down he wanted to win. That's how it should be and that's how we want to race each other as a team is there is no team orders, it's whoever wins, wins and we're going to race hard to the end."
RILEY HERBST, No. 18 Monster Energy Toyota Supra, Joe Gibbs Racing
Finishing Position: 2nd
What did you need to get to Harrison Burton at the end of the race?
"A few more laps honestly. This Monster Energy Supra was really fast and I'm really, really proud of Harrison (Burton). We've worked really hard this off-season. We've read everything and heard everything – that we're not ready for this, that we can't do this in this series. Keep on talking because we're coming for more wins this year for sure."
What did you think of racing at Auto Club Speedway?
"There are so many options for us as drivers, especially with dirty air that everybody complains about. Harrison (Burton) goes to the top and I can go to the bottom or the middle – anywhere that he's not and make up ground so it was a lot of fun."
What were the closing laps of the race like?
"We needed a few more laps for sure. I didn't qualify where we wanted to – we were sixth or something. We kept working our way up. We had some bad lanes on restarts and then we worked our way back up to the front. I knew the 98 (Chase Briscoe) was going to get greedy and he did. I stayed patient and we just needed a little more fire off speed at the end."
How much more desperate would you have been if it wasn't your teammate you were racing?
"Probably a lot more desperate. We have to race our Toyota family as one, pretty cleanly. I drove it in pretty deep, but not as deep as I wanted. I don't know, we'll see what happens at Phoenix next week."
Race Results
| | | | | | | |
| --- | --- | --- | --- | --- | --- | --- |
| Fin | Str | No. | Driver | Team | Laps | Status |
| 1 | 2 | 20 | Harrison Burton # | Dex Imaging Toyota | 150 | Running |
| 2 | 5 | 18 | Riley Herbst # | Monster Toyota | 150 | Running |
| 3 | 7 | 22 | Austin Cindric | Odyssey Battery Ford | 150 | Running |
| 4 | 8 | 39 | Ryan Sieg | CMR Roofing Chevrolet | 150 | Running |
| 5 | 9 | 11 | Justin Haley | LeafFilter Gutter Protection Chevrolet | 150 | Running |
| 6 | 13 | 21 | Anthony Alfredo | Anderson's Pure Maple Syrup Chevrolet | 150 | Running |
| 7 | 4 | 8 | Daniel Hemric | Poppy Bank Chevrolet | 150 | Running |
| 8 | 6 | 10 | Ross Chastain | Nutrien Ag Solutions Chevrolet | 150 | Running |
| 9 | 11 | 51 | Jeremy Clements | Repairables.com Chevrolet | 150 | Running |
| 10 | 25 | 92 | Josh Williams | Silverton Hotel & Casino Chevrolet | 150 | Running |
| 11 | 19 | 93 | Myatt Snider | Superior Essex Chevrolet | 150 | Running |
| 12 | 10 | 7 | Justin Allgaier | BRANDT Chevrolet | 150 | Running |
| 13 | 17 | 90 | Alex Labbe | Larue Snowblowers Chevrolet | 150 | Running |
| 14 | 29 | 2 | Brett Moffitt(i) | Robert B Our Chevrolet | 150 | Running |
| 15 | 36 | 78 | Vinnie Miller | Koolbox Chevrolet | 150 | Running |
| 16 | 15 | 61 | Austin Hill(i) | AISIN Group Toyota | 149 | Running |
| 17 | 14 | 1 | Michael Annett | AHA/Pilot Flying J Chevrolet | 149 | Running |
| 18 | 31 | 44 | Tommy Joe Martins | AAN Adjusters Chevrolet | 149 | Running |
| 19 | 3 | 98 | Chase Briscoe | Production Alliance Group Ford | 148 | Running |
| 20 | 27 | 13 | Chad Finchum | MANSCAPED Toyota | 148 | Running |
| 21 | 30 | 6 | David Starr | Bob Menery's Ripper Magoo's Chevrolet | 148 | Running |
| 22 | 20 | 7 | Ray Black II | CDA Tech Chevrolet | 148 | Running |
| 23 | 35 | 15 | Robby Lyons II | Sunwest Construction Chevrolet | 147 | Running |
| 24 | 26 | 0 | BJ McLeod | KSDT CPA Chevrolet | 147 | Running |
| 25 | 23 | 52 | JJ Yeley | Circle Track Warehouse Chevrolet | 147 | Running |
| 26 | 12 | 9 | Noah Gragson | Nationwide Children's Chevrolet | 147 | Running |
| 27 | 32 | 5 | Matt Mills | J F Electric Chevrolet | 146 | Running |
| 28 | 16 | 4 | Jesse Little # | Series Seating Chevrolet | 146 | Running |
| 29 | 34 | 99 | Josh Bilicki | Toyota | 146 | Running |
| 30 | 1 | 19 | Brandon Jones | Toyota Service Centers Toyota | 146 | Running |
| 31 | 22 | 8 | Joe Graf Jr # | CORE Development Group Chevrolet | 143 | Running |
| 32 | 18 | 47 | Bayley Currey(i) | The Journey Home Project Chevrolet | 120 | Running |
| 33 | 21 | 68 | Brandon Brown | Vero Chevrolet | 115 | Engine |
| 34 | 28 | 74 | Kyle Weatherman | Findlay Cadillac Chevrolet | 97 | Engine |
| 35 | 33 | 66 | Stephen Leicht | MBM Motorsports Toyota | 78 | Fuel Pump |
| 36 | 24 | 89 | Landon Cassill | Visone RV Chevrolet | 38 | Fuel Pressure |